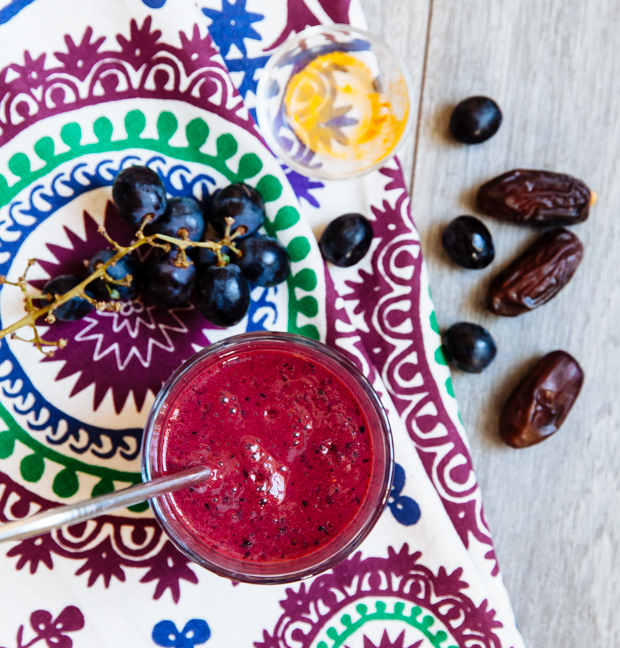 I hate Mondays. I hate them with a teenager's ferocity, passion and stubbornness. The weekend usually seems too short and by Sunday night, I often feel less than ready to face the week ahead.
But Monday comes, always, and with it the promise of a new week and the possibility to make it as pretty and exciting as you please. It is Monday and it is a new week, and it is up to us to make them count, right? And it all starts with a good breakfast.
Enter, smoothie. I've mentioned my relationship with smoothies here– it's a confused one. But it needs not be. Because if you got fresh fruit and vegetables, a good blender and a few extra delicious little bits and pieces, it's really a no-brainer: super quick, smooth, lovely and coming at you, Monday!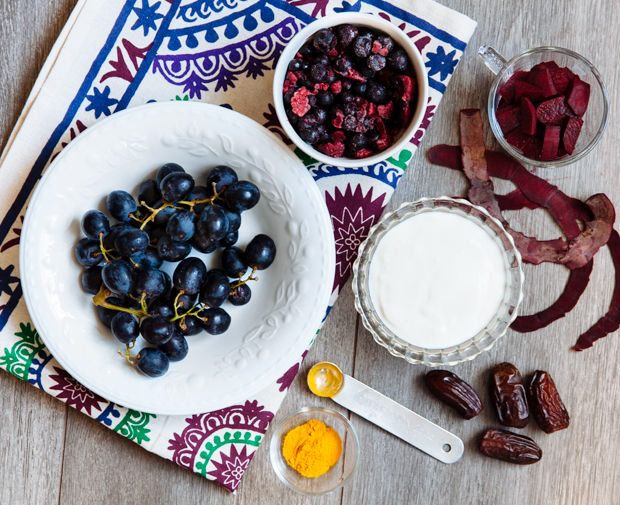 So here we go: beets! Yes, we really need those earthy, colourful beauties in the your smoothie- just a handful, for all the vitamins and energy boost we can get. Then, gorgeous, purple sweet and intense grapes- eat a few and add the rest to the beets. Some frozen berries too, to complete our pretty red fiesta. Finally, medjool dates- more sweetness and all the flavour: Monday, here we come! And now for the supporting roles: soy yogurt for smoothness, a touch of super turmeric and a drizzle of honey. Blend, taste, adjust, drink up and take on the week- nay, the world!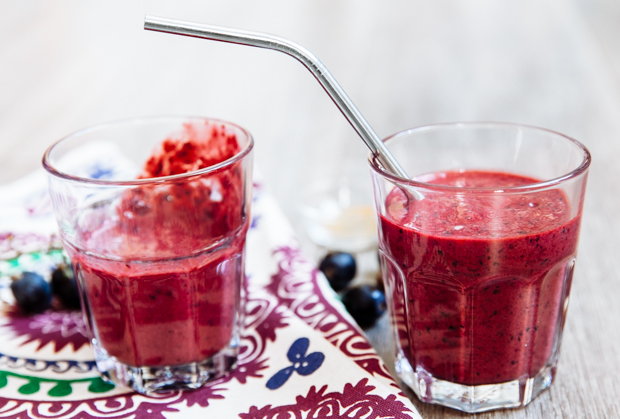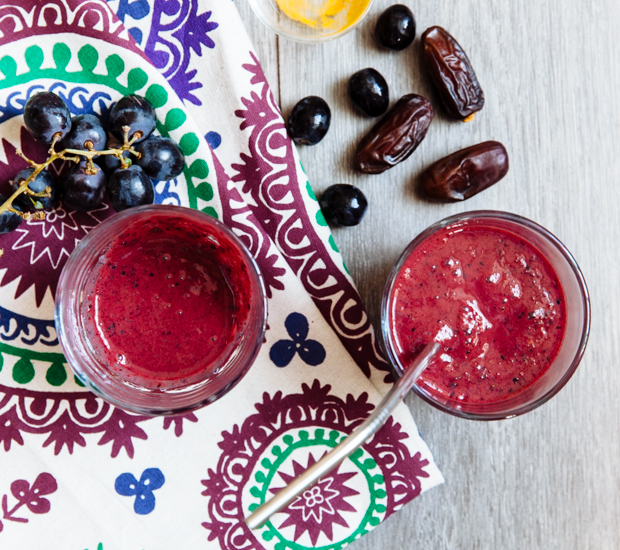 INGREDIENTS
1 small beetroot, peeled, washed and cut in small pieces
1 cup sable grapes (or other red variety)
1 cup frozen mixed berries
1 cup soy yogurt
1 teaspoon ground turmeric
1/2 teaspoon honey (optional)
some water or soy milk
Put all the ingredients (apart from water or soya milk) in a blender and pulse until smooth; adjust the consistency with a few splashes of water or soya milk.
Tip: Because I'm lazy and, when it comes to food,  I like to be as prepared as possible, I always keep smoothie bags in the freezer: chop the fruit and vegetables you'll be using, place in a ziploc bag, label and date; when you feel like a smoothie, simply empty the bag into the blender, along with the rest of the ingredients you'll be using (sweetener, spices & herbs, yogurt, milk, nuts, etc).