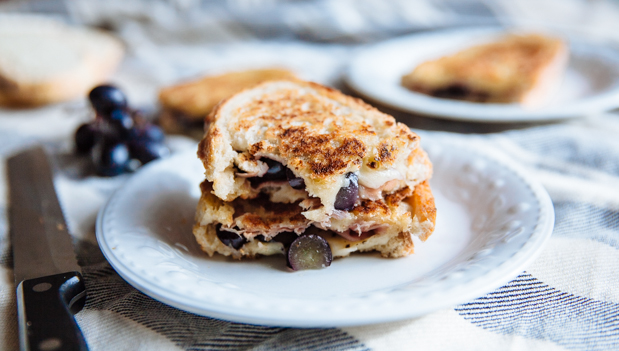 Here's what's on the table for my last cheesy post (for this week): grilled cheese. Not just any grilled cheese, but a super simple, yet super delicious one, with comté cheese, prosciutto and sable grapes. 
Remember the one I made a few months back? With lots of smoky cheese, sweet and spicy crunchy bacon and a little kale to disguise its sinfulness? Well, this one is- if not better- certainly more subtle. Comté needs subtlety, don't you think? Its slight nuttiness and gentle saltiness need to be brought forward, not masked. So, in come the sables- my favourite grape variety: seedless, gloriously dark, firm and sweet, they are perfect on their own and sublime when paired with cheese.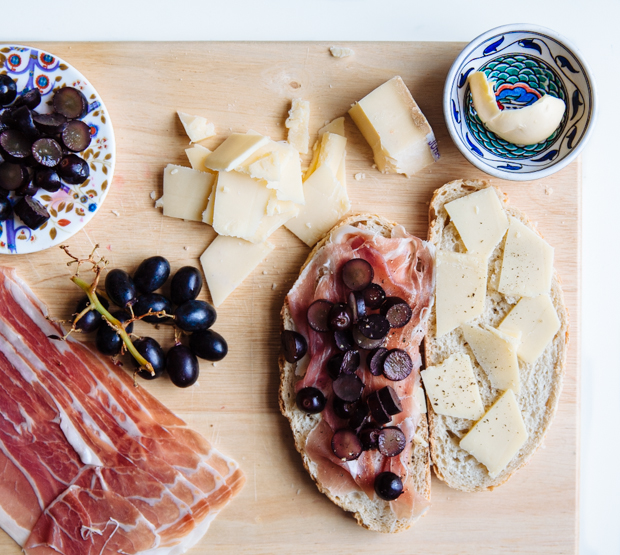 But we need more- just a touch. Enter prosciutto- not because we're fancy (which we are), but because we need a last layer of subtle flavour in our sandwich, something to balance out our crusty white bread and the always welcome butter. Few ingredients, but all necessary, all complimenting each other, subtly. Sliced bread and lots of comté cut in small pieces for texture; sliced grapes, juicy and purple-y, a couple prosciutto slices for their gorgeous colour and flavour and then again, extra cheese, the star of this quick bite and the delicious gooeyness that holds everything together. On to the pan, quickly browned on both sides until golden brown, crispy on the inside and melted to perfection on the inside; slice in two, grab with both hands and eat like royalty. No biggie, no fancy.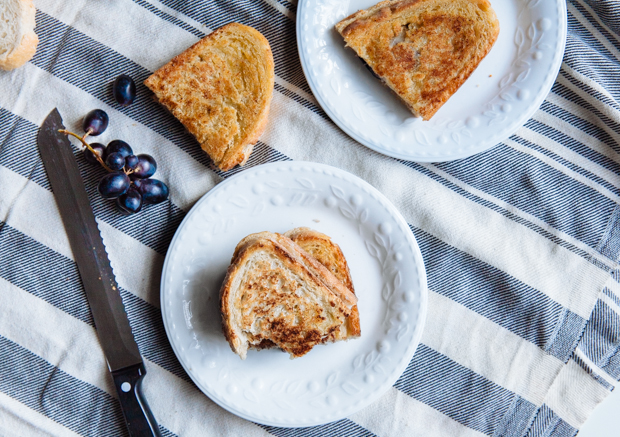 INGREDIENTS (for 2 sandwiches)
4 large pieces of white bread
1/2 cup comté, roughly grated (I cut mine using a spatula-like knife for bigger chunks)
4 prosciutto slices
1/3 cup sable grapes, sliced
2 1/2 tablespoons butter for the pan
To assemble: place a generous layer of cheese on one bread slice; follow with the sliced grapes and prosciutto (about 2 slices per sandwich); top with a final layer of cheese and the second slice of bread. Repeat with the other two slices of bread.
Melt the butter in a non-stick pan, over medium heat.
Add the two sandwiches and cover the pan (this will help your cheese melt faster); when the bottom slices are nicely browned (after about 5'), carefully flip and repeat on the other side.
Slice and serve.