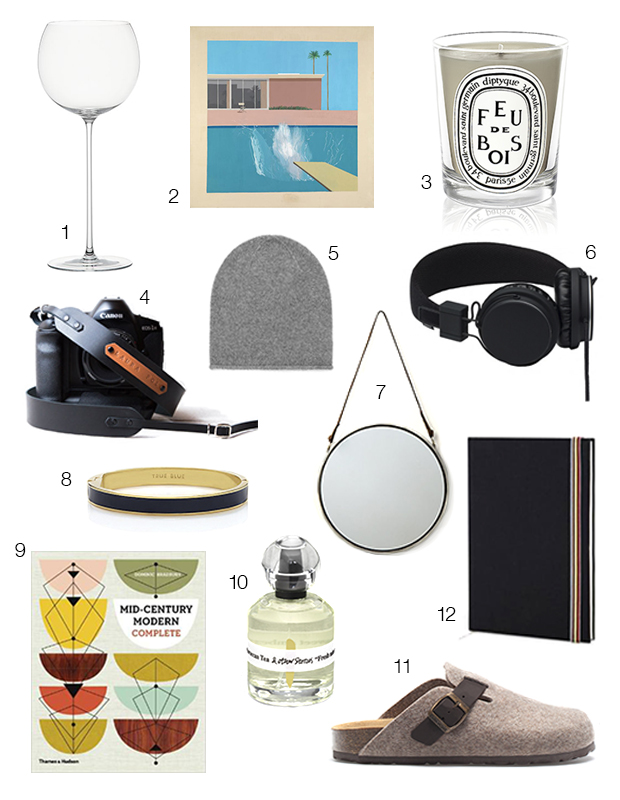 This gift guide is inspired by my favourite cool minimalist, my sister. I always marvel at her dedication to the 'less is more' rule: from the way she dresses (she has an endless collection of plain, white, cotton tees, along with an impressive number of blazers, which she simply accessorize with beautiful scarves and few jewellery pieces), to her gorgeous apartment, filled with carefully selected items (and God forbid you dare move anything in there- she watches everyone like a hawk) and her cooking. Apart from a minimalist, Alkyoni is also the best gift-giver, so here's hoping I won't embarrass myself this year and get her something she will actually like. 
1. The best wine glasses. Good enough for minimalist caretaker Olivia Pope, certainly good enough for you.
2. Alkyoni actually has this print at home- and it was a gift from me!
3. Wintery candle in a subtle colour- of course.
4. Personalised leather camera straps (but gotta keep the tag minimal)
5. The softest cashmere hat.
6. Black headphones in a cool design.
7. My sis doesn't have a mirror at home- I guess it messes with her minimal ju-ju. But this one could probably cut it.
8. We both love a beautiful, simple gold bangle. We actually currently share our favourite one.
9. The ultimate guide to cool interiors.
10. Apart from clothes in cool, clean lines, And Other Stories also has some gorgeous scents.
11. Even slippers have to be minimally cool. Get it?
12. Do all minimalists also have a slight obsession with jotting down lists in neat notebooks?