Comforting as they are simple, these baked beans with harissa, chorizo & sun dried tomatoes remind me of home and speak to my heart.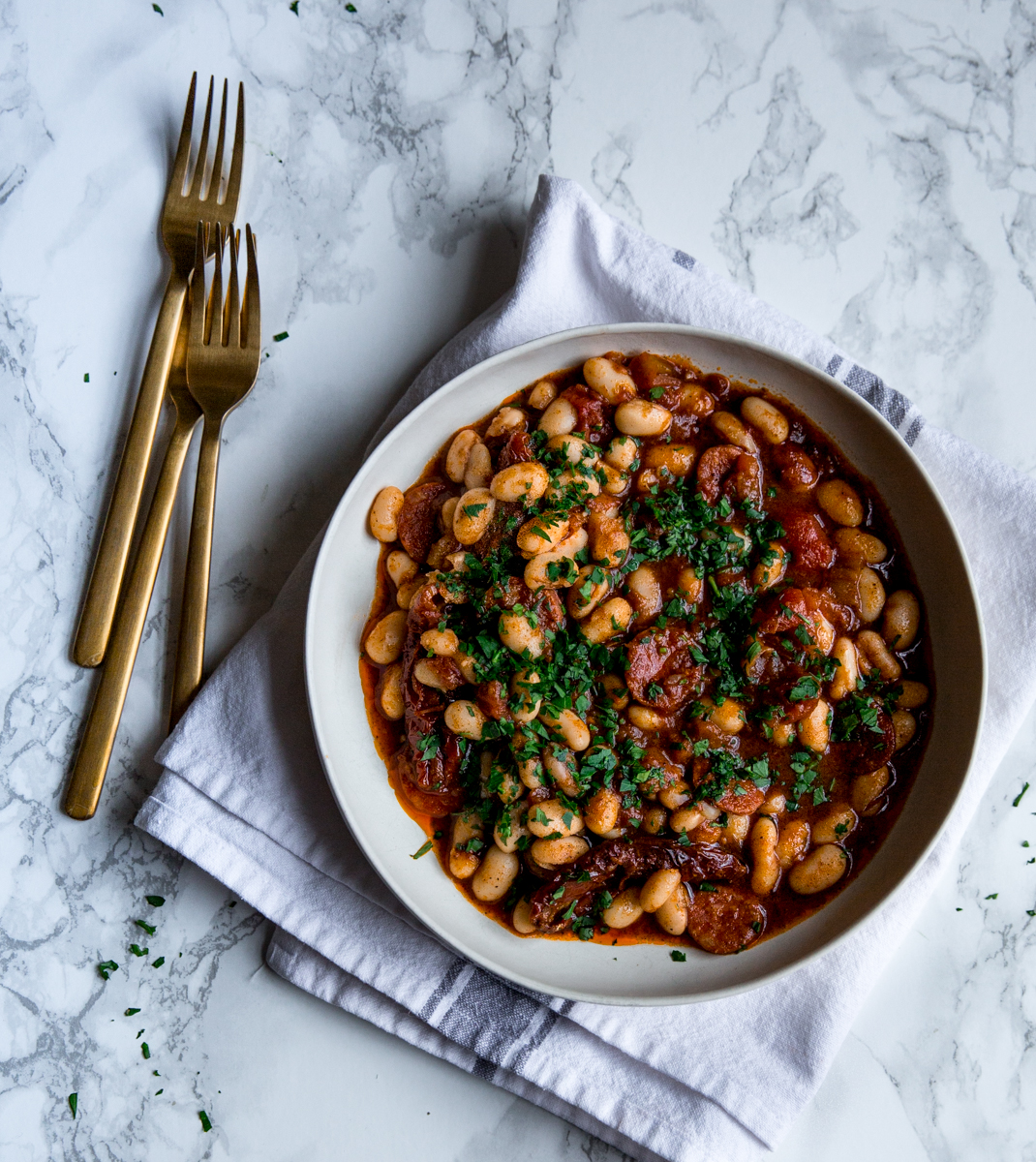 How happy am I to be back here after what seems like forever! I have been working on projects almost non stop for the last couple of months and even though I much enjoy collaborations and the challenges and joy they bring, cooking purely for pleasure, following a craving or inspired by an ingredient is always what I love the most. That and sharing it all here.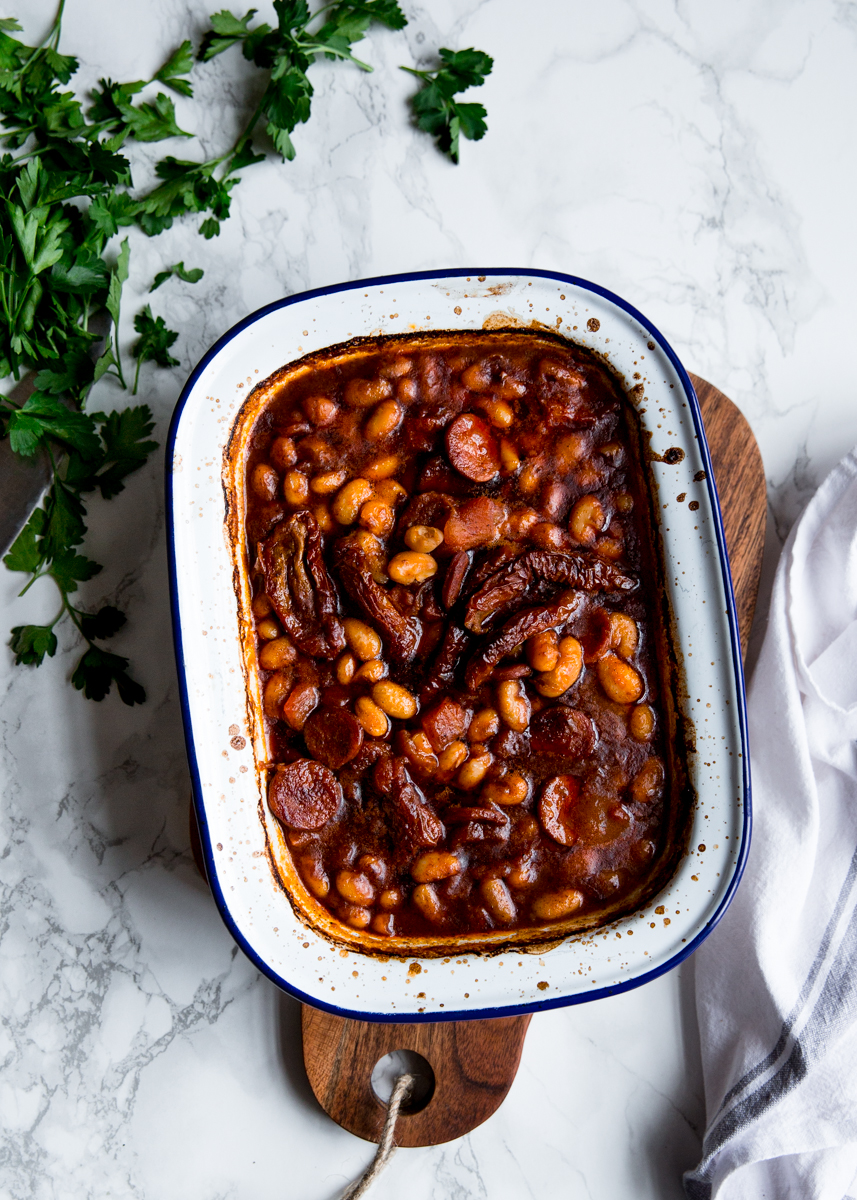 I've made these baked beans (and variations of them) time and time again since Christmas and every time, my fondness seems to grow; it's no surprise really, as all things I like can be found in this simple, rustic and unassuming dish: pulses, a little spice and a thick sauce that requires fat chunks of bread for lots of dunking. The initial idea is based on one of my favourite dishes from back home: giant beans (gigantes) baked in a tomato sauce, until bubbly, thick and just a little charred on top. My mom often throws in some celery and carrots, along with generous slices of fragrant sausages. It's hearty, rich, delicious and truly representative of how comforting, humble and heart warming Greek food can be. I've taken a few short-cuts and made tweaks here, but tried to preserve the soulfulness of the dish.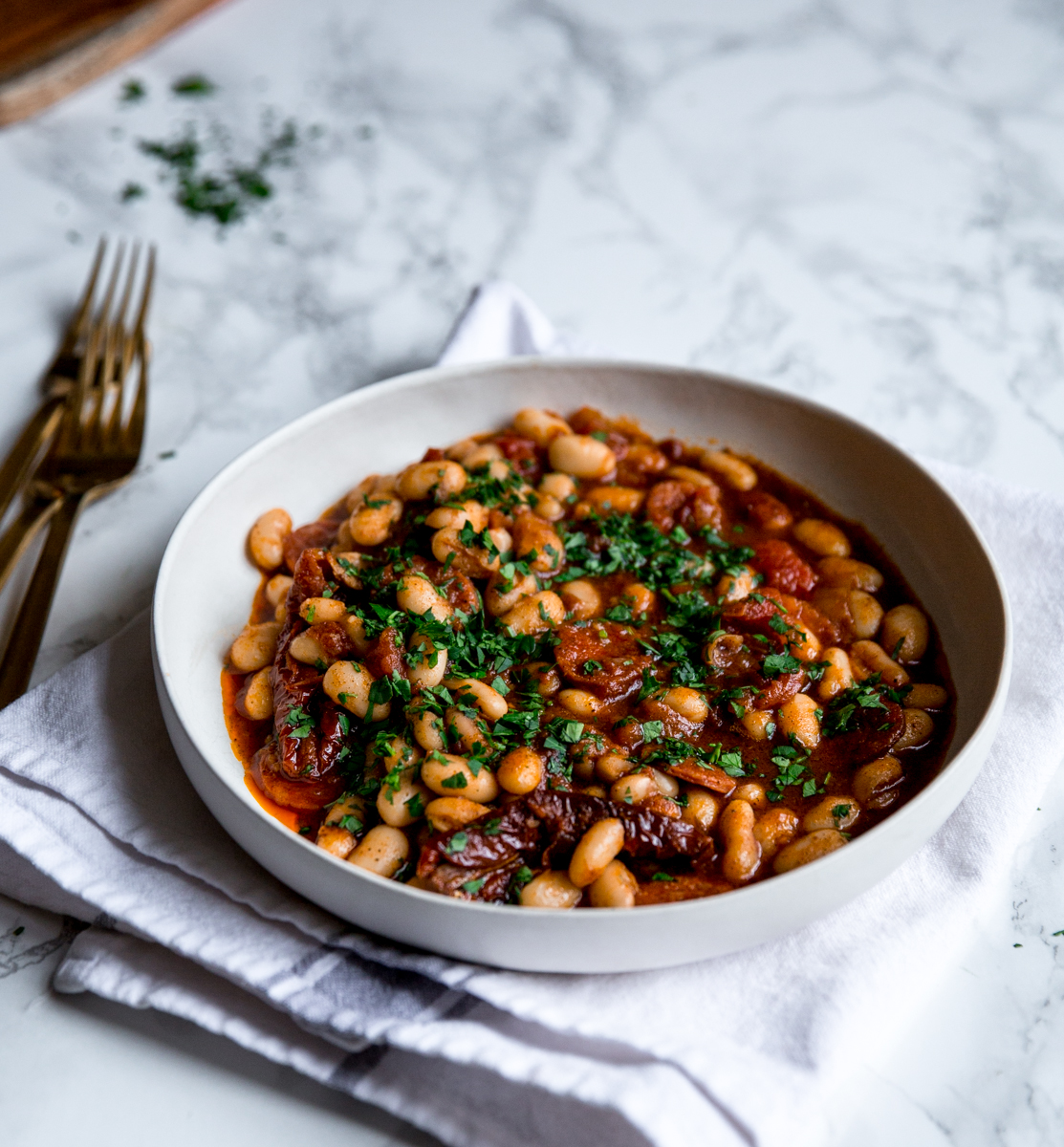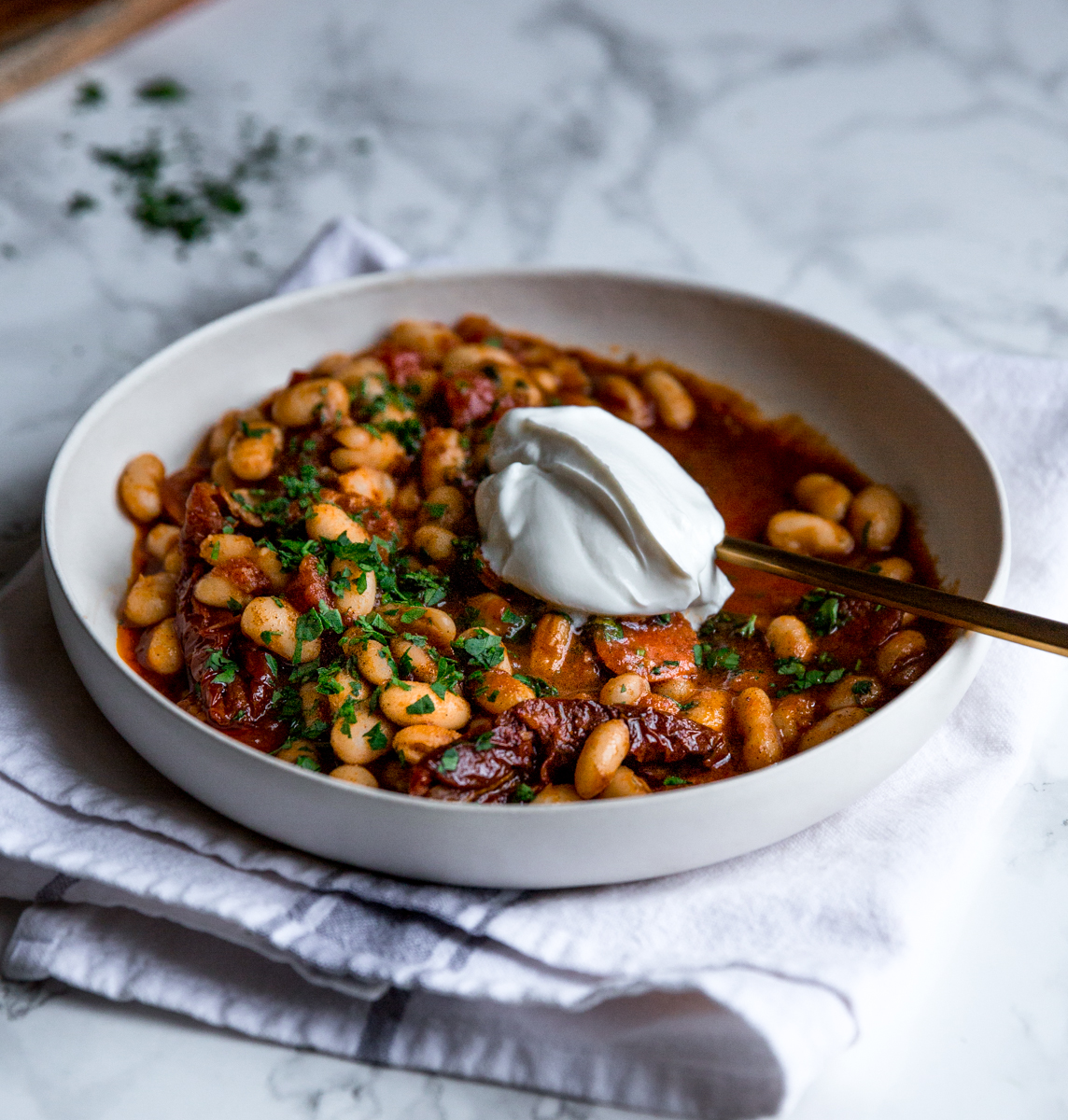 So start with your spices, then a big knob of butter (the smell of the two really is intoxicating!), some olive oil and a big dollop of spicy, fragrant harissa paste. Honey for some balance, chorizo for texture and saltiness, beans and sun dried tomatoes for all around goodness. And you're done- bake covered in foil, let the aromas fill the kitchen, slice some bread, have some creamy Greek yogurt and fresh parsley at hand and get ready to dig in.
* Feel free to omit the chorizo, butter and yogurt for a vegan version, substituting with extra sun dried tomatoes and olive oil. It'll be equally delicious.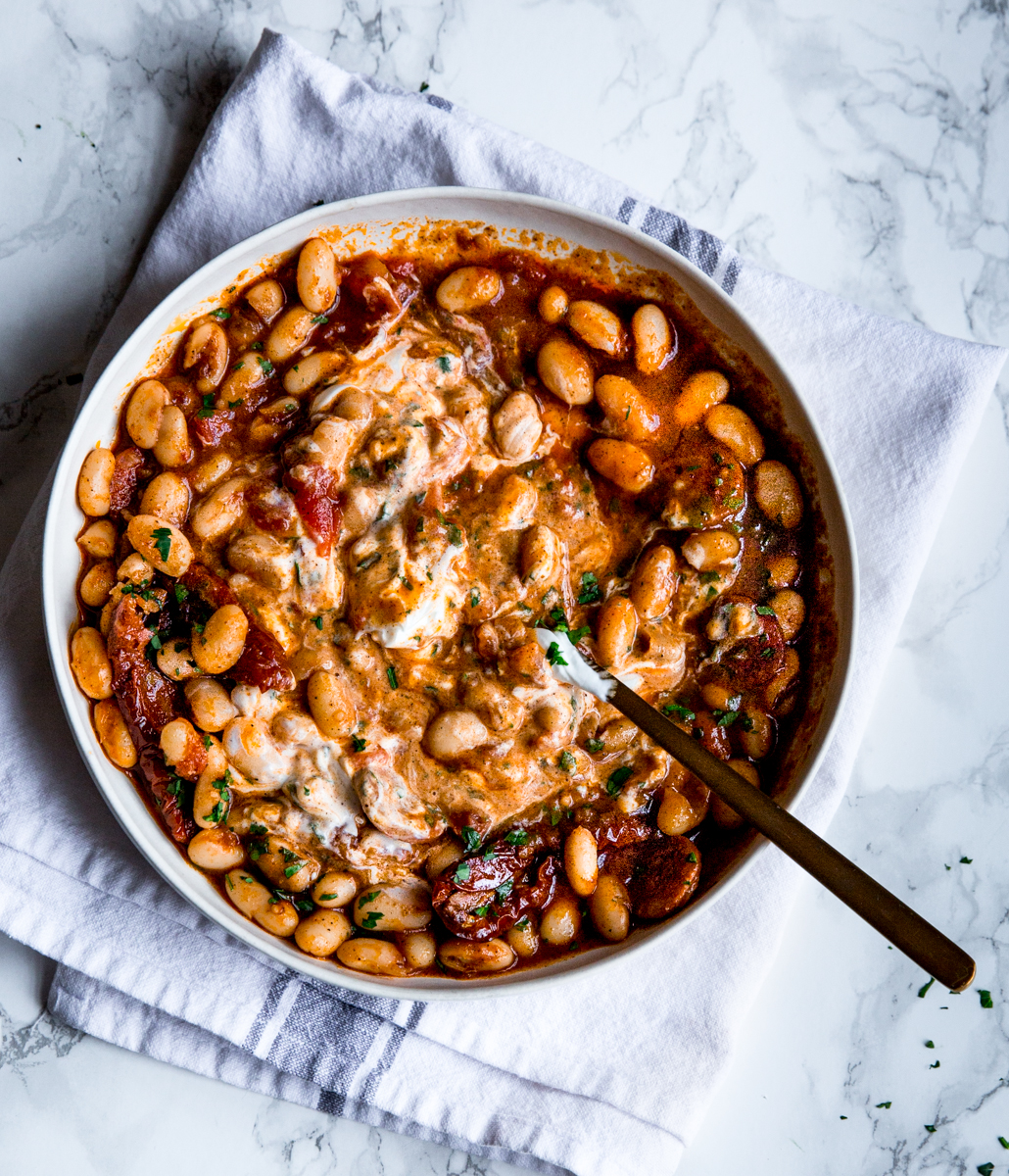 Baked beans with harissa, chorizo & sun dried tomatoes
WHAT
smoked paprika & ground cumin- 1 teaspoon of each
1 tablespoon olive oil
25g unsalted butter
2 teaspoons harissa paste
1 tablespoon honey
60g chorizo, sliced
2 cans cannellini beans, drained and rinsed
1 can plum tomatoes, chopped
1 1/2 teaspoons salt
10 sun dried tomatoes
to serve: fresh parsley, Greek yogurt
HOW
Preheat the oven to 190ºC (170ºC FAN).
Warm and medium sized pan over medium heat. Add the spices and cook for about 4'. Add the olive oil and butter, stir well and then add the harissa and honey.
Remove from the heat and add the chickpeas, plum tomatoes, salt and sun dried tomatoes.
Tip into a baking dish, add 120ml water and bake in the preheated oven for 30' covered loosely with foil. Remove the foil and bake for another 10'.
Take out of the oven and serve with big dollops of yogurt, fresh parsley and lots of crusty bread.