This delicious, velvety smooth yellow split pea dip (fava) is one of the best Greek dishes; give it a try, it will surely become a favourite!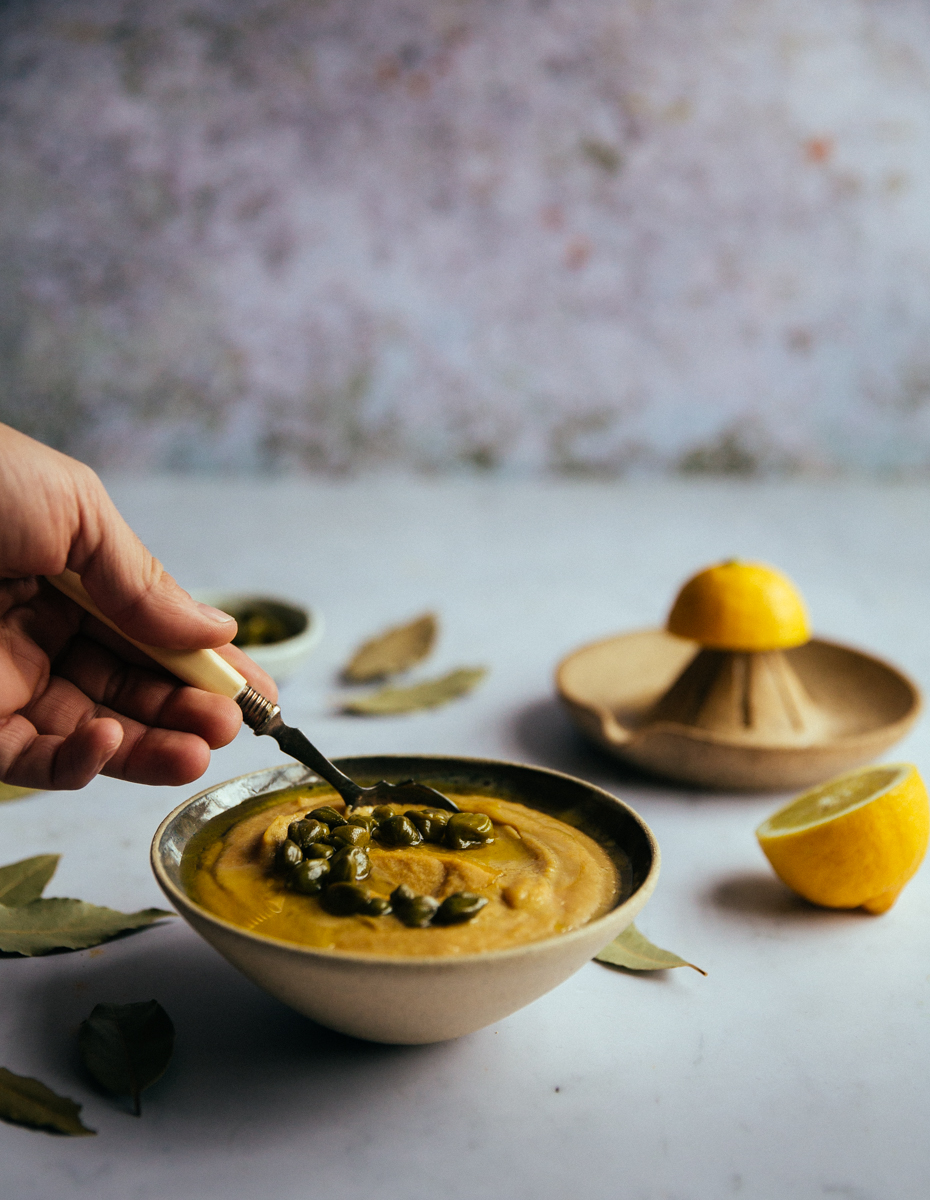 I am a sucker for the seemingly simplest dishes; the ones that require only a handful of ingredients, no complex techniques, no gimmicks, no fuss whatsoever. I gravitate towards simple food when in need of lots of flavour and, more often than not, when comfort food is required. Many such dishes are staples of Greek cooking (a cuisine deceptively plain, filled with humble ingredients); It's these I long for when I last expect it, when I've almost forgotten about them. Like fava,  a dish my mother cooks almost weekly, by heart, barely measuring ingredients, merely repeating what she's done time and time again. Resembling hummus in looks and texture, yet quite different in ingredients and preparation.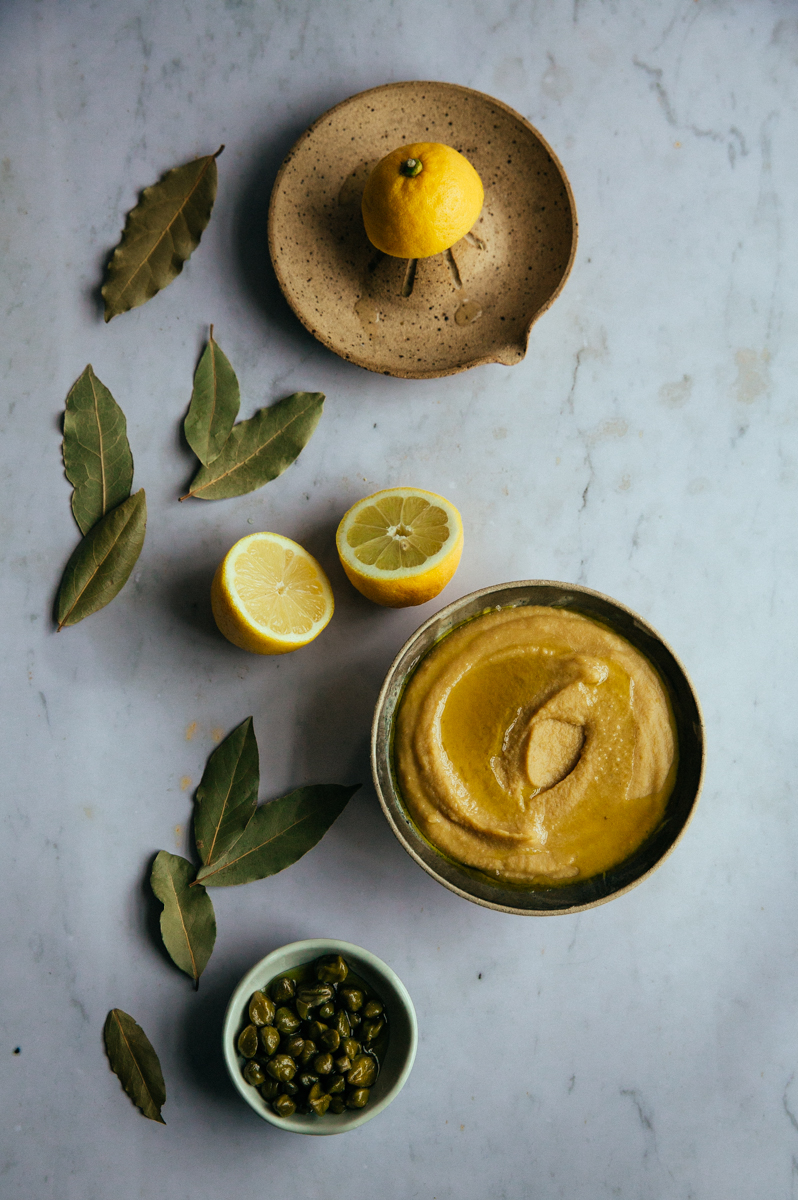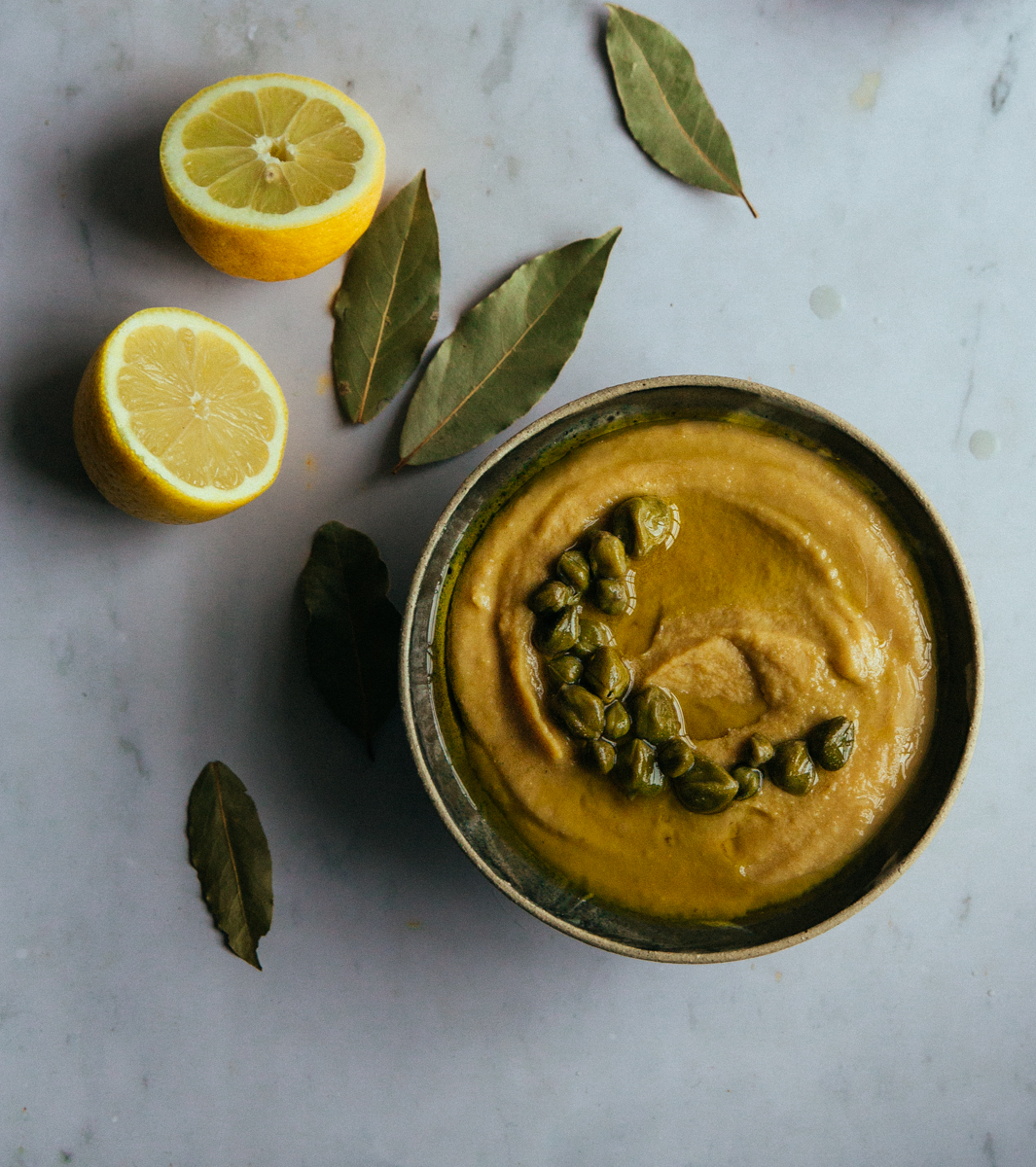 Confusingly, it's not made of fava beans (kouki in Greek), but yellow split peas (lathouri in Greek); the most delicious varieties come from Santorini, and it's those my mom always uses. A few days ago, and while I was complaining to no end about my new diet and missing cheese, she suggested I made fava and gave me directions over the phone, while I was making it; as you'll see below, it's the simplest of dishes to make, still my mom's recipes are always impressively vague, yet always work. I followed along and a little while longer, I was transported back to our family table, dunking big chunks of sourdough in a shallow bowl filled to the brim with still hot fava, topped with raw onion slices and lemon juice.
It was all gone that same evening and a couple days later, I went to Oliveology in Borough Market to get more. This time, I followed Despina's recipe, which I've taste time and time again in her cooking workshops and is always just perfect. Do give it a try; it's simple and humble and as such one of the most delicious dishes you'll ever taste. Top with capers like I did, or raw onions (which are always a little too much for my taste, but still a very common topping), or even sardines or grilled octopus, great pairings both for texture and flavour.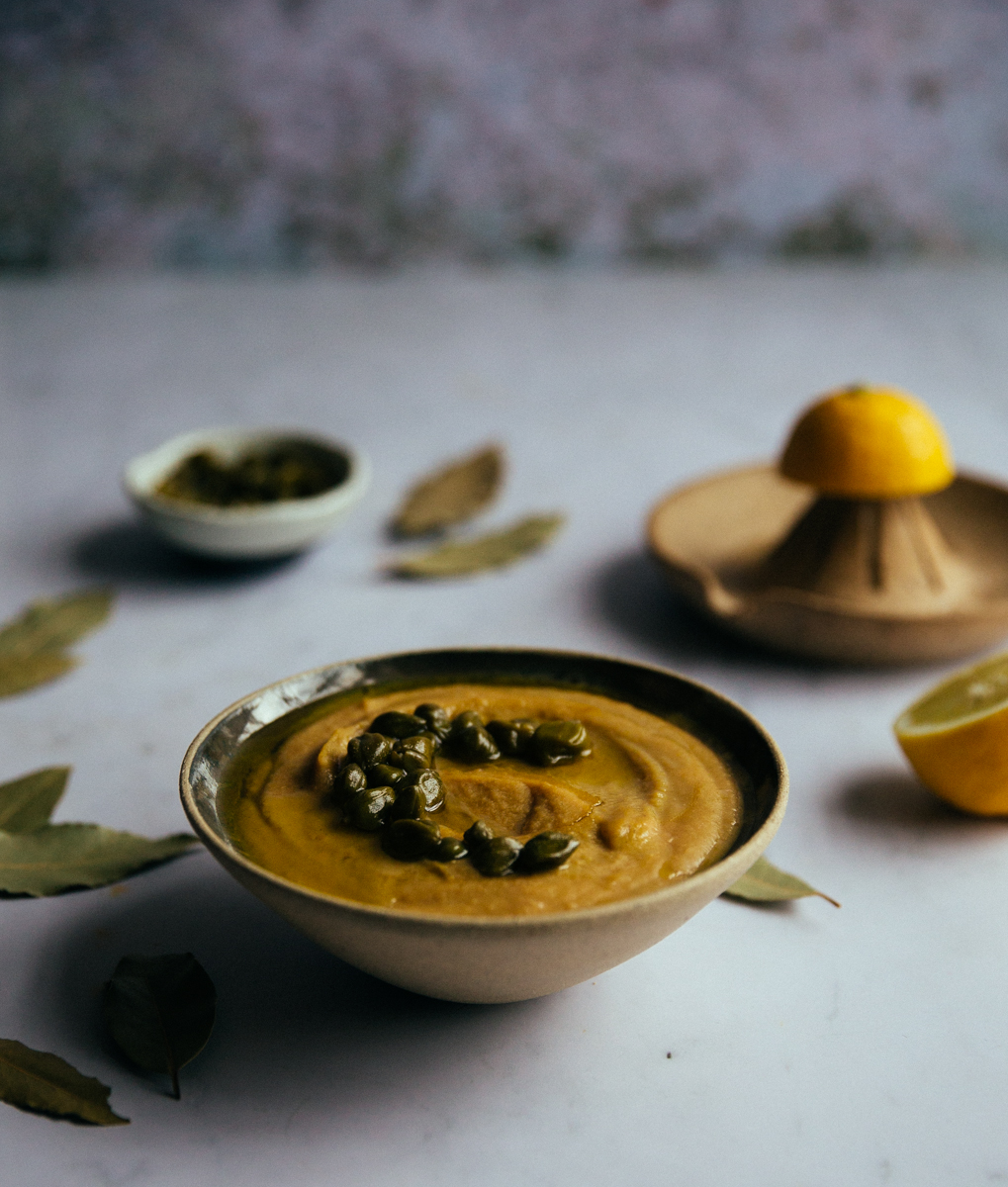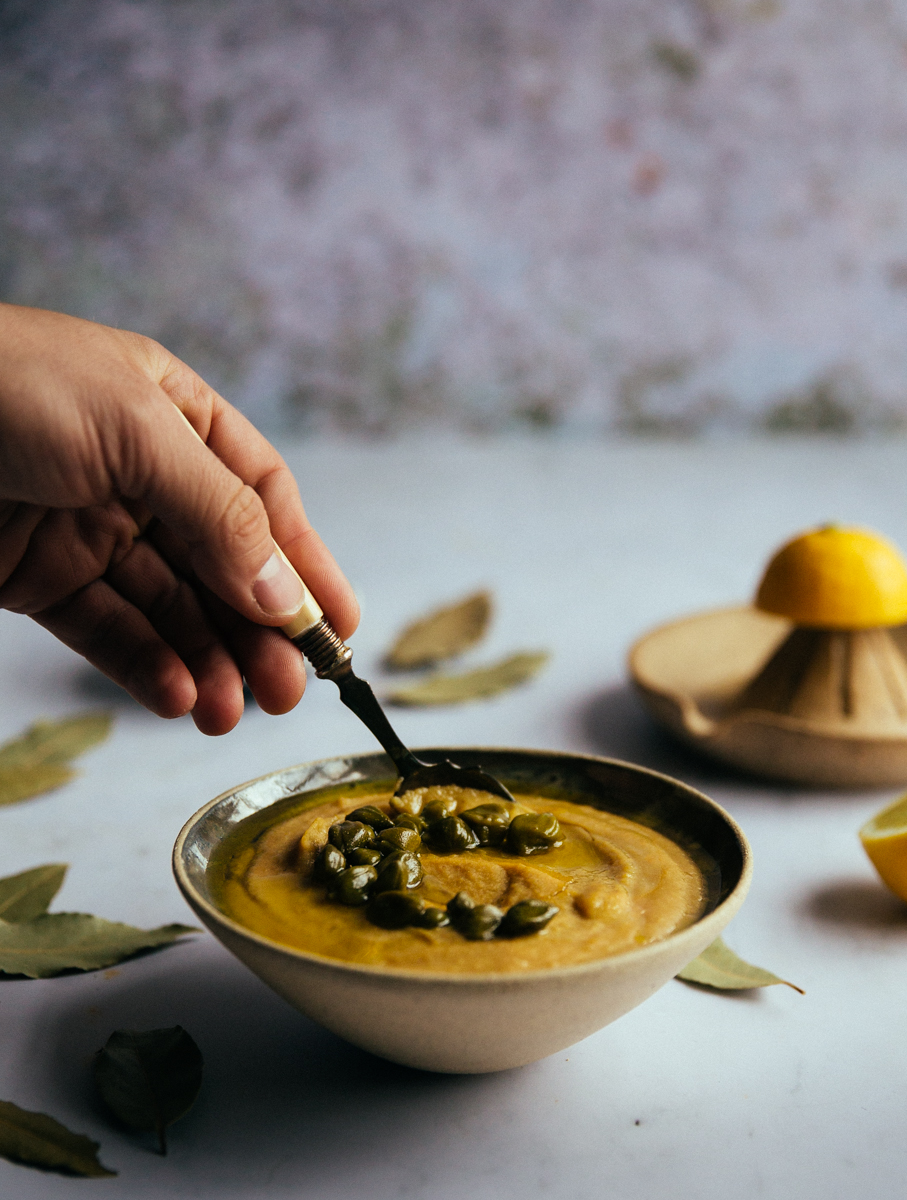 Yellow split pea dip (fava)
WHAT
400g fava (yellow split peas)
700ml water 
3 medium onions, peeled & roughly chopped
1 garlic clove, peeled & roughly chopped
2 carrots, peeled & roughly chopped
3 bay leaves
180ml extra virgin olive oil
juice from 1 lemon
sea salt to taste
HOW
In a large sauce pan, add some olive oil and cook the onions and garlic until soft; add the carrots and bay leaves and cook for 5′ over medium heat.
Don't rinse the fava! Just add to the pan, along with the water, which should cover it completely (you may need a little extra). Bring to a boil and then reduce to a simmer.
Cook for about 40′-50′, or until the peas are very soft, skimming off any scum as necessary.
When the fava is cooked, remove the bay leaves and pour into a blender, adding the olive oil and lemon juice gradually for a velvety smooth texture. Season with sea salt to taste.
Serve a little warm or at room temperature with capers and a little extra olive oil and lemon juice.