Filled with so many colours and textures, this cauliflower, spinach & hazelnut salad with peanut butter dressing is perfect for the holiday season.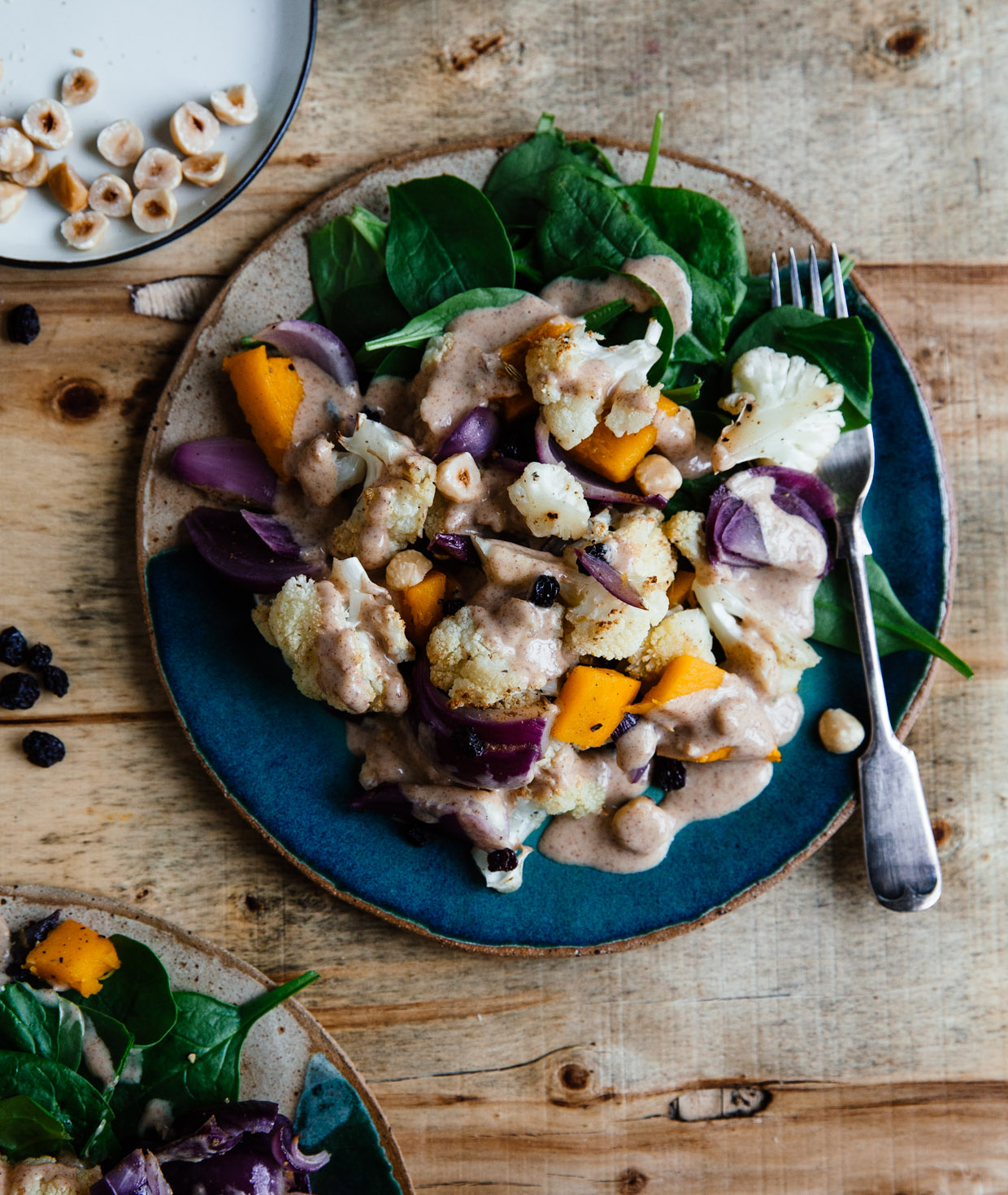 I've been thinking about holiday meals a lot these past couple of weeks; 'tis the season I suppose, for gatherings, big or small, and tables filled with dishes reflecting seasonal colours, a celebratory mood and family or other traditions. There's so much to enjoy during the colder months, so many beautiful ingredients, some discrete yet always reliable and others filled with wild colour and irresistible flavours. Cauliflower I feel is often left in the shadows, what with its pale skin and less than desirable cooking aromas; somehow though, it's always been dear to my heart, much like a beautiful blank canvas, inviting and welcoming all at once. So when Blas Y Tir sent beautiful bundles of it, I could not wait to play around with the crunchy, snow white beauty. I'd already had very fond memories from working with their chubby, delicious spring potatoes and mixing them with fresh greens and smoked salmon, I was sure their winter produce would be qually satisfying, both to work with and to savour.
The cauliflower florets were delicious just freshly cut, with a deliciously crunchy flesh and slightly peppery flavour; roasted alongside gorgeous red onions & striking pumpkin wedges, slightly charred and at once still crunchy and soft, it was elevated to the great protagonist of a wintery, interesting and very delicious salad. The addition of crisp, fresh baby spinach, toasted butter-tasting hazelnuts and sweet baby raisins to the cauliflower gave colour, varied textures and flavours; finally, the smooth, lightly sweet peanut butter dressing brought everything together and added sweetness to the vegetables' earthy aromas: a tablespoon of honey and a pinch of cinnamon, a touch of lime zest and sea salt flakes too for balance. I honestly can't recommend this enough- it's as simple as it gets, as colourful and as satisfying, while also looking mighty striking.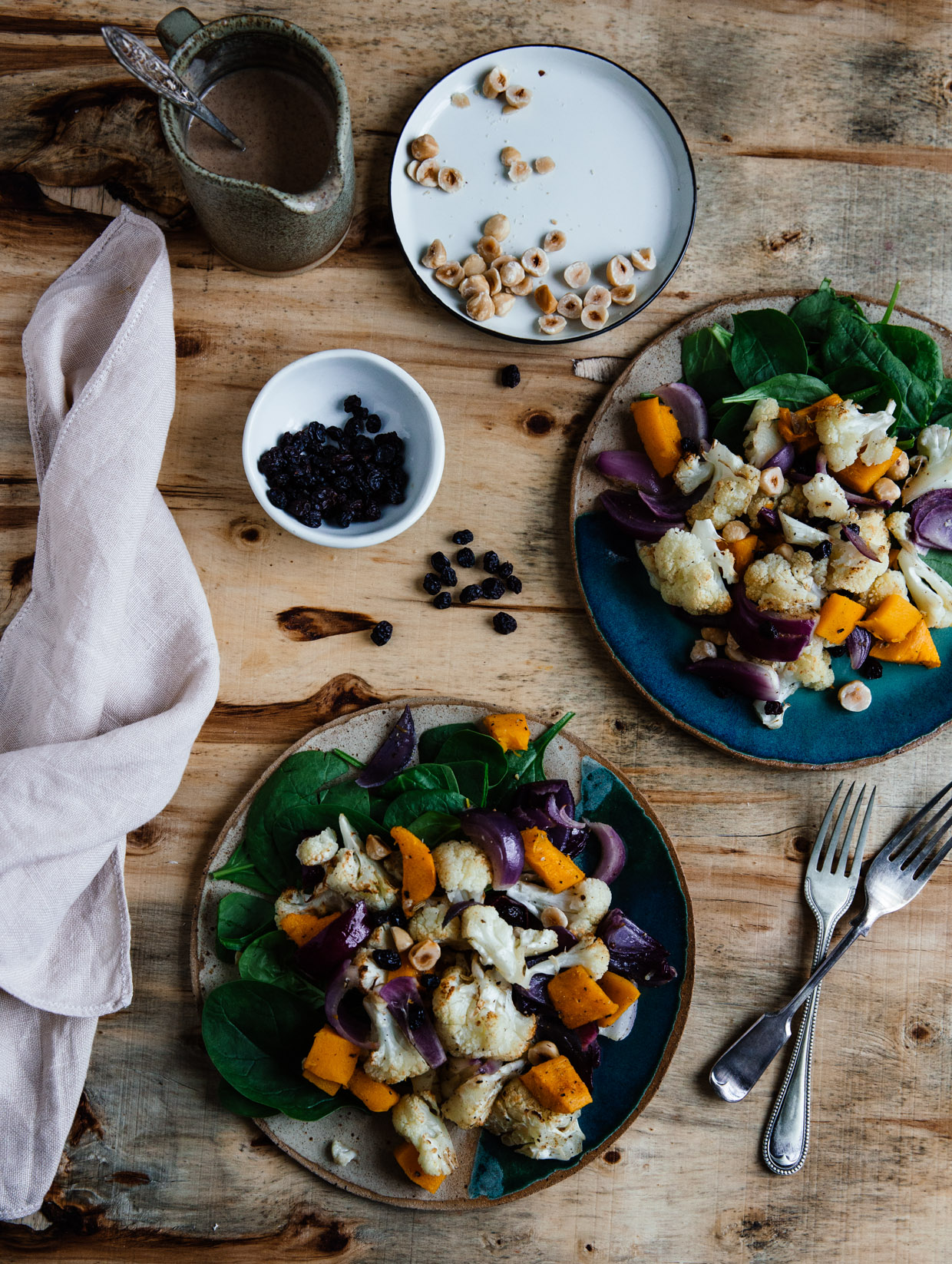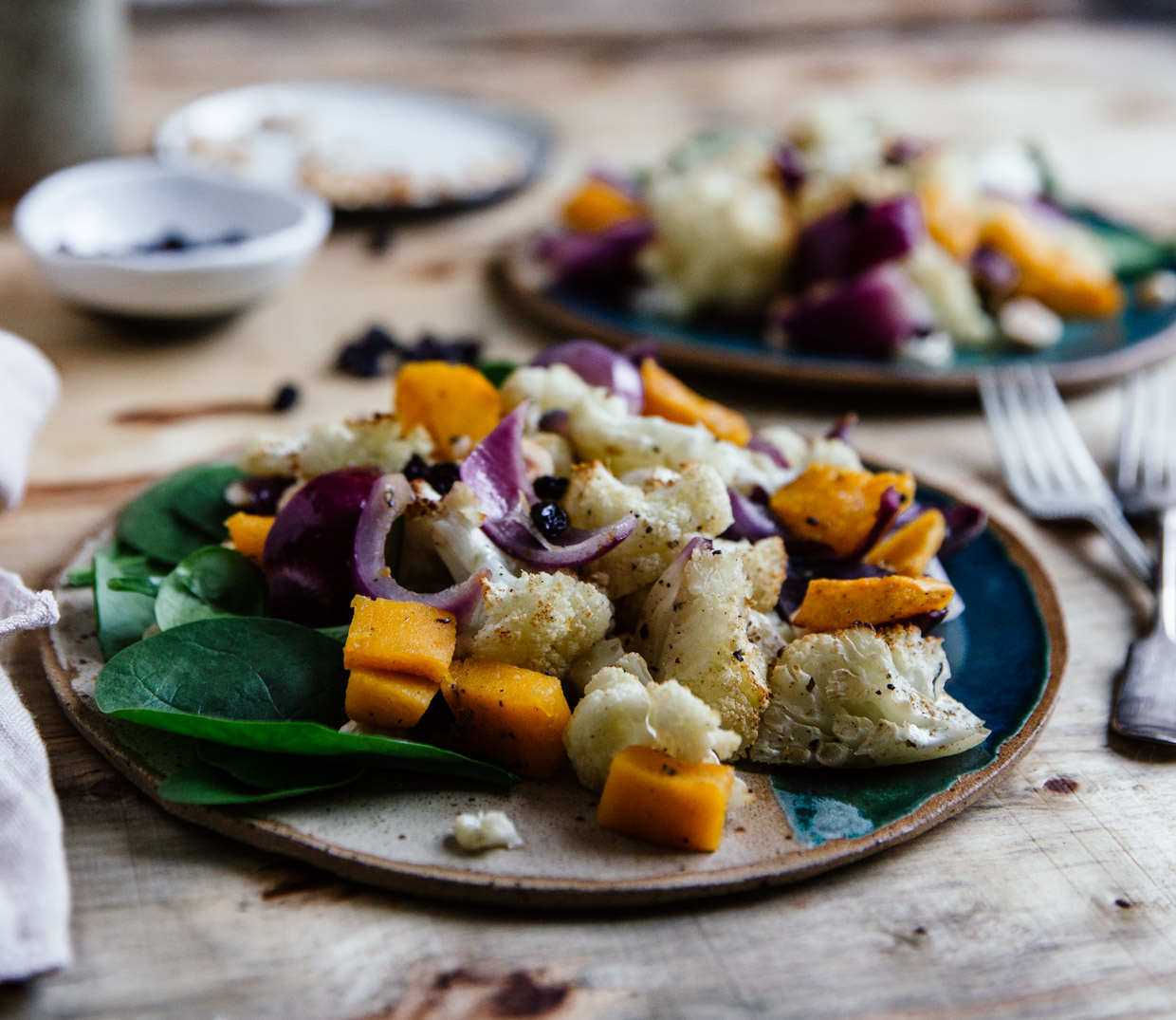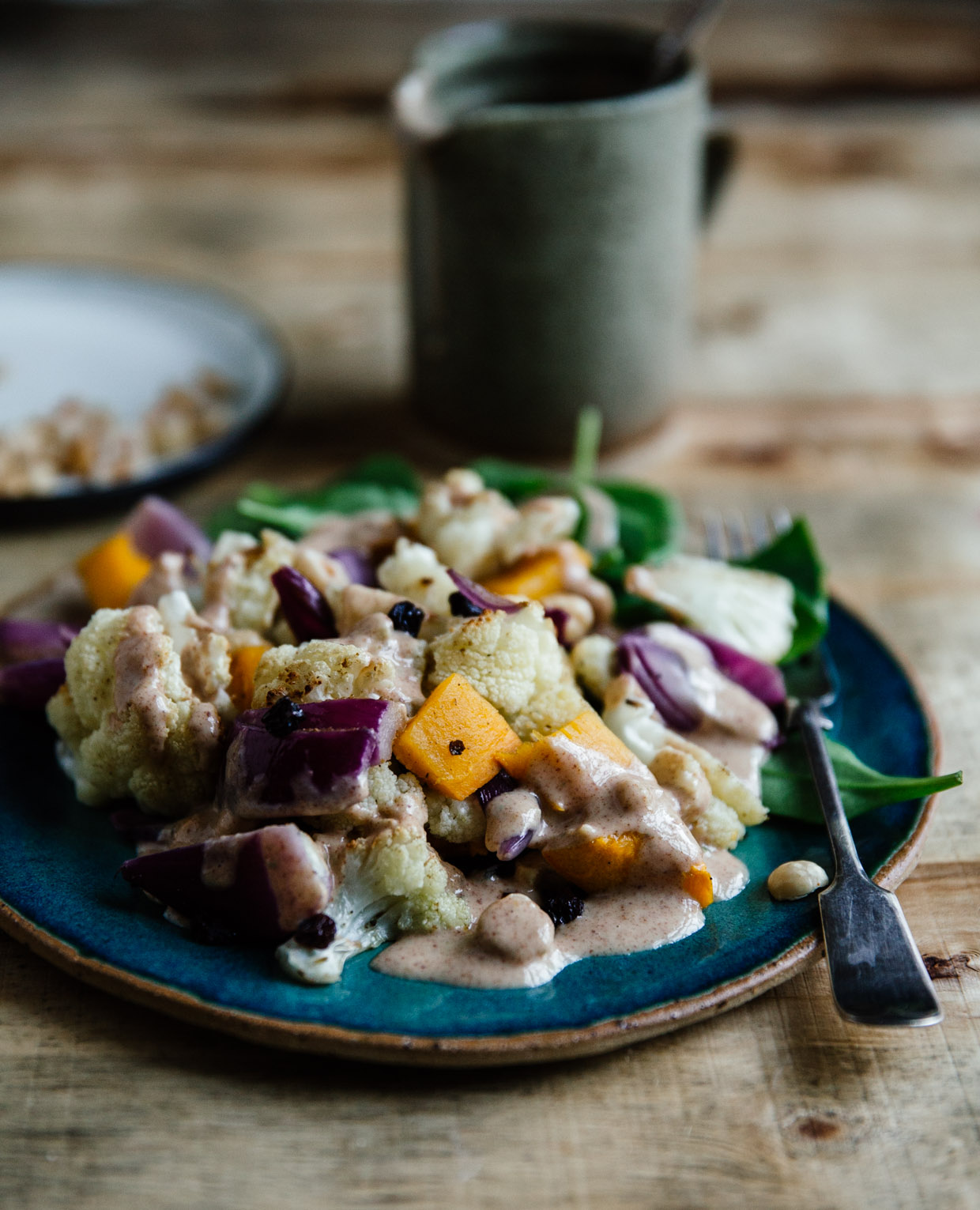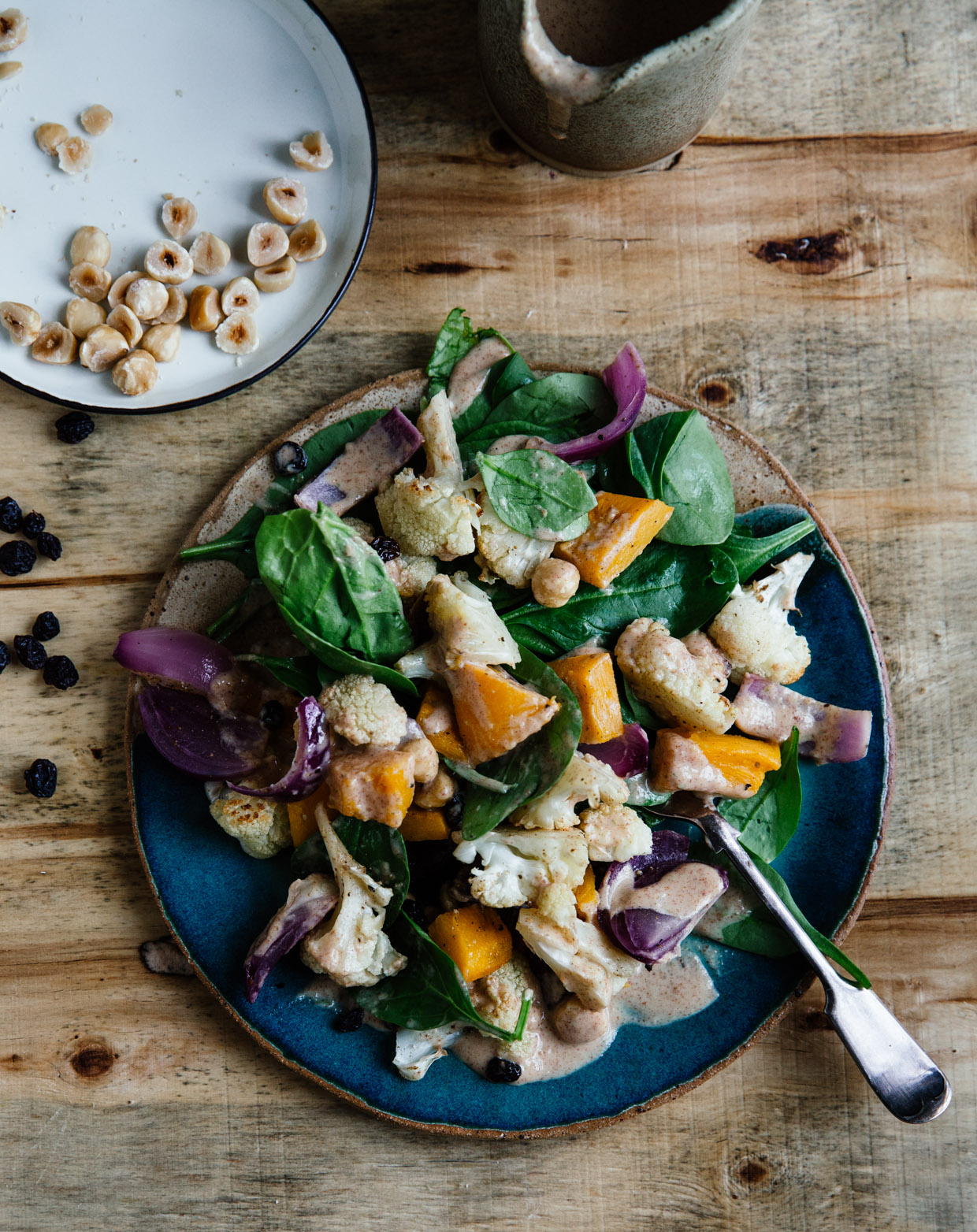 Cauliflower, spinach & hazelnut salad with peanut butter dressing
WHAT (serves 2 as a main dish/ 4 as a side dish)
1 small cauliflower head, washed and cut in small florets
3 medium sweet potatoes, peeled & cubed or sliced thickly
2 medium red onions, cut in thick wedges
1/2 teaspoon ground cumin
1 teaspoon fennel seeds
1/2 teaspoon runny honey
freshly ground black pepper
sea salt flakes 
a good drizzle of extra virgin olive oil
peanut butter dressing:
1/2 cup & 2 tablespoons smooth peanut butter
1 tablespoon honey
1/4 teaspoon cinnamon
1 lime (zest & juice)
1 tablespoon olive oil
1/3 teaspoon salt
about 4 tablespoons water
to serve: 
a few handfuls baby spinach leaves
1/3 cup toasted hazelnuts, 1/3 cup soft raisins
HOW
Preheat the oven to 180ºC (160ºC FAN); place the cauliflower florets, sweet potato pieces and onion wedges on a large baking tray. Add the spices, honey, seasoning and olive oil and gently toss to coat all the vegetables. Place in the oven for about 15', or until tender but not mushy. Remove from the oven and allow to cool.
Make the peanut butter dressing by placing all the ingredients in a medium sized jar (or blender); add the water one tablespoon at a time, to achieve desired consistency (bear in mind that if you let it sit for a while, it will thicken- you can always thin it our with a splash of water). Test and adjust the seasoning to taste.
Place a handful of baby spinach leaves on each plate, followed by a good amount of cauliflower florets & onion wedges. Drizzle generously with the dressing and serve the salad topped generously with toasted hazelnuts and raisins.
*This post was crated in collaboration with Blas Y Tir, but all opinions are my own.