Made with some of my favourite ingredients, this halloumi, avocado & red pepper sandwich is fresh, delicious and filled with colours and textures!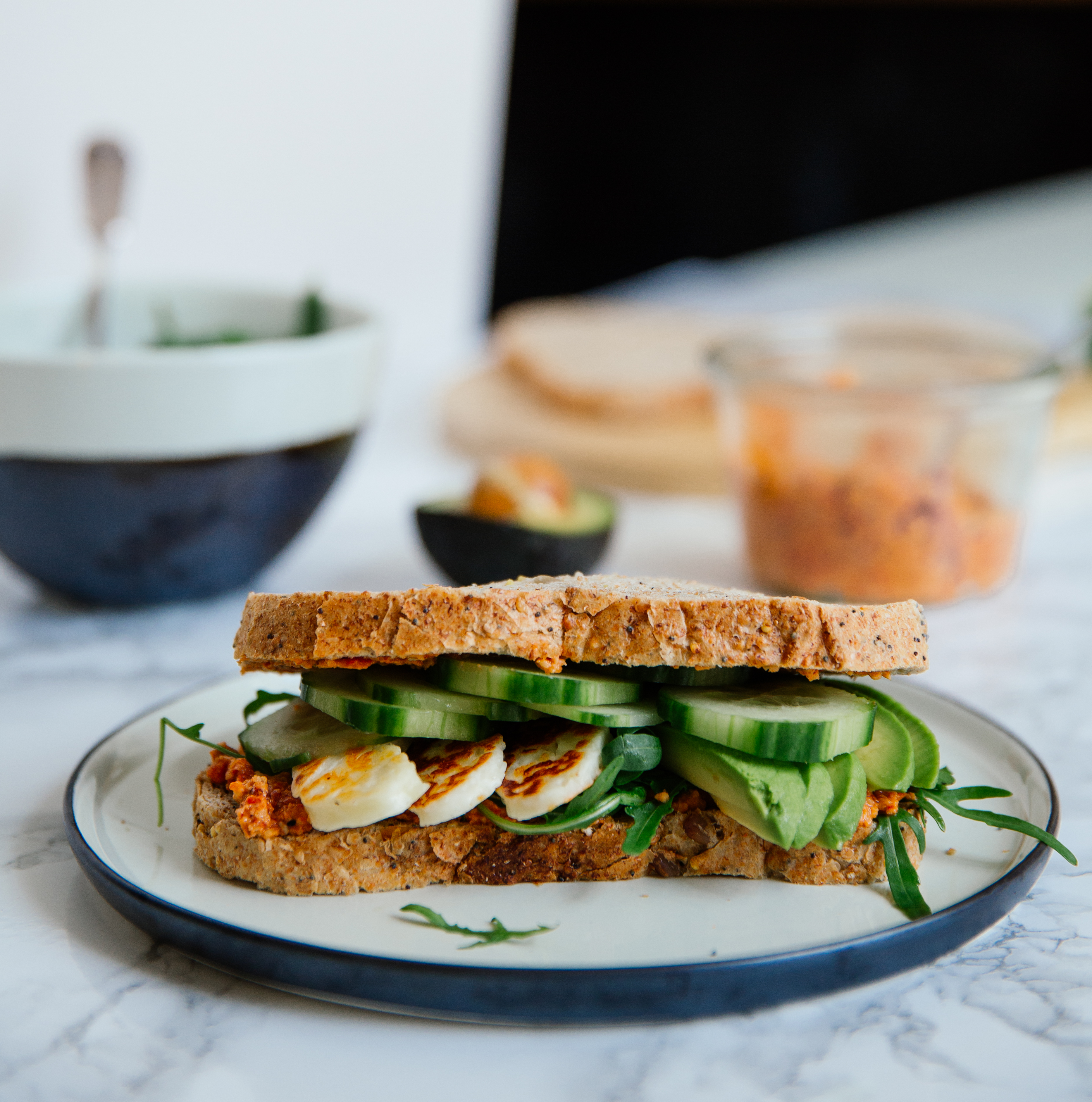 Just the promise of sunshine and warm weather suffices; it fills me with a child-like anticipation and a strange kind of energy, waking up at the crack of dawn, impatient for the glorious days ahead. And now that it's here- sunshine, and summer weather- I can't contain myself. The house is too small and the floor is too sturdy for my dancing feet. There's far too many things to celebrate.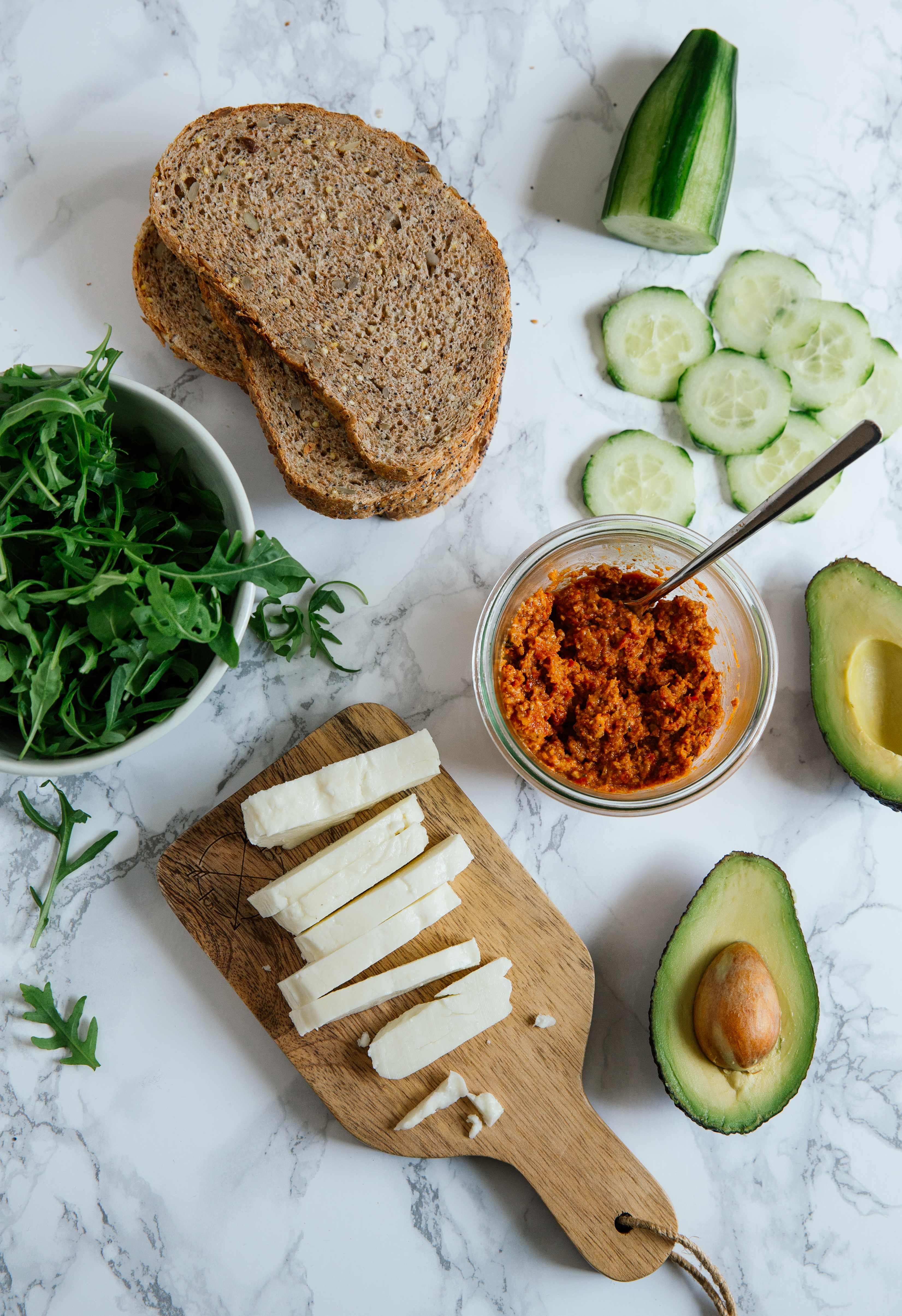 So out of the house and on the move- that's what it's all about this week. Being light and nonchalant, letting go and breathing in the light and the warmth. All about being thankful for the little things, the simple things, the most important things.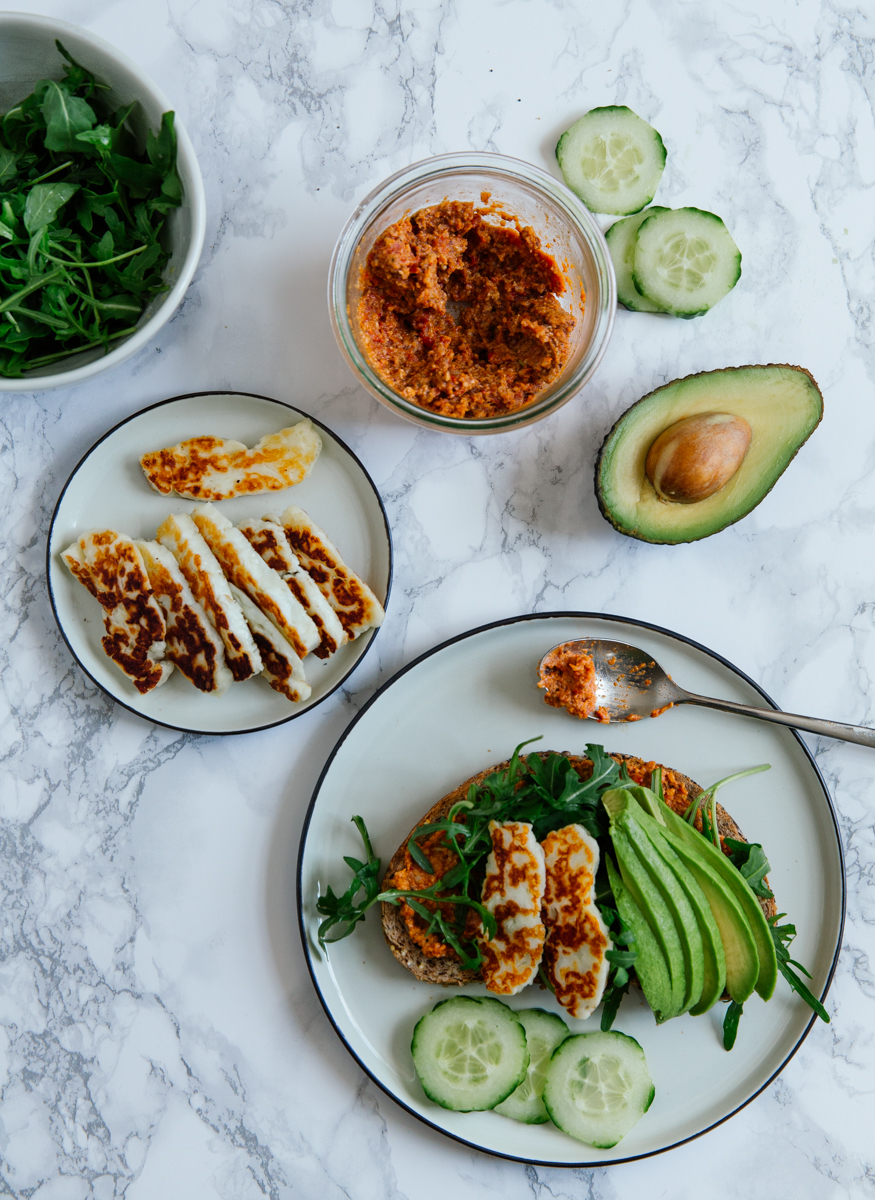 Simple- that's what it's all about. That's what this sandwich is all about too. My version of a favourite Middle Eastern dip, muhammara: sweet and salty, filled with fragrant roasted red peppers, pecans, cumin, honey and vinegar- it's the perfect partner to salty halloumi slices and nicely balanced out with refreshing cucumber slices and smooth avocado.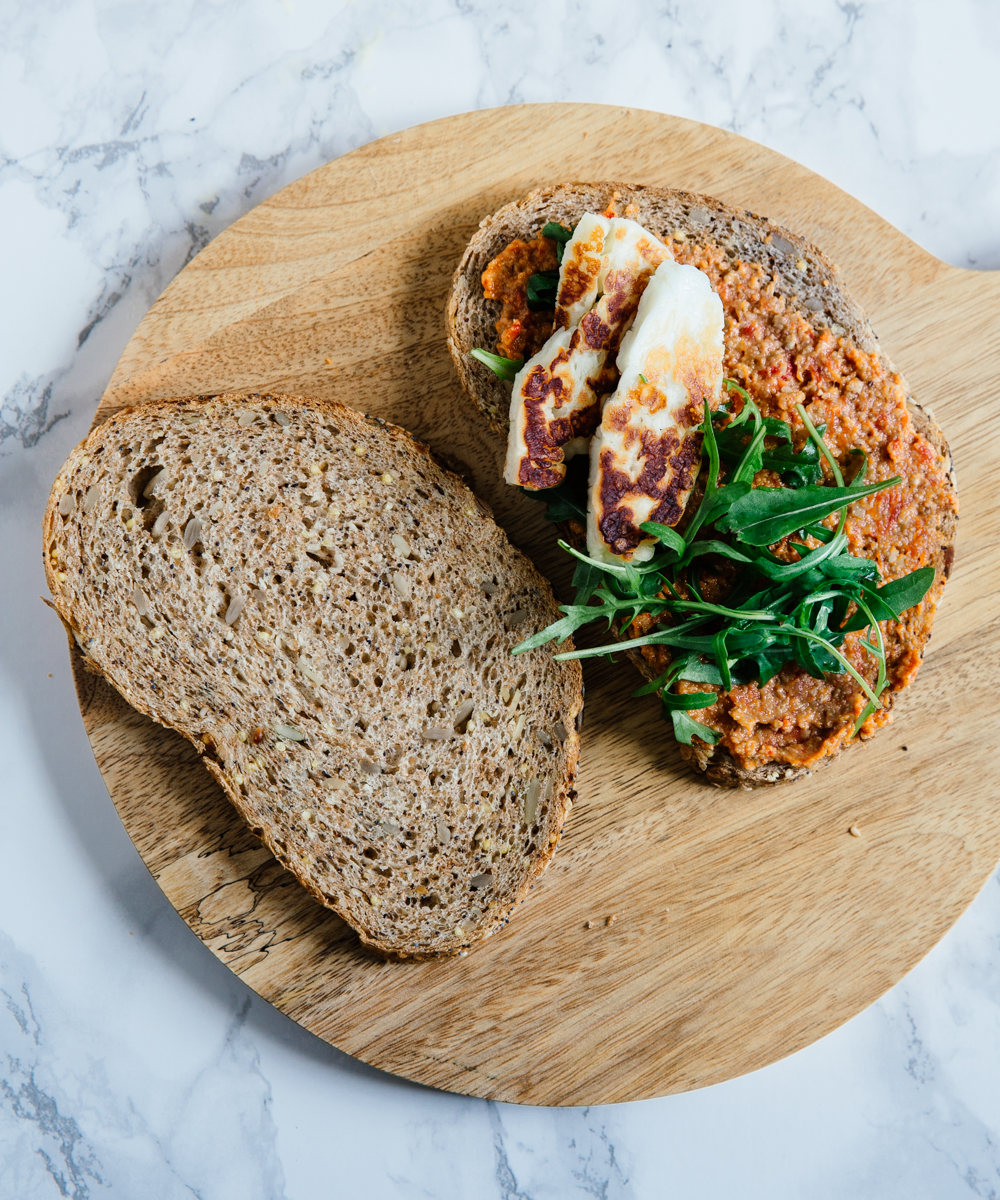 Easy to make almost on the fly (although I would recommend preparing the muhammara a day ahead- and making plenty too; it is delicious and keeps very well in the fridge), easy to grab and enjoy on the go. For these days are meant to be spent outside, with eyes and hearts wide-open.
Halloumi, avocado & red pepper sandwich
WHAT (for two sandwiches)
for the muhammara dip:
3 red bell peppers, washed
50gr pecans
50 gr breadcrumbs
1 scant tablespoon honey
1 garlic clove
2 1/2 teaspoons vinegar
1 1/2 tablespoons extra virgin olive oil
sea salt flakes to taste
for the sandwiches:
4 slices good quality sandwich bread (I used this one from Waitrose)
1/4 cucumber, peeled and thinly sliced
1/2 avocado, thinly sliced
120gr halloumi, sliced
1 handful salad leaves, washed and lightly dressed with some olive oil and white wine vinegar
HOW
Prepare the muhammara (ideally the day before, or at least one hour before serving the sandwiches): preheat the oven to 180ºC (160ºC FAN); place the peppers on  a baking tray and roast for about 20′, until their skin is soft and slightly charred (you will probably need to flip them halfway through baking time).
Remove from the oven, place in bowl and cover tightly with cling film. Allow them to cool completely- once they do, the skin should peel off of them quite easily. Remove it, along with the seeds and place the peppers in a food processor.
Add the rest of the ingredients and pulse to a thick pulp. Taste and adjust the seasoning and/ or oil & vinegar. Place in the fridge for at least and hour, to allow the flavours to come together and the dip to stiffen a little bit.
Before serving the sandwiches, warm and small non stick frying pan over medium heat; add the halloumi slices and cook until golden brown- about 5′; flip and cook the other side too.
To make the sandwiches: spread muhammara on one or both slices of bread and top with some salad leaves, halloumi, cucumber and avocado slices; add salt & freshly ground pepper if desired and top with the second slice of bread.