Appropriately thick, deliciously aromatic and ever so slightly spicy, this sausage & porcini bolognese is comfort food at it's best. Dig in!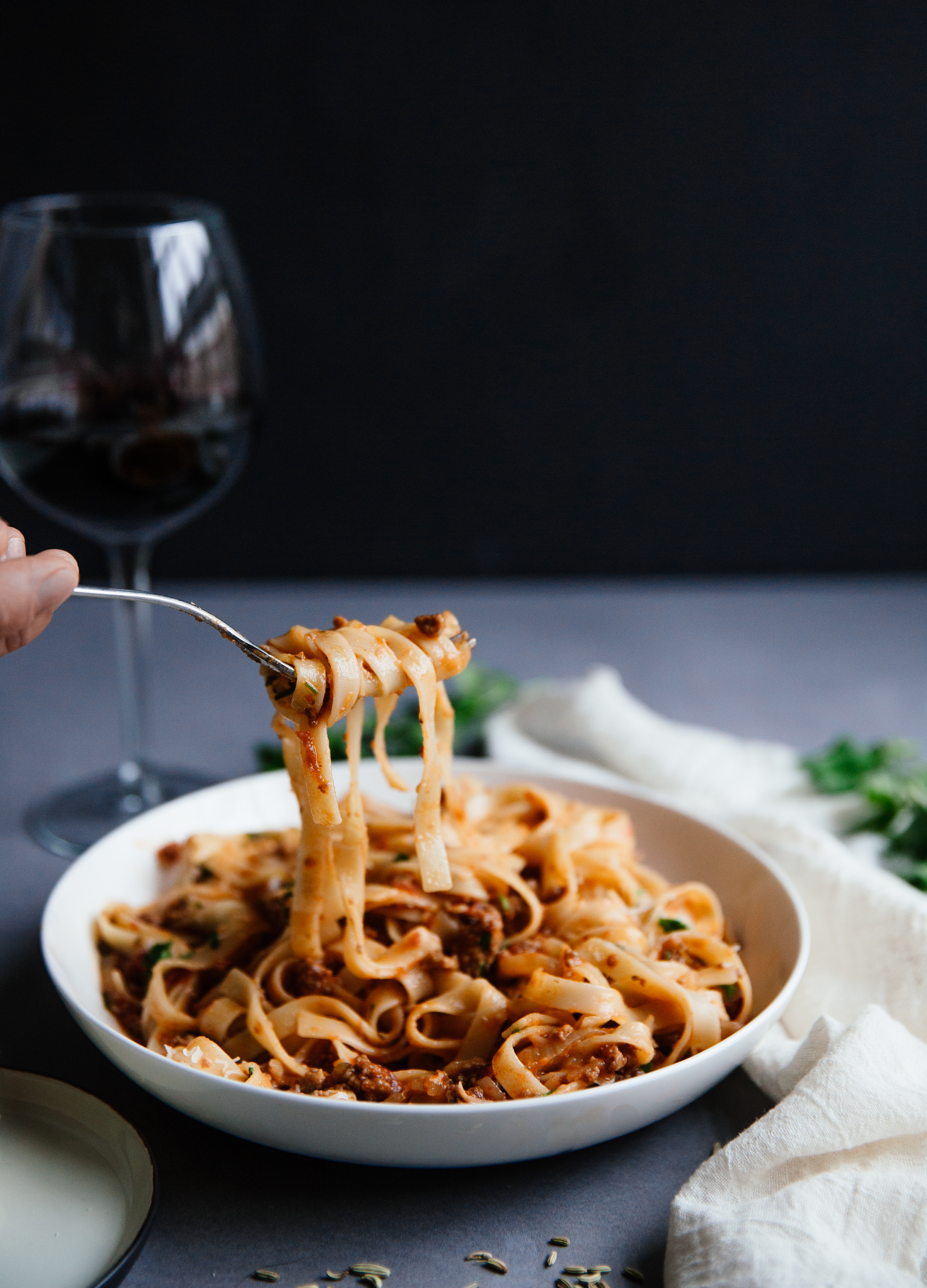 As much as I love pasta, I almost never make meaty sauces to go with it. I seldom cook meat in general, but that's not to say I don't enjoy the quite rare occasions when I'll have it. Even though a steak doesn't do much for me, I'm a sucker for thick, juicy ribs, a simple, spicy & refreshing thai beef salad and a good old bolognese.
Bolognese, the popular Italian sauce first originated in Bologna, is actually also a staple in many Greek households- but not ours. Meat is not at the top of my mom's cooking list and dishes such as bolognese, mousaka or pastitsio, which are popular favourites for most Greeks, very rarely made an appearance on our table. And when they did, they were quite different that the versions I'd have in restaurants or friends' houses. My mom always cooks meat along with a wide assortment of fresh vegetables & herbs, so all of the above would result in an improvised culinary triumph of sorts, which would however always be heavy on the vegetables. I'm quite inclined to cook in the same way, not merely because of imitation or family tradition, but also due to my endless love for greens.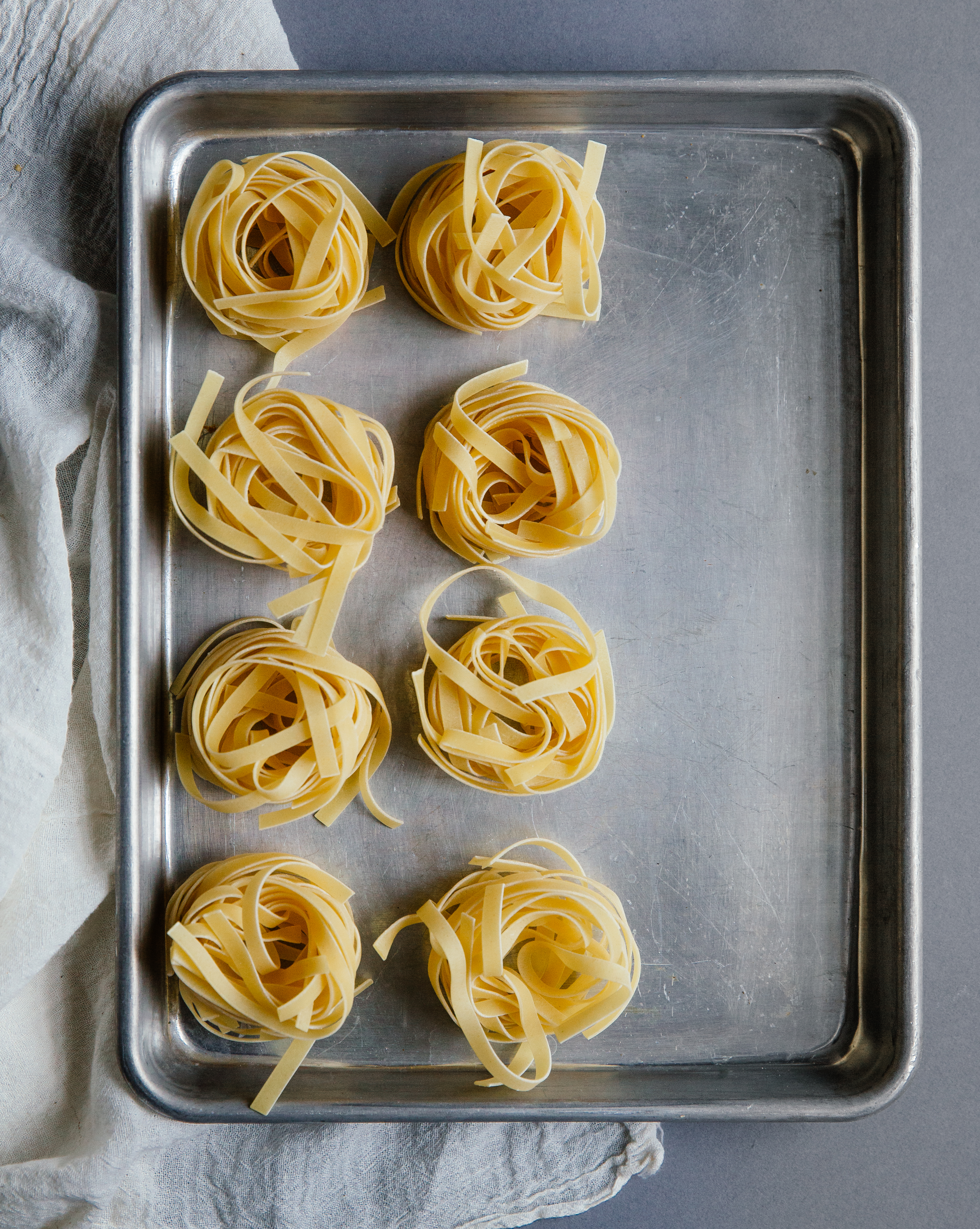 Still, especially because of the rarity of meat in our diet, the few times I cook it, I like to highlight it. So,  how about that bolognese? Not very traditional (there's no carrot or celery and I've substituted white wine for red, since I had a lovely bottle I could not get enough of), but so delicious! We're starting off simply and lovely with onion, garlic and fennel too, to break down meatiness and give our sauce a beautiful, subtle aroma. Instead of minced meat, we're rocking delicious pork sausages, made with a delicate hint of nutmeg and lots of black pepper- broken down and stirred with our basics. Then, thinly sliced porcini, fresh thyme, fennel seeds and a pinch of chilli flakes- all for aroma and extra flavour. Finally, tomatoes, red red wine, water (or stock) and generous seasoning.  We'll cover our pot, lower the heat and let magic happen. Slowly. And then we'll enjoy the comfort that only certain dishes can bring, especially when they're rarely made.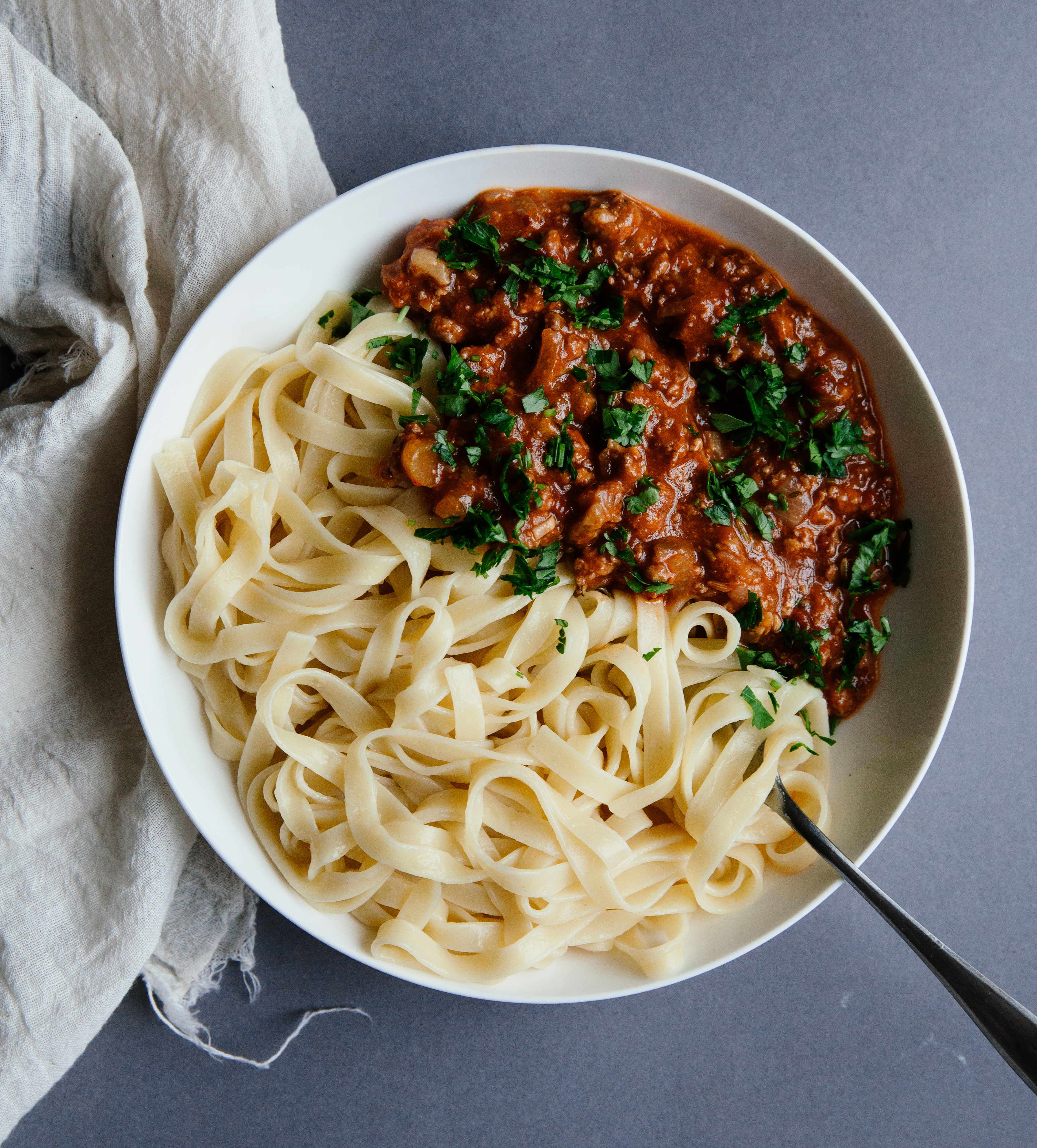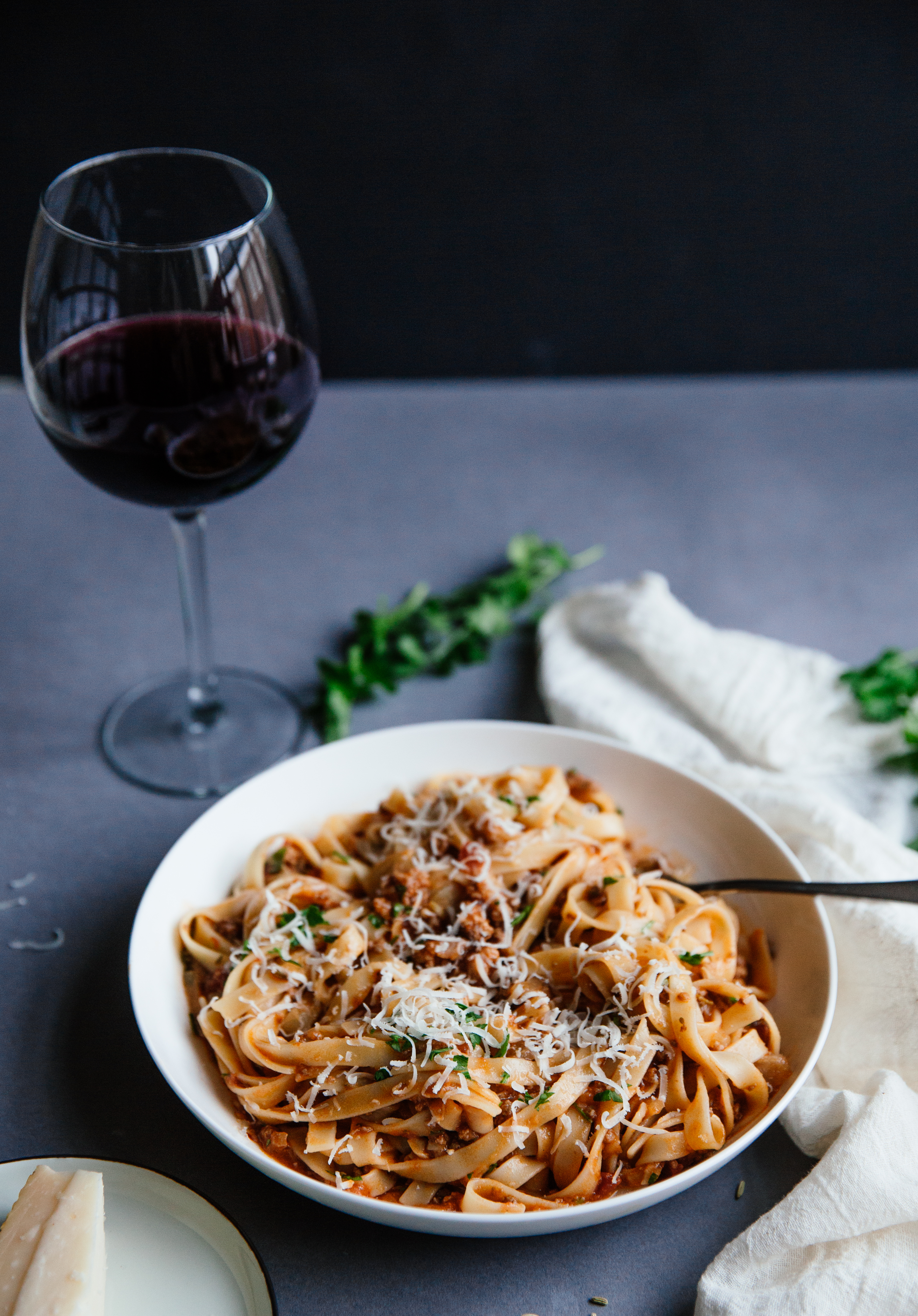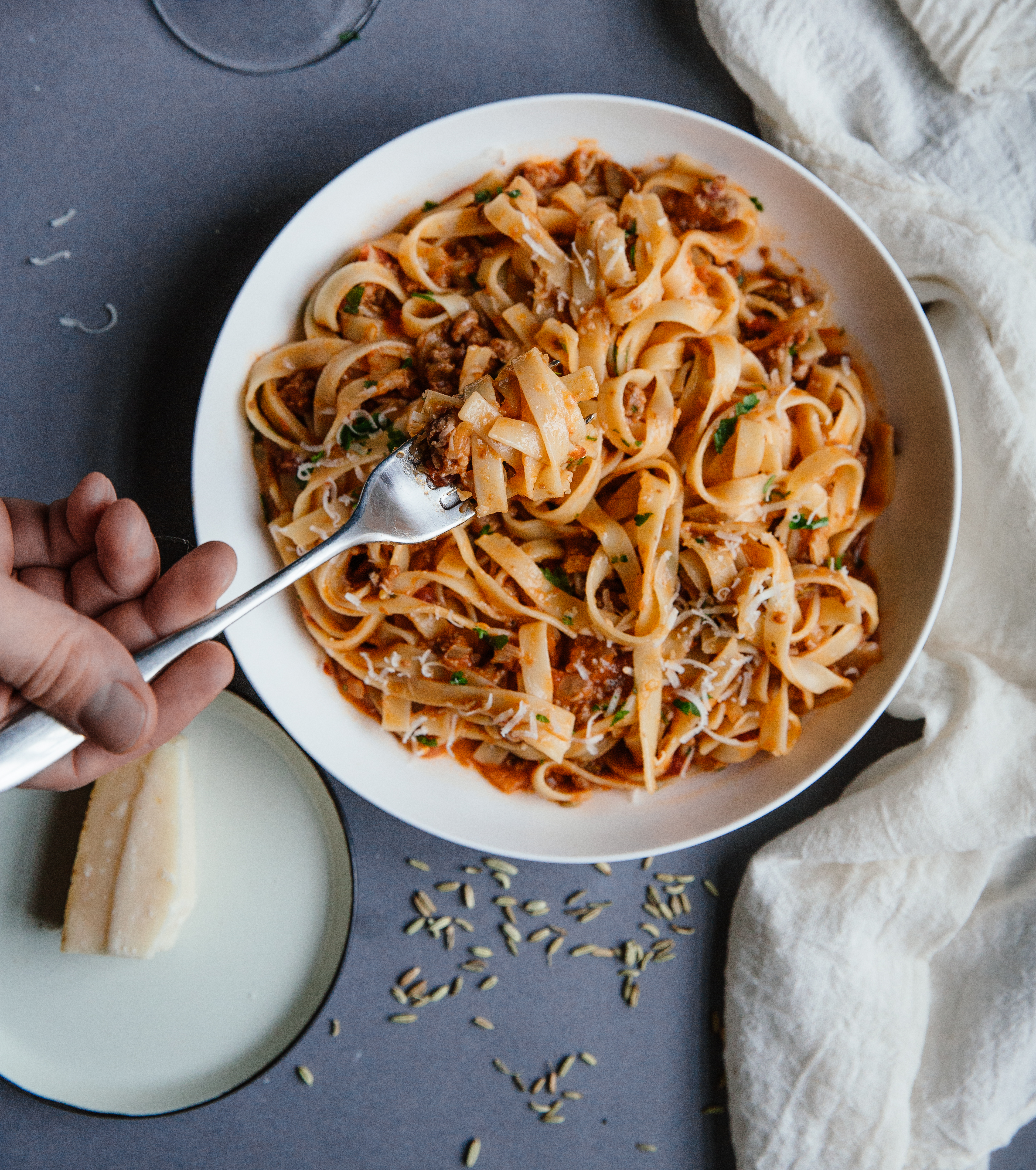 Sausage & porcini bolognese
(serves 4-6)
WHAT
4 tablespoons olive oil, divided
1 large red onion, thinly sliced
1 fennel bulb, thinly sliced
4 garlic cloves, minced
400 gr pork sausages (I used these), cases slit & meat removed
15gr porcini mushrooms
4 thyme sprigs, leaves picked
1/2 teaspoon chilli flakes
1 teaspoon fennel seeds
1/2 cup red wine
1 can (400gr) chopped tomatoes 
1 cup filtered water (or vegetables stock)
sea salt & freshly ground black pepper to taste
1/3 cup fresh parsley, roughly chopped
to serve:
500 gr dry tagliatelle, cooked according to pack instructions
grated parmesan
extra fresh parsley, minced
HOW
First, soak the porcini in a cup of hot water until soft.
Warm the oil in a large pot or deep pan over medium heat.
Add the onion and fennel and cook until soft, about 8′. Add the garlic, combine and cook for a couple minutes. Add the meat from the sausages, breaking down big chunks with a fork and cook until lightly browned.
Drain the porcini, slice thinly and add to the pot. Stir and add the thyme, chilli flakes and fennel seeds. Cook for about 4′, stirring lightly, and then add the red wine and can of tomatoes. Mash any big tomato pieces and add the water. Season with salt and pepper, reduce the heat to a very low simmer and cook for about 2 hours, until the sauce is thickened. Right before removing from the heat, check the seasoning, adjust if needed and add the fresh parsley.
Combine with the cooked pasta and serve with extra fresh parsley if desired and grated parmesan cheese.
* To freeze: allow the sauce to cool completely, portion (about a ladleful per person) and  put in freezer bags. Flatten, seal well and carefully put in the freezer. Defrost thoroughly before reheating.