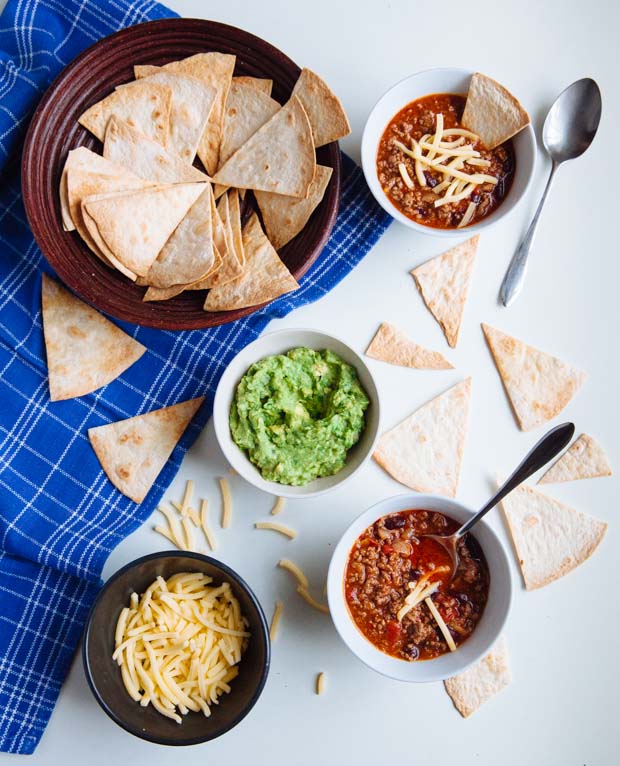 Two. That's exactly how many meat recipes I have here. And it's not wonder. See, I like meat, I really do. But it's not my favourite thing to eat, hence, when I prepare meals, look for and test recipes, it's almost always not on my mind. Also, I have to admit, I'm quite ignorant when it comes to ways to cook it. I don't know meat well at all and until I do, I prefer to stay away. So, I stick to fish and vegetables and pulses instead, things I know, love and cook on a heavy rotation, hopefully without my meals becoming boring or repetitive.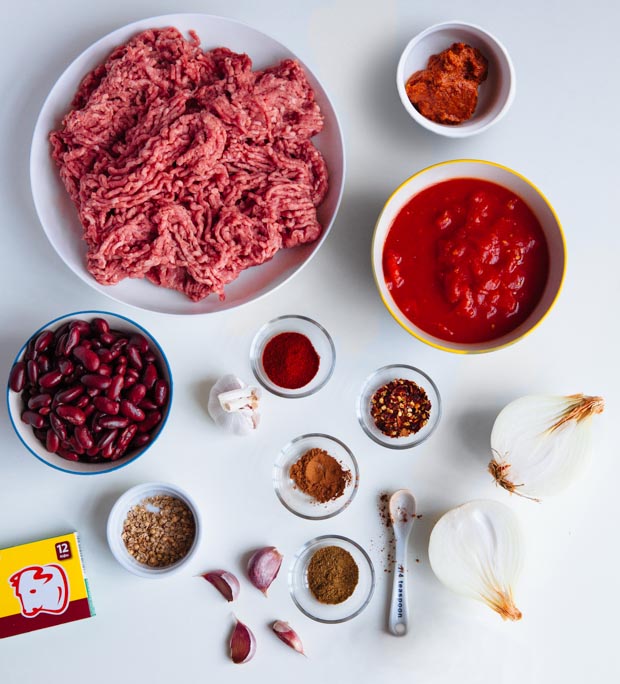 Still, meat cooked right is quite something, isn't it? Up until a couple years ago, when eating out, I wouldn't even notice the meat dishes on a menu. I would just go straight for fish or something heavy on the vegetables and/or carbs. Lately though, I choose almost exclusively meat. I'm not very adventurous as a person, but when it comes to food (and only a couple other things) there's hardly anything I wouldn't try, at least once. So, when I realised that meat is somethings I actually almost never try, I decided to change my tune: steak, ribs, tartare, pork belly, pulled pork, I've tried them all and I'm ready for more.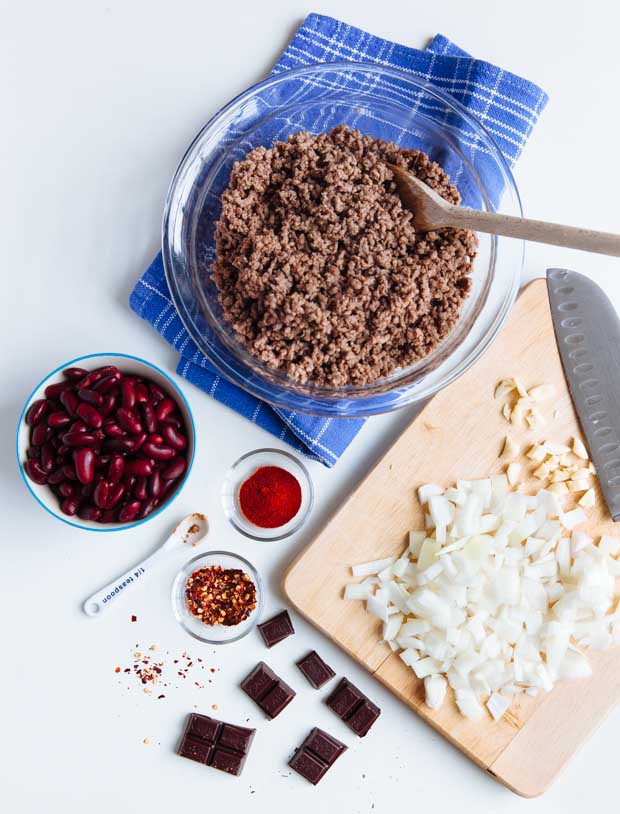 I've also made an effort to get more acquainted with meat in my own kitchen. Not much progress has occurred (I'm still going for my beloved goulash more often than I care to admit), but at least I now have a new favourite: I've been hooked on making chilli. It's a no-brainer, really: lots of spices, lots of heat and so much flavour, not to mention a hefty amount of tortilla chips and guacamole on the side- what's not to love?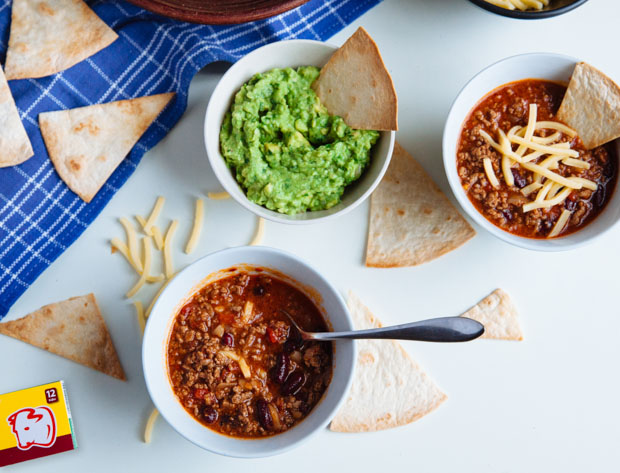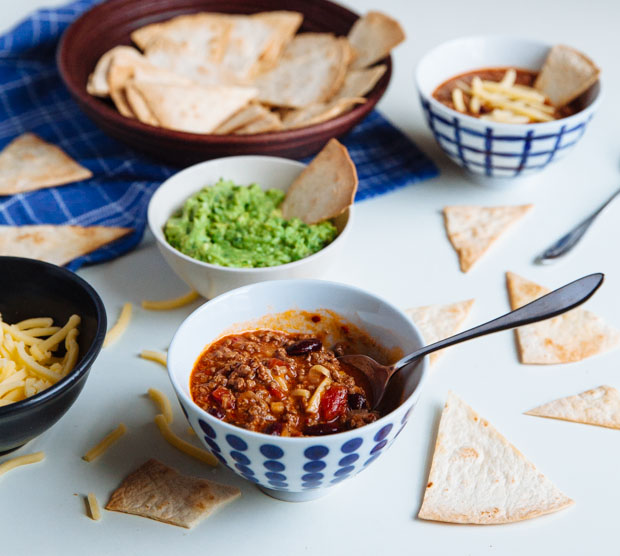 I know chilli can be a very personal kinda dish dish- every region, every family has their own version (with or without beans, made with mince or meat chunks, you name it) – which is of course the best. This one is filled with some of my favourite spices (paprika, cumin, cinnamon, coriander seeds and chilli flakes), bay leaves and a small chunk of delicious dark chocolate, for extra flavour. Served with homemade tortilla chips and the perfect guacamole, it's really all you need on a winter day (or night), preferably to share with good friends alongside a nice red wine (or beer- but I'm more of a wine person. Unless it's summer and the beer is ice cold). Happy weekend, everyone! Make it a great one, with or without chilli (but the chilli will definitely help!).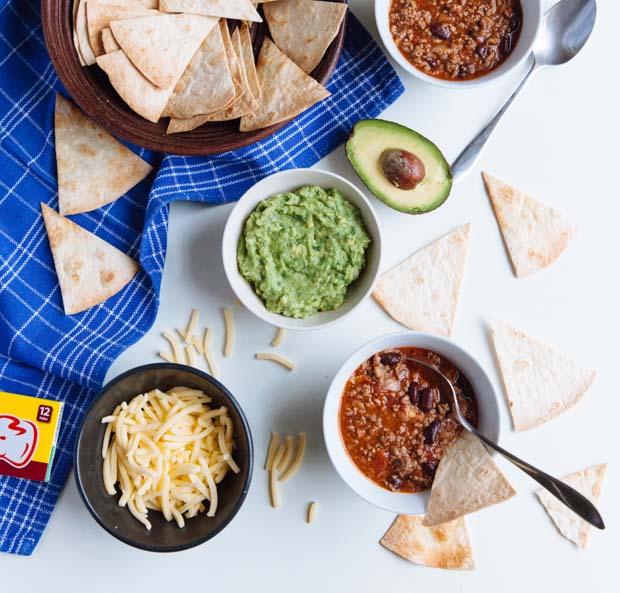 Kidney bean & dark chocolate chilli
800g organic beef mince
3 1/2 tablespoons olive oil
1 large yellow onion, finely chopped
4 garlic cloves, roughly chopped
1 1/2 teaspoon chilli flakes
1 heaping teaspoon smoked paprika
1 teaspoon cumin
1/2 teaspoon cinnamon
3/4 teaspoon coriander seeds, crushed
1 can chopped tomatoes
2 1/2 tablespoons sun dried tomato paste
500 ml Knorr beef stock*
2 bay leaves
1 can kidney beans
1 1/2 tablespoons corn flour
40 gr dark chocolate, finely chopped
For the tortilla chips:
6 tortilla wraps, cut in triangles and brushed with a little
olive oil
sea salt to taste
Prepare the tortilla chips: turn the oven on to 150C (130C for air); cut the tortilla wraps in triangles, brush lightly with olive oil and sprinkle sea salt on top.
Place on a baking sheet and put in the oven until crispy and golden brown, 5-7'. Turn off the oven, remove and set aside to cool.
Heat 1 1/2 tablespoons olive oil in a large pan over medium heat and add half of the mince. Cook until brown, turning occasionally, then transfer to a bowl and set aside. Repeat with the second half and place that too in the bowl.
Lower the heat, add the remaining oil and cook the onion until soft, about 5'. Add the garlic, chilli flakes, paprika, cumin, cinnamon and crushed coriander seeds and cook until fragrant, about a minute or so.
Add the meat, chopped tomatoes, tomato paste, stock and bay leaves and simmer on low heat for about 45'.
Remove the bay leaves, add the beans and corn flour, stir well to combine and cook for another 5-7'.
Turn the heat off, add the chopped chocolate and stir again.
Serve with grated cheddar, guacamole and tortilla chips.
* This is yet another recipe using Knorr stock, as as part of the BHMA Gourmet Food Blog Awards. You can vote for blog here (scrolling down past the text and pressing like- if you'd like!); all opinions are my own.