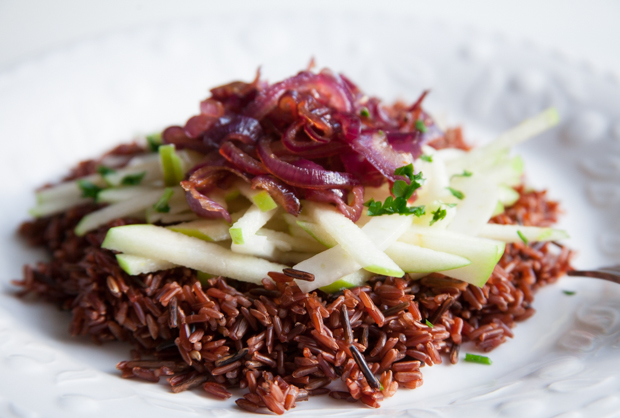 Let's start this week with my favourite kind of dish: easy, quick and delicious. Let's start with a salad of sorts, filled with wholesome and earthy wild rice, fresh vegetables and fruit and a simple sweet and sour vinaigrette.
I'm always on the fence about Monday- sometimes I wake up excited, ready to rock everything, from my clothes and overall schedule to the entire world. Others, I just drag my grumpy ass out of bed and spend the entire day daydreaming about the weekend that passed and the one I can hardly wait for.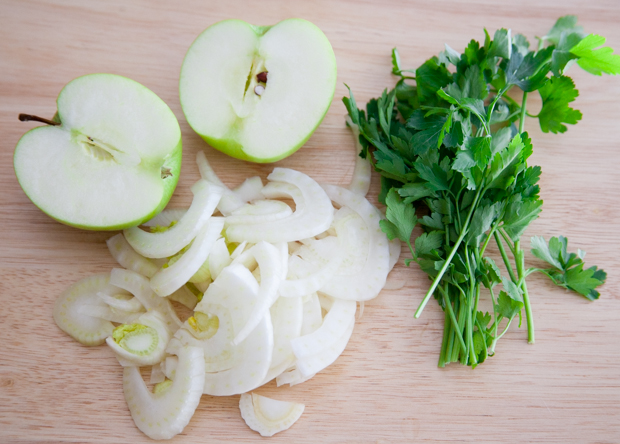 Today, I'm kinda exactly in between the two: grumpy, yet kinda determined to rule the week and finish it off with a bang. And it all has to start with this super easy and tasty lunch, perfect to elevate moods and provide lots of energy.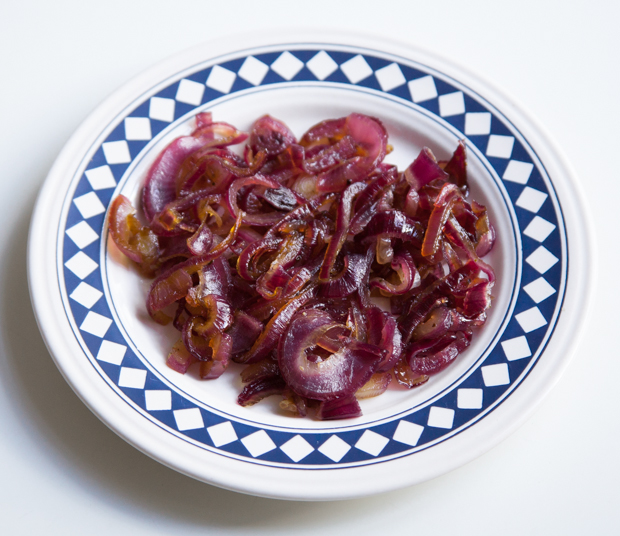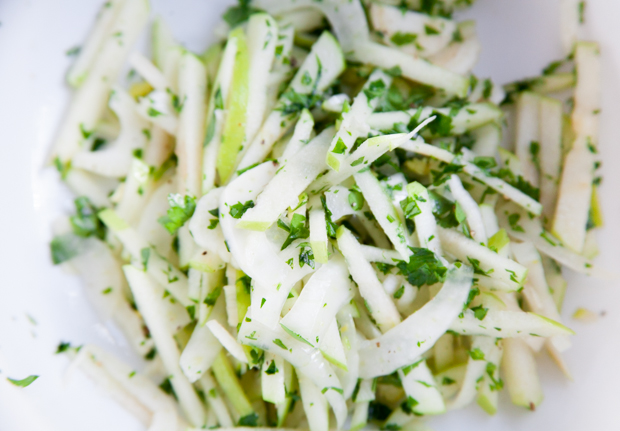 Fennel, gorgeous and perfect when paired with apples, slightly anise-y, crispy and fresh. Wild rice, gorgeous and with a slight bite, perfectly balancing off the fresh crispness of the fennel and green apple. Finally, a red onion, lightly glazed with apple cider vinegar and honey.
Hope your Monday is sunny and exciting, full of energy, badassness and deliciousness, just like this little dish.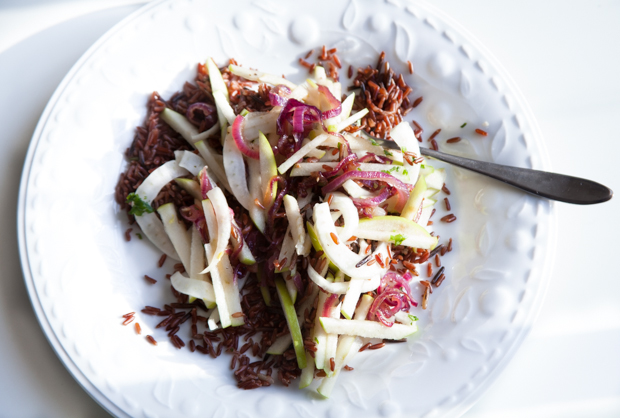 Fennel & green apple wild rice salad
1 cup wild rice
1 red onion, thinly sliced
1 tablespoon honey
1 tablespoon apple cider vinegar
half fennel bulb, thinly sliced
one green apple, cut in thick matchsticks
 for the salad dressing:
2 heaping tablespoons finely chopped fresh flat leaf parsley,
3 tablespoons extra virgin olive oil,
2 tablespoons apple cider vinegar
2 tablespoon honey
sea salt and freshly ground black pepper to taste
Cook the rice according to pack instructions and set aside to cool slightly.
In the meantime, cook the sliced onion over medium- low heat for about 5-7 minutes, until very soft and lightly browned; add the apple cider vinegar and honey and cook for another 2′. Remove from the heat and set aside.
Combine the cut apples and fennel in a large bowl, adding half of the dressing and seasoning to taste.
Place cooked rice onto plates and top with dressed greens. Finish off with onions, remaining dressing and extra seasoning if needed.