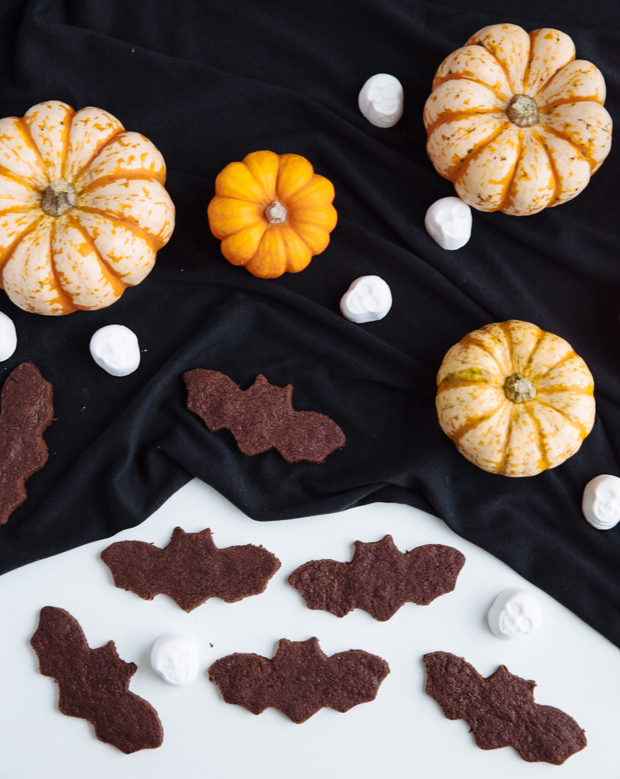 I'm crazy about Halloween; seriously, it's the holiday I mostly look forward to, with Christmas being a close second.  Even though I didn't grow up celebrating it, once I moved to London, I was hooked. I think the reasons behind it are quite simple: I absolutely love dressing up (I almost always go for a gory theme- which is kind of the point, I think) and spookily decorating the house. I love watching moderately scary movies (as much as I hate to admit it, I'm such a big woosh- I only managed to watch all Scream films last year) and, my favourite, enthusiastically carving pumpkins of all sizes. At the same time, I really like the idea of honouring the dead. No matter how commercial Halloween is, for me, that's the core of the whole celebration and the main reason I'm behind it.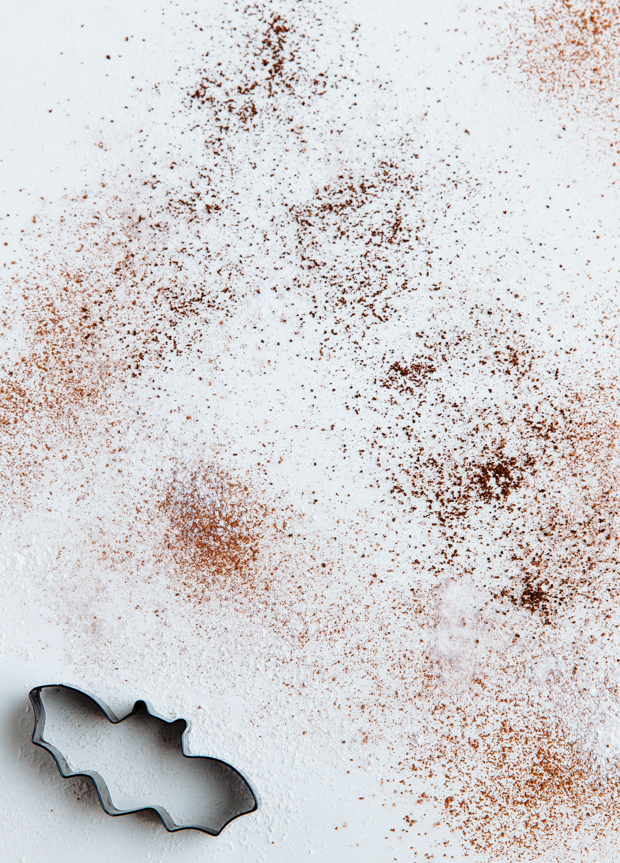 Last year, Halloween was on a Friday and it was spent with my lady friends over a delicious early dinner heavy on lobster and margaritas. On our way to the restaurant, Kings Road was filled with kiddies and teenagers all dressed up; they were cute and scary all at once, on their way to or coming back from trick or treating, some holding their little baskets, taking group photos. Everything was relaxed, low key and perfect.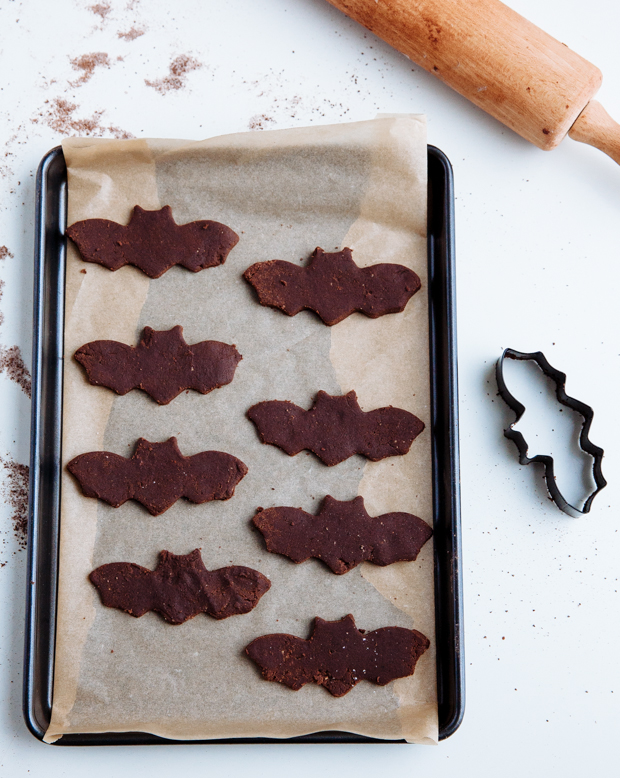 Our plans for this year's festivities are still non-defined. There are a few parties we've been invited to, for which I'm working on a variation of my usual ghoulish makeup, but things are kind up in the air still. But as long as there's a pumpkin carving session involved and a party of sorts with close friends, I'm happy.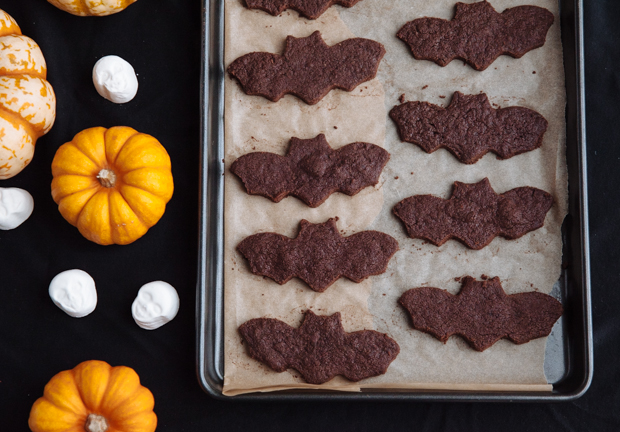 I'm also quite happy when there are treats in the house. We hardly get any trick or treaters unfortunately, but that's no reason to not fill the house with sweets: homemade caramel corn, skull and bones marshmallows, coffin and eye bulb-shaped mini chocolates, they're all delicious and they double as decorations too.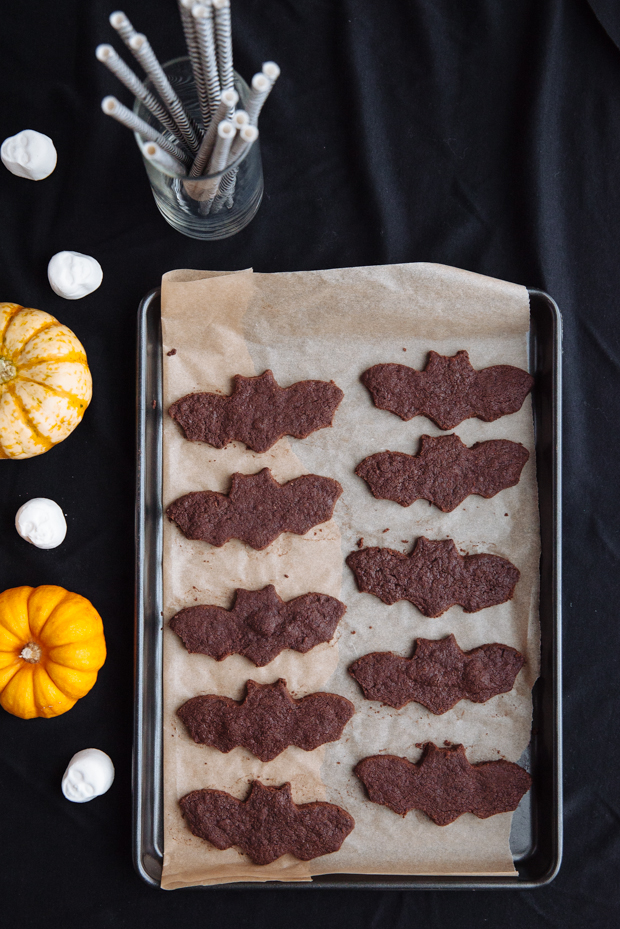 Some baking is also very much in order; I never miss an opportunity to bake lots of cookies and eat lots of cookies, and this is the time to go all in and make tons of 'em. So chocolate cookies- let's start here. But not just any kind of chocolate cookies. They need to be Halloween Bat Cookies with Chocolate, Coffee & Sea salt! (TMI- when I decided on these, I exuberantly announced to Mike that I was making bat cookies for Halloween. Only, because my accent has an all-over-the-place hint to it, it sounded more like butt cookies; needless to say there's no shortage of butt jokes around here ever since) But no- let's go back to our BAT cookies: made with lots of dark and delicious cocoa powder and lots of butter too, to make them perfectly soft and crumbly. We'll also add some fragrant espresso powder, to make our chocolate flavour that more intense, and sea salt flakes to balance the dark sweetness.
Dear Halloween, so nice to have you around once again. Cookie?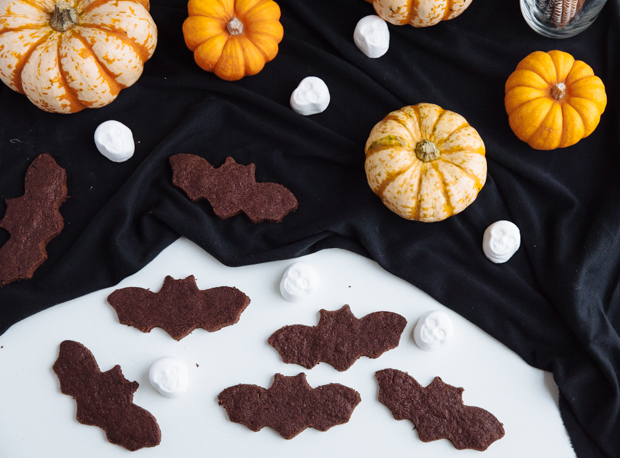 Halloween Bat Cookies with Chocolate, Coffee & Sea salt (adapted from here, makes about 40 cookies)
350 gr unsalted butter, soft
240 gr caster sugar
380 gr all purpose flour
127 gr cocoa powder
1 teaspoon espresso powder
1 heaping teaspoon sea salt flakes
bat-shaped cookie cutter (the one I used was 10 cm in diametre)
Beat the butter and sugar until pale and creamy.
In a large bowl, combine the flour, cocoa & espresso powder and sea salt flakes.
Slowly add to the butter and beat until just incorporated.
Cover the bowl and place in the fridge for 30′.
Remove from the fridge and pat out on a silpat or parchment paper. The dough will be very crumbly, but try to roll it out as evenly as possible and, without handling it too much, cut out bat cookies 2 cm thick and 10cm in diametre.
Place cookies on a parchment paper-lined baking sheet and refrigerate again for 30′.
Preheat the oven to 160C (140C air) and bake for 10′, until just crispy on the edges, rotating halfway through.
Remove from the oven and let them sit on the pan for at least 5′, before carefully transferring to a wire rack to cool completely.