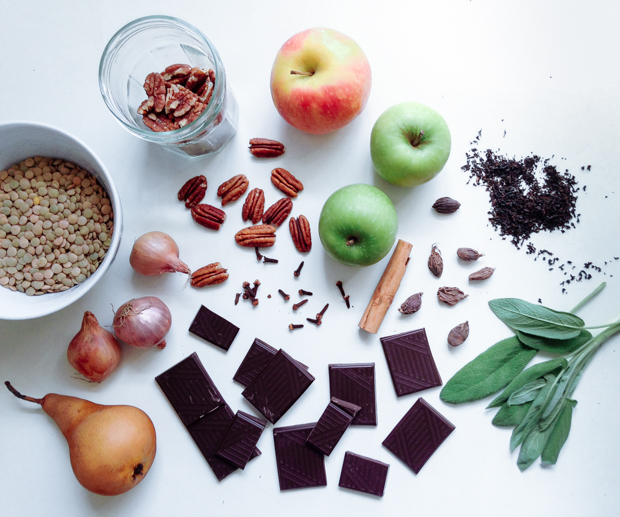 This past Wednesday was a miserable, miserable day. It was raining for like eight hours straight. And the day was dark and blue and depressing and so was my mood. And then yesterday, it got warmer and a little sunny and the night was sweet enough to have drinks outside with two of my girls. That's fall in London for you. And I'm embracing it all the way.
The food that comes with it also helps a lot. There's so many dishes I want to try with all the ingredients I haven't touched in such a long time: I can't have enough juicy pears and crunchy apples (still can't get over all the varieties available here!); I want to add fragrant sage in everything savoury (can't wait to make this focaccia again!), add cinnamon and cloves to all my desserts, make hearty soups with tons of shallots and warm salads with lentils and dried fruit. I want all the dark chocolate and red wine I can get my hands on- but most of all, I want to try all the recipes below. Are you with me?
The perfect (and most stunning) fall cheese plate.
… which would be just perfect with a durum wheat sourdough loaf.
What's for breakfast? Glad you asked: supper fluffy apple cinnamon crepes– absolutely worth getting up earlier for.
Craving brunch? Here's super, savoury option: brussel sprout and chorizo beer hash.
For the main attraction: apple & cinnamon pork chops– can't think of a better combination for a fall meat dish!
Hearty pasta is more your jam? Chorizo bolognese with buffalo mozzarella. I mean… Get me a plate right now, please!
And of course, there has to be pizza! How about this delicious roasted pear and caramelised onion one? With a cauliflower base no less, for all the gluten and grain free slices your heart desires.
Fall also calls for lots of soup! I can't wait to try this lobster bisque– lots of ingredients and lots of time required, but I'm sure it'll be so worth it!
And don't forget dessert! Apple pie is king come fall- bring your A game following these simple helpful tips.
Finally, if you're looking for a new cocktail to fall in love with (sorry margaritas, I'm kinda over you for now), here's the way to go: strong and aromatic apple cider moscow mules.