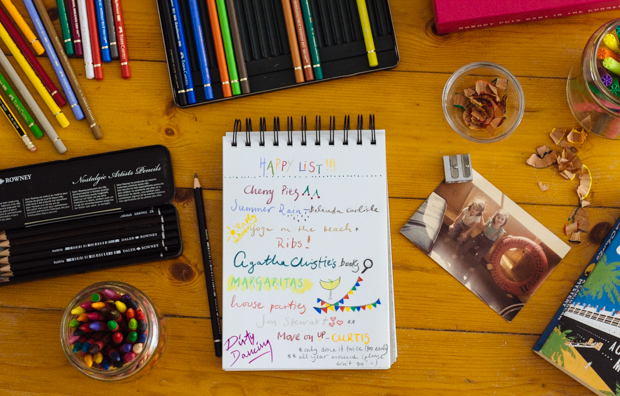 I didn't always love summer; when I was a kid, I prefered Christmas and the presents and abundance of desserts that came with it. After I finished school though and started to have parent-free holidays, I began to appreciate the beauty of spending countless hours on the beach, summer lovin', island hopping and, most importantly, the abundance of ice-creams available.
Each summer, there are certain things that give me tons of joy and make me fall in love with the season all over again. Some are new and some have been around for many years:
– Cherry pies! Actually, most summer fruit pies (or galettes, when I'm feeling kinda lazy): can't say no, won't say no to a buttery, flaky crust, bursting with juicy, fragrant fruits, topped with too much vanilla ice cream.
– Sudden summer rainfalls, unexpected, cool and refreshing; also, the homonymous Belinda Carlisle song, my favourite summer soundtrack.
– In all the years I've been doing yoga, I've managed to strike a few poses on the beach early in morning only a handful of times. It was amazing, exhilarating and inspiring and would love to make it a summer tradition.
– Ribs!!! Although not a big fan of meat, I've been loving ribs lately (my favourite spot in London is currently this one); one of my goals this summer is to have at least one plate of ribs that will kinda take my breath away.
– Ah, the unsurpassable Mrs Christie! The best companion a lazy mammal like me can have on the beach.
– I've always been fond of margaritas. But during the summer, our bond grows even stronger. True love.
– House parties for ever! Especially those with a pool and lots of delicious finger food. (And margaritas, of course.)
– Jon Stewart makes me happy on any given season. (Don't go, Jon, just don't.)
– All of Curtis Mayfield, but mostly Move On Up (always up!)
– Dirty Dancing (which I watch at least once every year, but also especially honour during the summer, by clumsily carrying watermelons and asking people to take photos of me while doing so).
Below is my sister's happy summer list. I'd love to have yours too!