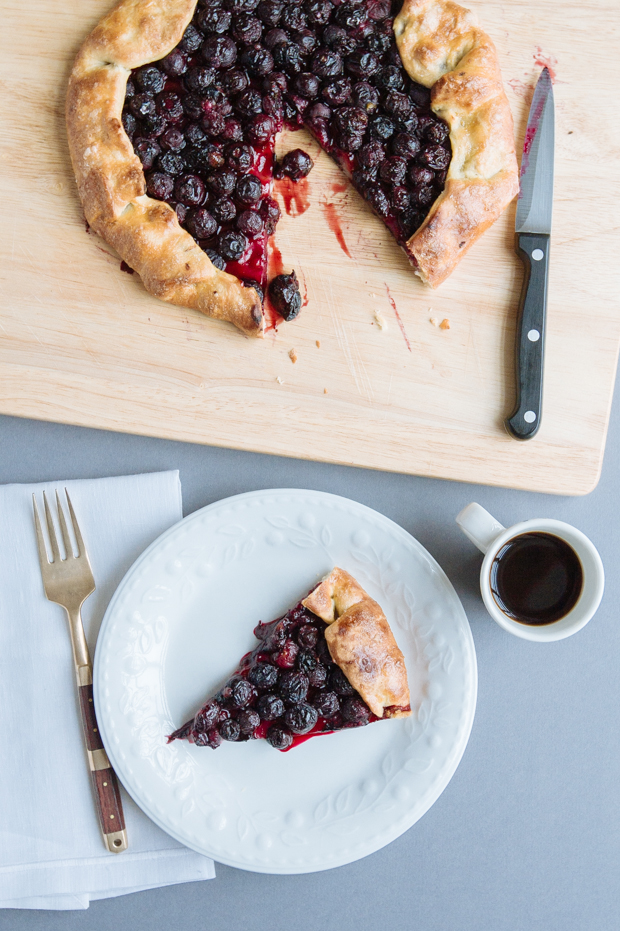 Blueberries are here, people! Yay for blueberries, always and forever! I love all berries, but these dark purple, juicy and sweet beauties might just be my favourite. From the moment they're in season, I buy them constantly and they're a staple in most of my breakfast dishes; yogurt with lots of seeds and nuts, lemony pancakes or even smoothies, you name it and there's probably blueberries in it. But that's not all; let's not forget dessert, it would be such a sin. Summer berries are the superstar of sweet treats, especially pies.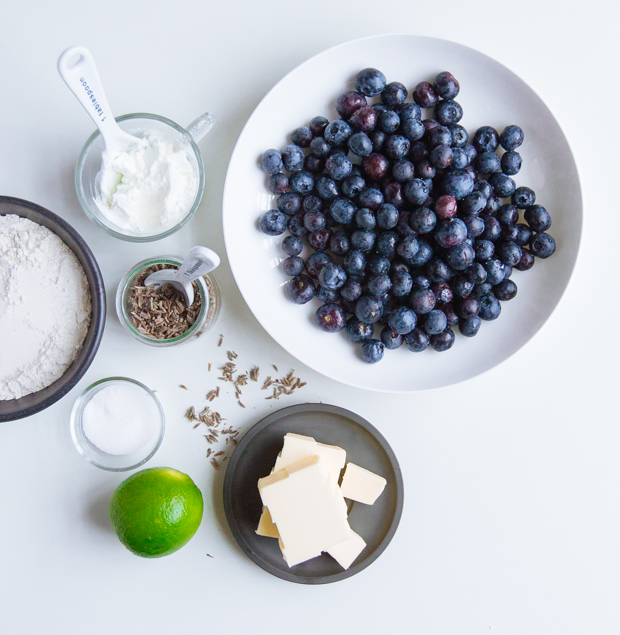 Oh man, I could go on forever about pies. They are probably my favourite dessert; I love how versatile they are, I love the little pockets of butter in the dough, the subtle sprinkle of salt, the flaky crust and most of all the filling: fresh fruit, some added sweetness from sugar or honey, herbs or other aromatics, all tossed together in a beautiful, chunky mess, ready to fill that buttery, perfect dough.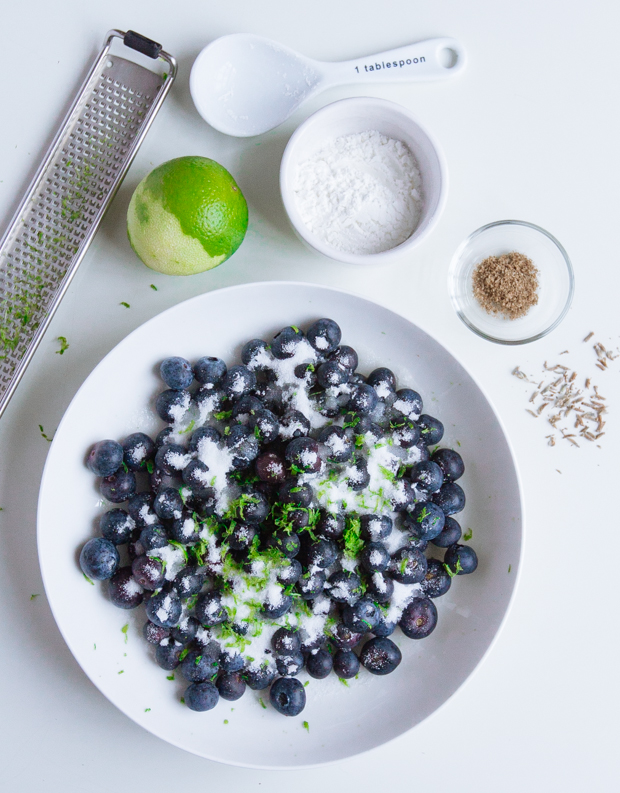 Making a pie dough can sometimes be a little daunting; it doesn't take much skill or patience, but there's quite a learning curve to it. The more pies you make, the better they turn out, so according to this simple math, you have to make lots of pies. You just have to. Practice makes perfect, so go for it, make pie. Mess it up, but eat the results nonetheless; try it again, play around with the dough, give it time and pie always gives back.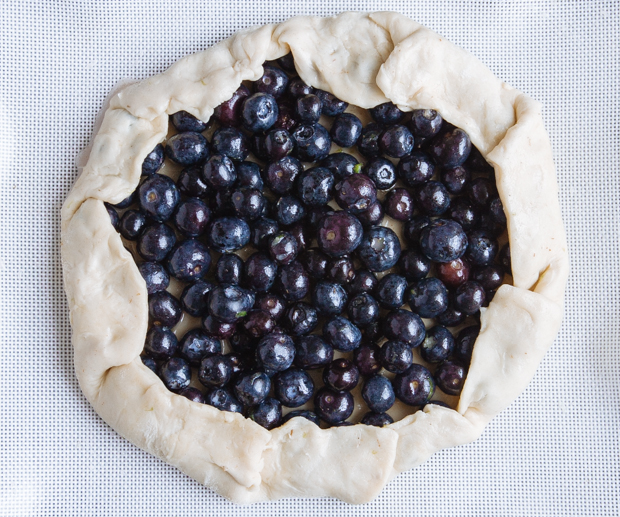 For these first blueberries of the season, I cheated a bit and instead of making a full-on glorious pie, I went for a galette, its laid-back, too cool for school cousin. Galettes have a piece of dough at the bottom and are very forgiving; your roll out your dough in a less than perfect circle, spoon the filling at the centre and fold the edges inwards. Easier than pie but equally tasty- plus you can see the gorgeous fruit you have in there which is always a great thing.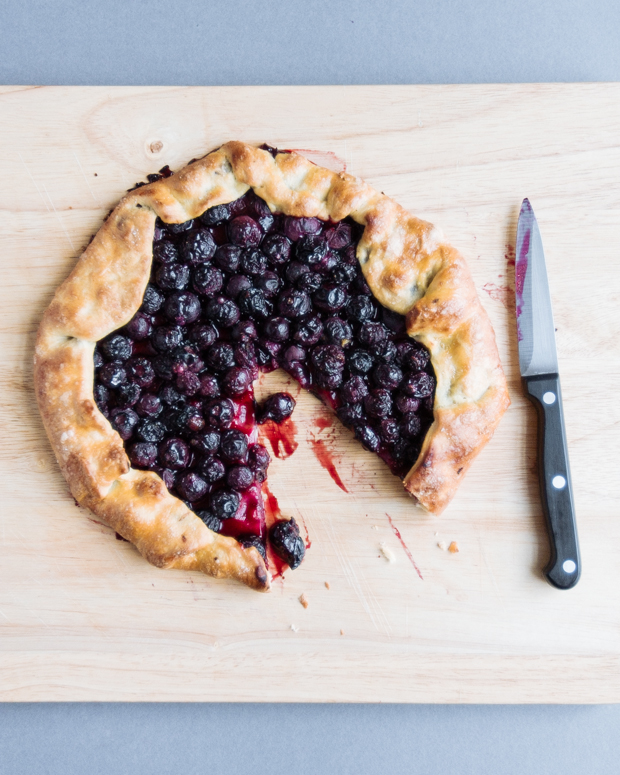 For this light, yet still all around delicious dough you'll need butter (duh), yogurt, a little sugar and a touch of salt; while this beauty rests in the fridge, you'll grab your blueberries, stop yourself from eating most of them right there on the spot and instead toss them with some extra sugar and salt, lime juice and zest, perfectly fragrant lavender and a little cornstarch. You'll let them sit for a bit, to release their juices and then you'll get to the fun part: rolling out the dough, spooning in the blueberry mixture and folding the edges of the dough.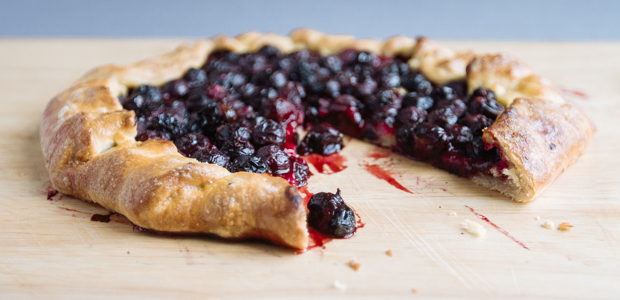 When out of the oven, you'll have a stunner, I'll tell you that much: a flaky, golden brown perfect crust, hugging your super juicy, super sweet, super delicious fruit centre. This is what dreams are made of, I believe: butter and beautiful, seasonal fruit.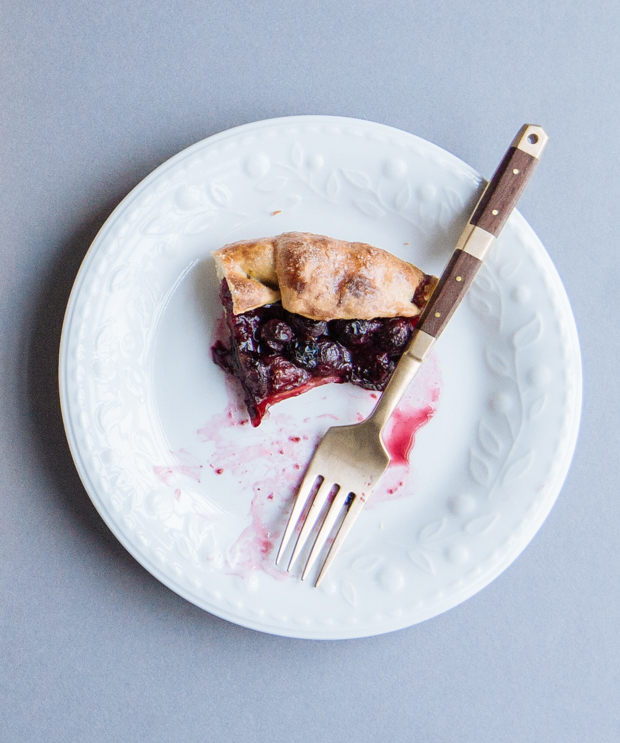 INGREDIENTS
for the dough:
1 1/4 cups all purpose flour
a pinch of salt
1 tablespoon caster sugar
8 tablespoons unsalted butter, very cold
2 tablespoons half fat Greek yogurt
3-4 tablespoons cold water
for the filling:
2 heaping cups blueberries, washed and patted dry
3 tablespoons caster sugar
a pinch of salt
zest and juice from 1/2 lime
1/2 teaspoon dried lavender, grinded
2 tablespoons cornstarch
1 egg white
2 tablespoons demerara sugar
Make the dough: in a food processor, mix together the flour, salt and sugar and add the cold butter. Pulse a few times until the mixture comes together and resembles coarse breadcrumbs. Add the yogurt and cold water gradually, until a soft dough forms (if it's too sticky, you can add some more flour). Shape into a ball, place on a large piece of cling film, press to flatten, cover and refrigerate for about an hour.
Half an hour before taking the dough out of the fridge, make the filling: toss together all the ingredients and set aside.
Preheat the oven to 200C (180C for air); take the dough out of the fridge (if it's too hard to roll out, let it stand for a few minutes); roll out in a circle (about 30cm in diameter), by pressing a rolling pin on top of the cling film. Remove the cling film and transfer carefully to a baking sheet, lined with parchment paper or a sil pad. Spoon the fruit mixture into the centre of the dough, leaving a 3 cm margin all around. Fold the dough edges inwards, brush them with the egg white and sprinkle the demerara sugar on top of them.
Bake in the preheated oven for 30', or until the crust is golden brown and the centre bubbly.
Take out of the oven and let sit for about 10' before removing from the baking sheet.