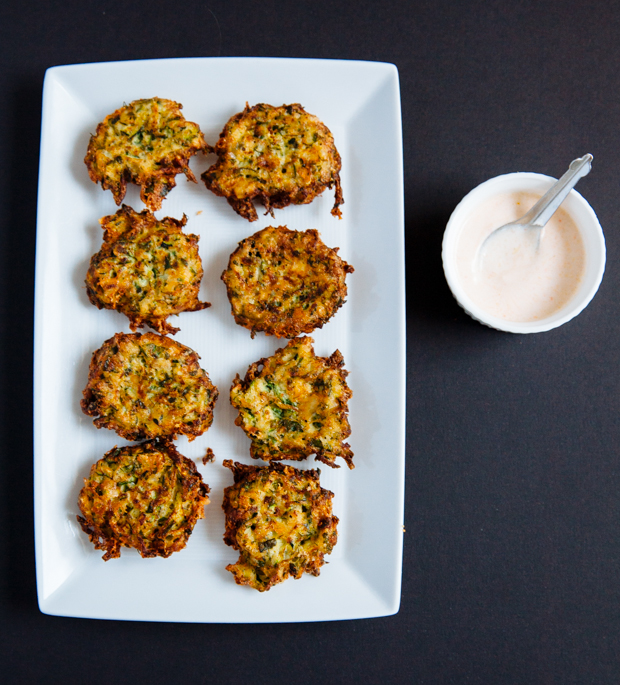 I have a love & hate relationship with fried food. I love it, because it's delicious and crunchy and hitting all the round notes and I hate it, because I dread frying. You know, that ol' thing, where you need to stand over a hot pan, turning pieces of fish, or dough or whatever else, having the whole house and your hair smelling like a diner? Yup, that one.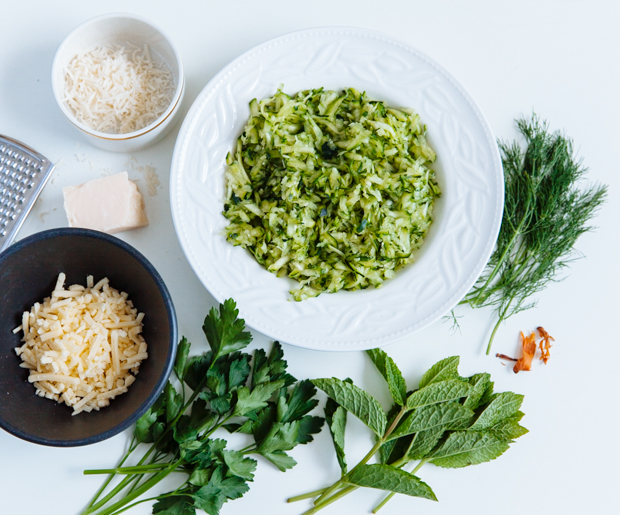 So everytime I decide to fry something, standing over that hot pan, I'm instantly reminded why I don't fry things; and as soon as I have that first bite of what I've fried, I'm also reminded that I need to fry things more often, goddammit! Cause they are super flavorful and absolutely worth the standing and the smelling and the tons of oil. You get the situation? It's a tough one, I know.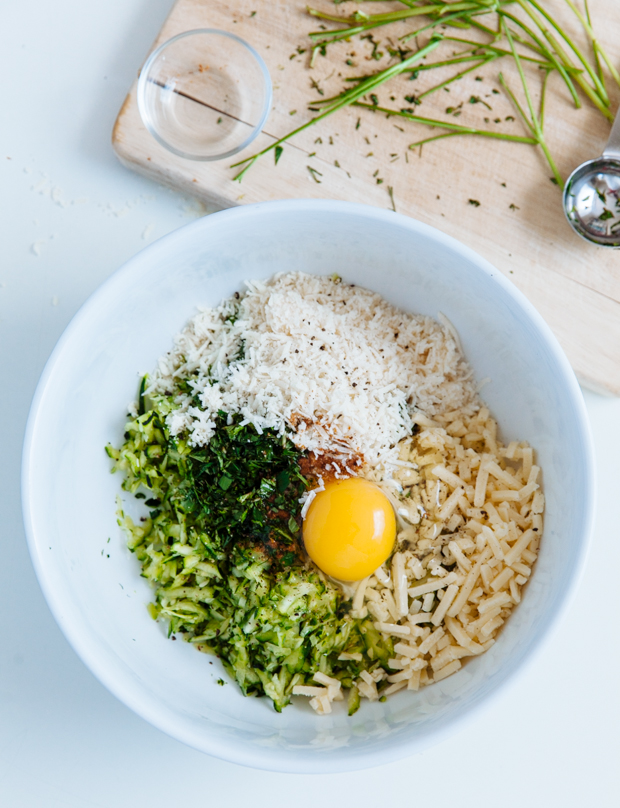 I came up with these pretty, yet a little gnarly, fritters because I love zucchini. It's not the most exciting vegetable, but I consider it one of the most versatile ones. You can have it raw, baked, fried, cut in ribbons, sliced, grated, in omelettes and stir fries, in sweet or savoury cakes and muffins, hell you can even make pasta out of it! I think my favourite version is the fried one; my mom makes a variation of these fritters every summer, using our own zucchinis and fresh herbs. They always come out absolutely delicious, the perfect component to a lazy lunch, along with a refreshing dip, a crunchy salad and chilled white wine. That's all you need on a hot summer day- some fried food, some cold alcohol and a long nap afterwards.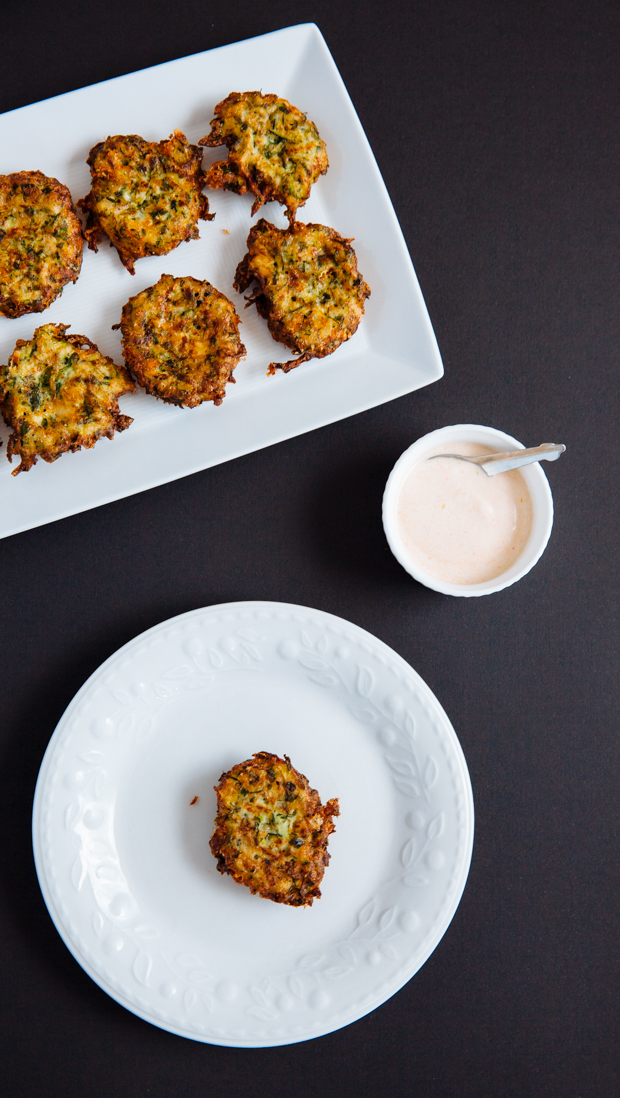 You can throw these together in no time: zucchini and lots of fresh herbs, a good amount of cheese for saltiness and melted cheesiness, lots of black pepper and a touch of mace- I've sang its praises recently and it really compliments the rest of the ingredients with its nutty sweetness. Into the pan, onto some paper towels and into your mouth. Crunchy on the outside and soft on the inside. That's fried food for you and that's why you shouldn't fear the pan.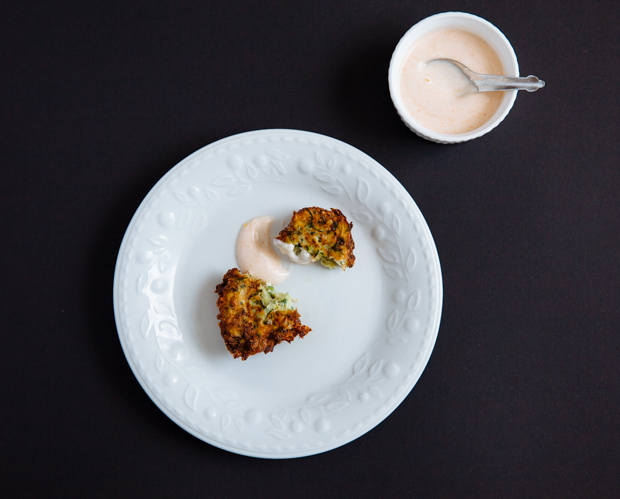 INGREDIENTS
2 medium courgettes
2 tablespoons fresh mint, chopped
2 tablespoons fresh parsley, chopped
2 tablespoons fresh dill, chopped
2 medium eggs
1/2 cup grated cheddar
1/2 cup grated parmesan
1/2 teaspoon mace
lots of freshly ground pepper
a generous pinch of salt
2 tablespoons all purpose flour
1/8 teaspoon baking powder
vegetable oil, for frying
for the spicy yogurt dip:
1/2 cups half fat Greek yogurt
zest from 1/2 small lemon
1 1/2 teaspoons sriracha
1/2 tablespoon extra virgin olive oil
1 scant teaspoon salt
Grate the courgettes and put in a colander; leave for about 15′ and then press with your hands hard, to discard as much liquid as possible.
(In the meantime, make the yogurt dip: stir the yogurt, lemon zest, sriracha, olive oil and salt until well combined, place in a small bowl, cover and refrigerate until ready to serve.)
Place the grated zucchinis in a large bowl and add the herbs, cheeses, mace and black pepper; toss well to combine and add the beaten eggs. Toss again- the mixture will be quite thick in the beginning, but will become more liquidy as you toss.
Add the flour, baking powder and pinch of salt and set aside.
Pour vegetable oil in a large frying pan- enough to cover half of it and warm up over high heat until very hot.
Drop tablespoons of the mixture into the hot oil carefully and fry for about 2′ on each side, or until quite browned.
Remove using 2 forks and place on a plate lined with kitchen paper.
Continue with the rest of the mixture and serve hot or cold with the spicy yogurt dip.