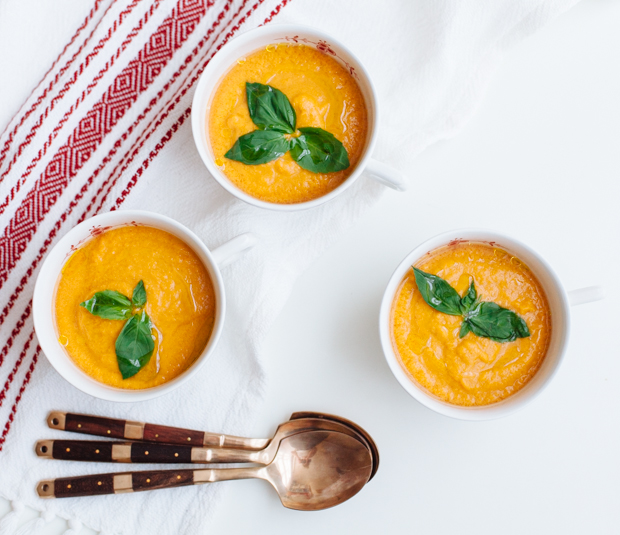 It's spring! And everything is beautiful and in bloom and the days are longer and the coats are off and all is great and ready for the summer, but… What about soup? You know, that amazing, comforting, go-crazy, give-me-all-you-got winter wonder that warms up the body and the heart- are we really ready to let go of all that comfort and deliciousness until fall? Hell. No. Enter gazpacho, a super cool, super tasty, super colourful soup, perfect for the warm weather and for all you soup lovers out there.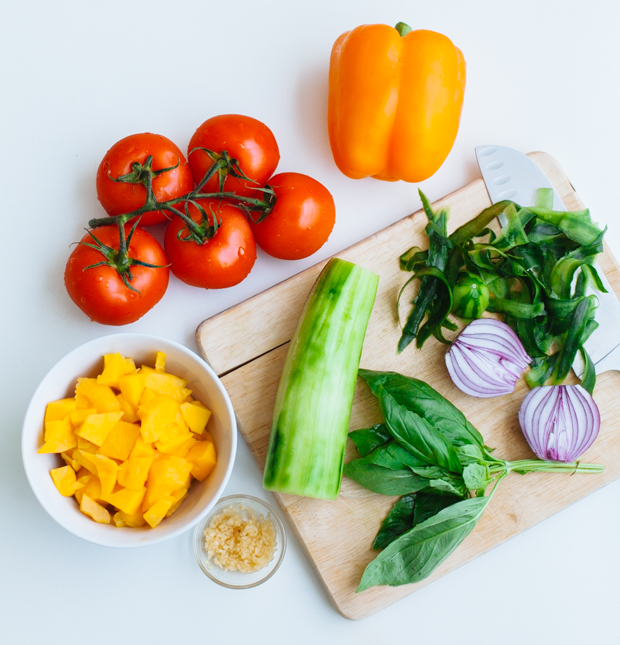 I first discovered gazpacho years ago, when I was learning Spanish; I was an enthusiastic, yet extremely lazy student, mostly spending the lessons trying to weasel out of as much grammar as possible, while painfully discovering that the French I thought I had forgotten, was resurfacing half the time I was attempting to speak. I almost never did my homework and was half-embarrassed and half-proud of how squeaky- clean my textbooks were. That one time I did decide to actually do some homework, I opened one almost brand new textbook and was faced with a recipe (food was pictured, that's how I knew); I was immediately intrigued, forgot my laziness and my French and decided to figure out what that glorious bowl of something was.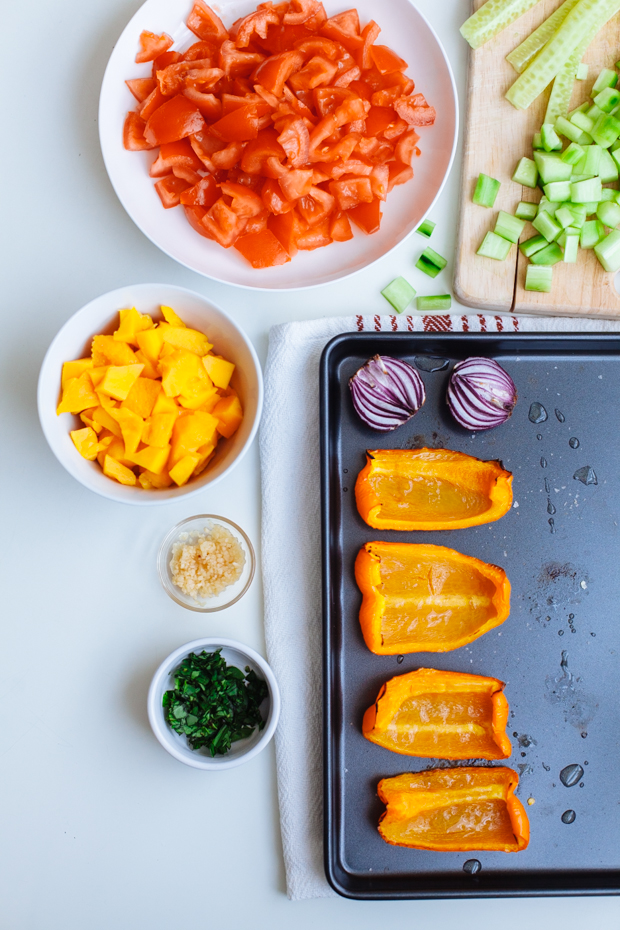 That is how gazpacho got on my radar, by accident; not when I had visited Spain, the year before, as most of my meals were consisting of falafels from a food truck and fries covered in a super garlicky mayonnaise, but when I decided to do my homework (and that's the take home message here btw, always do your homework. I don't know if you'll actually learn something, but you'll at least get to discover something new).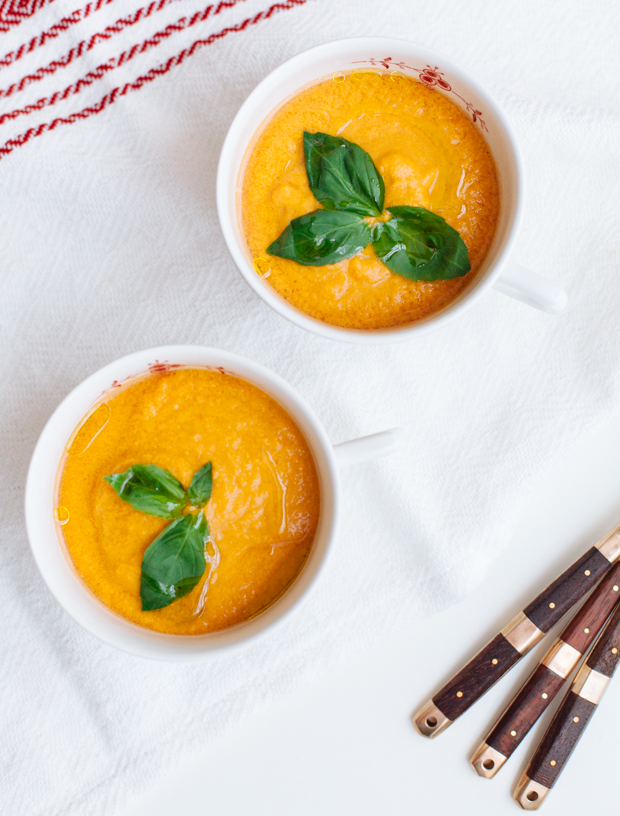 Preparing this soup was my favourite part (second to eating it, that is), as almost all colours of the rainbow are here: beautiful, bright red tomatoes, crispy cucumber chunks, a red onion, roasted with a chubby orange bell pepper until soft and fragrant, some fragrant shredded basil and a super sweet, super ripe, super pretty mango. Why mango, you ask? Happy to explain: for harmony, y'all! Fresh tomatoes tend to be a teensy bit sour and the addition of sweetness not only balances this out, but also brings forward their delicious taste. Blend well with olive oil and a splash of balsamic, strain, pour into a bowl or cup and grab a spoon. Soup is always here for you, just like spring.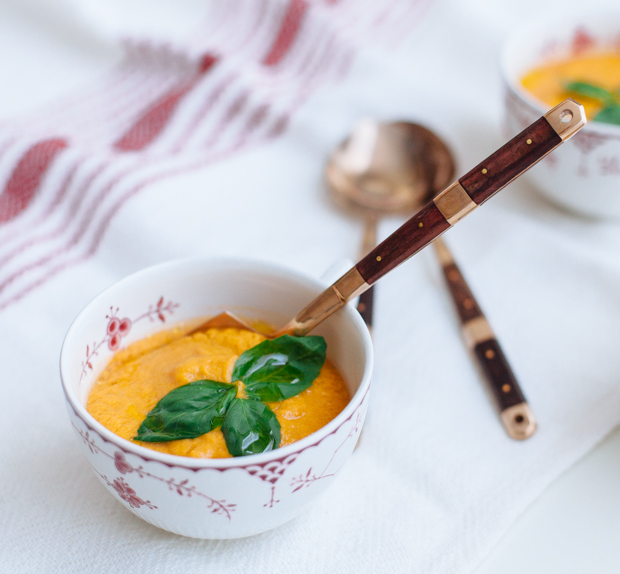 INGREDIENTS
5 medium ripe tomatoes, washed
1/2 large cucumber, peeled
1 small red onion, peeled and halved
1 mango, peeled and cubed
1 yellow bell pepper
1/2 tablespoon minced garlic
1 1/2 tablespoons fresh basil, minced or shredded
1/2 cup olive oil, divided
1 tablespoon balsamic vinegar, divided
sea salt 
basil leaves and a drizzle of olive oil for garnish
to serve: ice cubes (optional)
Turn the oven on to 180C (160C air); cut the bell pepper in half, remove the seeds and cut in thick slices. Place on a baking tray, along with the halved onion, a drizzle of olive oil and a sprinkle of sea salt and roast for 15'. When ready, remove from the oven and let cool slightly.
Quarter the tomatoes and cucumber, discard the seeds and cut in small pieces. Place in a large bowl, along with the cubed mango, roasted onion and peppers, garlic and fresh basil. Toss well and add half of the mixture in a blender.
Start blending, gradually adding half of the olive oil and 1/2 tablespoon vinegar; taste, add salt to taste and strain through a fine mesh, pushing down with the back of a spoon to extract as much liquid as possible. Discard what's left on the mesh and repeat with the remaining mixture.
Refrigerate until ready to serve.
Serve with fresh basil leaves, a drizzle of olive oil and some ice cubes, if desired.