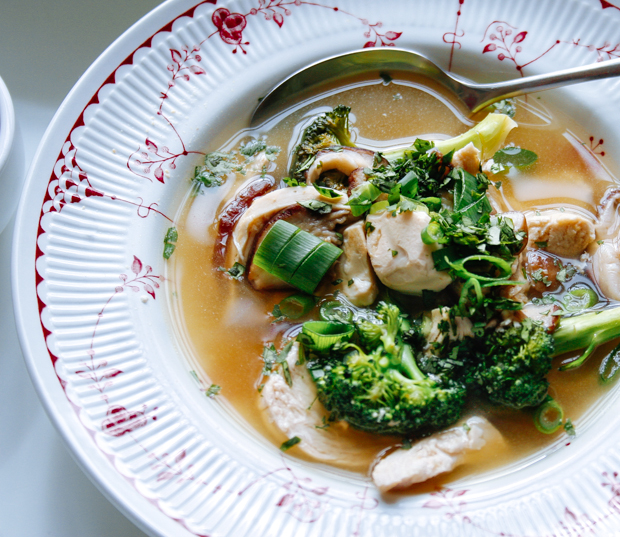 Here's how I'm picturing this: it's the middle of the week and you're tired. Tired from work, play, whatever, tired of all the Valentine buzz around you, so tired, that all you need is to bury your woes (and your face) in one single meal. It has to be soup, right? Cause soups is easy and comforting and delicious.
But it has to be a special kind of soup, because even though you're tired and it's a goddamn blah Wednesday and the weekend should've been here already, you still want (nay, deserve!) a spectacular, yet simple meal. Enter miso soup.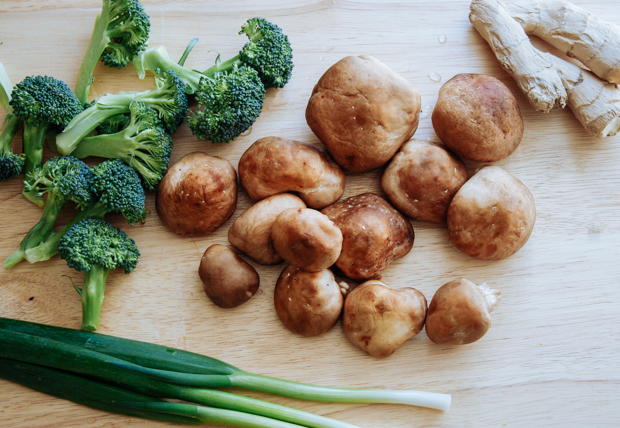 Even though I've tried miso in dishes before, until quite recently, it was one of those ingredients that deeply mystified me. I had bought a jar a while ago and was keeping it in my cupboard, guarding it like a hungry and somewhat reluctant dragon, waiting for that exact moment when I would be so overwhelmed with curiosity, I would just have to use it.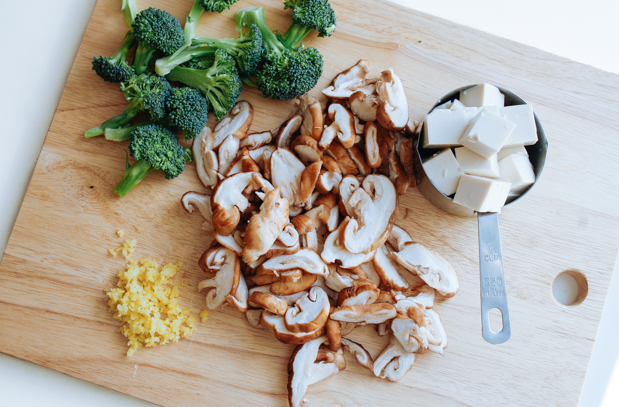 That glorious moment is here. And it brings along beautiful shiitake mushrooms, crunchy broccoli stems, silky tofu and lots of fresh ginger. All these, cooked with salty and earthy miso and topped with green onions and coriander leaves. For the love of miso and in spite of all things blah, make this soup.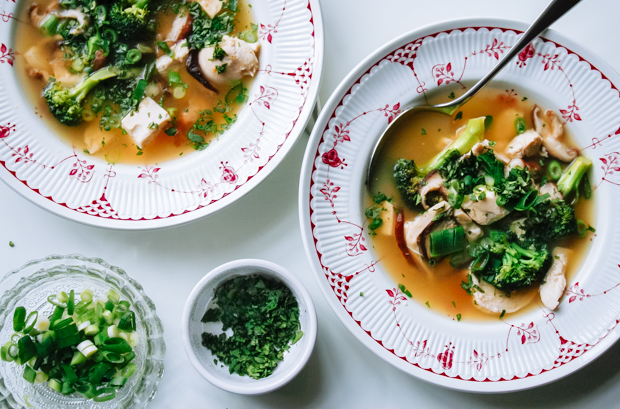 INGREDIENTS
4 tablespoons white miso
3 cups warm water
6 cups vegetable stock
2 organic chicken breasts, skin and bones removed
1 cup shiitake mushrooms, washed and sliced thinly
2 cups broccoli stems
1 cup semi- firm tofu, cut in small cubes
2 tablespoons fresh ginger, minced
1 tablespoon oil
3 green onions, thinly sliced
2 tablespoons fresh coriander, minced
Combine the chicken breasts and stock in a large pot and bring to a boil; turn the heat down to a gentle simmer and cook until thoroughly cooked- about 15'.
In the meantime, heat the oil in a large pan over medium heat, add the broccoli stems and cook for 5'. Add the mushrooms, tofu pieces and grated ginger and cook for another 5', or until the broccoli is quite tender and the mushrooms juicy, stirring carefully so that the tofu pieces stay in tact. Turn off the heat and set aside.
In a small bowl, combine the miso with the water and stir, until the miso is dissolved and set aside.
When the chicken is cooked, remove from the pan, let cool slightly and cut in thick strips.
Strain the water from the chicken into another medium sized pot and add the chicken strips, broccoli stems, shiitake, tofu and miso.
Simmer on low heat for 5'.
Place in bowls and garnish with green onions and chopped coriander.