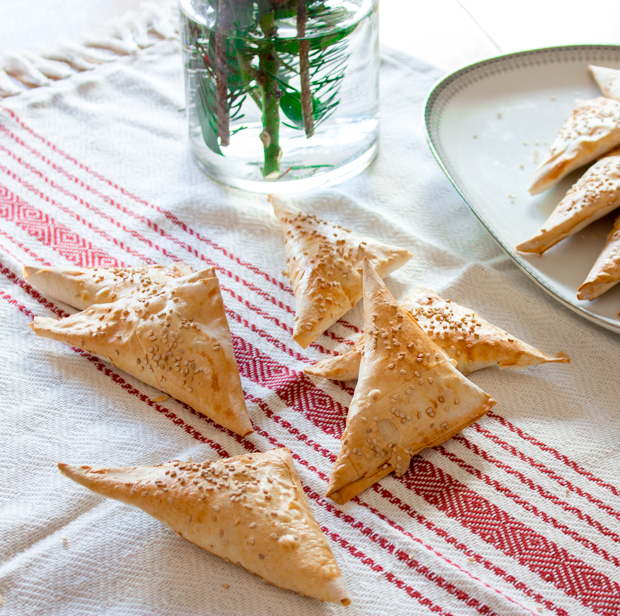 One of my favourite treats during the holiday season was the little cheese pies (tyropitakia) my maternal grandma used to make; shaped like teeny tiny croissants, filled with feta and brushed with lots of butter, they were delicious and irresistible- like, really irresistible: I usually ate three in a row, took a break, then had another three, and repeat all over again, as practice makes perfect.
What really made them special though, was the fact that my grandma almost never cooked; she was the least domestic person I have ever met (at least from her generation) yet, knowing how much we loved these little cheese pies, she would tirelessly make them for us year after year. I have no idea how she made them- I have one memory of her cooking with us, and as much as it is hilarious and indicative of her spirit and kindness, it is also indicative of the mess she was in the kitchen.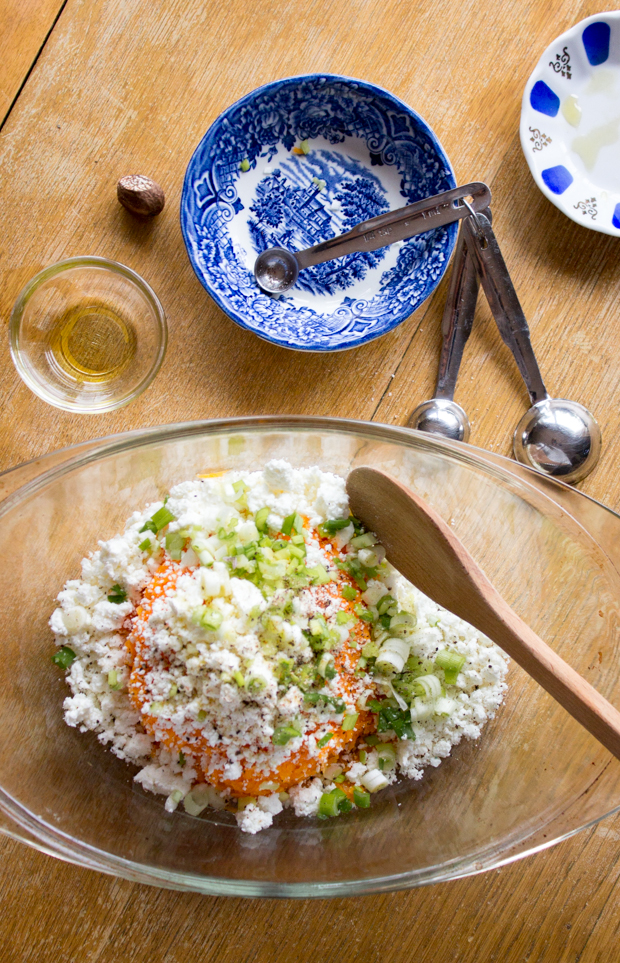 So this Christmas, our first without her, we decided to make something that would be simultaneously close to her little cheese 'croissant', yet also quite different (much to my dad's dismay, who adored and admired his mother in law, and wanted us to follow her recipe to a t): since all three of us (my sis, my mum and I) plan dishes around what's in season and in the fridge, we decided to make turnovers, filled with pumpkin and feta.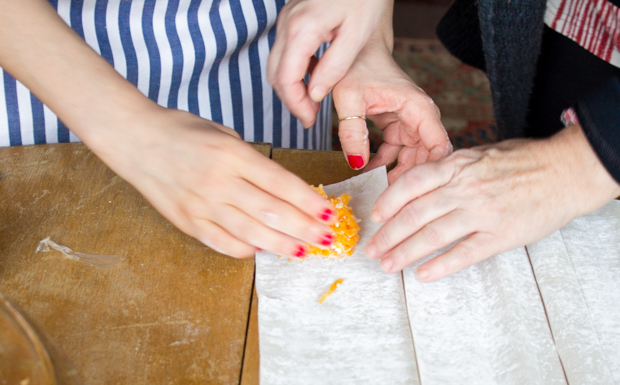 We used the pumpkin and spring onions from our garden, mixed them with crumbly, salty feta, some grated nutmeg for balance and a touch of olive oil. We wrapped this delicious mixture in thick phyllo pastry and sprinkled sesame seeds on top.
It was the first dish I've cooked with both my mom and Alkyoni in quite a while; both the process and the end-result were great; and bittersweet and salty. But mostly great.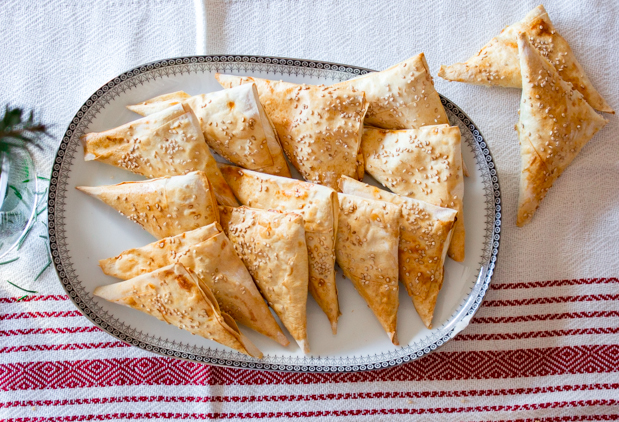 INGREDIENTS
2 cups grated pumpkin
2 tablespoons olive oil
1 cup feta, crumbled
3 spring onions, thinly sliced
1/2 teaspoon grated nutmeg
generous pinch of salt
lots of freshly ground black pepper
1 pack filo pastry (the one I used had 8 sheets), thoroughly thawed
1 large egg, beaten with 1 tablespoon water- for the egg wash
1/3 cup sesame seeds
Turn the oven on to 190C. Line a baking tray with parchment paper or a silicon mat.
Drain the grated pumpkin in a colander for about half hour, trying to get out as much of the liquid as possible (I also squeeze it with my hands to speed up the process).
Place in a large bowl, along with the olive oil, feta crumbles, sliced onions, nutmeg, salt and pepper. Mix thoroughly and set aside.
Take the pack of filo sheets out of the fridge and unfold; as the sheets are stacked, slice them in four even parts, all the way down, so you 're left with 4 long stacks, of 8 pieces each, 32 in total. Stack them all on top of each other.
Take the first piece and place on your work surface, and put the rest in the fridge, wrapped in plastic wrap.
Brush the piece's edges with some egg wash and place a tablespoon of the filling to the edge closer to you.
Fold the edge in front of you towards the right side of the filo piece, forming a triangle; press firmly to seal with the egg wash; fold again, towards the left side and press again. Continue like so, until you reach the end; press firmly and place on the baking tray.
Continue with the rest of the pieces, taking them out of the fridge one at a time, so they don't dry out, placing each finished turnover on the baking tray, side by side.
Brush the turnovers generously with some egg wash and sprinkle with the sesame seeds.
Place in the oven and bake for 35-40 minutes, or until golden brown.
Serve warm.