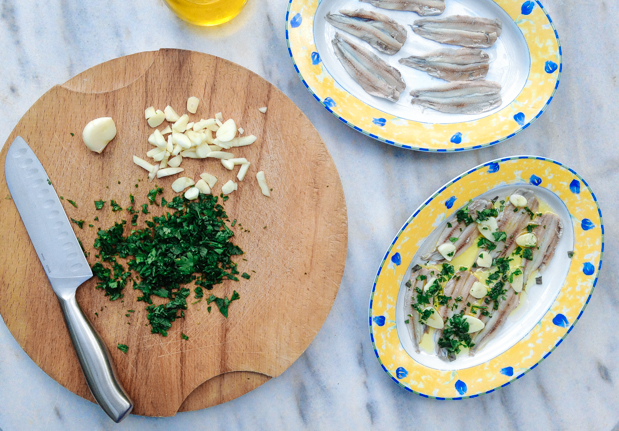 My mother grew up in a city by the sea, where fish was not only in abundance, but you could also buy it daily from the docks, straight after it came out of the water. One of her fondest childhood memories was from her father coming home, early in the morning, post fish shopping. He would toss the fresh fish on the kitchen sink, clean and gut it, while updating my grandma on the equally fresh news of the day. He then made preparations to cook it when he'd come back from work, since my grandma's charm and effervescence was equal to her lack of enthusiasm or willingness to be involved in any kind of house chore. As the eldest, my mom had to learn to cook from a very early age, and since then, fish has been quite predominant in her repertoire.
So ever since I can remember myself, fish was king in my family's dietary habits. All kinds of fish. Big and small; grilled, fried, baked or in a stew. My favourite variation though by far is this one: fresh small anchovies, marinated in salt and vinegar, served topped with thick garlic flakes and parsley. It's a perfect summery nibble: fresh and delicious, smelling and tasting of the sea, a great start to a meal al fresco.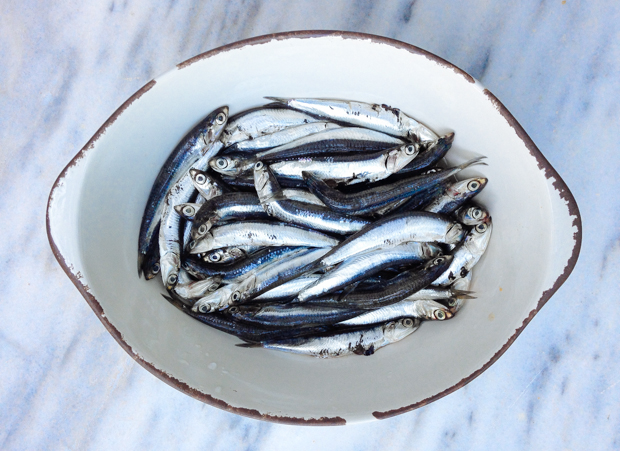 It may look simple and straightforward, and it is, requiring nonetheless quite a bit of preparation: the fish need to be washed and, after cutting the heads off, marinated overnight in vinegar and sea salt.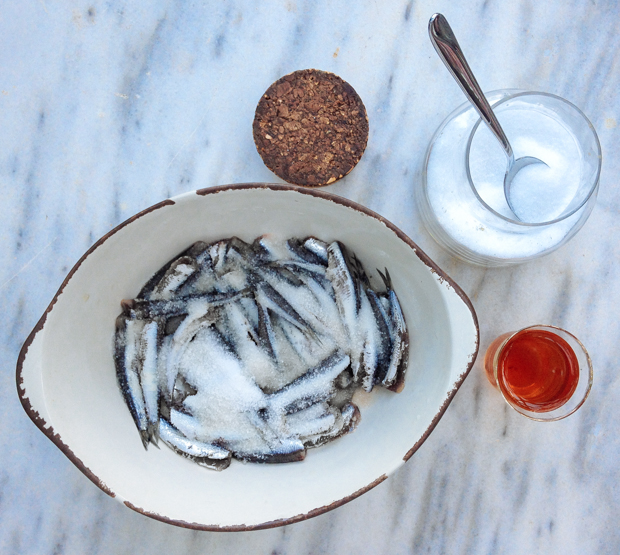 The following day, the guts are also removed (my least favourite part of the recipe, but the anticipation of the simple acidic taste makes it worthwhile), the anchovies are rinsed thoroughly and stored in olive oil, in a jar or tupperware, along with pieces of garlic.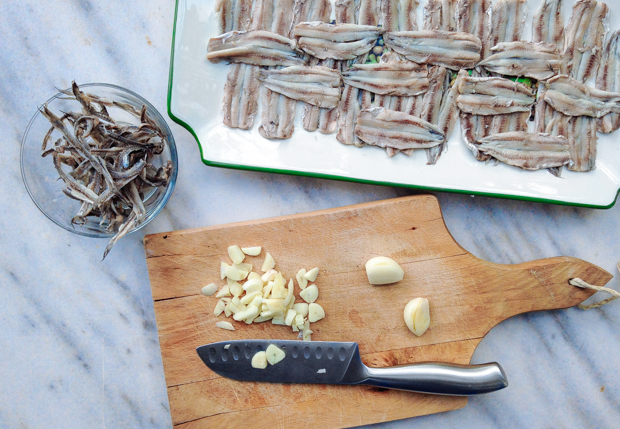 INGREDIENTS
1/2 kilo anchovies
2 1/2 tablespoons sea salt
2 cups vinegar
3-4 garlic cloves, thinly sliced
2 tablespoons chiffonade parsley
Wash the anchovies and cut the head off, pulling along the little red and brown 'threads' (essentially the fish's guts), taking care careful not to pull it apart.
Rinse well until water runs clean and place in a large tupperware; top with sea salt and vinegar, slightly shaking the tupperware to coat all the fish. Cover and keep in the fridge overnight.
The following day, discard the liquid; run your thumb along the belly of each fish, crack in open and remove the spine, along with any remaining from the guts. You 'll be left with the fish open in half.
Rinse once again carefully so that the anchovies are not broken in two; place the ones you 're serving on a small plate, top with garlic slices, sprinkle with parsley and drizzle some olive oil
Keep the rest of the anchovies and remaining garlic in a jar, covered with vinegar; when ready to use, serve as above.
Anchovies will keep in the fridge for up to 3 weeks to a month.