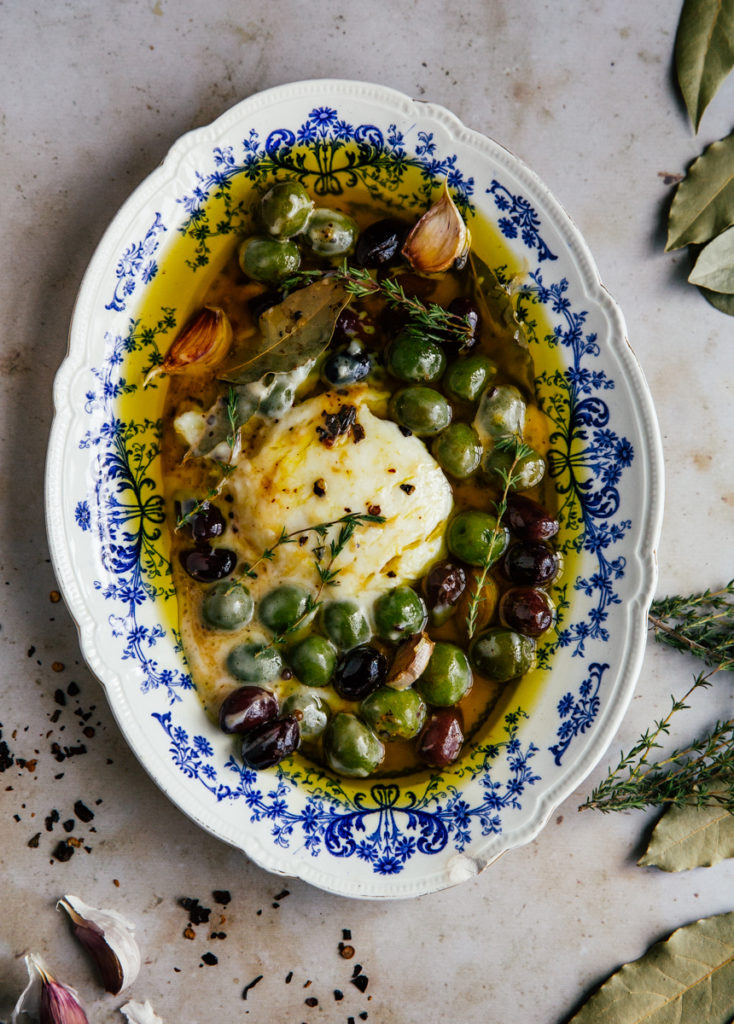 Two of my favourite ingredients combined and baked to bubbly perfection. We're gonna need a bigger loaf of bread for this one.
I'm on my last week of fasting and I have quite a lot of feelings about it; on the one hand, I can't wait to have lots of thick full fat Greek yogurt, some shaved parmesan over two perfectly fried eggs, or a full plate of baby potatoes and lots of smoked trout; on the other, I can't help but marvel at how much I've enjoyed my diet for the last month or so: the reason I decided to fast (for the third consecutive year) in the first place is purely to challenge my self in terms of my cooking and eating habits. So my meals were filled with vegetables and herbs, simple, delicious and so satisfying: from saucy green beans to lemony peas, everything but the kitchen sink pasta or fragrant curries.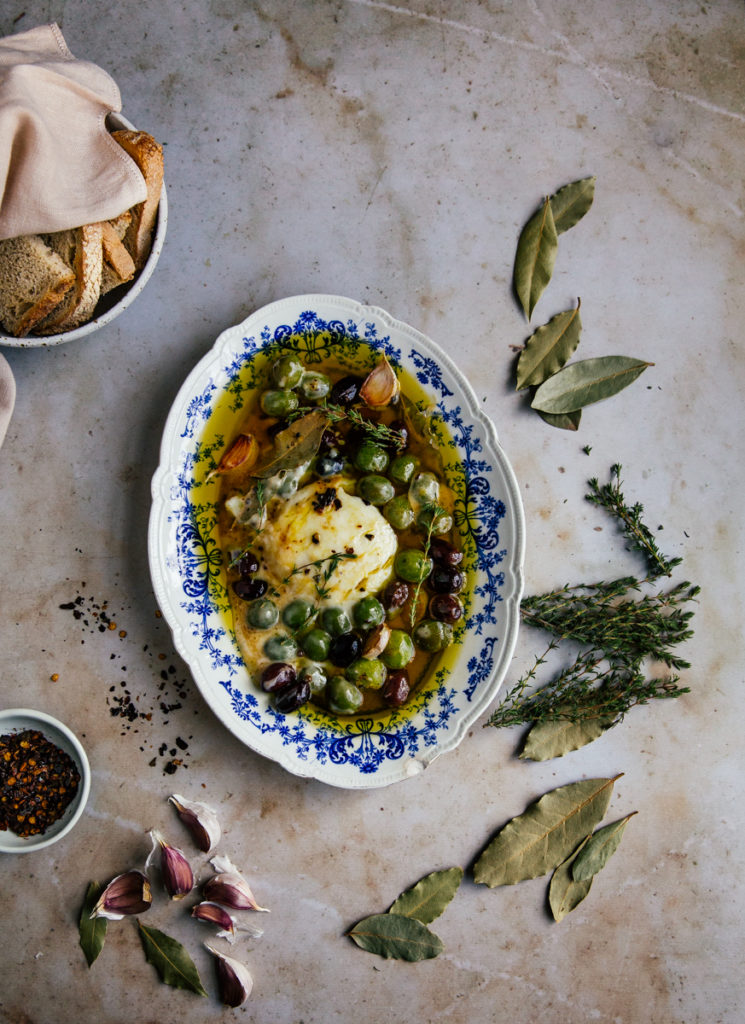 I am not a very adventurous person in general, but when it comes to food and a few other things, I love to give in, try new things and be completely open. Still, inevitably, there are patterns and preferences and every once in a while, I like to deviate from them and just see what happens. And though my diet is mostly vegetarian, with some eggs and fish, and even a little chicken on the side, going vegan for these weeks really made me so much more inventive and playful in the kitchen. I relied heavily on spices and herbs, more than I usually do, fell in and out of love with pulses a couple times and satisfied my minor sweet tooth with sliced pineapple and papaya, baked with vanilla beans and pure maple syrup. Last but not least, I discovered (and may have also become addicted to) the bliss of vegan feta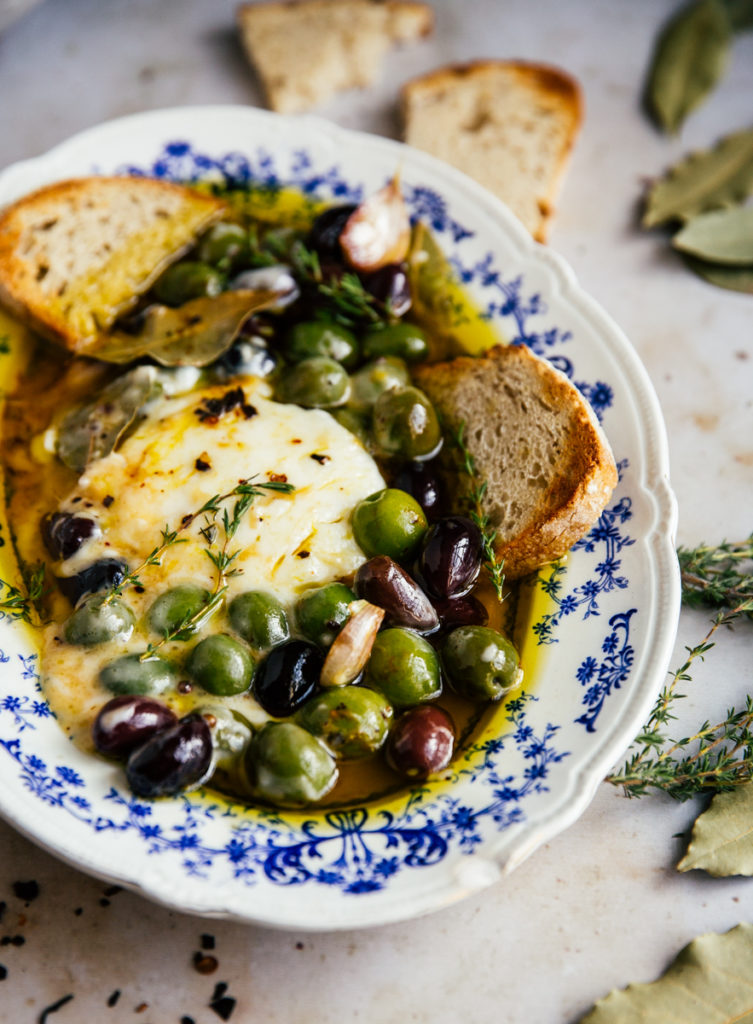 Let me explain: in Greece, cooked pulses are often eaten with a generous side of feta cheese and, as I've been eating chickpeas and beans in almost every way possible, I realised that what I was probably missing the most was feta. And then I found it: mildly flavoured, made of coconut, reminding me of another favourite Greek cheese (the name escapes me). And then I wish I hadn't, since I literally could not stop eating it: for breakfast, over crunchy toast, with a pinch of sumac and a drizzle of olive oil, accompanying baked chickpeas for lunch, tossed with juicy tomatoes and buttery avocados for dinner- you name it, I've probably had it with some vegan feta.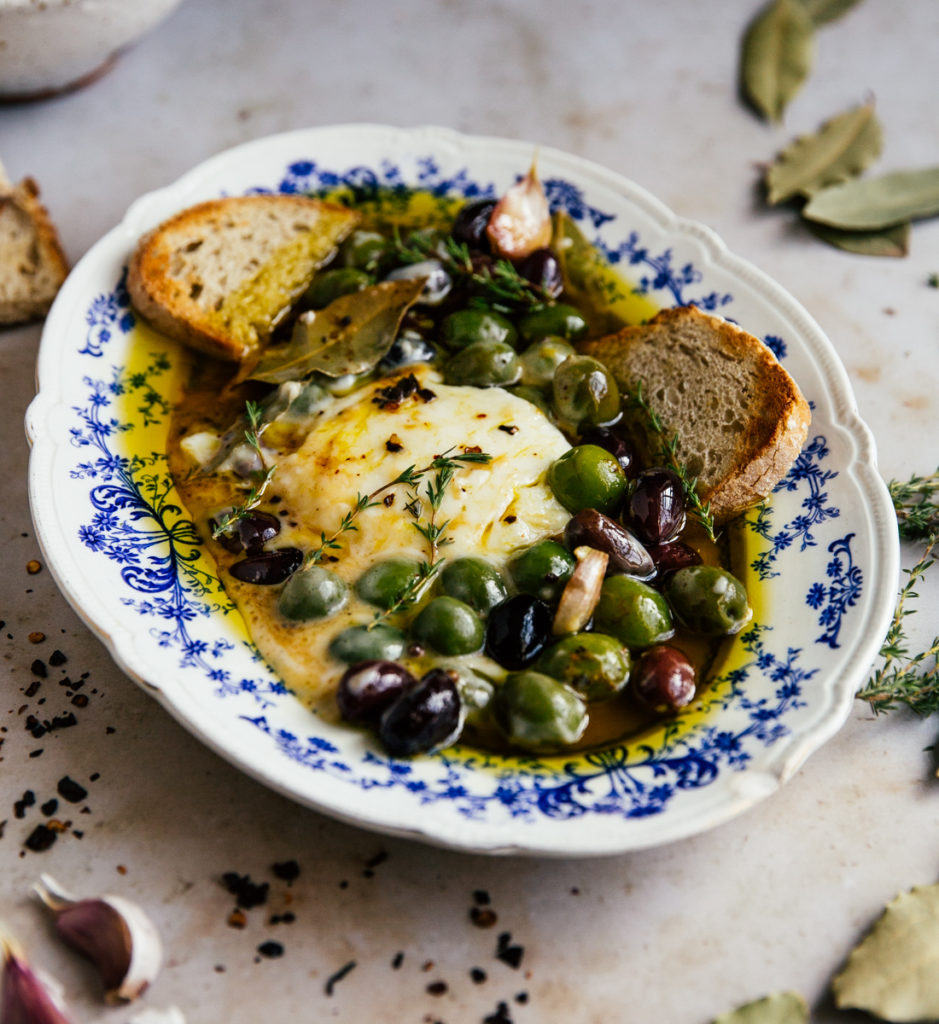 Today's dish is probably my favourite way to enjoy it- and almost definitely the last time I'll have it for a while: combined with chubby black and green olives (pits on, always!), lots of good olive oil, orange juice and zest, chipotle flakes, bay leaves and fresh thyme. Put it in the oven for merely 15 minutes and brace yourselves for melted, bubbly heaven. And for the love of all things delicious, don't forget the bread!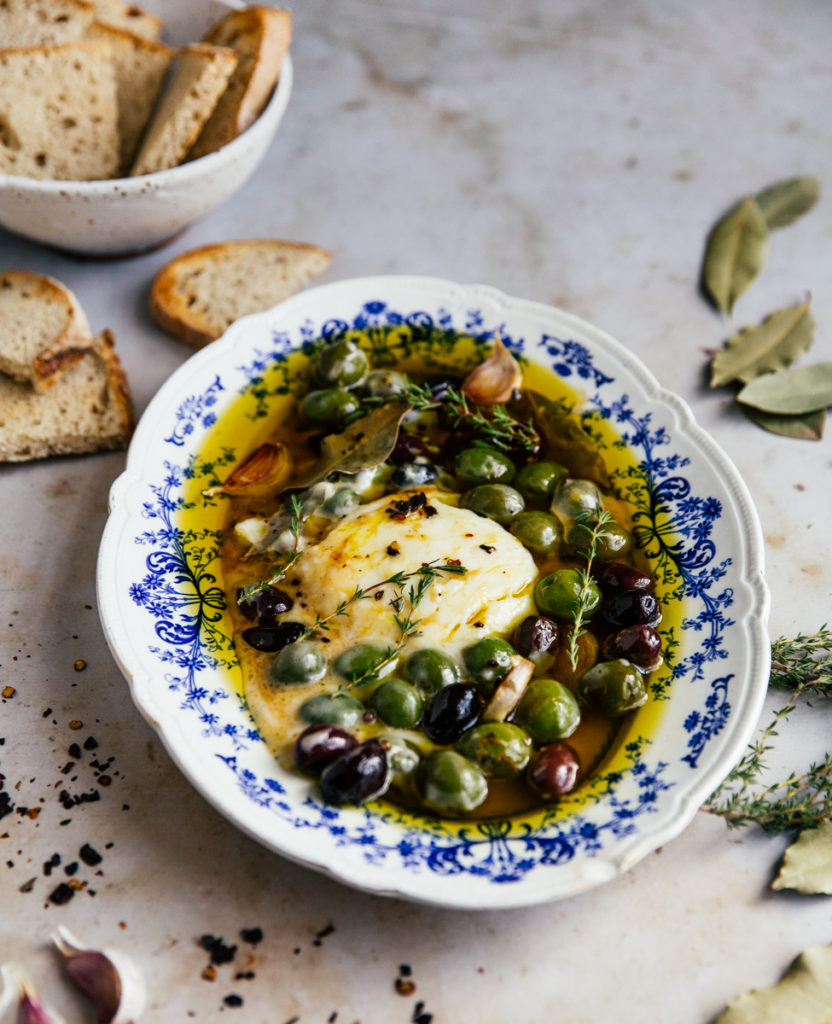 Vegan baked feta with olives & thyme
WHAT
200g vegan feta (I used this one)
about 3/4 cup black and green olives
130 ml extra virgin olive oil
juice & zest from 1/2 orange
1/4 teaspoon chipotle flakes
3 small bay leaves
3 fresh thyme sprigs
4 small garlic cloves, skin on
a pinch of sea salt flakes (taste your olives first and season accordingly)
HOW
Preheat the oven to 180ºC (160ºC FAN).
Place the feta in a deep-ish baking dish and arrange the olives around it.
Add the olive oil, juice & zest, sprinkle with the chipotle flakes and then add the bay leaves & thyme sprigs.
Season and bake in the preheated oven for about 15′, or until the "cheese" is bubbly.
Remove from the oven, let it sit for about 5′ and serve immediately either from the baking dish or after transferring it (carefully! Vegan feta melts quicker and more than the real thing, so try to transfer it whole as much as possible) on a serving dish. And, again, don't forget the bread!