Crusty sourdough, fresh juicy tomatoes and harissa turn this hearty and spicy panzanella into the perfect quick summer dish.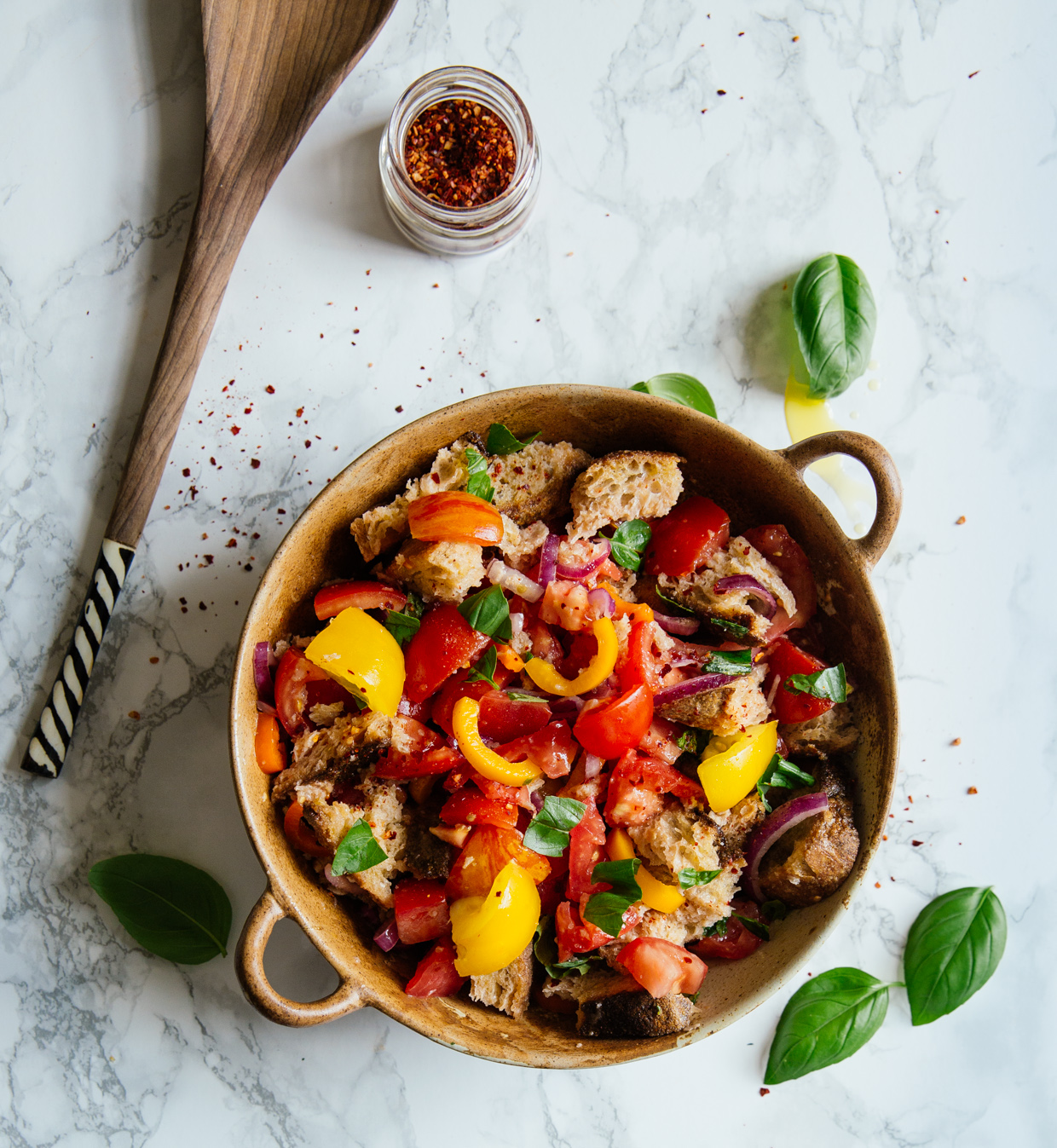 Just have a quick look at my Instagram these days- it's a tomato extravaganza, my own summery inspiration wall, a love letter to the season's true queen. All hail the tomato and its beauty! I am not a purist when it comes to almost anything, but I do discriminate between tomatoes from back home and those from anywhere else. And when I say home, I mean it literally, my family's country house, where we grow everything that summer is made of: the juiciest tomatoes in all sizes, crusty cucumbers, small green peppers, some spicy, some not, white, chubby aubergines, the most fragrant herbs and sweet/ tart plums in the most gorgeous purple. It's all there and my summers are made of them on repeat.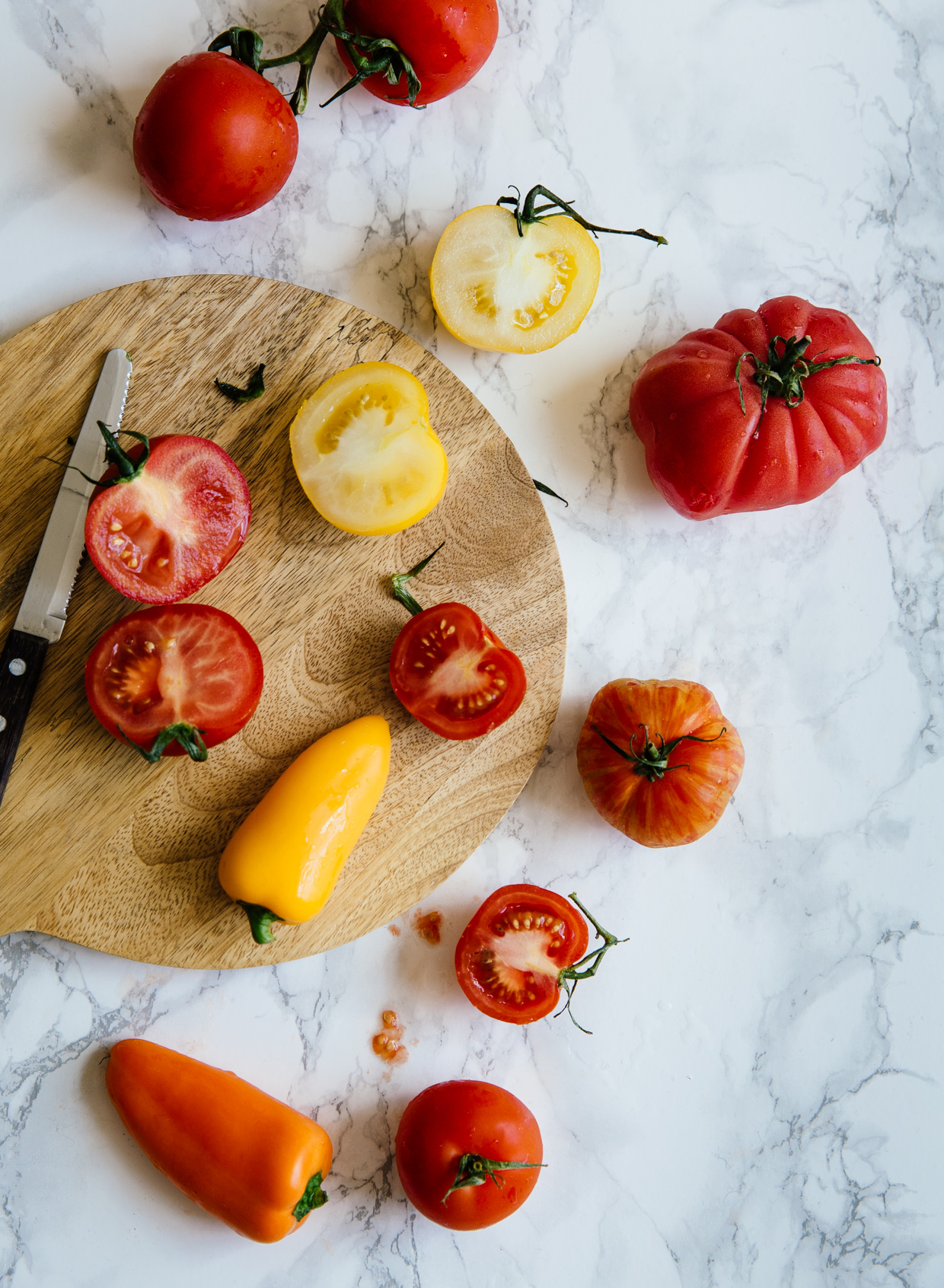 This spicy panzanella happened primarily because I've been fortunate enough to come across the tastiest tomatoes I've probably ever tasted here in London. It also happened because last Saturday, Mike came home bearing seven loaves, given to him by his neighbours, the very good people of The Dusty Knuckle. Now, I love bread (both home made and very good quality store-bought), but this specific bread is one of the finest ones I've ever tried. It's perfectly crusty (I love tapping on it's bottom) and browned and smells and tastes like only proper breads do.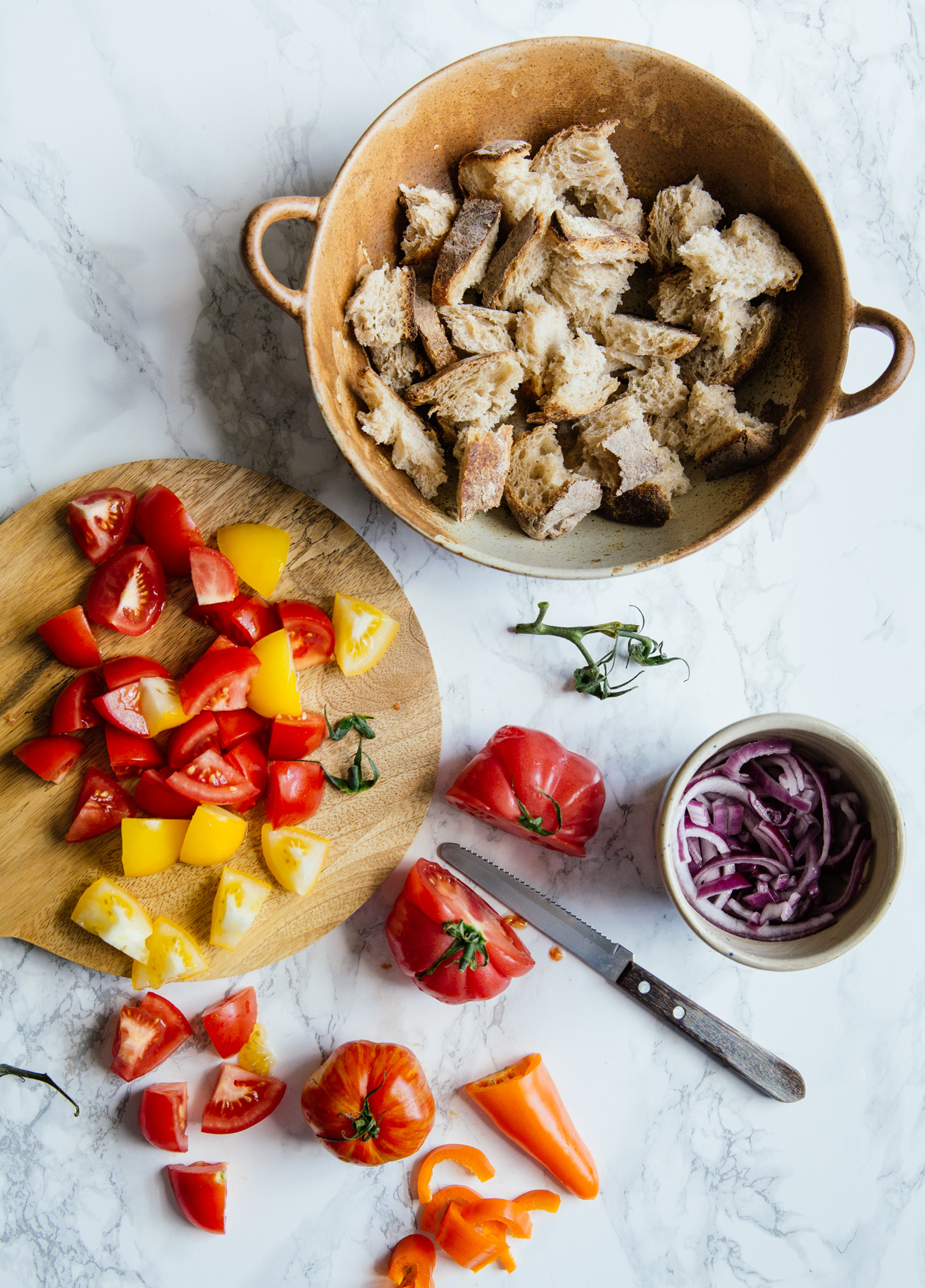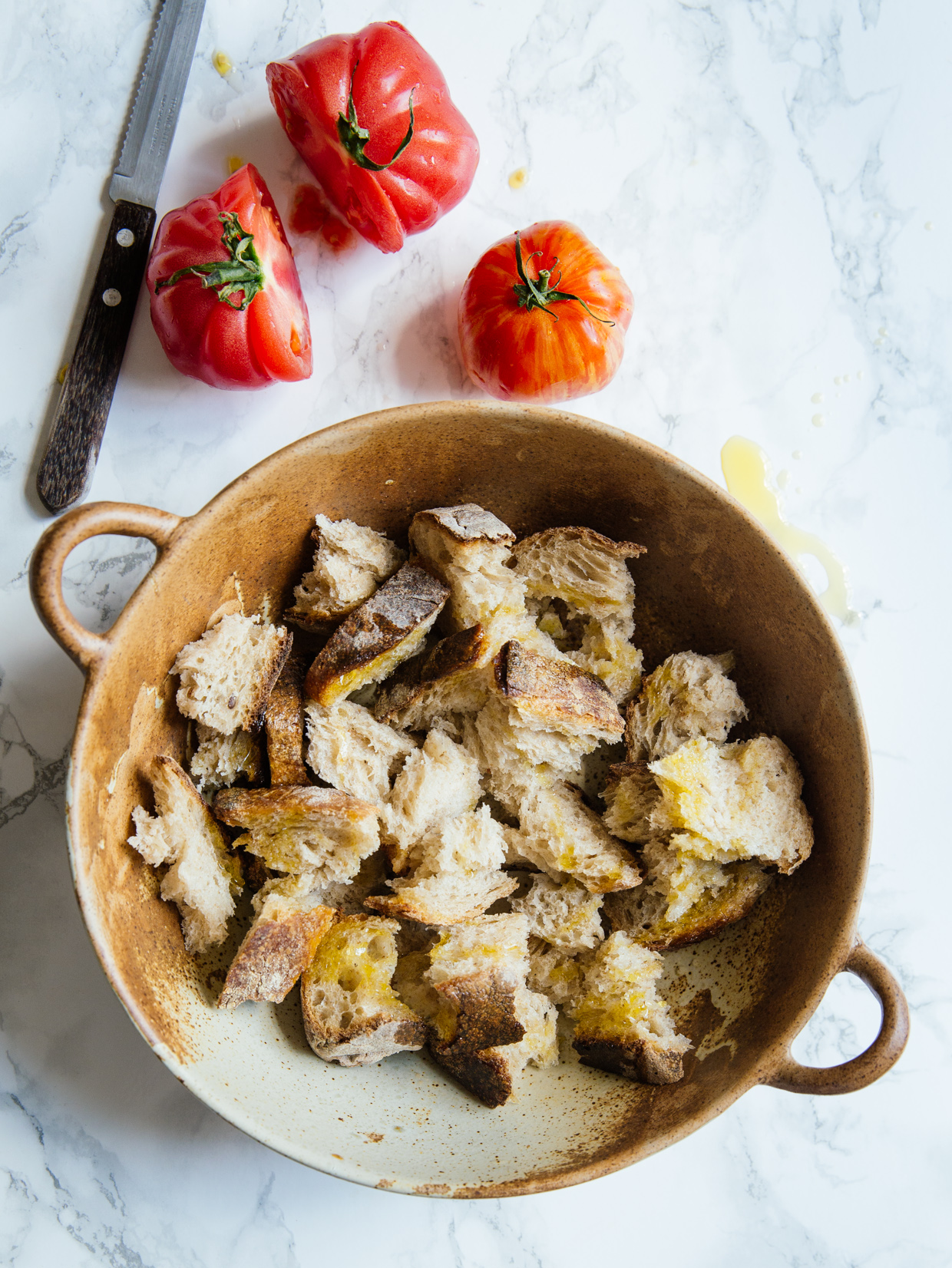 With great tomatoes and great bread in hand, you can't really go wrong. And you can't really do much cooking either- these two need to be mostly left on their own devices, working their magic away. So we'll start with the tomatoes, roughly chopped and tossed with a couple drops of olive oil; and then the bread: preferably a little dried out and torn in equal size chunks. Everything else is secondary, but still essential: small delicious peppers for sweetness; red onion for a little kick and a lot of colour, fresh basil (my favourite summer herb) and a very generous drizzle of superb quality olive oil and white wine vinegar. Sea salt and harissa spice flakes, toss, taste, adjust, all hail tomatoes and great bread and summer dishes ready in a pinch.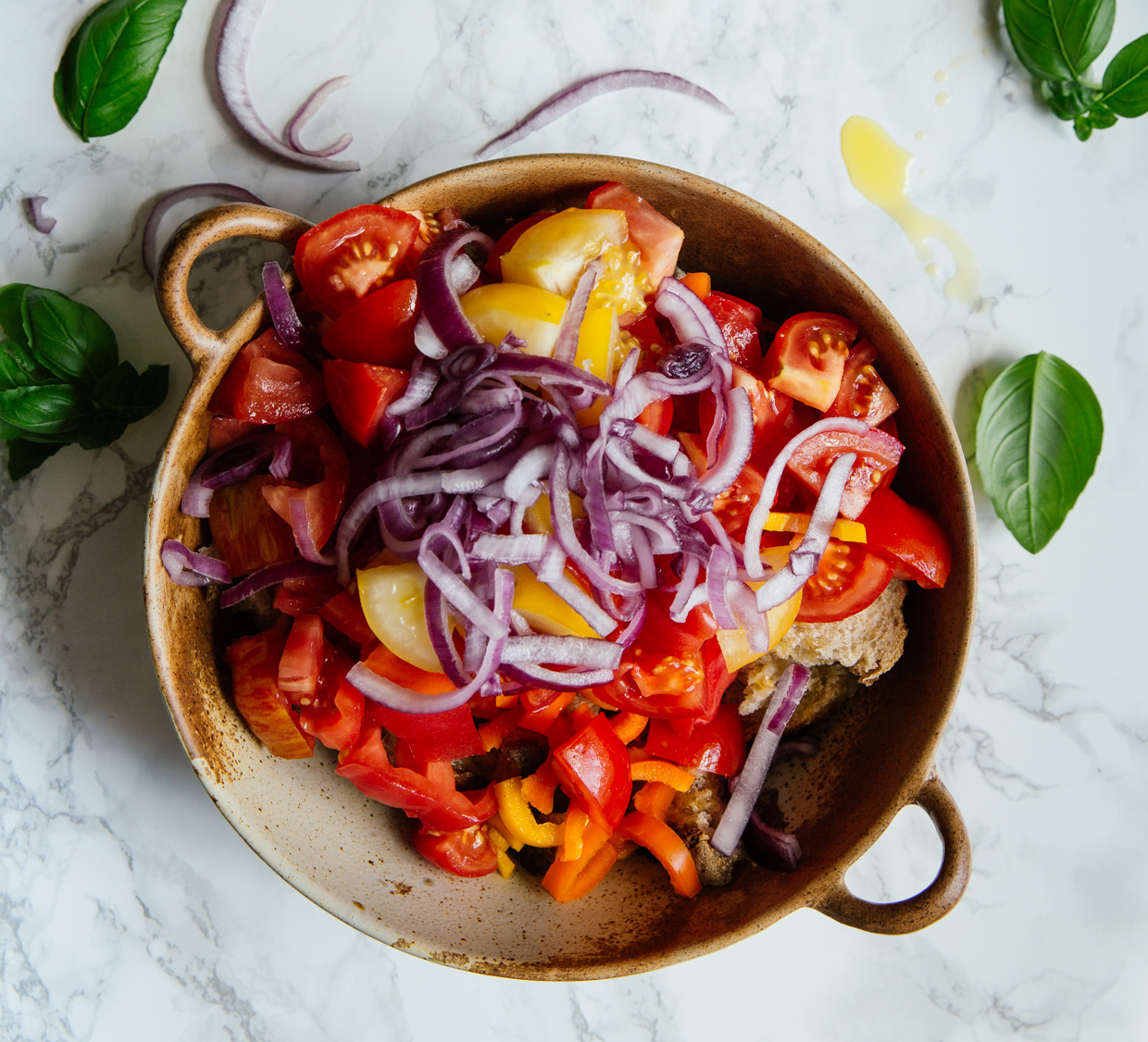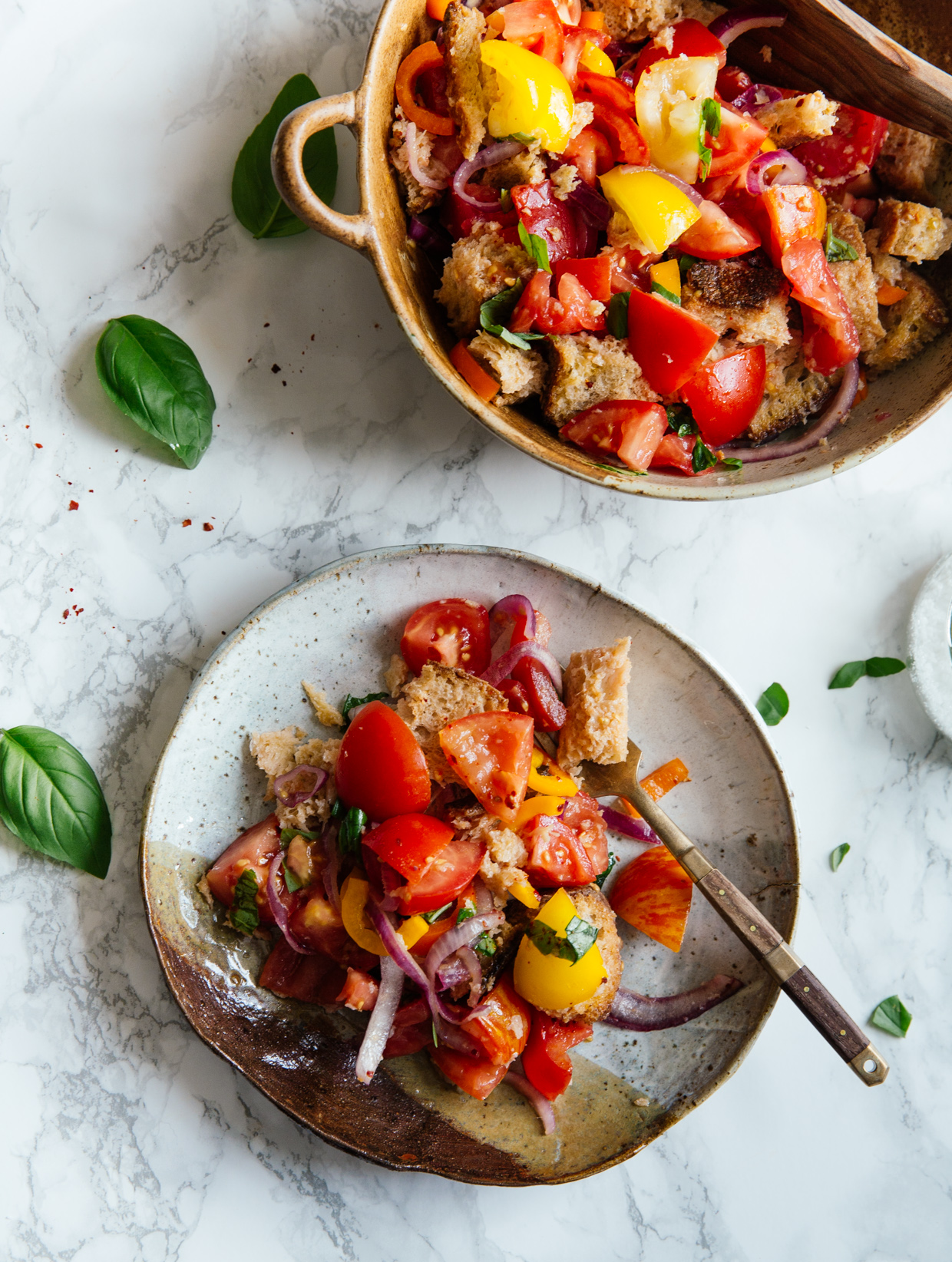 *  Obviously, the tomatoes and bread and key, so use the very best you can find; you can also add cucumbers, cappers and/or anchovies and a small garlic clove. I prefer keeping things as minimal as possible, with the exception of the harissa kick. 
Spicy bread & tomato salad (panzanella)
WHAT
about 6 thick slices crusty bread, quite stale, torn in large pieces*
6-8 tomatoes in different colours and sizes
1/2 large red onion
1/2 tablespoon coarse sea salt
2 small peppers, red yellow or orange (or one bell pepper in one of these colours)
about 1 tablespoon fresh basil, leaves torn
6 tablespoons extra virgin olive oil
3 tablespoons white vinegar
1/4-1/2 teaspoon harissa flakes (I highly recommend the ones from Zest & Zing)
sea salt flakes to taste 
Chop the tomatoes in roughly the same size as the bread, toss with a little olive oil and set aside to release all their juices.
Slice the onion thinly and toss with the coarse sea salt; set aside for about 15′.
Half the peppers, remove the seeds and slice thinly. Rinse the onion with plenty of fresh water and drain thoroughly.
Place the bread in a large serving bowl; top with the chopped tomatoes and all their juices, the onion, and sliced peppers. Add the olive oil, vinegar, sea salt flakes and harissa spice and toss to combine. Serve with torn basil leaves on its own or alongside a nice piece of grilled fish or meat.
*  White soft bread won't do, as it will get soggy almost instantly. My favourite is sourdough, but ciabatta may also do the trick. If your bread is not as dried out yet, slice and tear it in big chunks and leave it aside while you prepare the rest of the ingredients.