Celebrating International Women's Day with a cardamom & cocoa nib banana bread with coconut frosting. Sweet, powerful and perfect just the way it is.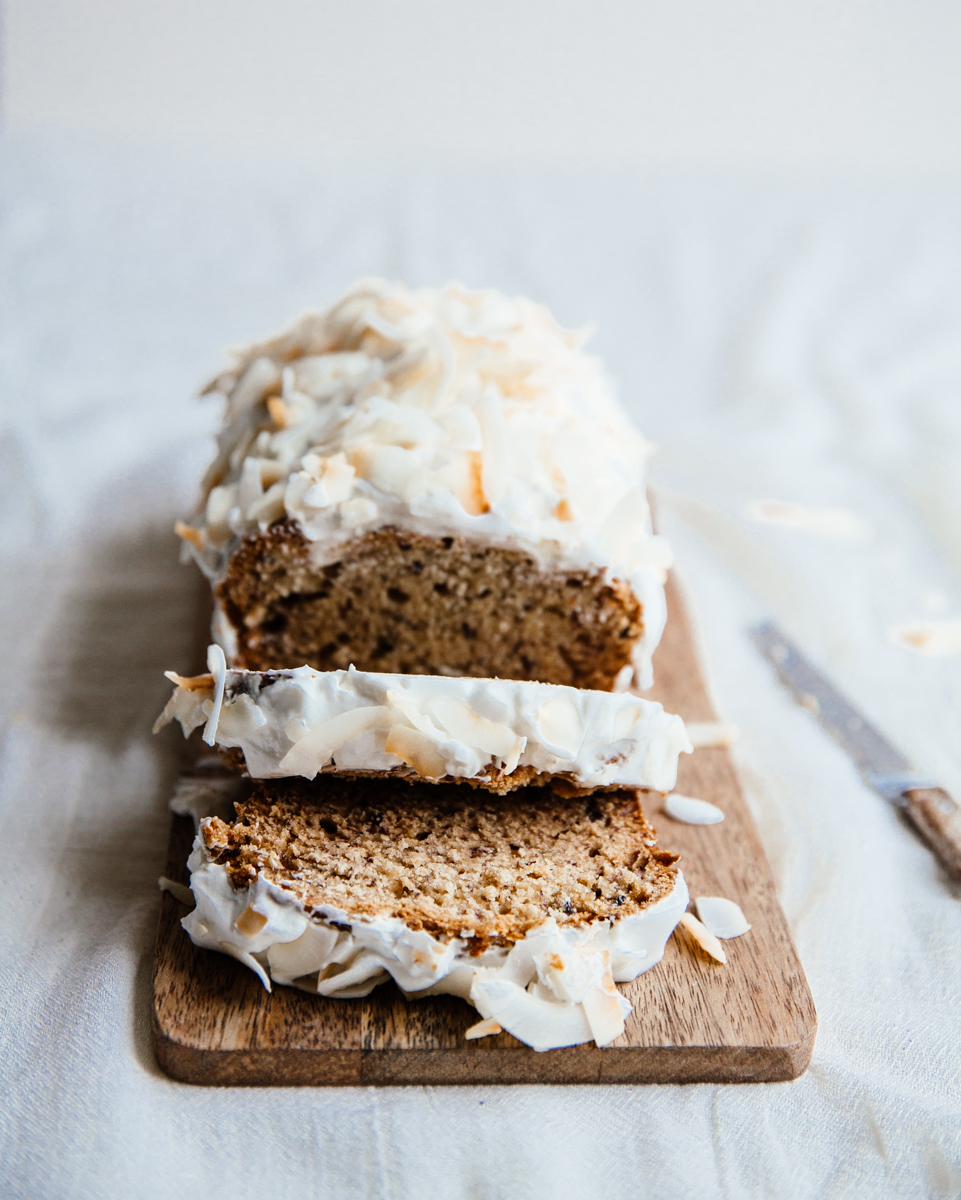 Days designated specifically for celebrating anything tend to make cringe; be it grilled cheese or Valentine's Day, my first instinct is to revolt and mock relentlessly. Yet, I have made my peace with Valentine's Day, mostly because I love any excuse for a decadent dessert; and I have occasionally hoorayed for other, food related, days. Today, on International Women's Day, my first instinct is to celebrate.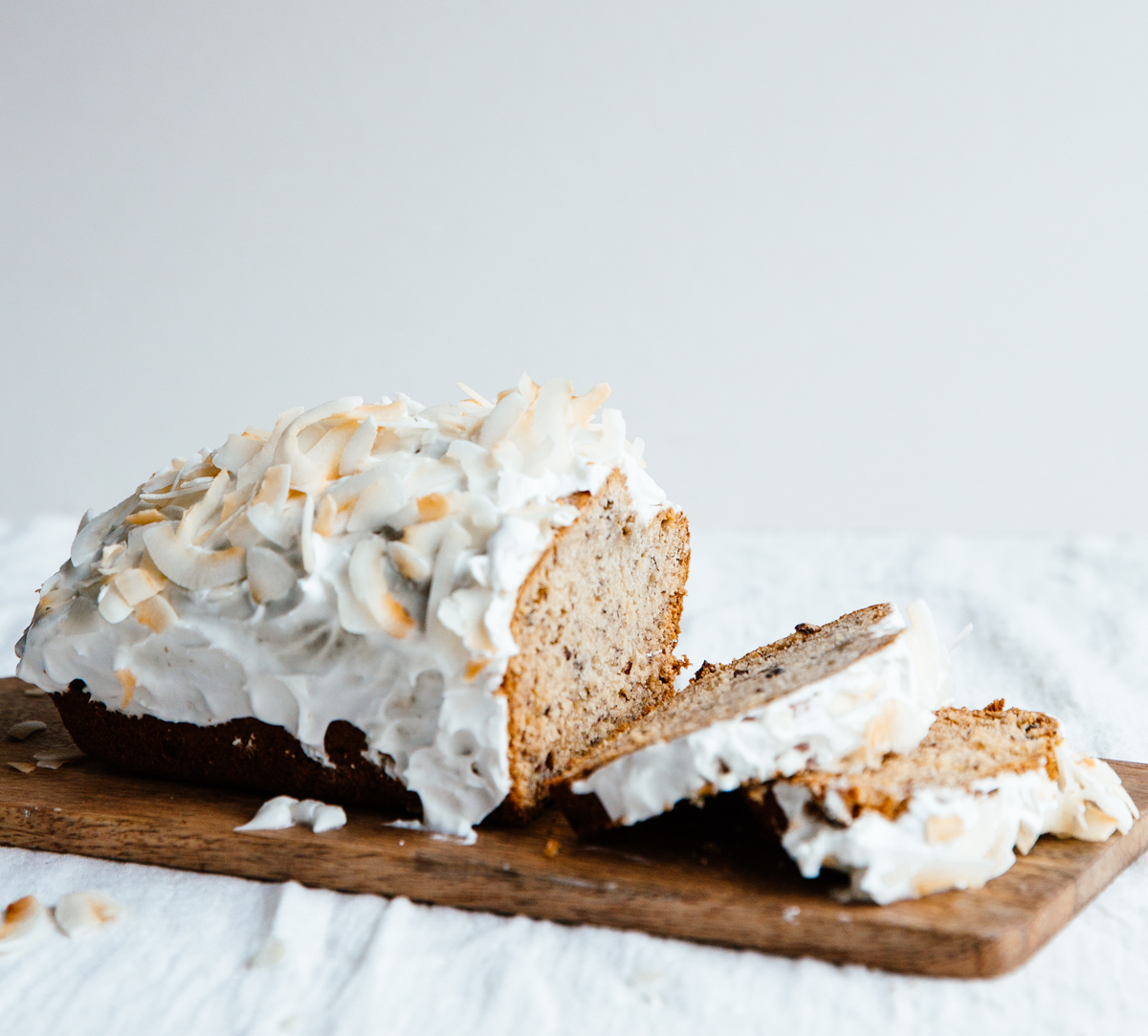 Starting with my grandma (my personal definition of a badass), my mother (the most beautiful, most enchantingly overly energetic woman I have ever and will probably ever meet) and my sister (the most tender friend and undoubtedly the absolutely finest sibling anyone could ask for), I really have been immensely lucky with the females in my life. Looking further out, at my close friends, I see beautiful women with charisma in spades and flaws too, carrying both with attitude and charm.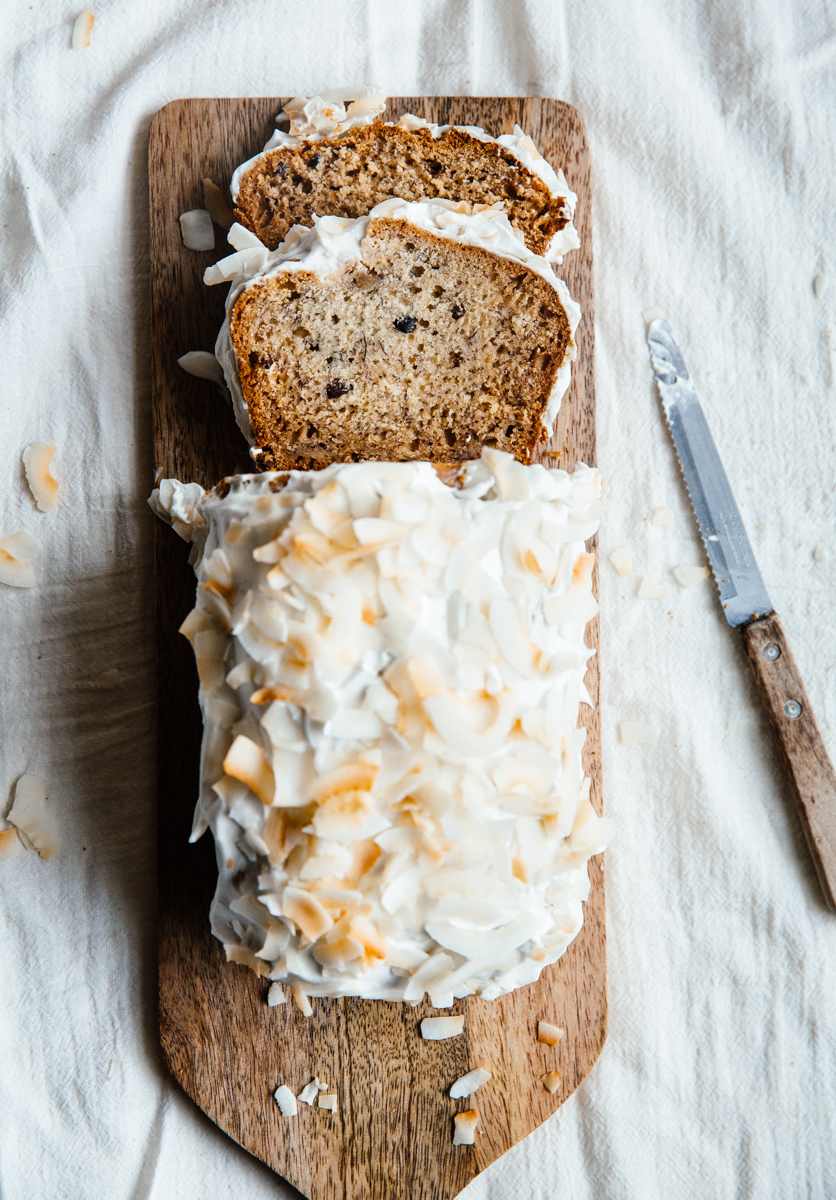 I have been fortunate with my men too; from my father, to most of my friends and my husband, I have been largely surrounded by males who've made me feel proud to be a woman. My father, having spent the better part of his life in a house with three powerful, loud, emotional and very spirited ladies, has only ever made me feel proud of these qualities and truly made me believe that the world is my oyster. Living next to Mike for the past eight years or so, I have time and again been urged to follow my instincts, be ambitious, fearless and independent. I have been loved and admired and been mad at and tolerated.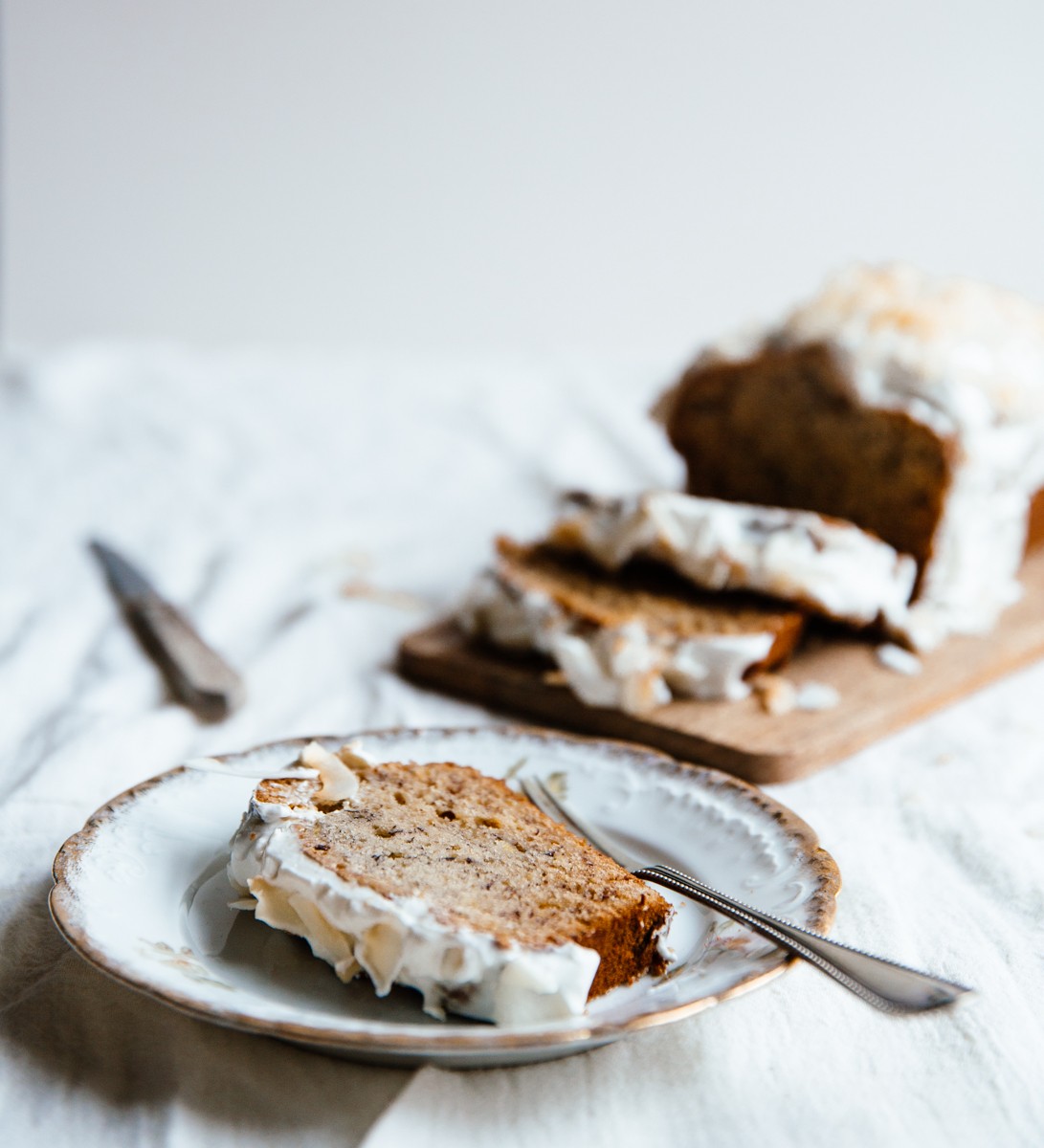 Because of these women and these men, I celebrate; for all the women who are equally fortunate or not at all, who struggle everyday, with every step they take, for them especially, I celebrate; and for them, I've made this cake. It's a simple banana bread, perfectly unassuming and entirely comforting; there's fragrant cardamom in the batter for a sweet kick and a handful of crunchy cocoa nibs for texture. The frosting is barely sweet, made with coconut milk, Greek yogurt and honey, and topped with crunchy coconut flakes; it is the perfect partner to this subtly powerful cake. And this really is quite a fitting dessert for powerful, sweet, messy, glorious, perfect women everywhere.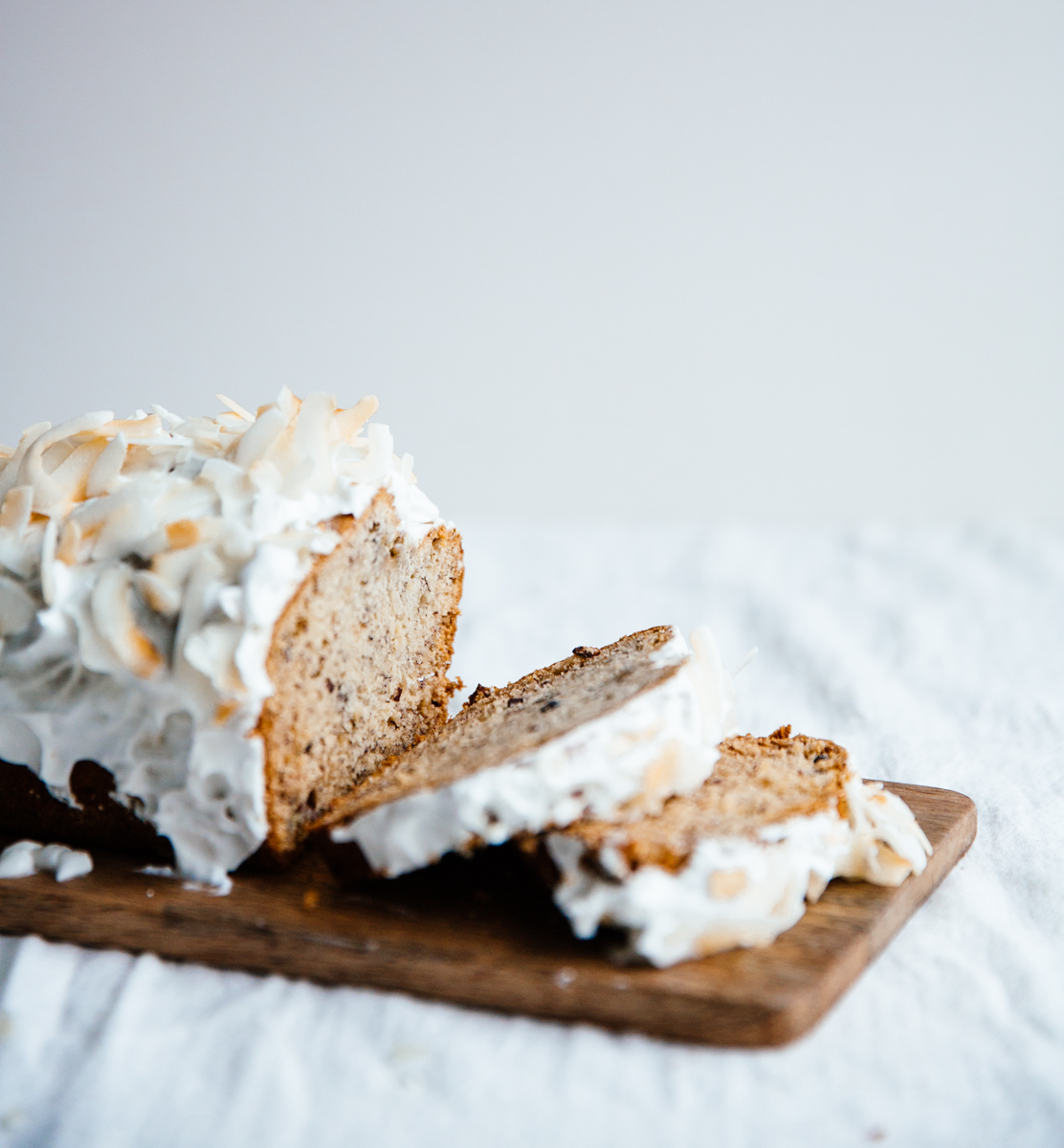 Cardamom & cocoa nib banana bread with coconut frosting
WHAT
2 1/2 cups all purpose flour
1 teaspoon baking powder
1/2 teaspoon baking soda
1/2 teaspoon salt
1/4 teaspoon cardamom, ground
1/3 cup honey
2 medium eggs
1/2 cup coconut oil, melted
1/4 cup coconut milk
1/2 teaspoon vanilla extract
2 tablespoons cocoa nibs
2 large, very ripe bananas, mashed
for the coconut frosting:
1 can full fat coconut milk, kept in the fridge overnight
1/3 cup full fat Greek yogurt
1/2 tablespoon honey
1/2 cup unsweetened coconut flakes, very slightly toasted
How
Preheat the oven to 180ºC (160ºC Fan) and line a loaf pan with parchment paper. Set aside.
Combine the flour, baking powder & soda, salt and cardamom and set aside.
Beat the eggs and honey until combined, then add the coconut oil, milk, vanilla extract, mashed bananas and cocoa nibs. Beat to combine and then add the dry ingredients.
Fold until well combined and pour into the pan. Bake in the preheated oven for 45′, or until the top is golden brown and an inserted skewer comes out clean.
Take out of the oven and let it cool in the pan for 5′. Then place on a wire rack and allow to cool completely.
To make the frosting, combine the solid part of the coconut milk can (reserve the water for a smoothie) with the yogurt and maple and whisk until very smooth.
Cover the banana bread with the frosting using a palette know or large spoon and top with the coconut flakes.