A mildly spicy vegetarian chickpea & red pepper coconut curry is full of fragrant spices, and finished off with fresh coriander and lime juice.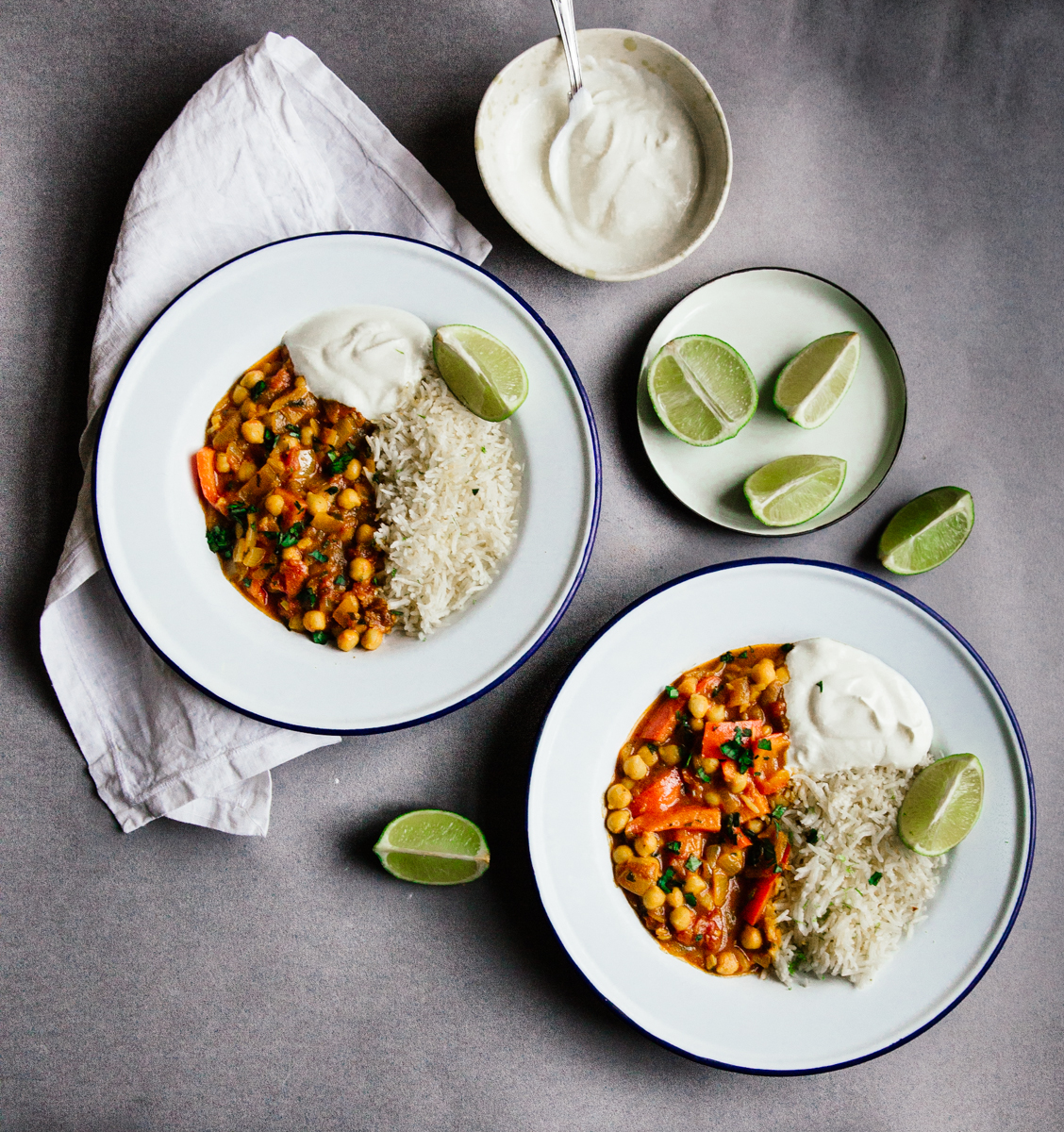 There's few smells that enchant me as much as curry spices, cooking away along with chopped onion and garlic. It's a strong, bold scent, never overwhelming though, but utterly satisfying. My knowledge of curries is still quite limited, yet that smell alone is incentive enough for me to learn more, experiment more, cook more, discover more, enjoy more. For the time being, my quite timid efforts focus on flavours which are anything but simple, yet are starting to feel familiar.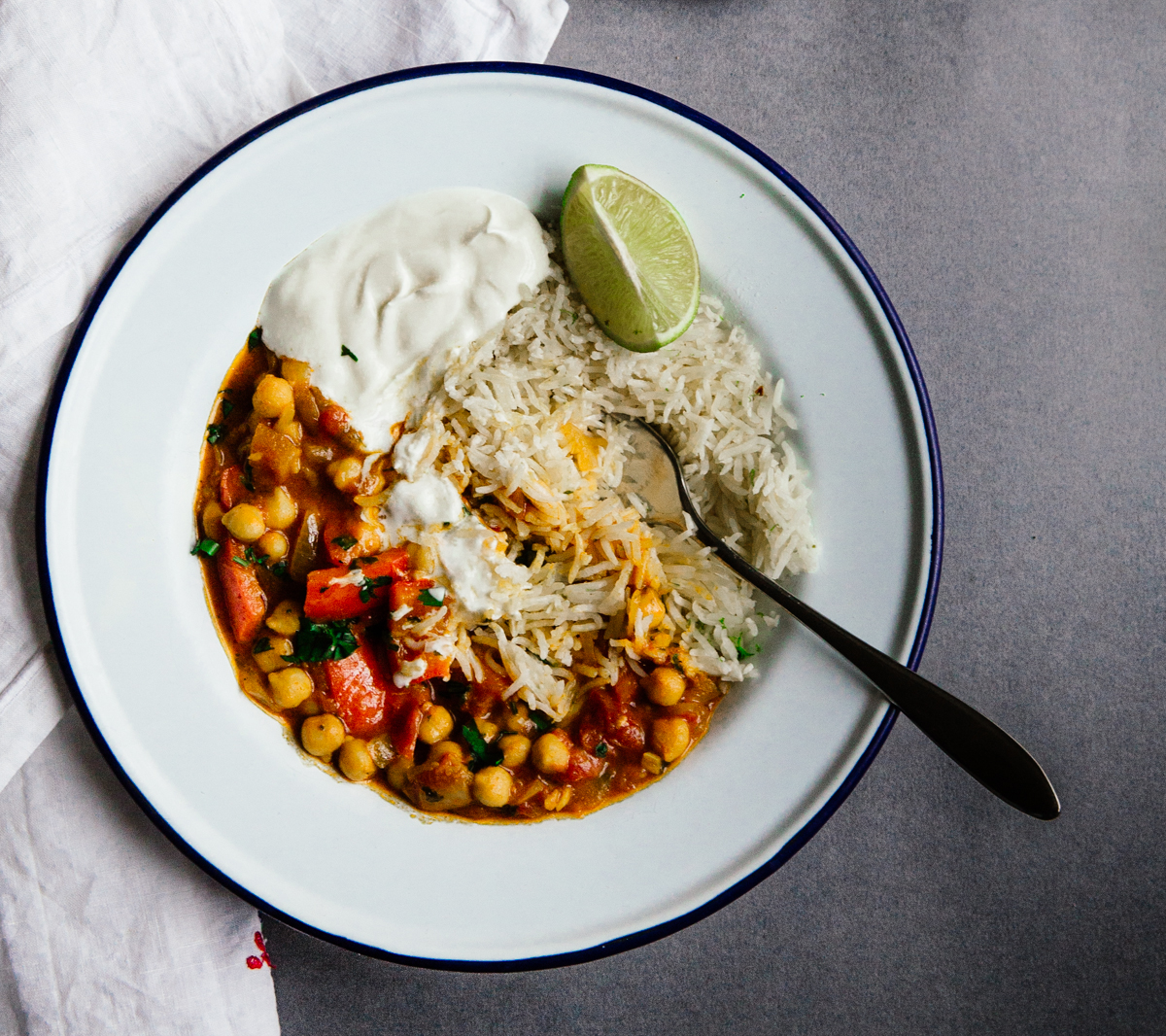 It all begins with onions, garlic and ginger; then our familiar yet irresistible spices: mild curry powder, making me weak in the knees, always; deep yellow and intense all around turmeric; beloved ground coriander, which seems to find its way into my food so very frequently; and chilli flakes, just a pinch, as some mild heat is always a stellar idea. Toss, stir, add the sliced red pepper, let all the fragrances jump out of the pan. That's exactly what this is all about, is it not? Chopped tomatoes and thick, slightly sweet coconut milk- for that perfectly bright orange and that perfectly right creaminess. We're almost there, even though there is no rush at all- these aromas are too intense to resist, too vibrant to let go of.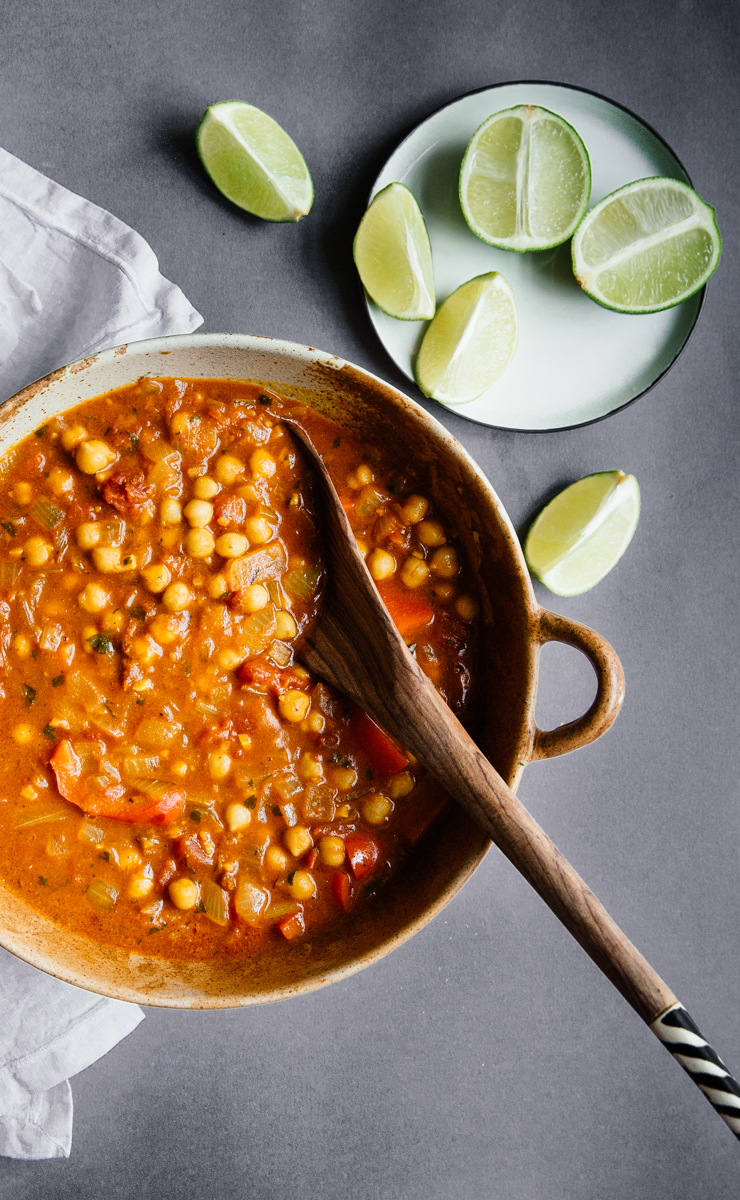 We're stirring and taking in all the colours, all the fragrances; we're squeezing sweet limes and tossing our curry with fresh, cool coriander. We are stirring again and then we're ready. Ready to plate, ready to enjoy all the spices and the complex yet familiar comfort they gift.

Chickpea & red pepper coconut curry
WHAT
2 tablespoons olive oil
1 large yellow onion, thinly sliced
3 garlic cloves, minced
1 tablespoon minced fresh ginger
1 teaspoon curry powder
1 teaspoon turmeric
1 teaspoon ground coriander
1/2 teaspoon chilli flakes
1 red pepper, sliced thickly
1 can (400gr) chopped tomatoes 
1 can half fat coconut milk
1 can chickpeas, drained and rinsed
salt to taste
2 1/2 tablespoons fresh coriander, roundly chopped
to serve: full fat Greek yogurt, cooked basmati rice, extra fresh coriander (optional)
HOW
Warm the olive oil over medium heat; add the chopped onion and cook until soft, about 7′. Add the chopped garlic, ginger, sliced pepper and spices, combine and cook for 4-5′, until fragrant.
Add the chopped tomatoes, stir well and cook for about 10′. Add the coconut milk and a good pinch of salt, combine and bring to a boil. Then lower the heat to a very low simmer and allow the curry to thicken- about 15′.
Stir in the chickpeas, stir and check the seasoning; adjust if necessary and add the fresh coriander. Remove from the heat and serve alongside cooked basmati, yogurt and extra coriander if desired.