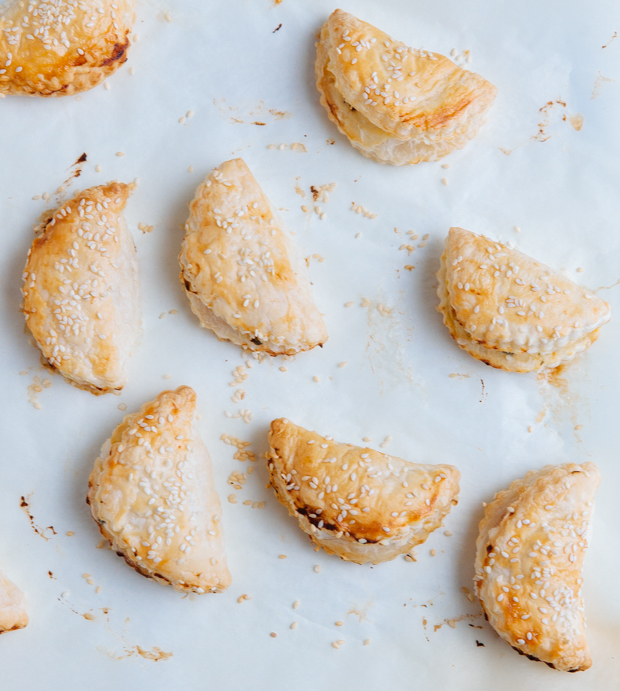 I left home for college when I was 18. I couldn't wait. I was not a particularly rebellious teenager, although I was a big pain in the butt, and had a pretty good relationship with my parents, but I.could.not.wait to leave. So I went to college in the north, in Thessaloniki, a gorgeous city by the sea.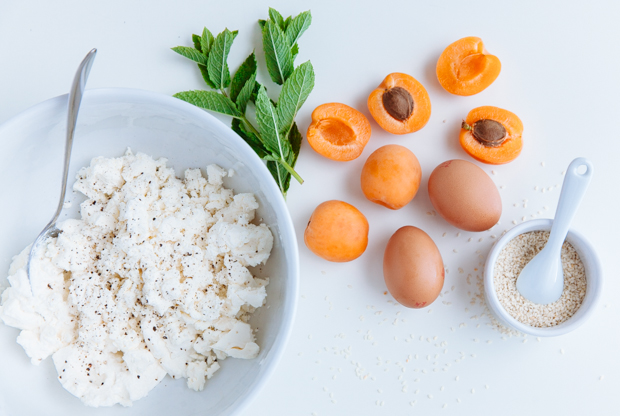 As much as I loved living alone, I was going back home pretty often and good-byes were always painful; I'm quite the drama queen, and so is my mom, so my departure was always marked by long tearful hugs (and sarcastic comments from my dad and sister, who are the bad-asses of the family). And mini cheese pies.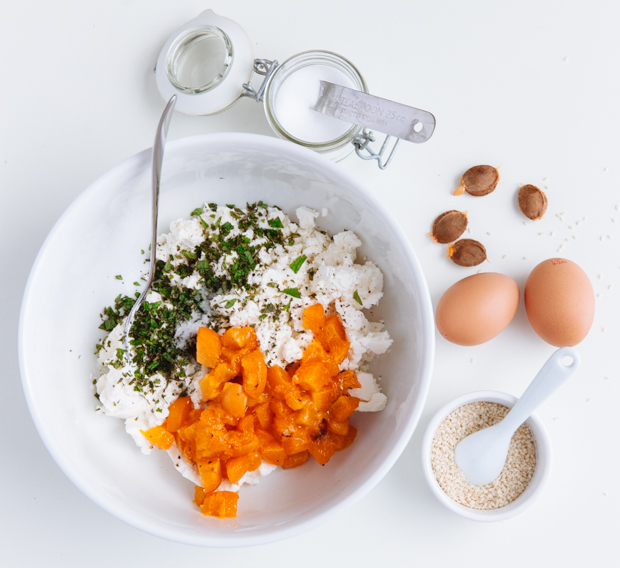 Greek moms are quite notorious for overfilling the suitcases of their student offsprings with tons and tons of food: meat, honey, pulses, dried fruit and other goods, which you can most certainly also find in other cities or abroad. My mom never did that- save for the same cheese pies she'd always make for me the day before I'd leave. She used store-bought pastry, filled them with feta and some herbs, fold them hastily and bake them until puffed and delicious. It wasn't the most exciting food- it certainly was not representative of the storm she usually cooks up- but rather a subtle, loving gesture, one she knew I'd accept without whining and would welcome as part of my messy eating habits.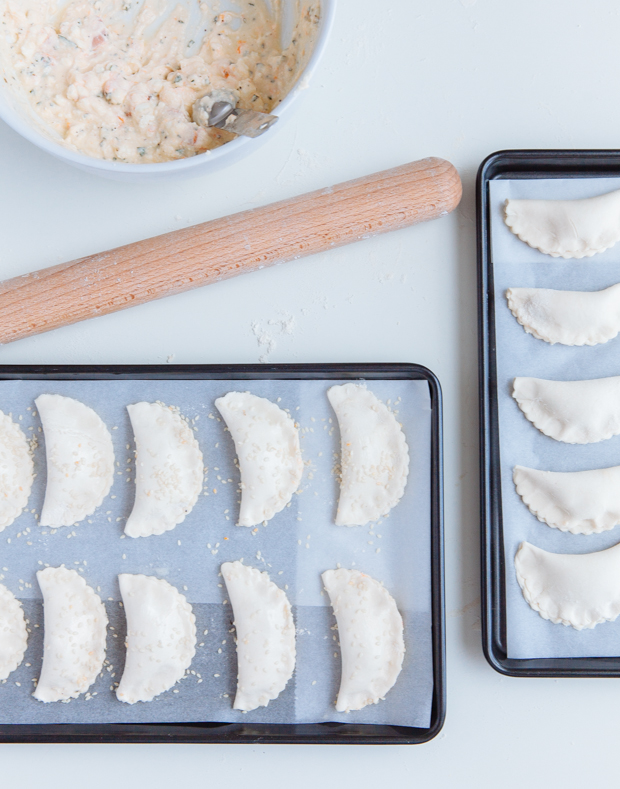 I loved those pies so much! I'd usually shove them in the fridge upon my arrival, forget about them for a few days and enjoy them cold, standing in front of the fridge, late at night, amidst panic for exams and overwhelming boy trouble. With each cold bite, I'd think of my mom, forget what a cool grownup I'd become and allow myself to be ridiculously, overwhelmingly homesick.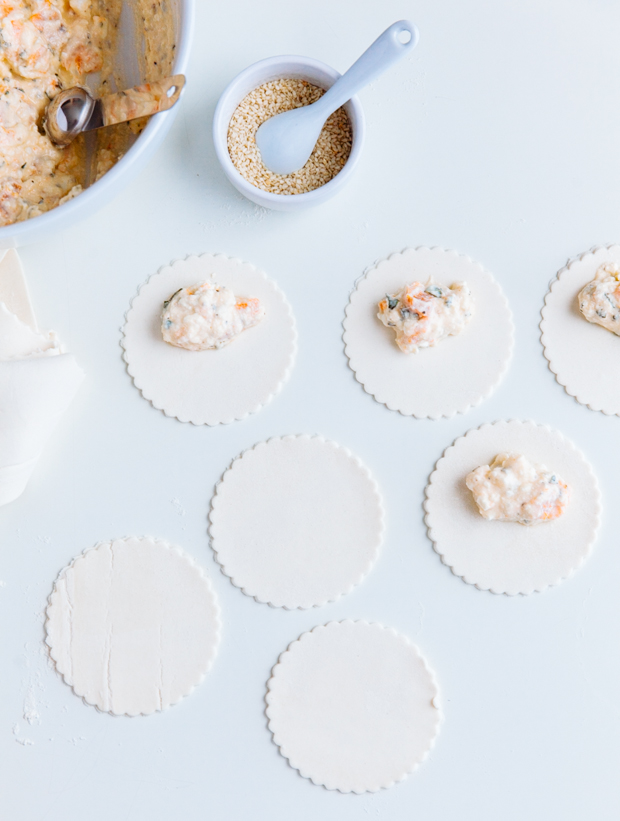 I'm going back home in a few days- perfect timing, as that homesick feeling has been hitting me hard lately. When it does, I don't cry or become moody anymore- I usually cook. I can't think of a better way to feel closer to my family, than cook a dish which either brings back lots of memories or holds a special significance.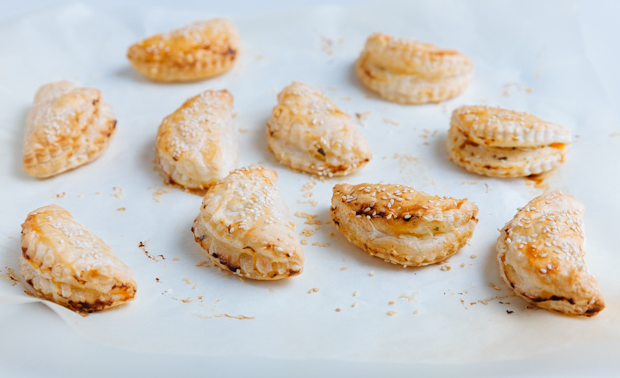 Today's little pies are not exactly the ones my mom used to make, although they're made with the same type of store-bought lastly and are filled with lots of feta; these ones also have some ricotta for a smoother, creamier texture, some delicious, fresh apricots, for a touch of sweetness and a splash of colour and lots of fragrant mint.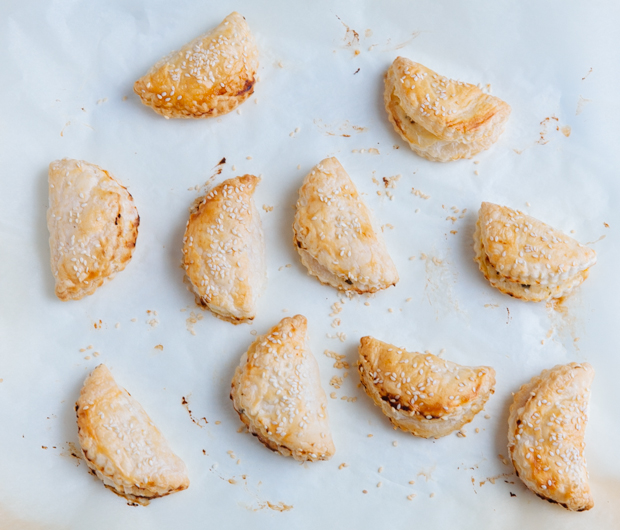 Easy as pie(s), delicious, bursting with cheesiness- which is only appropriate giving my current frame of mind (see, I've managed to stop the crying, over the years, but I'm still as cheesy as ever when it comes to the ones I love).
INGREDIENTS
4 apricots, halved
200g feta
200 g ricotta
2 eggs
1/2 t table salt
1 1/2 tablespoons fresh mint, minced
extra salt to taste
freshly ground black pepper
2 puff pastry sheets, thawed
1 egg white, combined with 1/2 tablespoon water
3 tablespoons sesame seeds
Preheat the oven to 190C (170C for air).
Place the apricot halves on a baking sheet, brush with a little olive oil and roast until soft and juicy- about 10′. Take out of the oven, set aside to slightly cool and chop roughly.
In a large bowl, combine the feta, ricotta and eggs until creamy; add the minced mint, chopped apricots, a good amount of freshly ground black pepper and season with sea salt to taste.
Roll out the thawed puff pastry sheet on a floured surface and flatten with a rolling pin. Cut out large circles with a cookie cutter or glass. Add half a tablespoon of the filling inside, towards one side, fold and seal pressing down the edges.
Brush with a little egg wash and sprinkle generously with sesame seeds.
Bake in the preheated oven for 30′, or until puffed and golden brown.
(These can be eaten warm or at room temperature- and they also freeze well.)