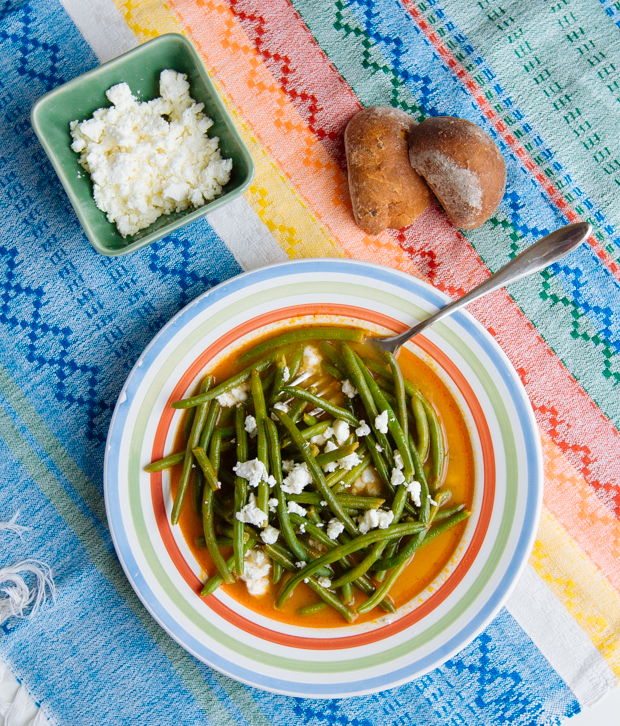 I love Mexican food; its ingredients (I mean, limes, avocados, chillies, corn, beans, tortillas, tequila, you get it, right?), the heat and flavours, all those vibrant colours and different textures. When I was about 11 or 12, I went with my sister, my mom and one of her friends to a Mexican restaurant. That's my earliest memory of Mexican food (lots of heat, tons of flavour and so so many tortilla chips) and also my earliest memory of having eaten so much I could barely move. Literally. Thank God the restaurant was up on a small hill and we had to walk down to our house. To this day, most of my Mexican (or Mexican- inspired) meals are more or less the same: heat, flavour, tortilla chips- minus the over-excited overeating and plus a couple Margaritas.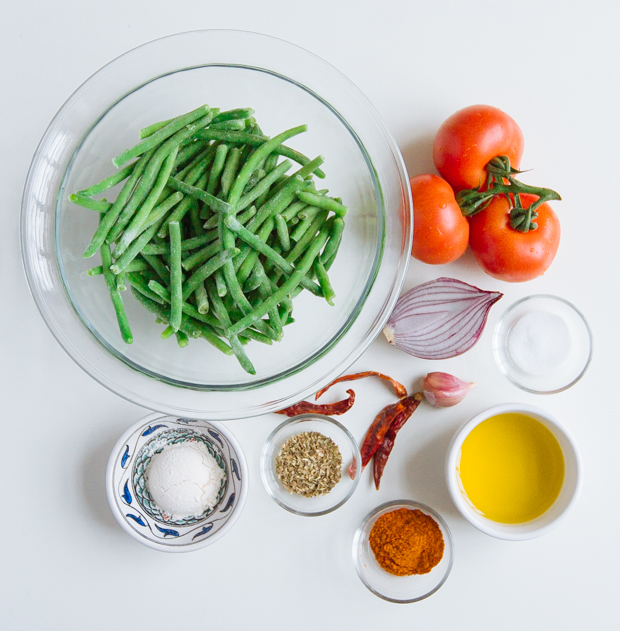 With Cinco de Mayo quick approaching and since there's no celebration involving food I want to miss out on, I have been deep into reading about, testing and tasting lots of different Mexican dishes. A few days ago, while browsing at a local bookstore, I came across Real Mexican Food, a beautiful book, full of great recipes, vibrant photos and helpful tips on Mexican cuisine- I first took it as a sign to continue the culinary journey I was in and then, I took it home.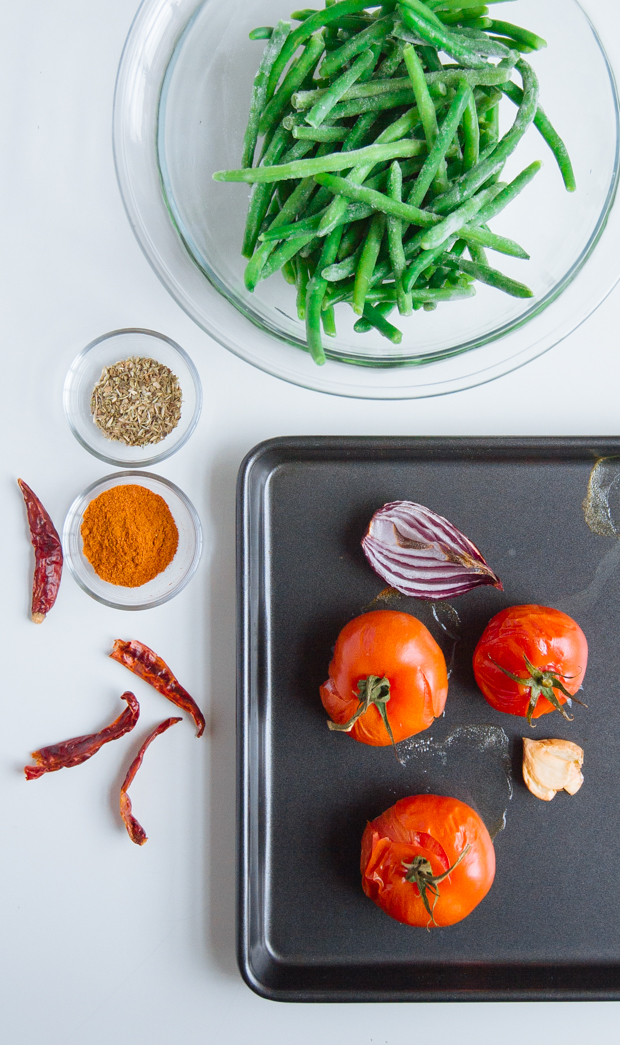 After quickly going through the recipes, I knew what I wanted to make first: Tesmole de Ejotes, a spicy stew of green beans, tomatoes and lots of spices. It didn't only sound delicious (and looked even more so in the photos), it's also a dish often made in the author's village. Now check this out: a green bean stew has been a staple in my mom's everyday cooking as well! Give or take a few ingredients, it turns out my new favourite Mexican recipe is one I've grown up eating. Mind. Blown.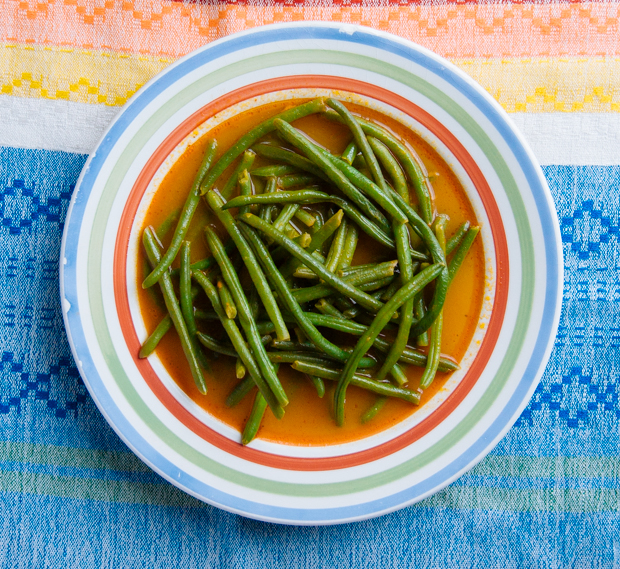 Juicy tomatoes, onion and garlic are roasted until beautifully charred and then blended until smooth with paprika, chillies, epazote (a very popular Mexican herb, quite similar to dried oregano, which is actually what I ended up using instead) and water. Green beans are lightly fried and then added to this spicy, vibrant and delicious stew.
I followed the recipe to a T and it turned out fantastic, although I am tempted to make a few changes next time around (a couple more tomatoes, extra beans, less water), if only in order to make it more like the dish I grew up eating.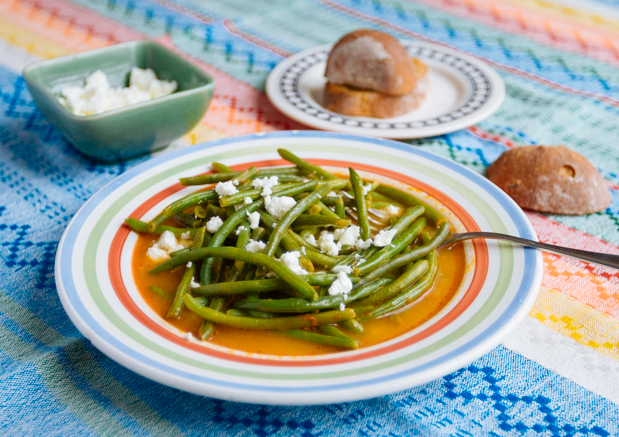 INGREDIENTS
3 tomatoes
1/2 onion, peeled
2 garlic cloves, peeled
1 tablespoon paprika (I used smoked)
1 teaspoon dried epazote (or dried oregano)
3-5 dried chillies (Chiles de Arbol are recommended)
1/2 teaspoon sea salt
2 1/2 tablespoons vegetable oil (I used extra virgin olive oil)
200 grams green beans, topped and tailed (I used frozen ones)
1 tablespoon masa harina (corn flour) or all purpose flour
1/2 cup warm water
Preheat the oven to 180C (160C for air), put the tomatoes, onion and garlic on a baking tray and roast for about 20'-25', turning every few minutes. Remove from the oven and let cool slightly.
Place them in a food processor or blender, along with the paprika, dried epazote or oregano, chillies, salt and 8 cups water (or less, depending on how soupy you want the stew). Whizz until well blended.
Heat 2 tablespoons of oil in a pan over medium heat; strain the blended ingredients into the pan through a sieve, pressing through with the back of a spoon. Bring to the boil and cook for about 5'.
In a separate pan, heat the remaining 1/2 tablespoon of oil over medium heat, fry the beans for a couple minutes and then transfer them to the broth. Lower the heat and simmer for about 5'.
Dissolve the flour into the warm water, add to the sauce and simmer for another 10'. Taste, add salt if needed and serve.