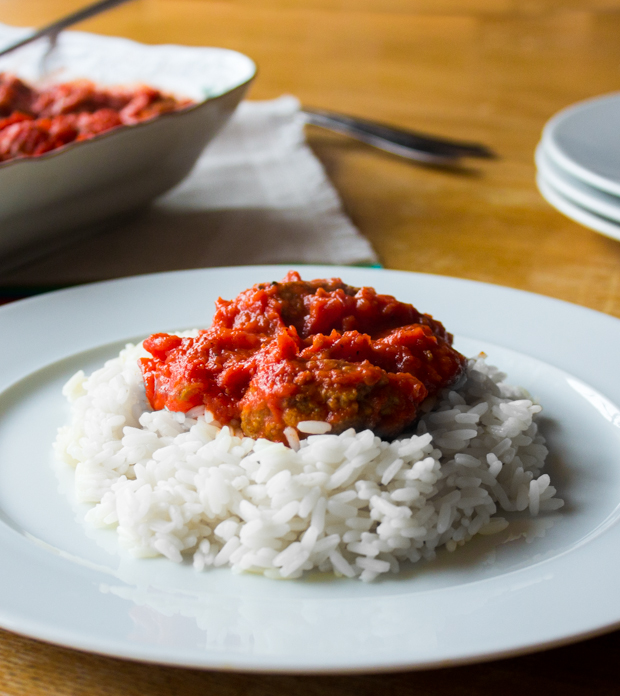 As I've previously mentioned, I don't often cook meat- I'm not a vegetarian and don't dislike meat, but I usually find myself mostly inspired by vegetables and their different colours, shapes and textures, plus I can't resist the simplicity that cooking fish requires. Mostly, I'm pretty clueless when it comes to meat and don't really know what to do with it. There are however certain meat dishes I thoroughly enjoy, so I timidly make the effort of making them from time to time.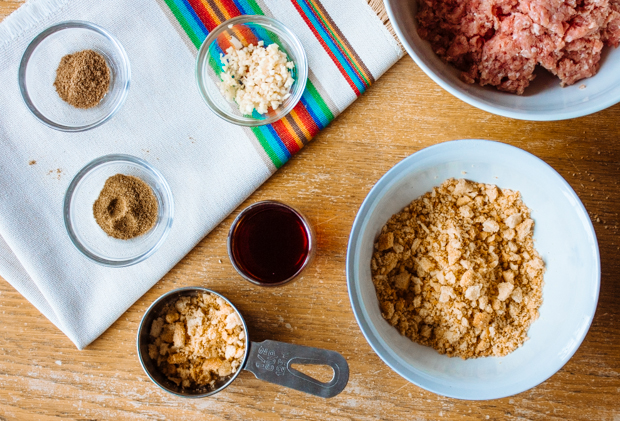 Soutzoukakia is one of them. A very popular Greek dish, with roots in Asia Minor cuisine, it consists of  minced meat, usually beef, or veal (which is used extensively in Greek cooking), combined with spices, shaped into usually longish meatballs, most often fried and added to a thick red sauce.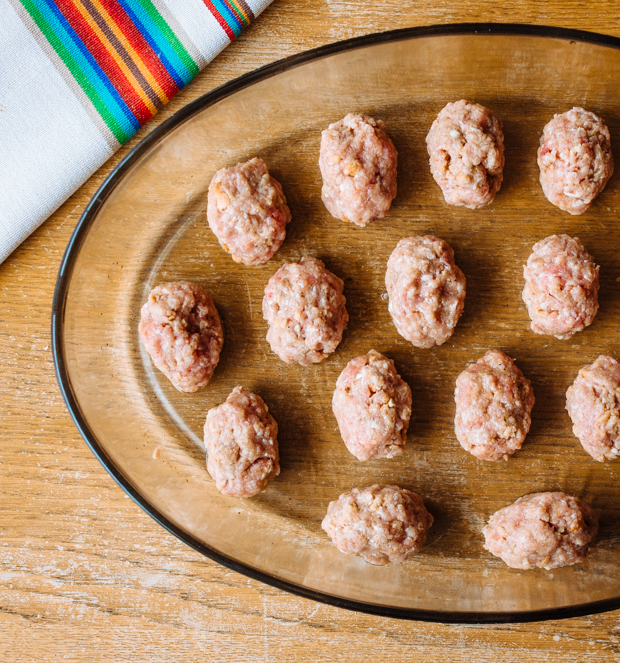 My version is slightly different from the usual, which I sometimes find quite heavy and rich: I used a combination of beef and lamb (it makes for juicier and more flavourful meatballs); the minced meat is combined with punchy garlic, aromatic cumin and dried coriander; stale bread is soaked in red wine and added to the mixture- lots of flavours and aromas, to make our meat delicious and ready to be lightly baked (instead of fried).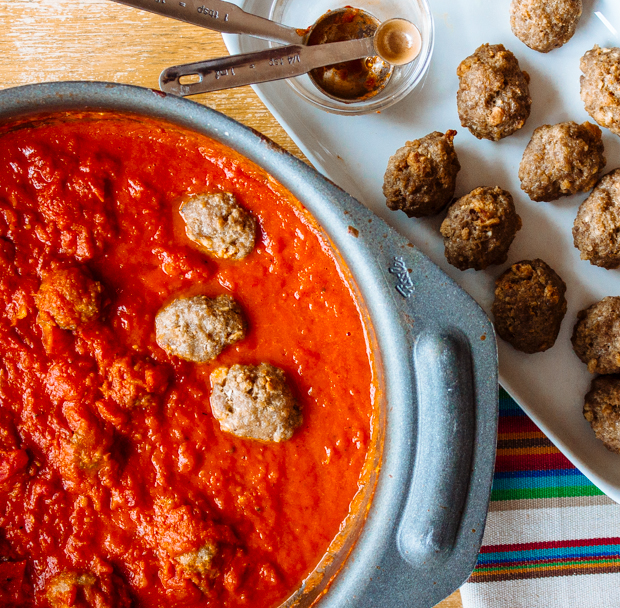 While they are getting golden brown, the sauce is on the stove: juicy chopped tomatoes are tossed with a touch of sugar and cinnamon, for balance and extra flavour, and slow-cooked until thick and almost creamy. The meatballs are out of the oven and into the sauce for one last round of deliciousness. Meatballs for the win, people. Meatballs for the win.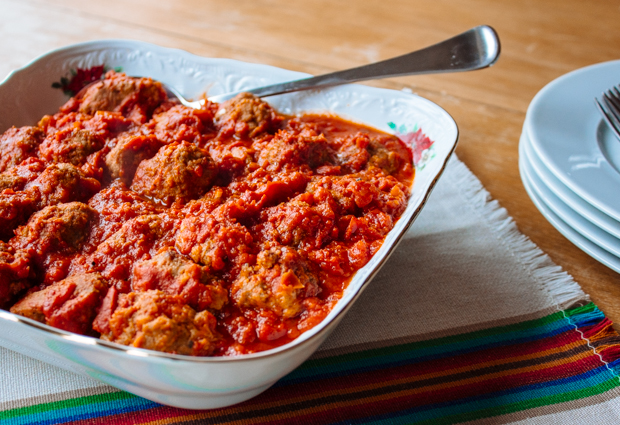 INGREDIENTS
1/2 kg minced meat (half lamb, half veal)
1 1/2 teaspoons cumin
1/2 teaspoon dried coriander
2 tablespoons olive oil
1 cup coarse breadcrumbs or crumbled stale bread
3/4 cup red wine
for the sauce:
5 tablespoons olive oil
2 1/2 cans chopped tomatoes
2 tablespoons tomato paste
1/2 teaspoons sugar
heaping 1/4 teaspoons cinnamon
1/2 cup water
salt and pepper to taste
Preheat the oven to 190C.
Start by making the sauce: heat the olive oil in a large pan over medium heat and add the tomatoes, tomato paste, sugar, cinnamon, seasoning, the remaining wine and about 1/2 cup of water. Cook for 20-30', until most of the water is absorbed and the sauce is thick and quite smooth.
While the sauce is cooking, prepare the meatballs: soak the breadcrumbs or stale bread in wine; strain and keep the wine in a separate cup. Toss the bread with the the meat, minced garlic, olive oil, cumin, coriander, sea salt and black pepper and half of the reserved wine.
Form meatballs using about one tablespoon of the minced meat at a time.
Place in a lightly oiled baking dish and bake for 20- 25' or until lightly browned. Take out of the oven, let cool slightly and add to the sauce.
After adding the meatballs and covering them with the sauce, turn the heat down to low and cook for another 10'.
Serve warm, with rice or mashed potatoes.