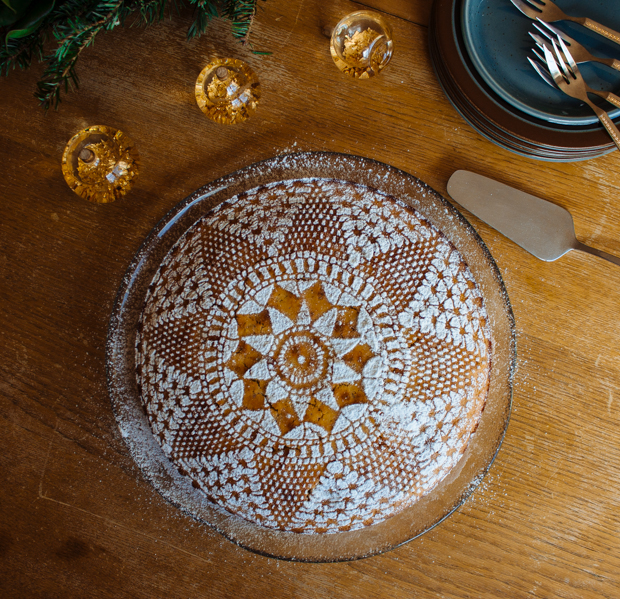 Vasilopita (Basil pie) is the highlight of the season's festivities for me; the dessert is named after St Basil, a very wealthy and generous man living in Cappadocia in the 4th century who, as the story goes, decided to distribute his fortune to those in need, by making small pies and hiding money or jewelry in each one of them.
Vasilopita can be made either as a moist cake (usually incorporating vanilla, orange juice and zest), or as a tsoureki, a challah-like sweet, soft bread; both variations have a coin inserted, as homage to St Basil's generosity. On New Year's Eve or New Year's day, every family cuts the cake or bread into pieces: one for the house, one for each family member, guests, as well as for Saints or whomever else the household wants to honour. Whoever finds the coin is supposed to have good luck for the rest of the year (this year, the coin in our Vasilopita was found in the piece intended for the house. Good luck for all of us. Win-win).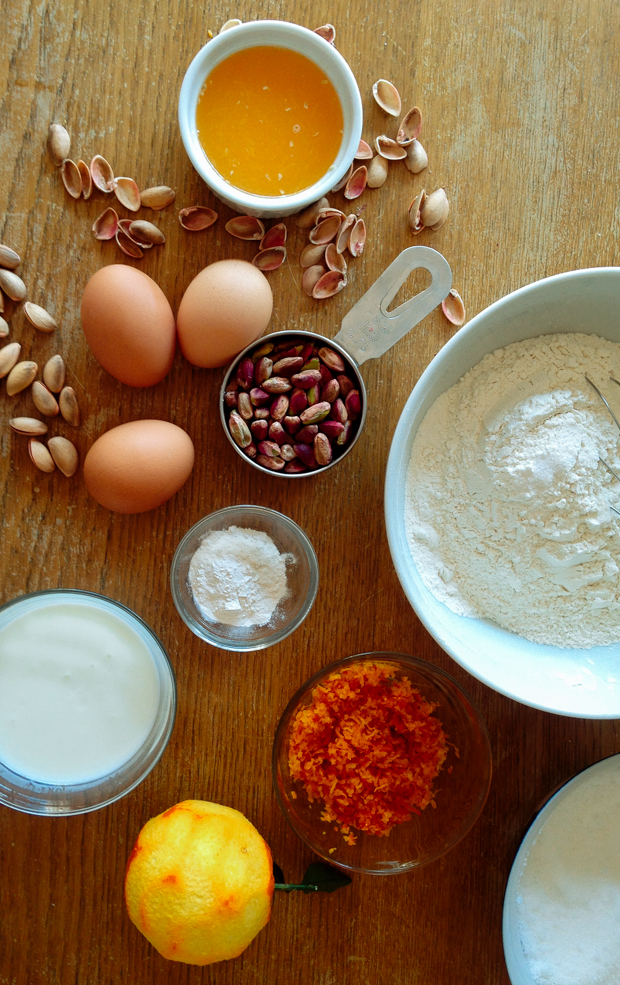 We make it every year and it's by far my favourite cake. Even though my mom very seldom makes desserts, as she has a huge sweet tooth and believes that by not baking at home, she eats less sweets (she doesn't), she loves maintaining this specific tradition. We make a basic white cake butter, and usually add whatever extra we have in the kitchen; this year, it was unsalted pistachios, orange zest & juice, buttermilk and a touch of grated tonka bean.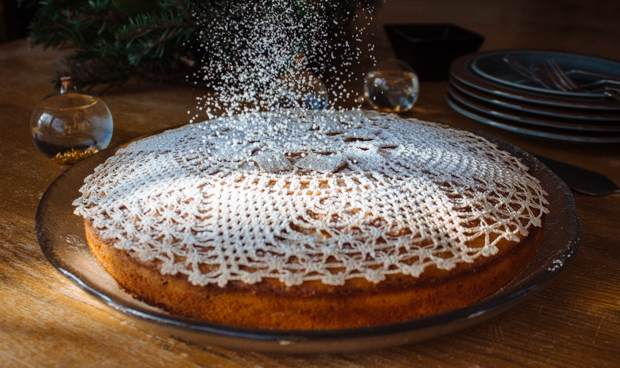 These very sweet and aromatic beans are my latest obsession; my sister gave me a small jar for Christmas, and I have been trying to sneak them into almost everything I've made since.  They are not very widely available, but if you can get hold of them, I would recommend using them, as a tiny shaving gives desserts a deep, warm and sweet vanilla-like flavour.
Best of luck for the new year, coin or not.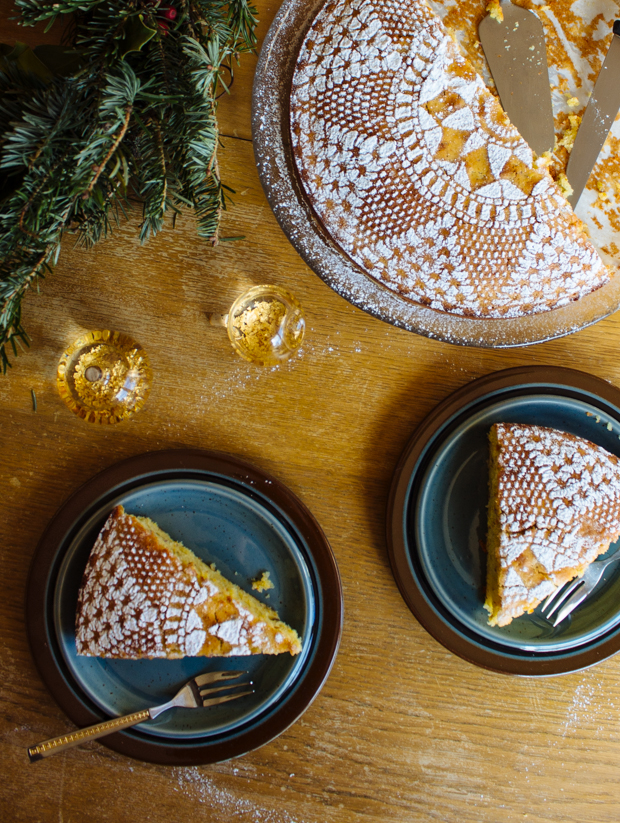 INGREDIENTS
2 1/2 cups & 1 tablespoon all purpose flour
2 teaspoons baking powder
1/2 teaspoon salt
1 cup sugar
3 large eggs
250 gr unsalted butter, melted
zest & juice from 1 1/2 oranges
1/2 cup buttermilk
1/2 tonka bean, grated (or 1 1/2 teaspoons pure vanilla extract)
1/2 cup unsalted pistachios, finely chopped 
1 coin, wrapped in foil
1/3 cup icing sugar
Preheat oven to 180C.
Butter a round cake pan, line with parchment paper and set aside.
In a large bowl, sift together the flour, salt and baking powder.
In another bowl, beat together the sugar and eggs, until pale and fluffy.
Add the butter, beat well to incorporate and follow with the orange juice and zest, buttermilk and pistachios with the mixer running.
Add the dry ingredients slowly and incorporate, scraping the edges of the bowl.
Pour into the cake pan and drop the coin into the butter; tap the pan on the work surface to even out and bake for 40-45 minutes, or until a skewer inserted comes out clean.
Take out of the oven and let cool slightly.
Remove from the pan and place on a cake stand or plate. Dust generously with icing sugar and serve. (In order to make a pattern like in the photos, place a doily on the cake, press lightly and dust with icing sugar; remove the doily carefully and serve.)