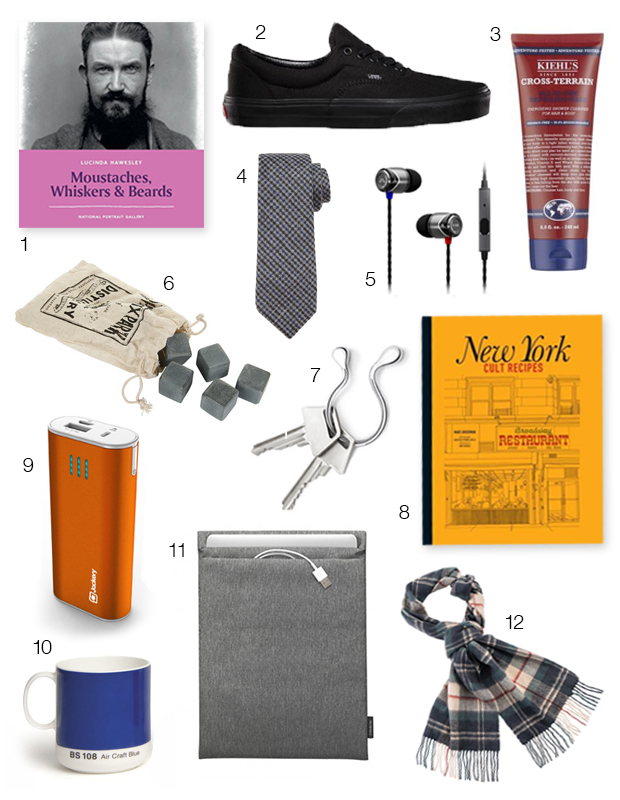 Even though the two main men in my life (my father and my boyfriend) are terrible to shop for, the men's department in most stores is usually my favourite section. So compiling this list (which, granted includes items that are not strictly for men) was so fun and easy-hopefully, shopping for my two picky men will be  equally as easy and fun. 
1. I was raised by a man with a voluminous moustache and currently live with a heavily bearded one. I know what's up. But just in case your men don't, this book will come in handy.
2. The best shoes ever. (Plus I find it highly entertaining picturing my dad in these).
3. Treat yo self- just a little of this face and body wash goes a long way.
4. You can't go wrong with this classy tie.
5. I hear great things about these teeny tiny headphones with the great price tag.
6. Whiskey stones (wha?!)- in such a beautiful little pouch.
7. Cool and minimal keychain.
8. Cult recipes. Of New York. Even more useful if the men in your life cook- mine ddon't but here's hoping.
9. A practical phone buttery which would make some guys I know pretty happy.
10. British Standard mugs in great colours and neat design.
11. I'm not picky about my i-pad case (in fact, I don't even have one). But just in case your man is, this would probably fit the bill.
12. The perfect winter scarf– warm, soft and not too fancy.