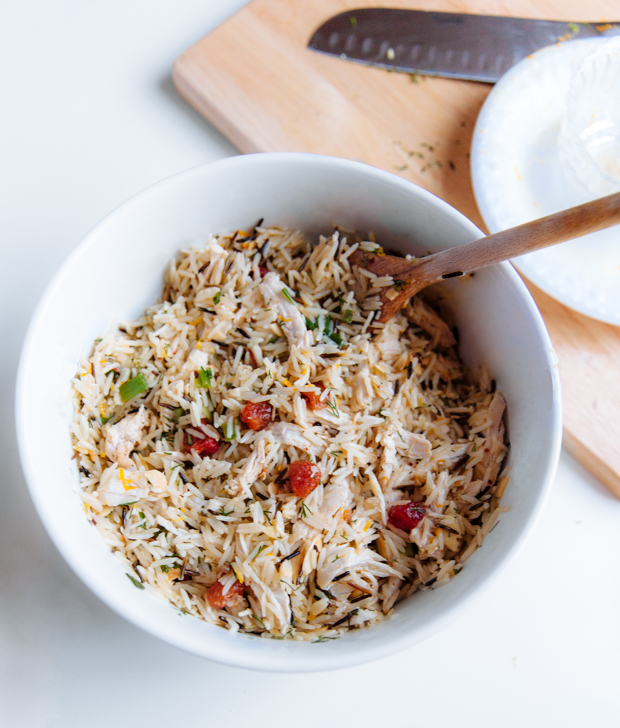 When I was little, I considered rice a poor substitute for pasta. I thought it didn't taste or look like much, but because I was stubborn, I was sure that if I cooked it myself, it would miraculously improve.
I was also clueless and sloppy when it came to cooking, and one of my most gloriously failed attempts was my interpretation of fried rice (which was essentially dry rice, fried to extinction with olive oil, alongside a bizarre and disproportionate combination of herbs and seasoning). I was convinced it was a delicacy and was enthusiastically trying to force it on my family. My grandfather, by far the kindest and politest person, had discreetly spat it out, gently suggesting I cooked it slightly longer next time.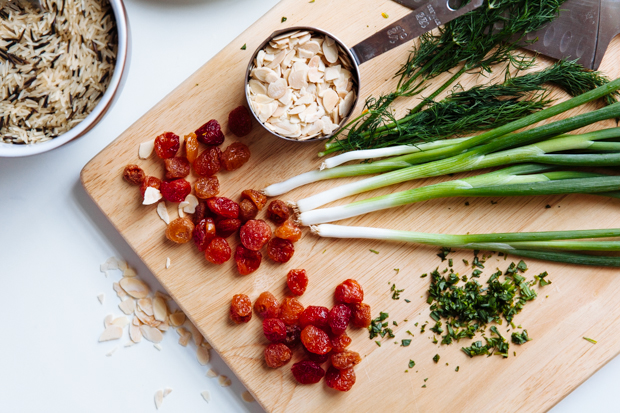 My family still makes fun of me for that rice, as well as for other culinary interpretations they've had to endure over the years. Interestingly however, around that same time, I actually fell in love with (properly cooked) rice: it was at a dinner party I had attended with my parents. I still remember the wide, dimly lit dining room, the high ceilings, the tall windows overlooking the backside of a hill and the faint smell of paint (the hostess was a painter); I remember thinking their friends to be pretentious, not terribly bright and annoying and I vividly recall how I longed for them to just stop talking so I could eat in silence. I remember the wild rice that was part of that dinner: I had never tasted it before and it had completely surprised and enchanted me.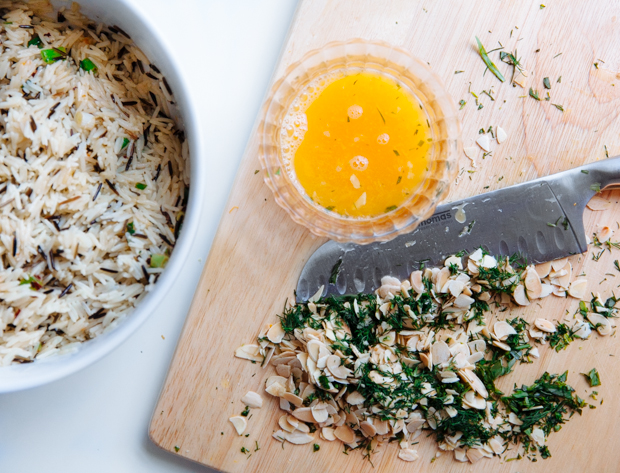 Since then, I have grown very fond of rice in general, but wild rice, with its strong texture and earthy taste, still fascinates me almost as much as it did back then. For this salad, it is combined with basmati and paired with lots and lots of herbs (dill and tarragon, but feel free to experiment with other combinations), some toasted almond flakes, sweet dry cherries and shredded cooked chicken. Simply dressed with some orange juice and zest and seasoned with sea salt and chilli flakes, it's the perfect light comfort food: aromatic, spicy and sweet, filled with different textures and, most of all, very adaptable (you can omit the chicken for a vegetarian option and use different herbs, dried fruit and/ or spices).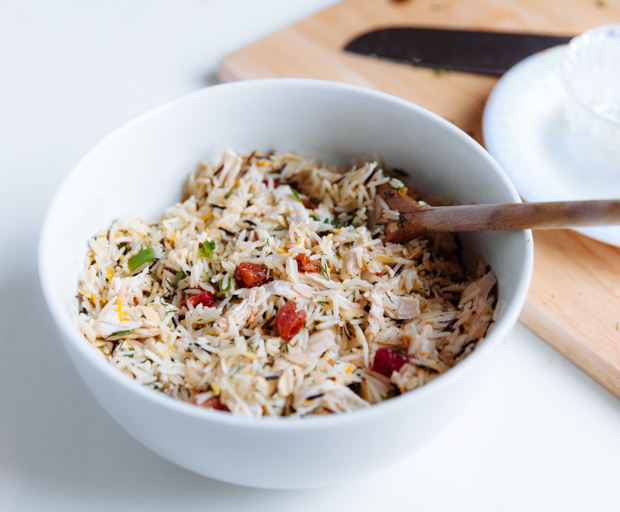 INGREDIENTS (adapted from a 2009 Waitrose Seasons recipe)
2 cups rice (I used a mixture of wild rice and brown basmati)
4 cups vegetable broth
2 tablespoons olive oil
5 green onions, coarsely chopped
1/2 teaspoon chilli flakes
1/3 cup dried cherries
1/3 cup almond flakes, toaste
1 1/2 tablespoons dill, finely chopped
1 1/2 tablespoons tarragon, finely chopped
1 orange (both zest and juice)
2 chicken breasts, cooked (the easiest and quickest way to cook chicken breasts and keep them from drying out) and shredded into small pieces
coarse sea salt and black pepper
Rinse the rice under cold, running water, drain and place in a large pot, along with the vegetable stock. Bring to a boil over high heat and immediately turn the heat down to medium-low. Cover tightly with a lid and cook for 15', or until the rice is cooked and the water has been absorbed (if there is any water left, drain the rice before serving).
Transfer the rice into a large bowl, or serving plate, and set aside.
In a small pan, heat the olive over medium heat; add the green onions and chilli flakes and cook for 5 minutes.
Add the cooked onions and chilli to the rice, along with the shredded chicken, dried cherries and almond flakes; toss well to combine.
Add the chopped herbs and orange juice and zest and season generously with sea salt and some black pepper. Toss once again and adjust the seasoning if necessary. Serve warm or at room temperature.