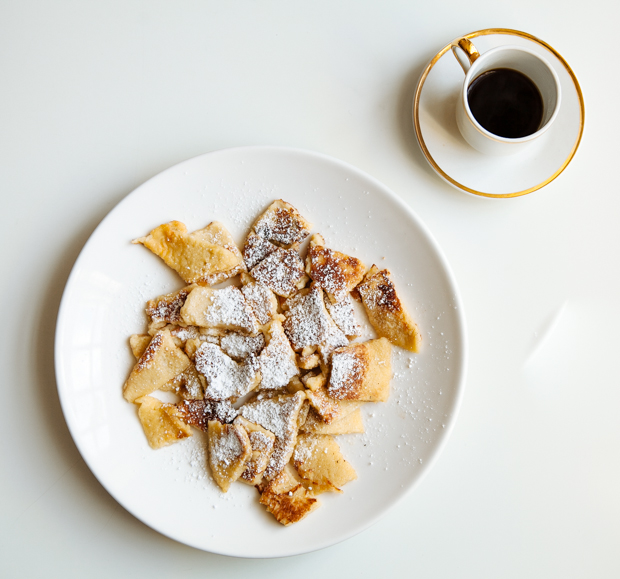 Pancakes are my favourite leisurely breakfast; easy and quick to prepare, versatile, sweet or savoury, I love them all. I usually make them on Sunday- after I come back from the gym (I believe counter-productive is the word you're looking for here). A couple weekends ago, we had a friend staying over; on Sunday morning, as I was sleepily and clumsily making pancakes, Eleni mentioned Kaiserschmarrn. I was almost instantly awaken, as recipes or talk about food in general tend to pleasantly alarm me; so throughout the day I kept asking her for ingredients, measurements and general information on this Austrian pancake I hadn't heard of before.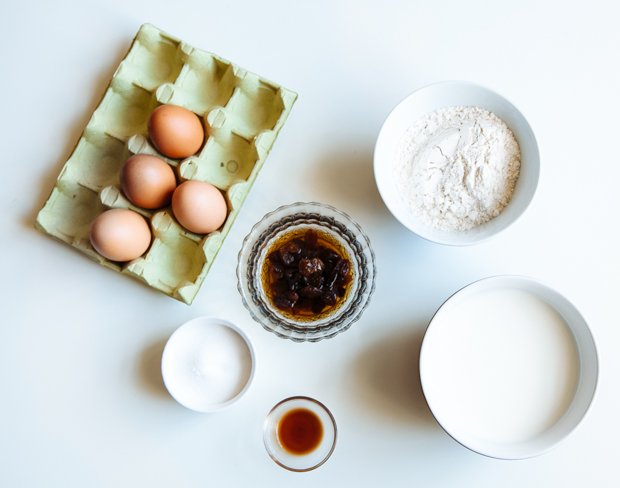 Eleni's mum grew up in Austria and she used to cook it for her kids a lot; it is usually served as breakfast, or as a sweet treat, but Eleni mostly associates it with small huts in Austria, where they'd have it after long hikes (see? it turns out you HAVE to have pancakes after you attempt any kind of exercise).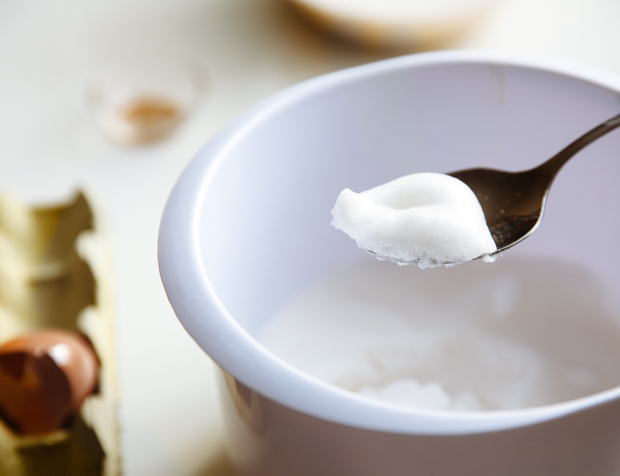 Kaiserschmarrn (colloquially and loosely translated as 'the emperor's mess') is a classic pancake, as it has eggs, flour, milk and sugar, but with a few twists: the egg whites are beaten separately until soft peaks form and then added to the rest of the ingredients, along with raisins soaked in rum; once flipped, the pancake is cut in smaller pieces right there on the pan and cooked throughout, and then served with icing sugar and a cranberry or plum compote. I'm officially off traditional pancakes for a (little) while. Bring on the imperial stuff!
INGREDIENTS (makes 2 or 4 portions, depending on your appetite)
1/3 cup raisins, soaked in 2 1/2 tablespoons rum
4 eggs, separated
1 1/2 cups milk
1 tablespoon vanilla extract
3 tablespoons sugar
1  1/3 cups flour
a pinch of salt
1  1/2 tablespoon butter, divided
icing sugar (to serve)
Place the raisins in a small bowl and cover with rum; set aside.
Beat the egg whites until soft peaks form.
In a separate bowl, beat the yolks with the sugar, until pale; add the milk and flour in batches and incorporate well. Add the vanilla extract and a pinch of salt, stir gently and let the mixture stand for 10-15 minutes.
Heat 1/2 tablespoon butter in a large non-stick frying pan over medium heat. Add 1/3 of the mixture, top with 1/3 of the rum-soaked raisins, and cook until the bottom is set and lightly browned. Carefully, flip the pancake and cut in small pieces with a spatula. Cook until lightly browned. Transfer to a large serving plate and dust with icing sugar.
Repeat twice more with the rest of the mixture, remembering to melt the butter before and add the raisins.