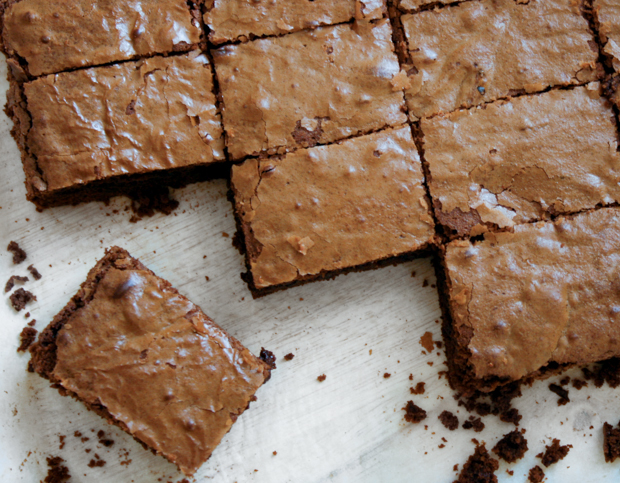 I made my very first batch of brownies back in high school, when my attempts in baking where few and far between, in the spur of the moment, amidst teenage chaos and drama, lack of organising or appreciation of ingredients. When I was living in Manchester and still not baking consistently, they became my go-to dessert, mostly because they were so easy to make (and eat); back then, I was never concerned with ingredients, as long as my brownies came out of the oven intact (read, not burned) and filled with chocolate goodness.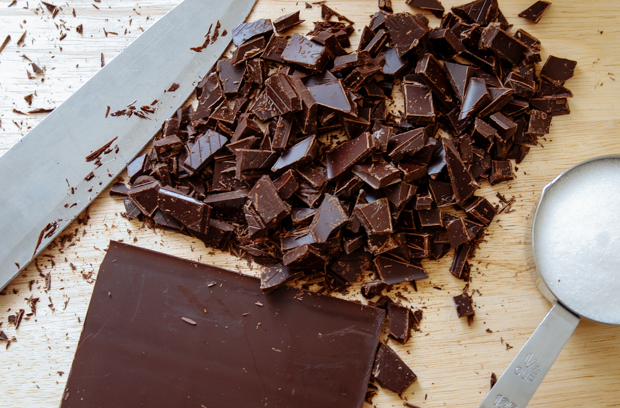 They are still one of my favourite things to bake. I 've tried many variations over the years (plain, with different kinds of chocolate, various nuts or dried fruit) and have made them for friends' birthdays and baby showers, loud spring barbeques or simply as an end-of-the-week treat. Lately, this has been my go-to version: the lime adds a subtle coolness to the density of the chocolate, while the chilli leaves a pleasant, slightly lingering aftertaste, which I find completely irresistible. And addictive.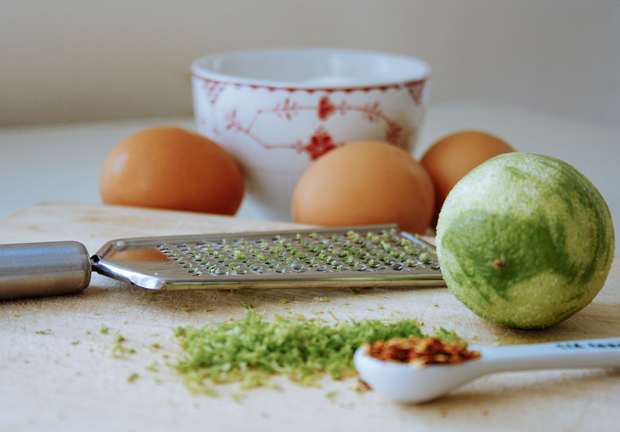 The best part of these brownies (and there are many, because they are brownies) is that they taste even better the following day and the day after- and the fact that I can personally testify to this is a testament of my self-control (who knew I could muster any?).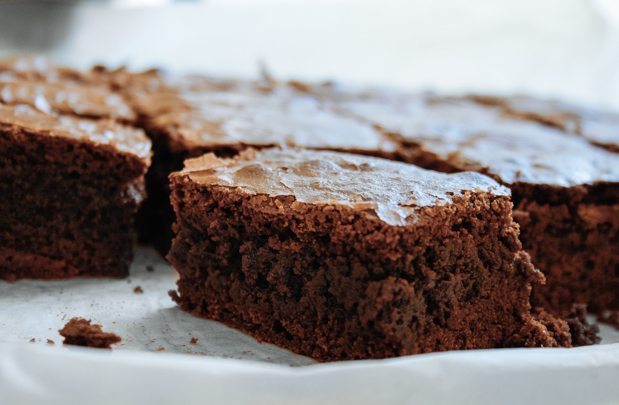 INGREDIENTS
200 grams dark chocolate (70% cocoa)
1 ½ cups unsalted butter, cut in small cubes
2 cups granulated sugar
3 eggs
2 1/3 cups flour
1 teaspoons baking powder
pinch of salt
1 teaspoon vanilla powder (or extract from 1/3 vanilla stick)
zest of 1 ½ lime
¼ teaspoon chilli flakes (this amount will result in mildly spiced brownies; go for a scant 1/2 teaspoon if you like yours more fiery)
* You can adjust the lime and chilli according to taste; I find that these measurements add enough coolness and pack just enough heat respectively, but feel free to follow you own taste buds.
Preheat the oven to 170C and line a square or rectangular medium pan with baking paper. Set aside.
Break the chocolate in pieces and place in a heatproof bowl, along with the butter cubes. Place over a pot of shimmering water until melted (make sure the bottom of the bowl does not touch the water). Set aside.
In a medium bowl, sift flour, baking powder and salt and stir well. Set aside.
In a large bowl, beat the eggs and sugar; add lime zest and chill and combine.Add the chocolate and butter mixture to the egg mixture and stir to combine. Add the flour gradually and fold with a spatula to incorporate.
Pour the mixture into the paper lined pan, evening the surface with a spatula.
Bake for 20-25′, or until the edges are set and the middle is quite soft.
Take out of the over and let cool slightly; lift off the pan using the baking paper edges and place on a chopping board or work surface. Cut in medium squares or rectangles and serve. (I usually first cut off the outer sides of the brownie, as they sometimes come out over-baked and uneven; also because I like to eat them)
If not serving immediately, remove from the baking paper and place on a wire rack to cool completely. Store in an airtight container, lined and topped with baking paper.