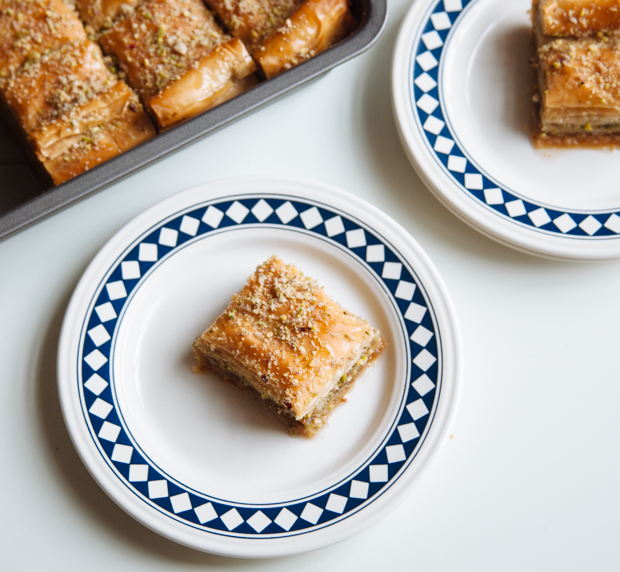 I am completely unable to resist any dessert that has lots of butter and nuts, resting on some sort of pastry. My sister's previous job was very conveniently (for me) situated almost next door to a pastry shop that specialised in such desserts, and as soon as I took a whiff of it (literally), my visits to her office became very frequent and most enthusiastic. 
Baklava is my favourite of the bunch, largely because it is usually served in sizeable pieces. It is my goddaughter mother's specialty and she's been making it for me every Christmas. To be precise, the first time she brought it over, she was at first quite alarmed by the fact that I downed 4 pieces on the spot, while continuing to eye the remaining ones adoringly.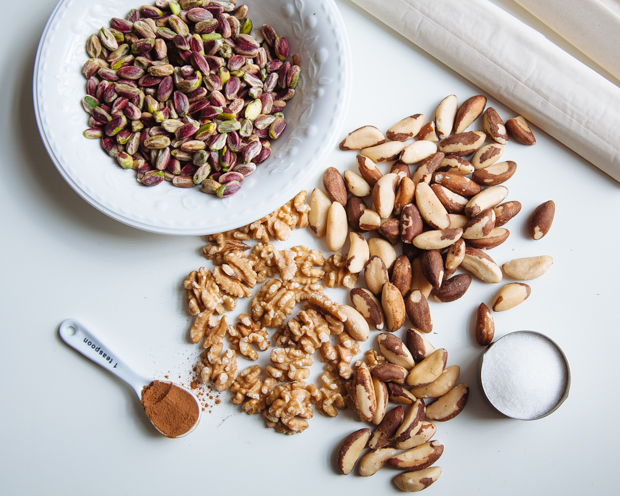 However, because she is a practical woman, who doesn't overanalyze non-significant things, she quickly got the message; and every year, along with a Christmas gift, she started bringing a large pan of baklava, indicating none the less, that it was for the whole family. Whatever. My only complaint about that Christmas miracle, was that it was chock-full of walnuts. I am not a huge fan of them (although I still eat them), as I find them a bit heavy and sometimes overpowering other flavours.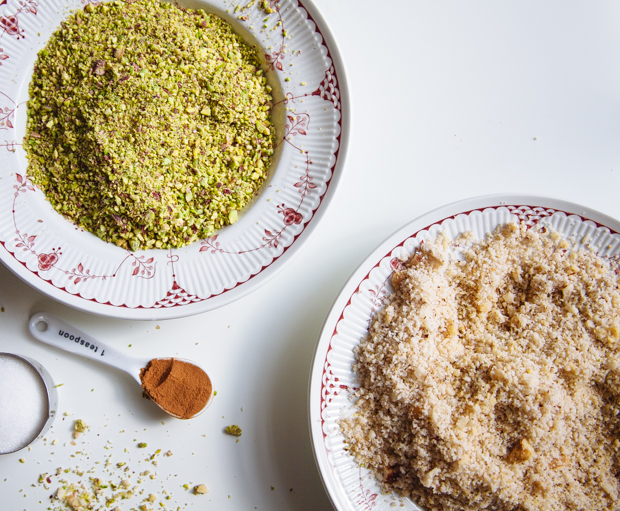 A couple weeks ago, I was meeting some friends at a lebanese restaurant in central London. As I arrived quite late, I skipped dinner and opted for a large glass of fresh juice. With a side of baklava. Boy, was my decision wise! The baklava was filled with chopped pistachios, their gorgeous colour in perfect harmony with the golden brown phyllo. After I ordered a second piece, to verify that it was indeed worth of my attention, I decided to make this version at home. Still, it took me a while to do so, because I am quite lazy and always thought baklava is a complicated dessert.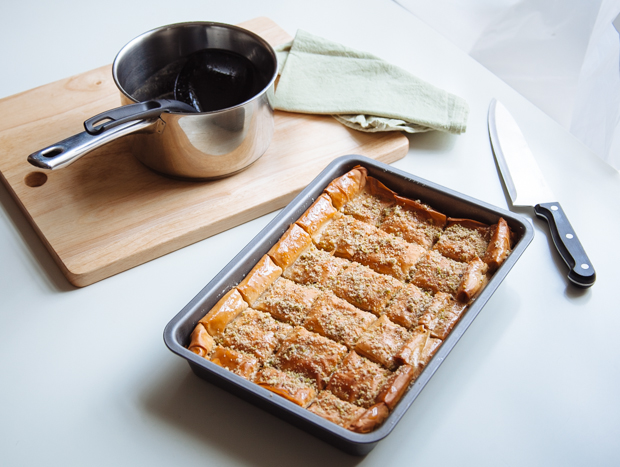 Luckily, I found this recipe at the Kitchn, which lays out the process step by step. I made a few tweaks here and there: used less nuts and butter, more syrup and did not cut away the phyllo that was exceeding on the sides of the pan (those fat chunks of phyllo and butter are always my favourite part of any pie, sweet or savoury).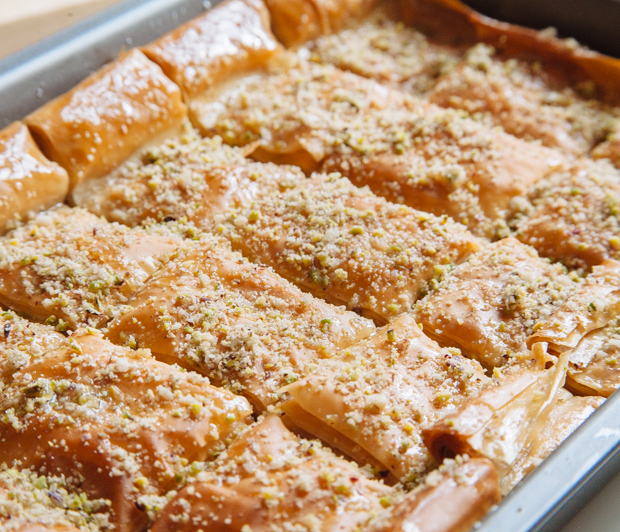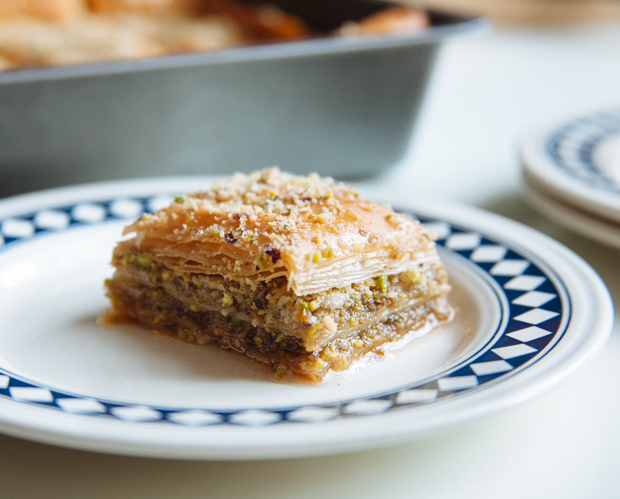 INGREDIENTS
400 grams nuts (I used mostly pistachio, and some walnuts and brazil nuts. I would recommend making it only with pistachios; they can be a little pricey, but they are absolutely worth it- they don't only give a gorgeous green colour to the filling, but are also lighter in taste.)
1/4 cup sugar
1 teaspoon cinnamon
190 grams butter, melted
20 phyllo sheets
for the syrup:
sugar, honey, water- one cup each
Preheat the oven to 170C (350F).
Place nuts in a food processor and pulse to break into big-sized crumbs. If there are some bigger pieces left, that's fine. Place in a large bowl and add sugar and cinnamon. Mix well to combine and set aside.
Lightly butter a baking pan and get ready to layer with the phyllo sheets. You can measure the sheets so they fit the pan, trimming any excess, or you can just use them whole and fold them inwards before you bake the baklava. It is important to keep the sheets moist, so they don't break, so as soon as you take them off the package, lay them on a chopping board and cover with a moist tea towel. You will be layering them one at a time, so as soon as you remove one from the stack, re-cover with the towel.
Place one sheet on the buttered baking pan and brush with butter, making sure to cover the whole surface. Repeat with another 6 sheets, buttering each one as you go. Make sure you butter any excess sheet on the side of the pan.
Cover the sheets with half of the nuts, spreading them out evenly with your hands.
Place another sheets on top of the nuts, butter, and continue with another 4 sheets, again buttering each one.
Add the second half of nuts, reserving 1/3 cup; spread them evenly.
Place a phyllo sheet on top of that second layer of nuts, butter and continue with another six sheets, buttered.
Fold the phyllo sheets on the sides of the pan, if you haven't trimmed them, and tuck them inwards.
Cut diagonally into pieces (you can make them any size you like) and place in the oven.
Bake for 30′, or until golden brown (make sure you rotate the pan halfway through baking).
Remove from the oven and let cool for about 10′.
In the meantime, prepare the syrup: combine water, sugar and honey in a small sauce pan, bring to a boil and cook for about 7′. Set aside.
Check if the baklava pieces are cut through- you may need to cut them again.
Using a soup ladle, pour the syrup over the baklava, making sure you cover the whole surface. If you haven't trimmed any excess phyllo sheet, you also need to pour syrup over the edges of the pan, to cover the folded sides.
Finish of by sprinkling the reserved nuts over each piece.
You can eat as soon as it has cooled down, but it's better if you wait a few hours, as they phyllo sheets will have absorbed the syrup better.