Brussels sprouts, pear & spinach salad with feta & croutons- aka my new favourite way to pack tons of vegetables and colours onto one dish.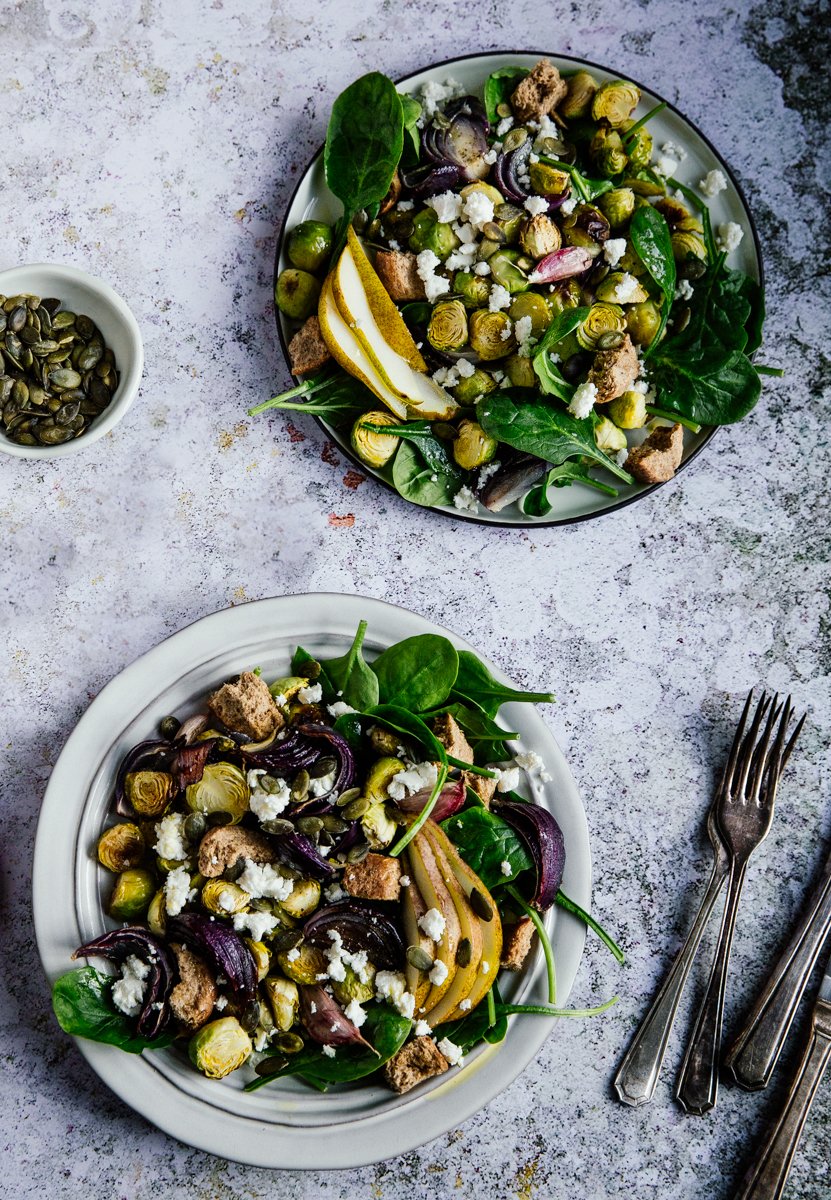 Happy New Year everyone! I hope it's filled with everything y'all wish for. I wish for health, laughter and delicious meals shared with loved ones- as cheesy as that may sound (oh! And cheese! I wish for lots and lots of cheese!). These past few weeks have been very intense, emotional and quite frankly very difficult for me for a number of reasons. So along with the above, even though I don't do new year's resolutions as they don't make much sense to me, I really hope I slowly learn to be calmer, more accepting of how things evolve, but also more assertive and active.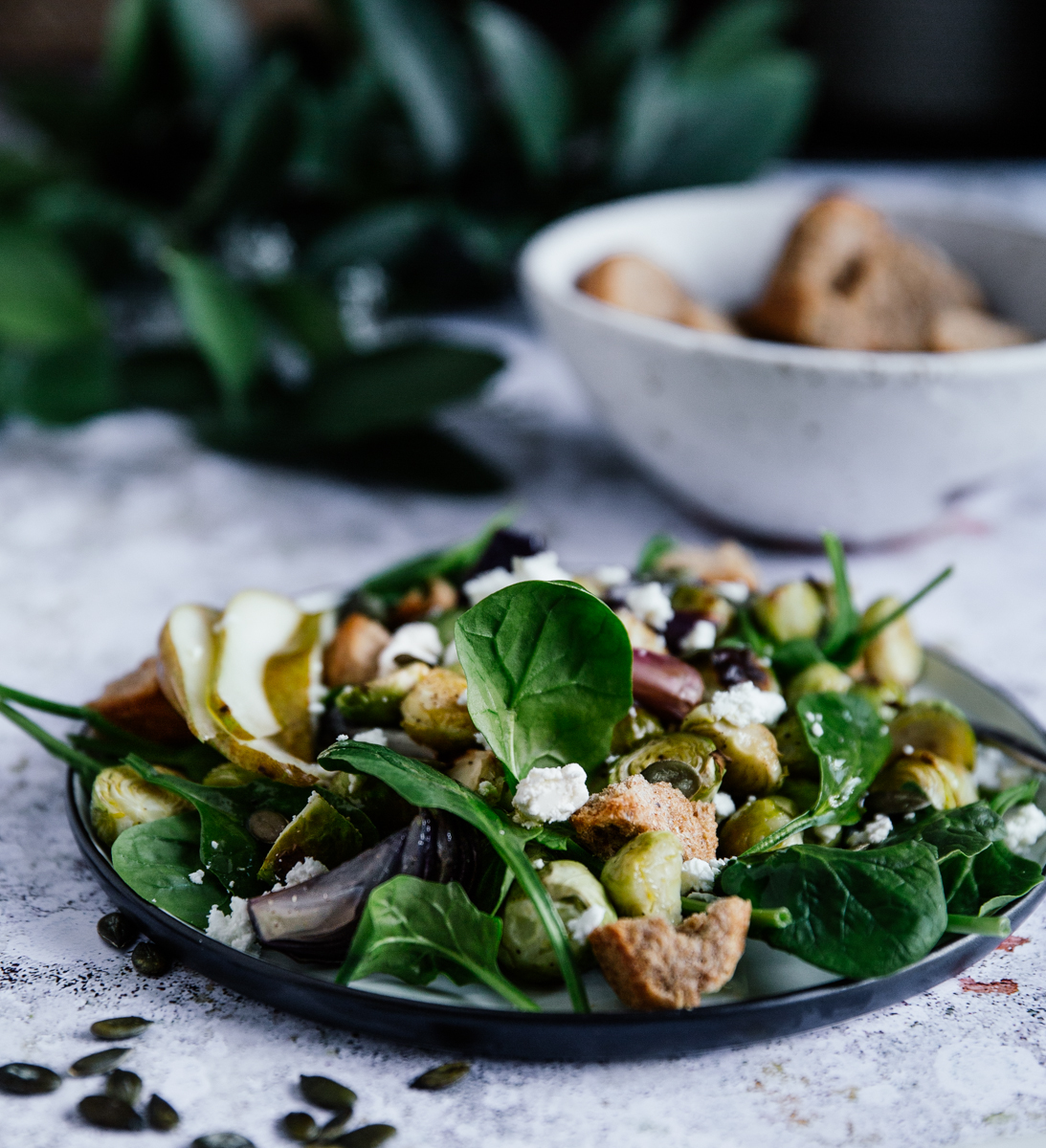 As it always happened, when there's emotional and mental turbulence around here, I turn to cooking, even more than usual. Unlike other times though, there has not been much baking involved. That partly has to do with the fact that my sweet tooth has been dormant for quite a while now. It's also because I've been more than ever drawn to dishes which are utterly simple, rustic and largely based on their ingredients rather than a specific recipe or cooking method. And this salad is a pretty good example.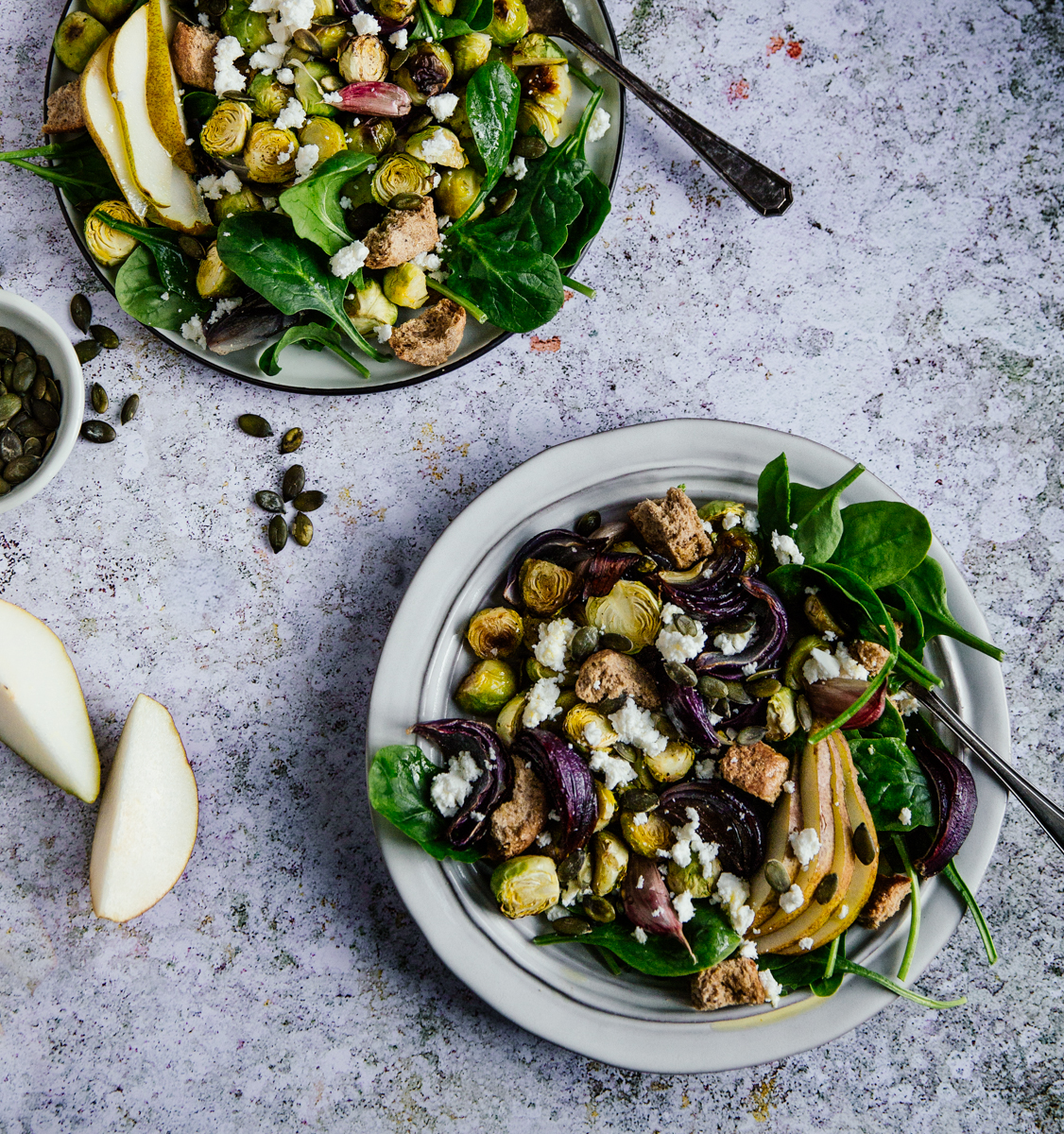 It started with Brussels sprouts (which I love, though I haven't shared them here much) and kinda took a path of its own, taking along with it bits and bobs I already had in hand: fresh spinach, a red onion, pumpkin seeds, a couple juicy pears and feta crumbles for balance. I tossed with some extra virgin olive oil and a drizzle of sweet balsamic, threw in some barley rusks for crunchiness and had this for both lunch and dinner. It was delicious- even more so, because it was so simple and came together like a little dance you'd do with when your favourite song comes up on the radio.
May our entire year be like so xx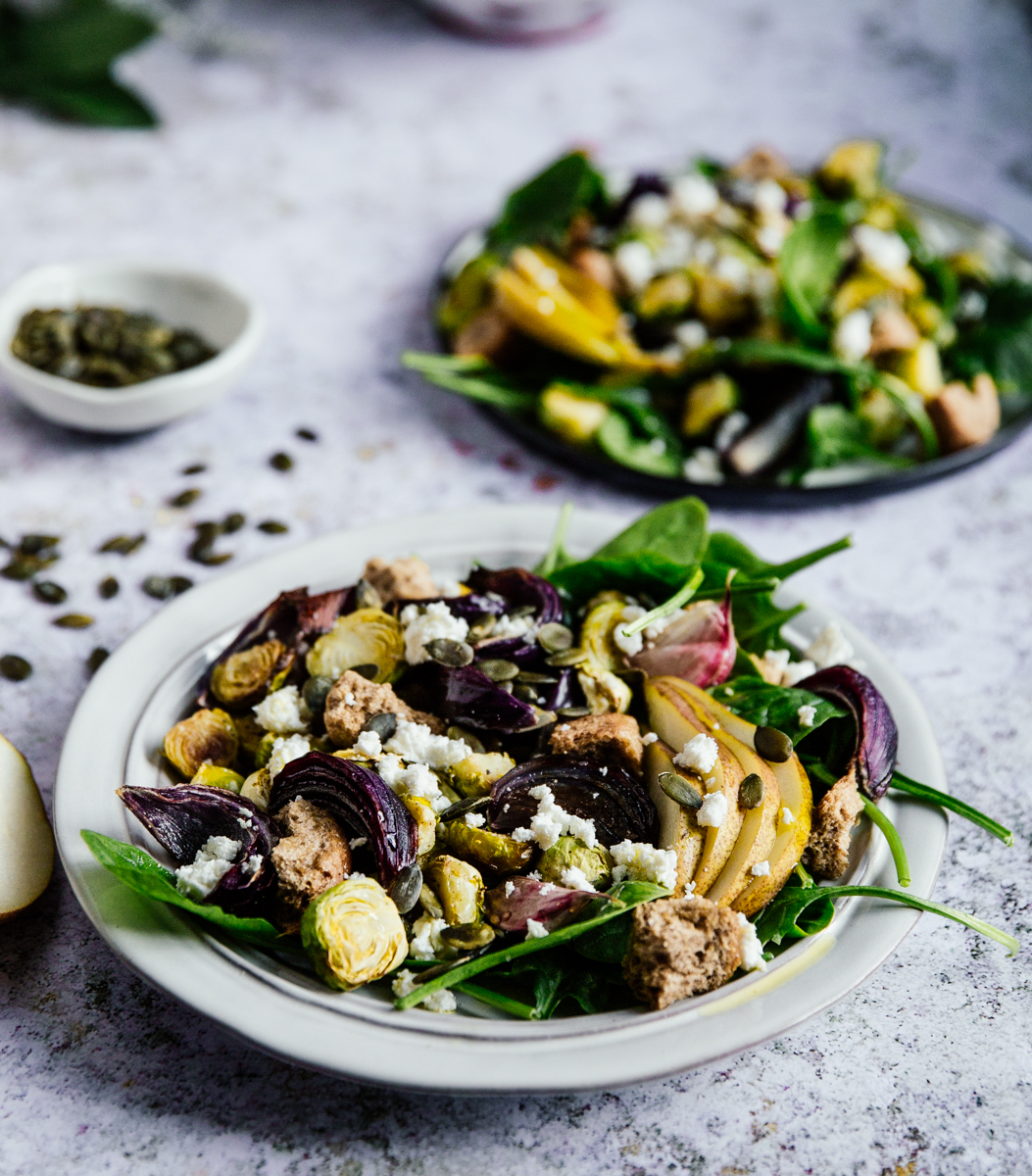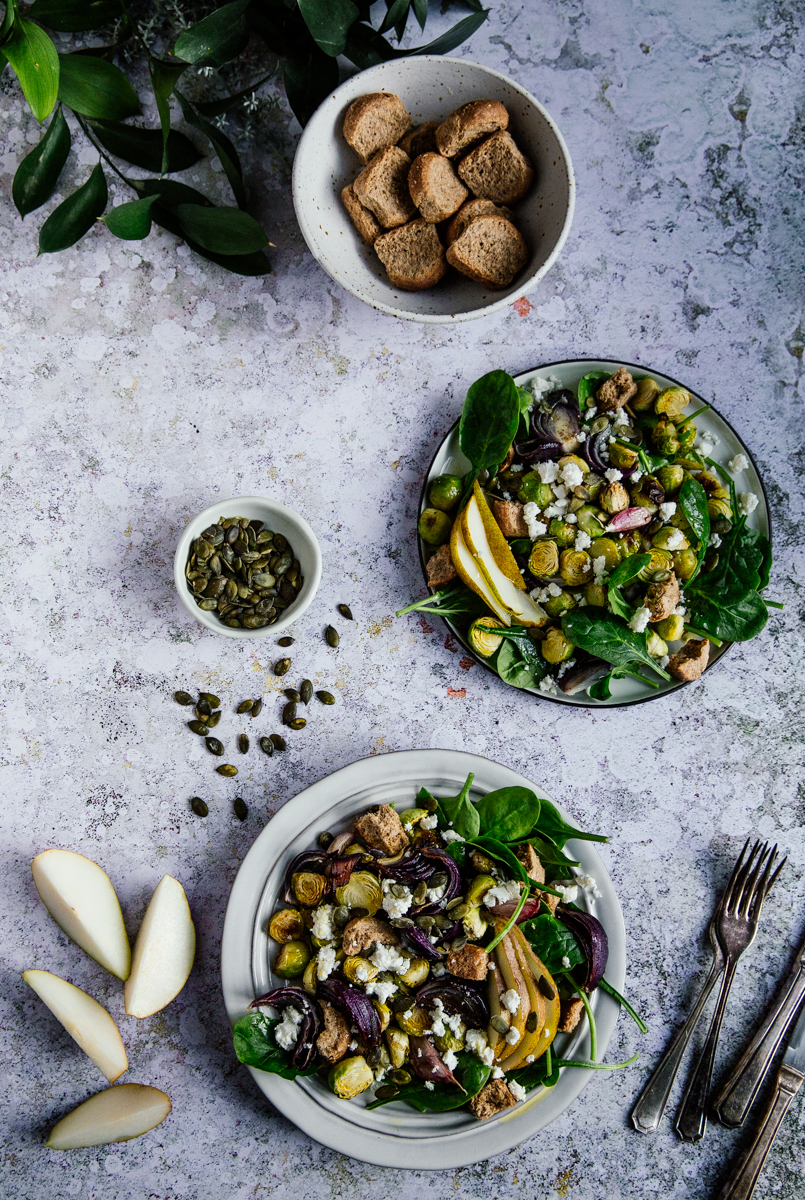 Brussels sprouts, pear & spinach salad with feta & croutons
WHAT
300g Brussels sprouts, washed and halved 
1 large red onions, cut into wedges
4 small garlic cloves
2-3 sage sprigs
2 tablespoons extra virgin olive oil
sa salt flakes and freshly ground black pepper, to taste
100g baby spinach leaves, washed
80g feta, crumbled
6 barley rusks, broken into smaller pieces (you can find them here) (or about a cup large croutons)
dressing:
3 tablespoons extra virgin olive oil
1 tablespoon white balsamic
a good pinch of sea salt flakes
to serve:
2 blush pears, washed and thinly sliced
2 tablespoons pumpkin seeds
HOW
Preheat the oven to 190ºC (170ºC FAN); place the Brussels sprouts, onion, garlic cloves and sage on a baking pan.
Drizzle with the olive oil, season with salt and black pepper and bake for about 20′, until softened and lightly charred.
Remove from the oven and let cool to room temperature.
Add the spinach, feta, barley pieces and dressing and toss lightly.
Divide into plates and serve each with a few pear slices and pumpkin seeds.