Colourful and filled with flavour and textures, this mandarine, beet & pistachio barley salad is a super star all around.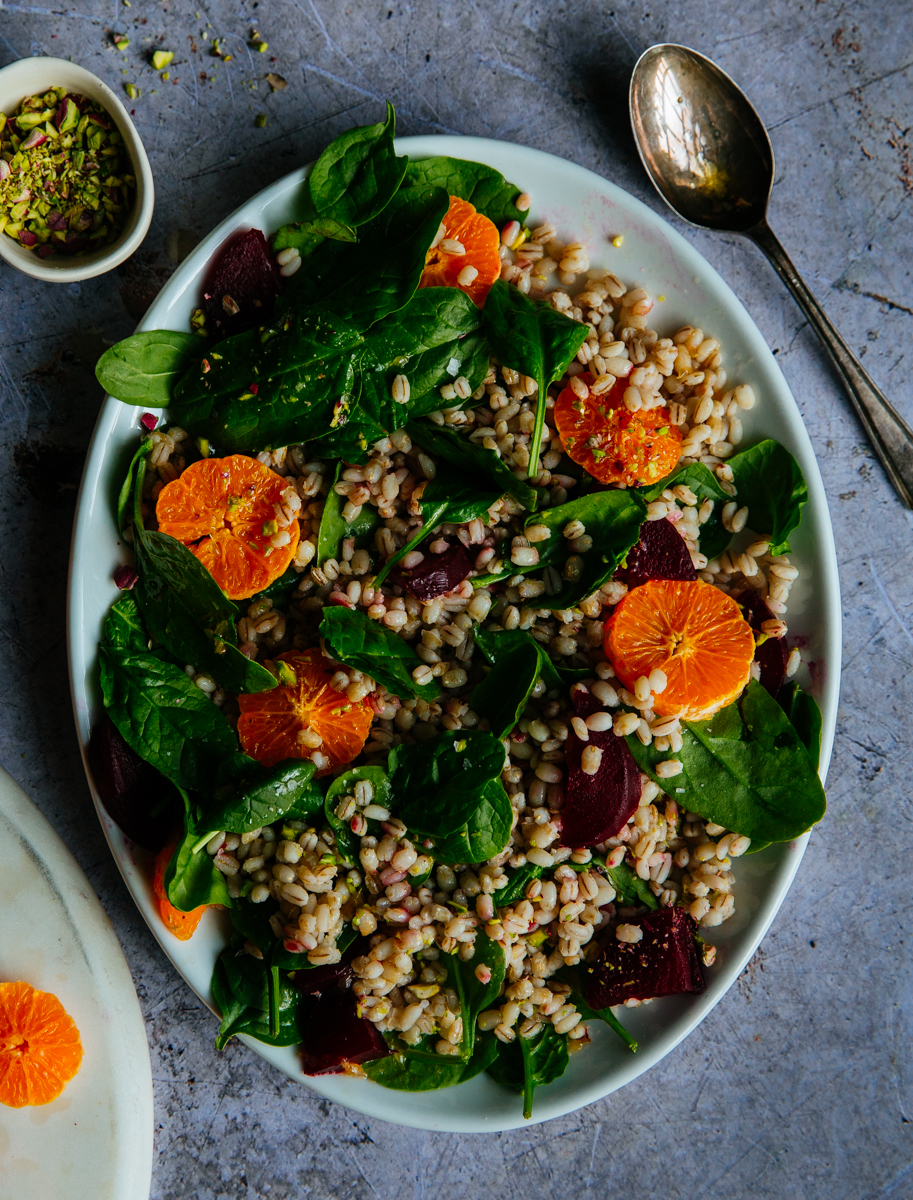 It's not always clear to me how a recipe comes to happen; often it's something I crave or miss- usually my mom's food or a dish I've tried in a restaurant and left a lingering taste in my mouth. Other times inspiration stems from recipes seen in cookbooks or online. More often than not though, everything starts with ingredients: it can be something not very exciting I have in the fridge or cupboard, or fresh seasonal produce first making a timid appearance in market stalls. These are my favourite ones: I feel almost haunted by colours and shapes, I touch and smell and a dish, or a faint outline, more like a desire, starts coming together. For this salad, it all started with mandarines- of which I used to not think much  for quite a long time. Then suddenly, a while ago, I started finding them utterly irresistible. I love when that happens- it's like having a new friend and start making all sorts of exciting plans for adventures to share together.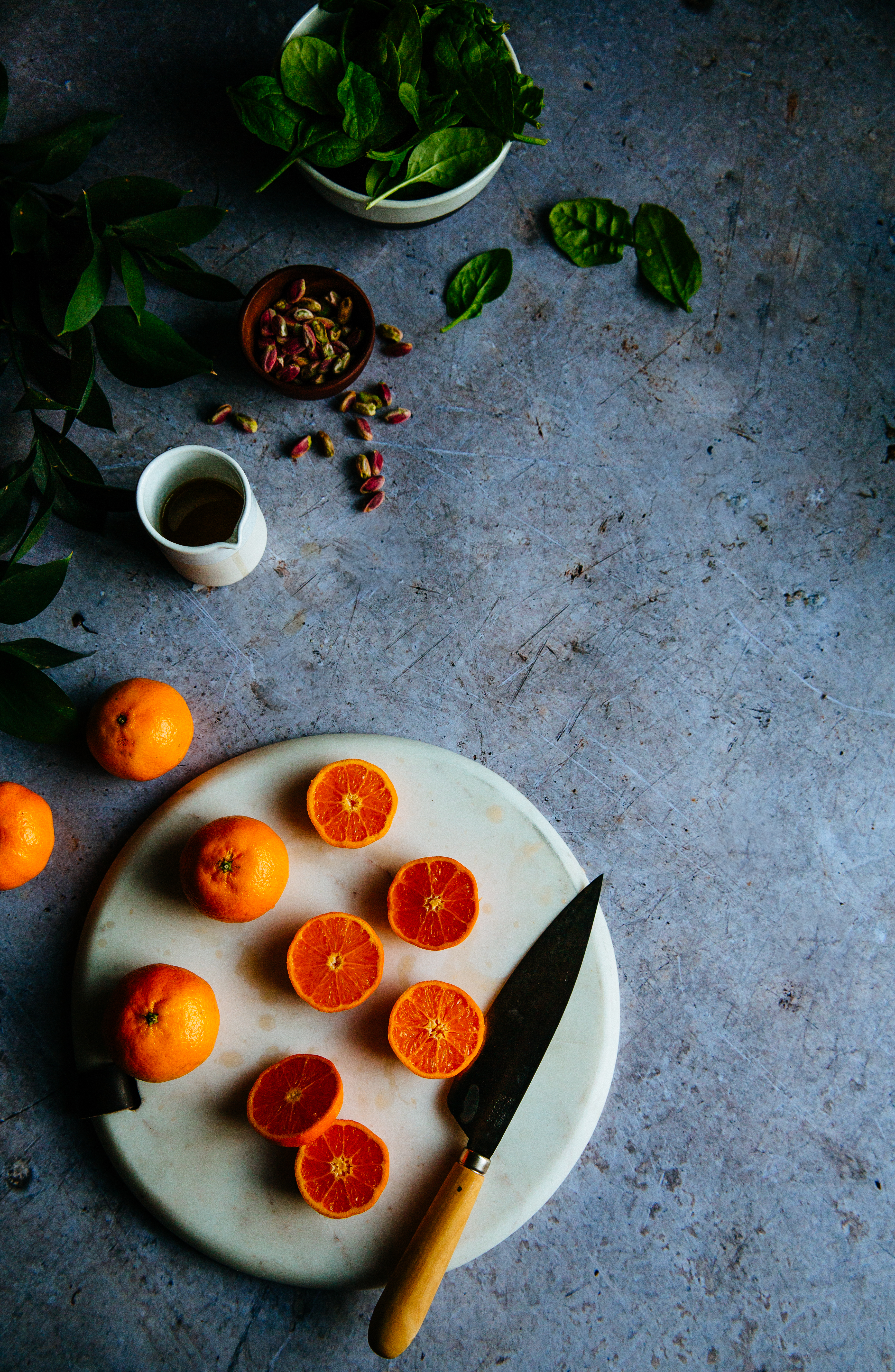 This fall, ever since I laid eyes on the first mandarines of the season, they became a staple: I'd have them for breakfast, snack or lunch, on their own or alongside thick yogurt, crunchy nuts of even dark chocolate. And soon enough they made an appearance in savoury dishes too. I can't decide what I love most about them- their gorgeous colours and sweet acidity, soft flesh or how beautifully they pair with all sorts of ingredients, from fresh leaves to salty cheese and root vegetables. And speaking of gorgeous colours, they're in such great company with the deep hues of earthy beets and striking baby spinach.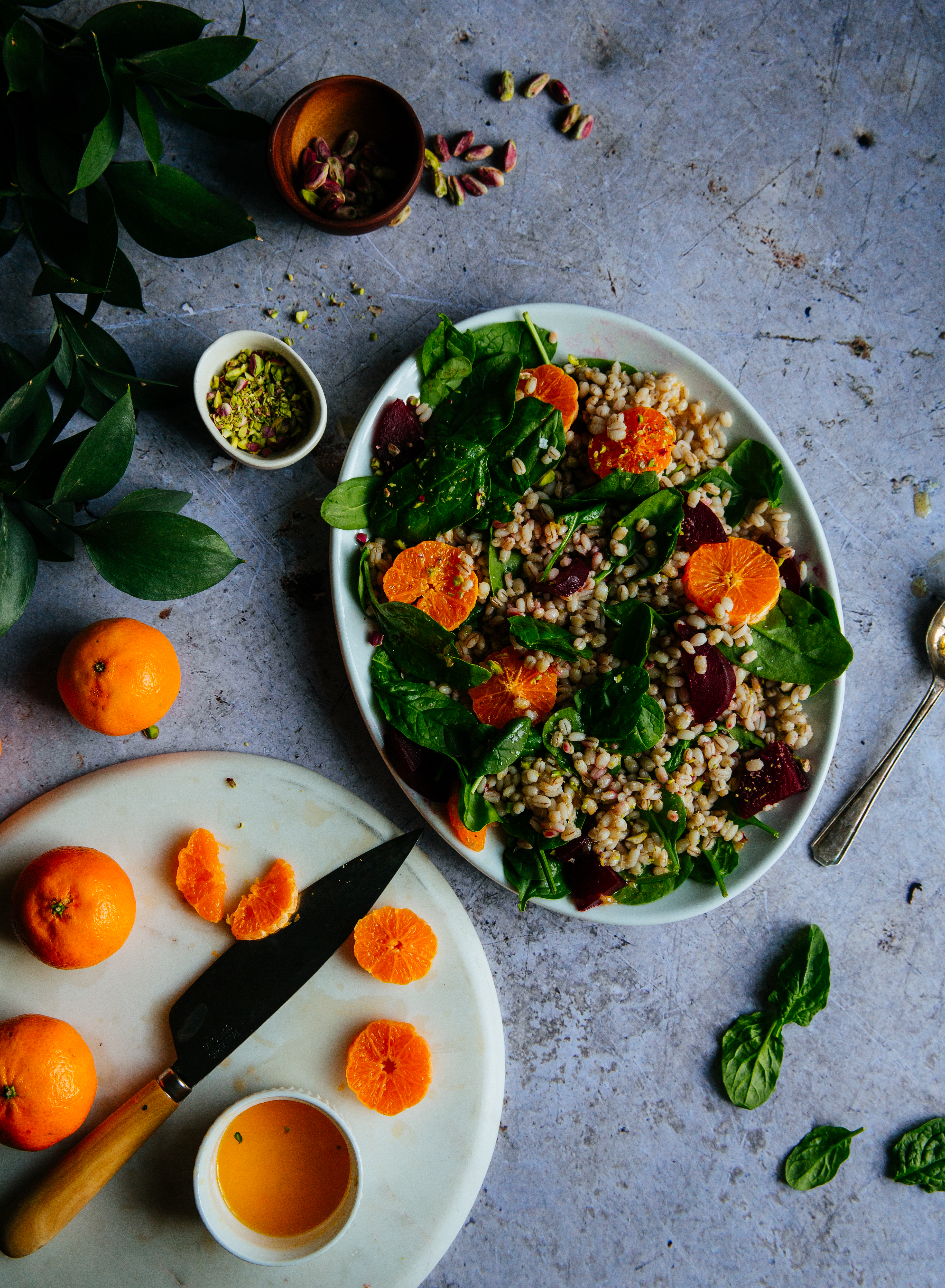 So a salad was in order, one of my favourite dishes to make. Fresh and filling, put together in such an uncomplicated way, yet yielding such a beautiful sight and inviting taste. Made with lots of vegetables, cooked barley (though faro would also be a great alternative), a bright and slightly sweet vinaigrette and finished of in the way I usually prefer: crunchy nuts and a good cheese.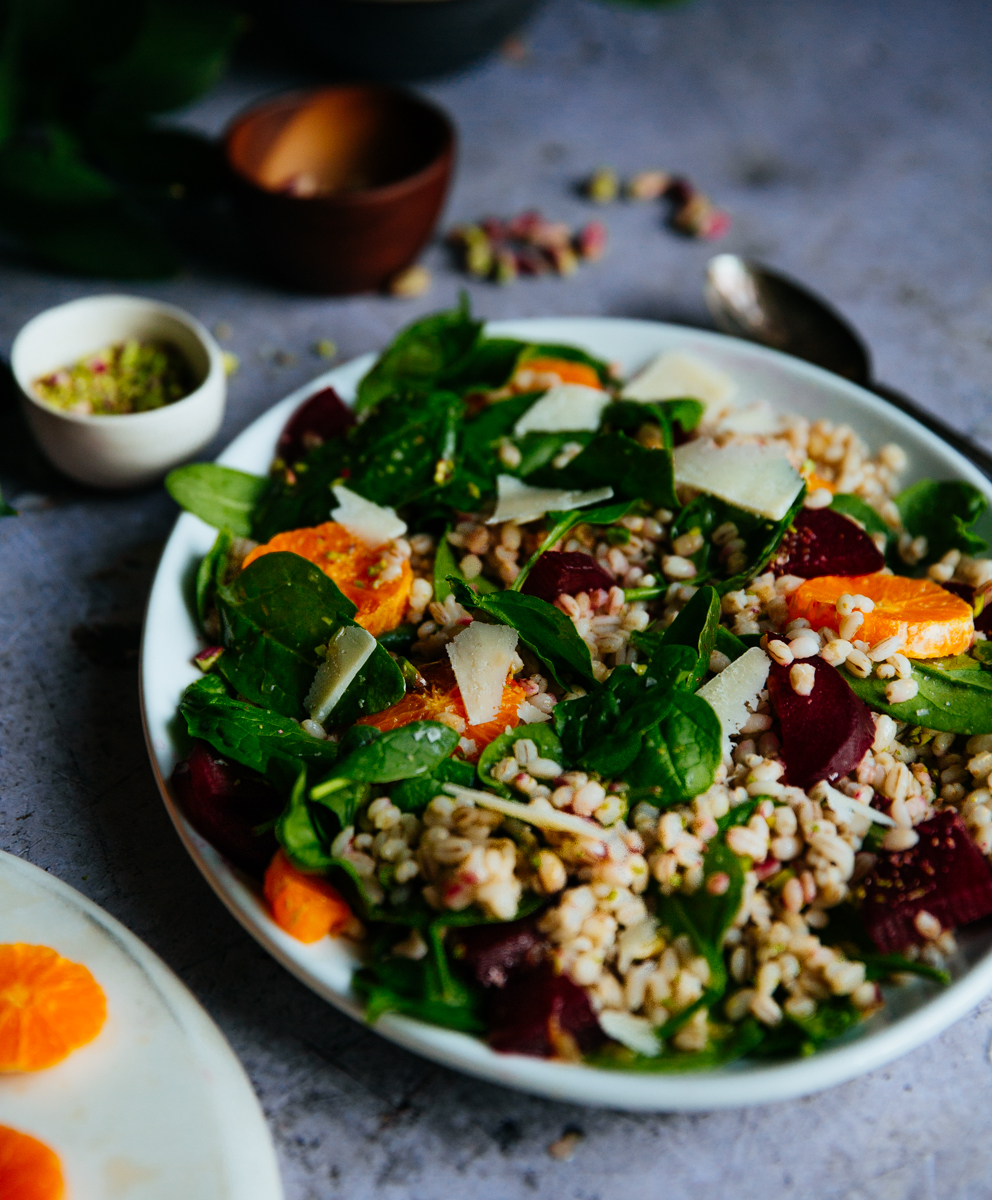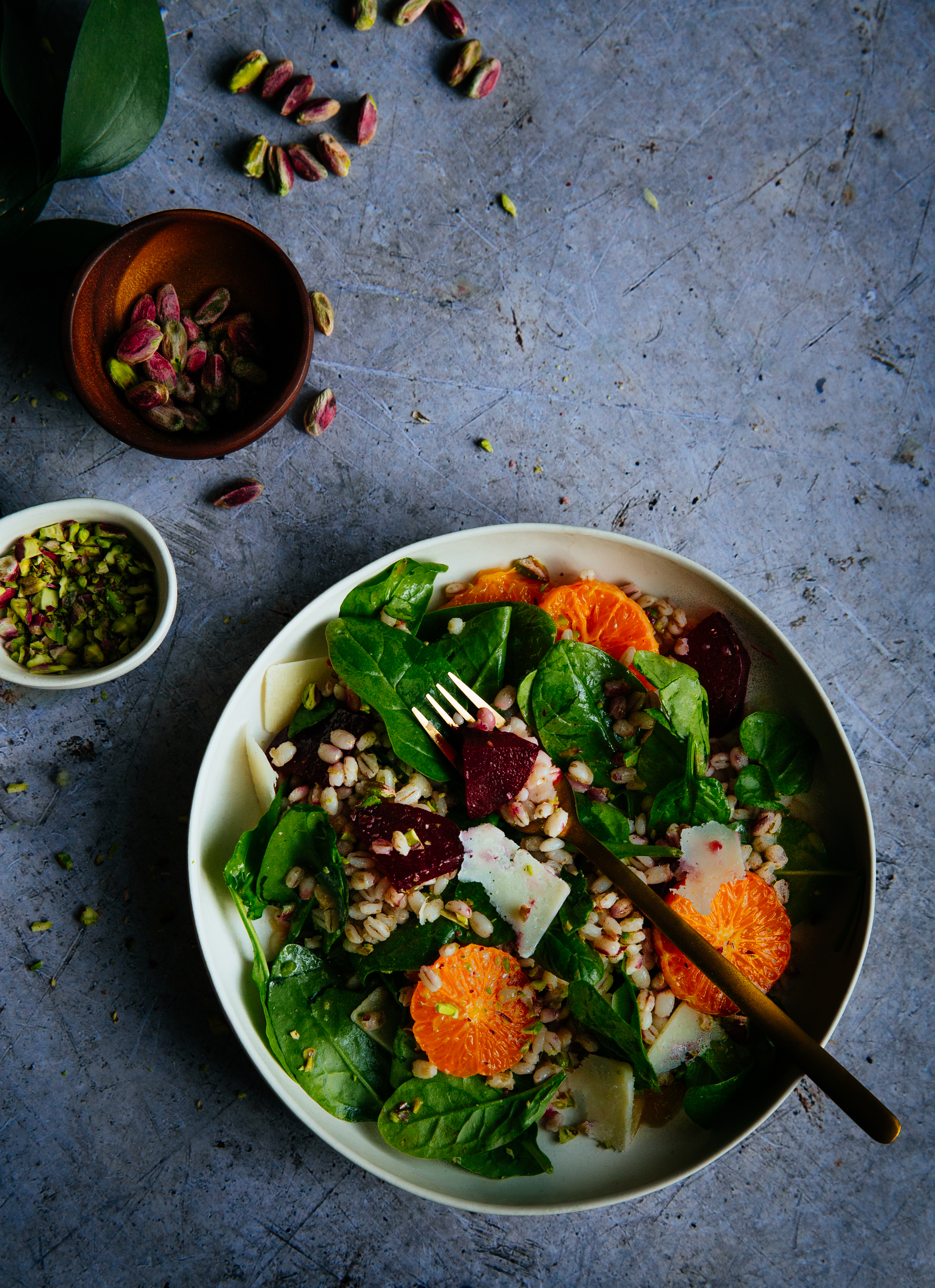 Mandarine, beet & pistachio barley salad
WHAT
200g cooked pearl barley*
4 mandarines, thinly sliced
2 medium-sizd beets, cooked**, thinly sliced
for the dressing:
juice of 1 mandarine
3 tablespoons extra virgin olive oil
1 teaspoon honey
sea salt flakes & freshly ground black pepper to taste
to serve:
2 tablespoons pistachios, shelled and roughly chopped
parmesan flakes, to taste
WHAT
Make the dressing by combining all the ingredients; taste and adjust accordingly- taste your fruit, if it's too sweet, you may need less honey or an additional pinch of salt.
Place the cooked barley on a serving platter and add the sliced mandarines, beets and spinach leaves. Add the vinaigrette and toss lightly.
Before serving, top with the chopped pistachios and parmesan flakes.
* To cook, combine the barley with 675ml water (3 cups) in a saucepan, along with a good pinch of salt and bring to a boil; reduce the heat to a low simmer and cook for about 25′- it will almost triple in volume and will become soft, but still holding a bite. Drain if necessary and let cool before using in the salad.
** You can use pre-cooked beets (just make sure they are not cooked in vinegar), or scrub fresh ones clean, wrap them in foil and cook them in a preheated oven (200°C, 1800°C FAN) for about 40′ to an hour. To make sure they are done, poke them with a fork- you should be able to insert it easily. Remove from the oven, unwrap and let them cool.