This cavolo nero & sun dried tomato mac & cheese with crunchy pecan topping is what my cheesy autumnal dreams are made of!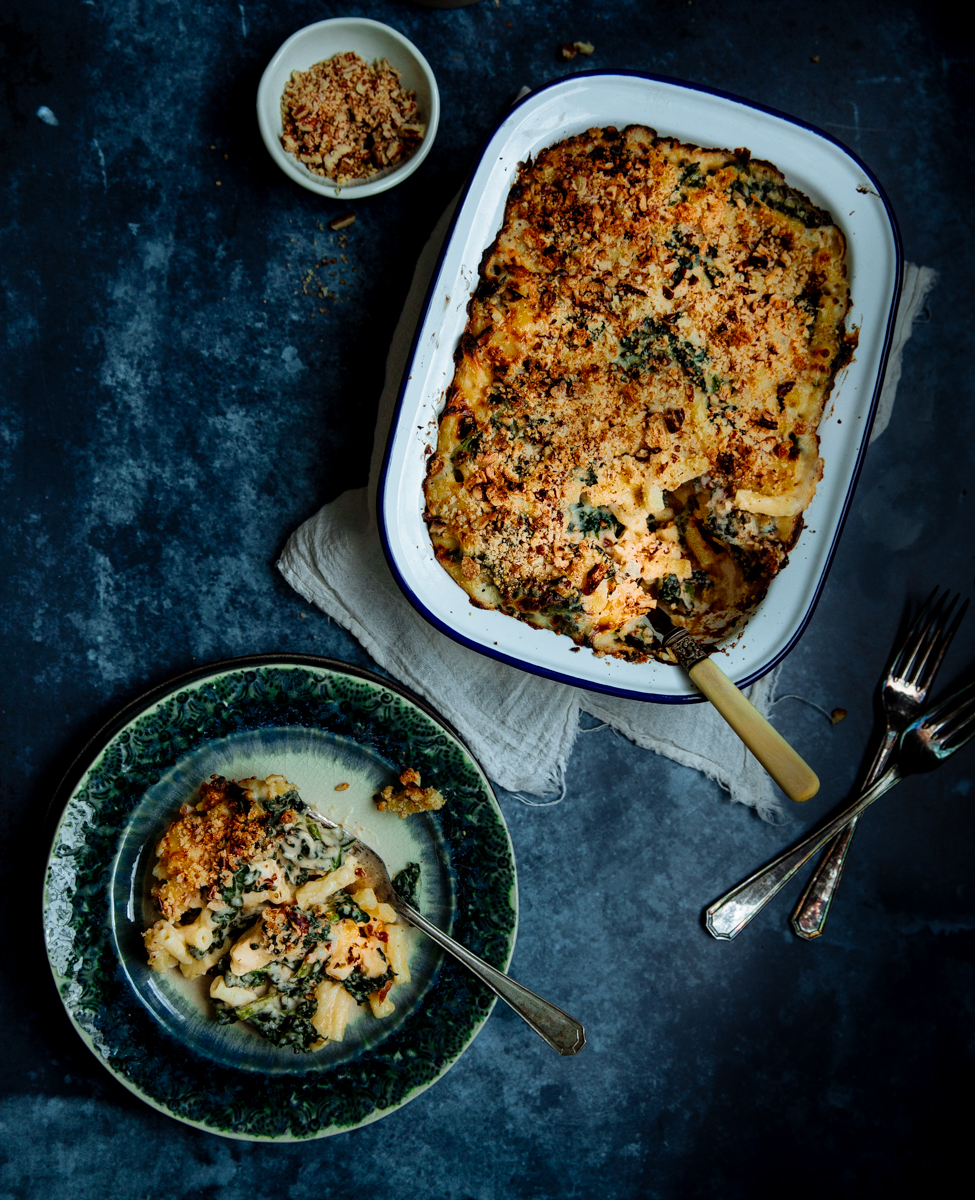 My love for both pasta and cooking with seasonal ingredients is well documented here, as is my excitement over what to cook when seasons change. I may miss summer and its bright coloured juicy treasures at first, but by mid September, I have fully embraced autumn, it's vibrant hues of deep orange, red and orange and I find myself, almost without realising, ready for heartier dishes. This year, up until a few days, we were graced with an unexpected glorious indian summer, filled with sunny days and almost balmy nights. And then, all of a sudden, the weather turned very cold- just in time for my dear cavolo nero to be featured in all its glory in a couple dishes.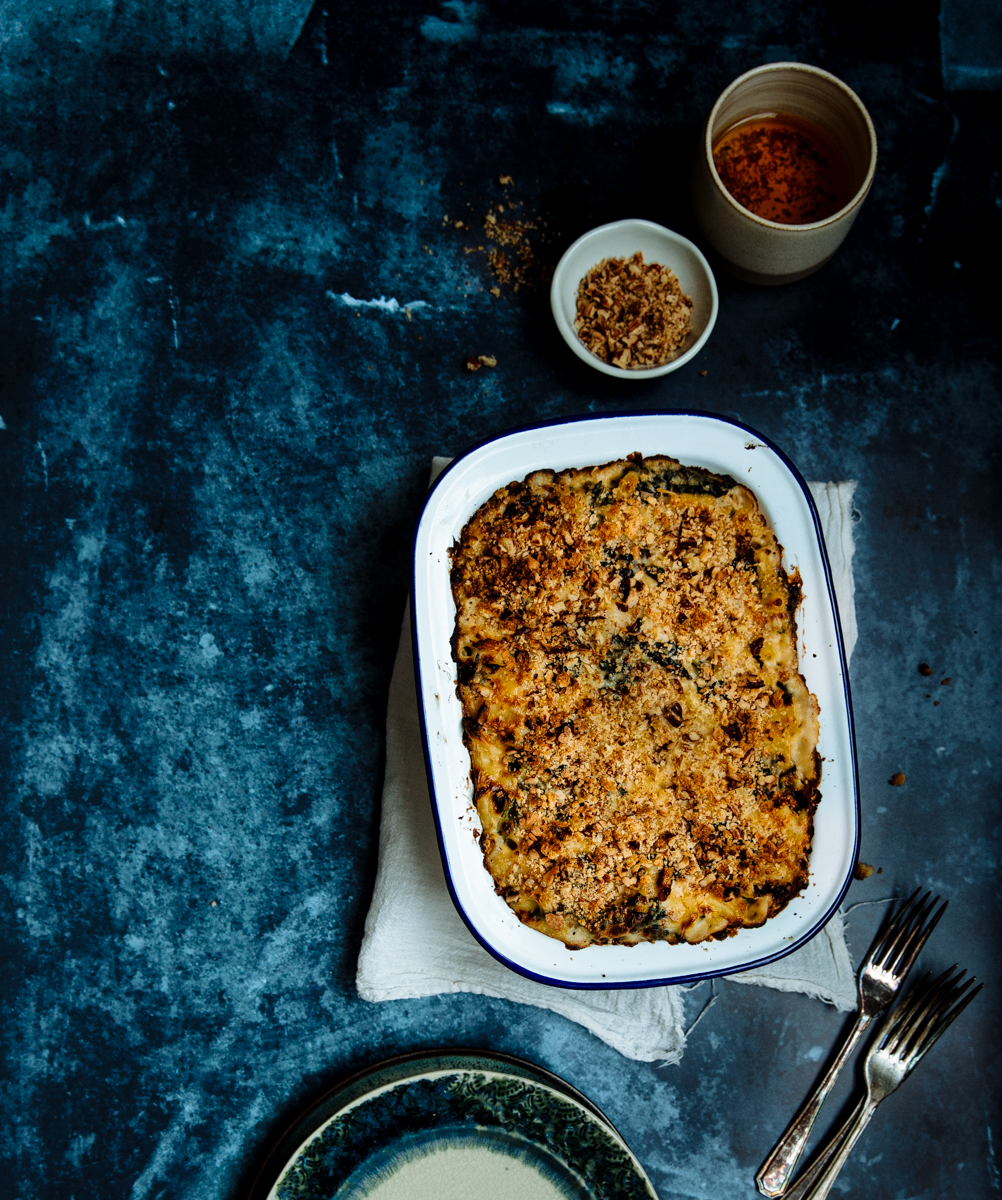 I'm always enchanted by its deep green, almost black, colour and its stubborn hard leaves and can't get enough of its unique flavour, somewhere between cabbage and kale. I love it simply dressed with a thick vinaigrette, made with the best olive oil you can find, or salty soy sauce and crunchy seeds; but it is equally delicious tossed with pasta or added to hearty bubbly stews, along with carrots, parsnips and chilli flakes.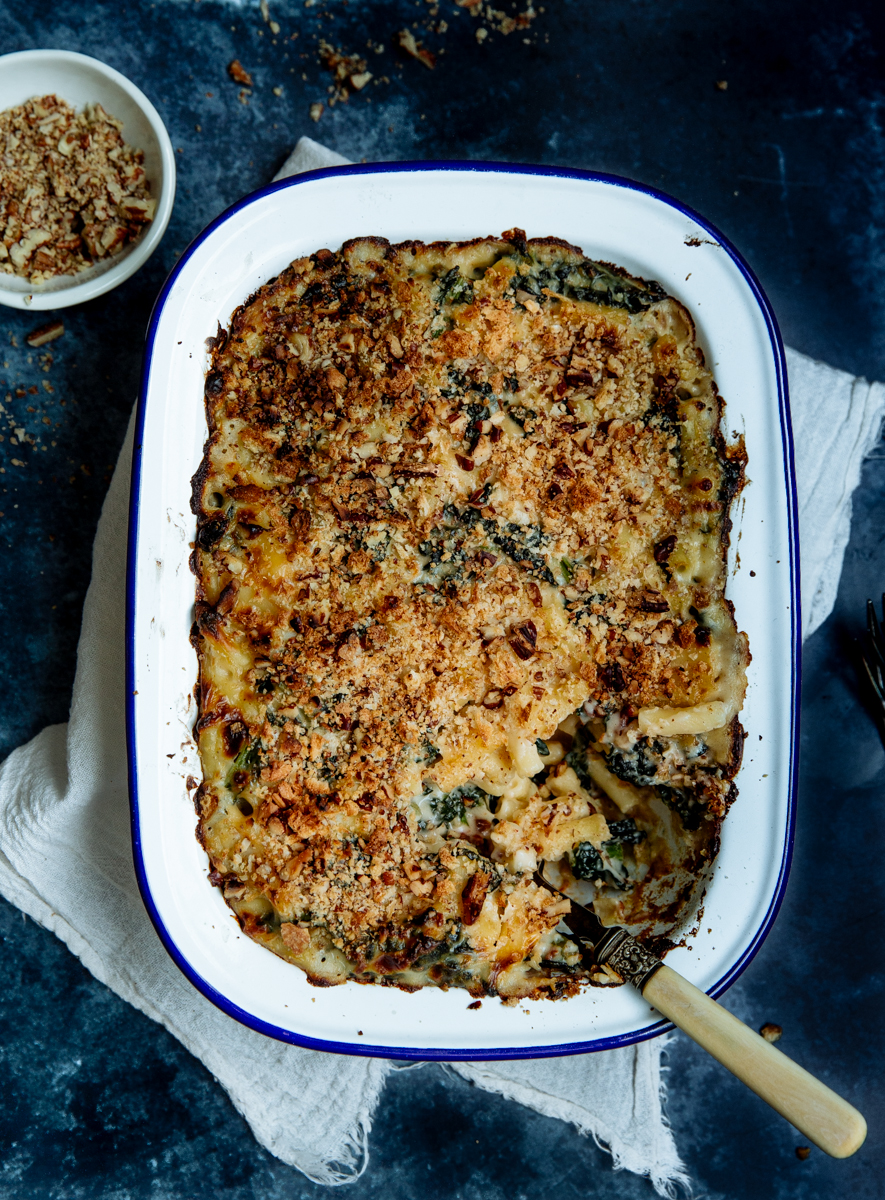 It's the first time I'm adding it to the ever pleasing mac and cheese– and I am truly hitting myself for not doing it sooner: along with almost velvety sun dried tomatoes, it adds an irresistible earthiness and freshness to a dish I literally will never stop being falling in love with. Cavolo nero balanced out the thick cheese sauce too, but certainly leaves room for an extra layer of flavour. So I've topped everything with a thick coating of coarse pecans and homemade breadcrumbs and baked it until golden and bubbly and perfect for these first days between autumn and winter.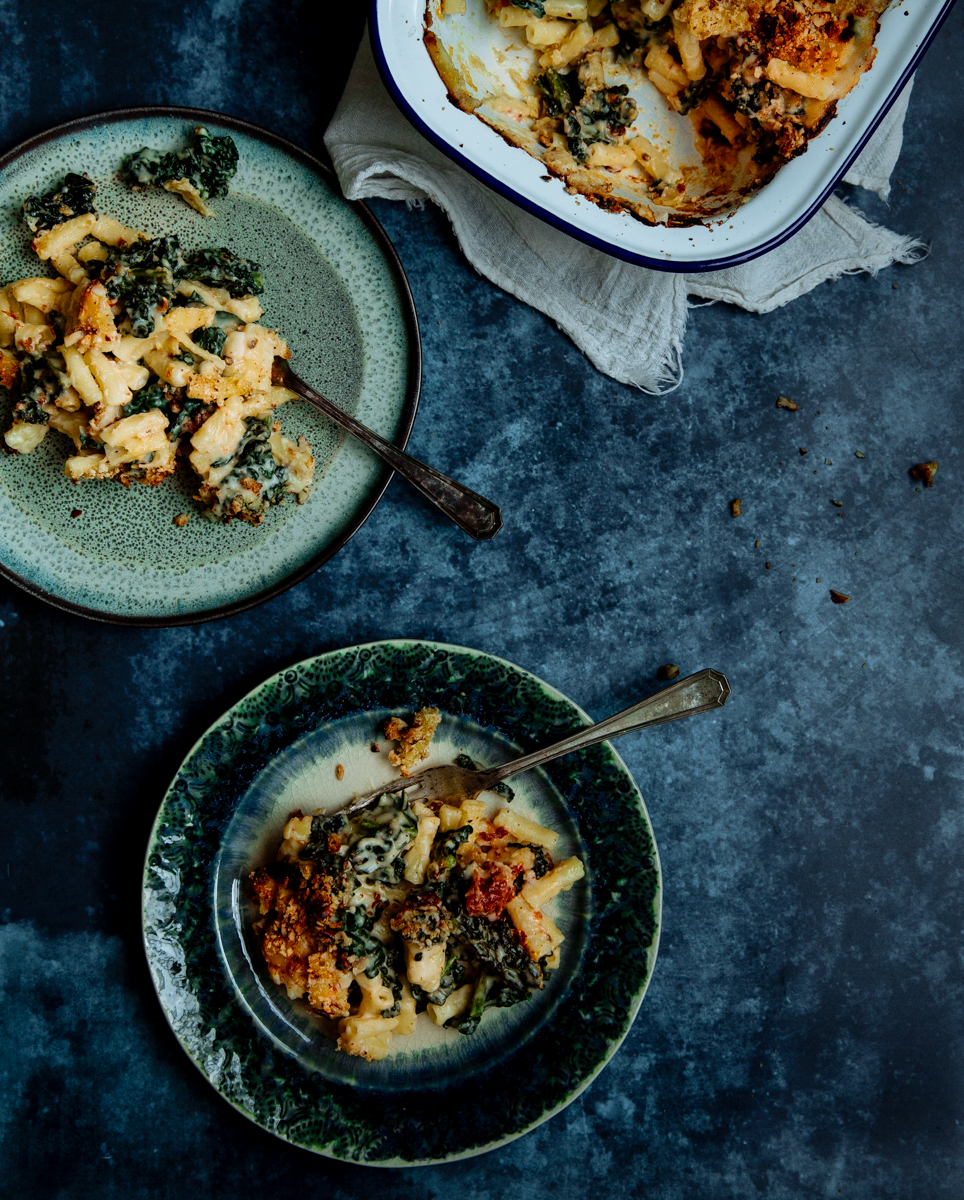 Cavolo nero & sun dried tomato mac & cheese with crunchy pecan topping
WHAT
2 tablespoons olive oil
200g cavolo nero, chopped
300g macaroni pasta
75g unsalted butter
75g all purpose flour
1Lt skimmed milk
220g cheddar
1 teaspoon ground nutmeg
8 sun-dried tomatoes, roughly chopped
2 heaping tablespoons roughly chopped pecans
2 tablespoons coarse breadcrumbs
HOW
Preheat the oven 200C (180C FAN)
Warm the olive over medium heat & cook the cavolo nero for about 6′ until vibrant green and almost half in volume- set aside.
Add the pasta in plenty of salted water and prepare the cheese sauce:
Melt butter in a small sauce pan over medium heat and add flour; toss until incorporated- about a minute.
Add the milk a little at a time and cook over low heat until thickened, about 7' stirring.
Add the nutmeg and cheddar cheese and cook until the cheese is melted. Remove from heat, & season with plenty of freshly ground black pepper and a little sea salt.
Drain pasta and toss with the cavolo nero and tomatoes and tip into the baking dish you will use. Top with the sauce and quickly toss well to coat all the pasta.
Combine the pecans and breadcrumbs and scatter on top of the pasta.
Bake in the preheated oven for 30' or until golden and bubbly.