One of my all time favourite desserts, this nutty & crunchy baklava may take a while to prepare, but it's sure to make your hearts beat a little faster.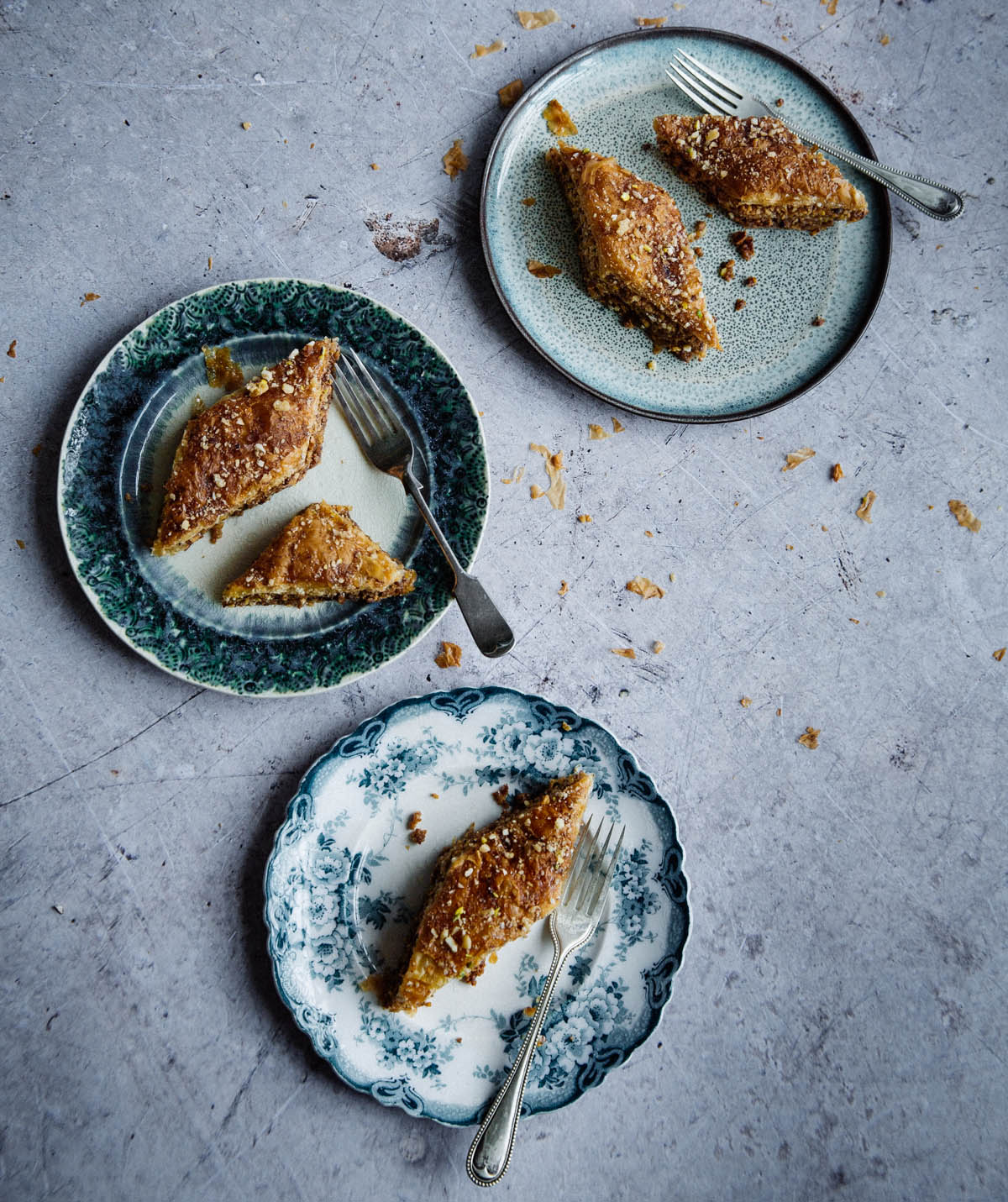 Baklava was the first dessert I shared here. It was back when I was experimenting with almost every sweet recipe under the sun: from chocolate chip cookies and spicy buns, to seasonal cakes and fluffy muffins, I did not discriminate, I was game for it all. I had an impossible sweet tooth and was eager to try everything- both in terms of cooking and shooting alike. And, as it often happens, most of my shots and culinary efforts were all over the map. Yet, I remember that time so fondly and with some nostalgia- finding one's voice, discovering likes and dislikes is usually not an easy process and for me, it was both very frustrating and lots of fun.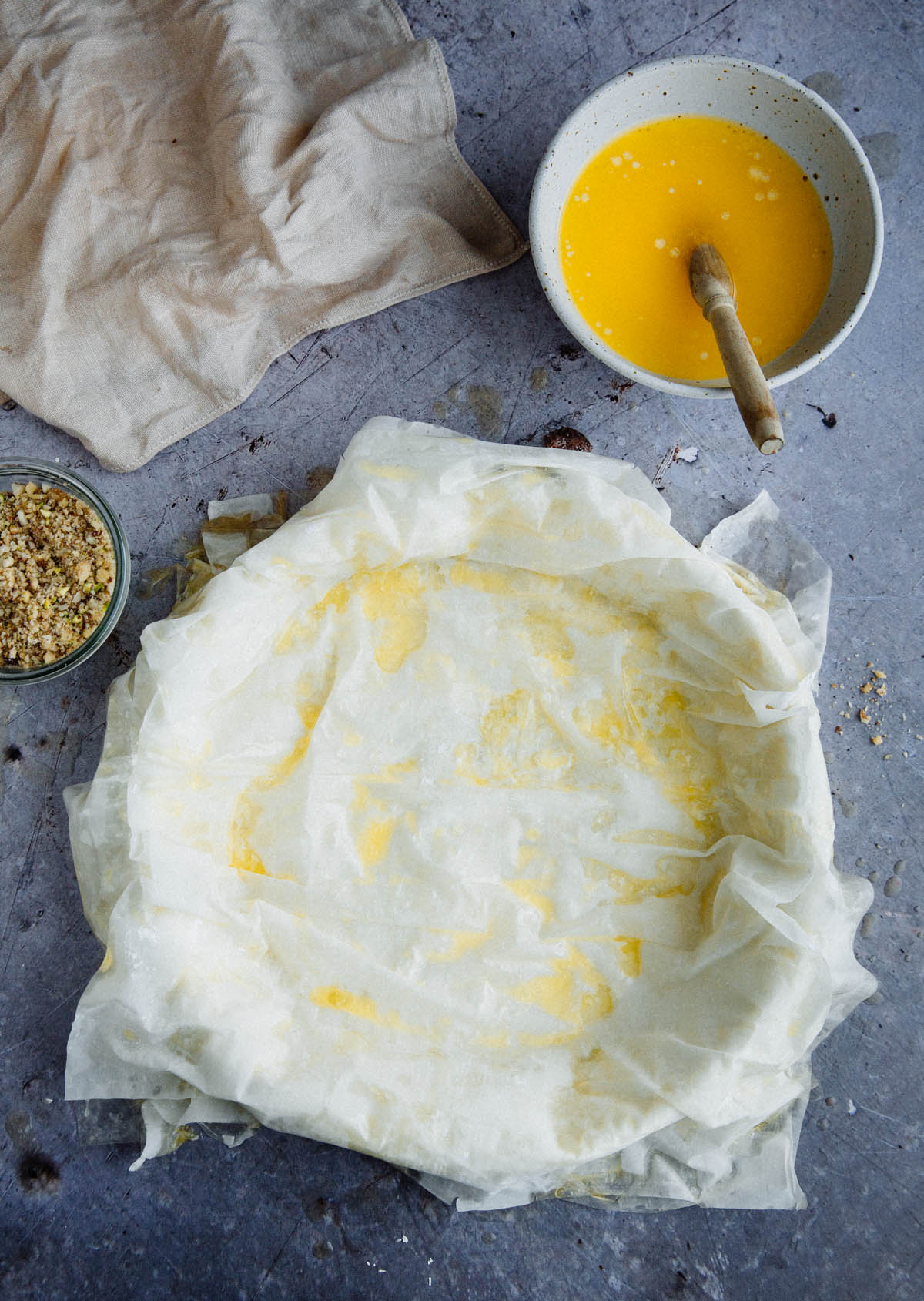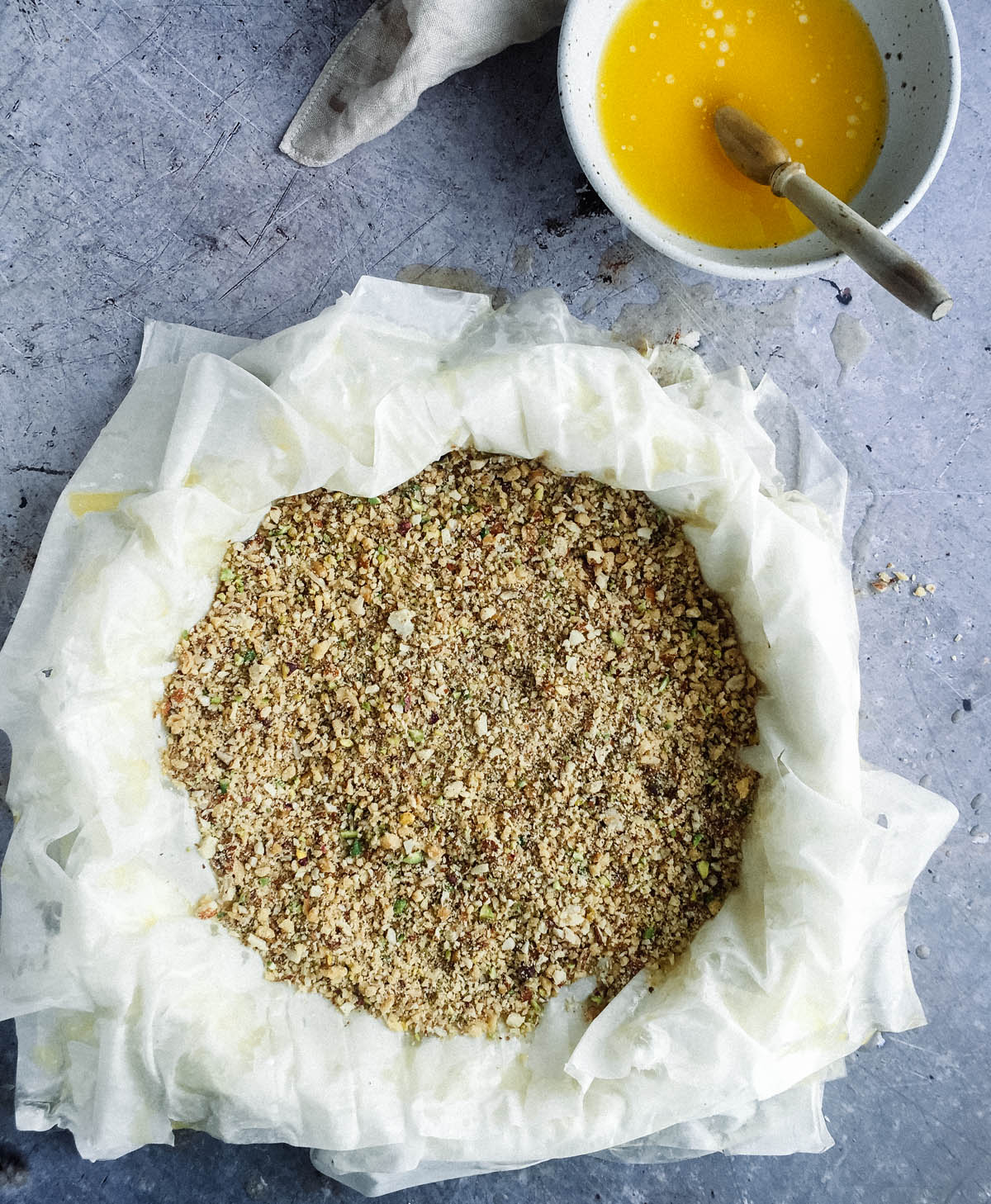 I still like cookies, muffins and cakes, but my sweet cravings are now more likely to be satisfied with a couple juicy dates or a few chunks of dark chocolate with sea salt flakes. And as time went by, I realised that the dishes that made me most happy to cook, shoot and eat were the ones that were somehow connected to the food I grew up with. Hence this revisited baklava: thought it is very sweet, it still is one of my favourite things to make and serve. I love the many steps in requires- playing with filo is always a treat for me and the flavours always bring back so many memories.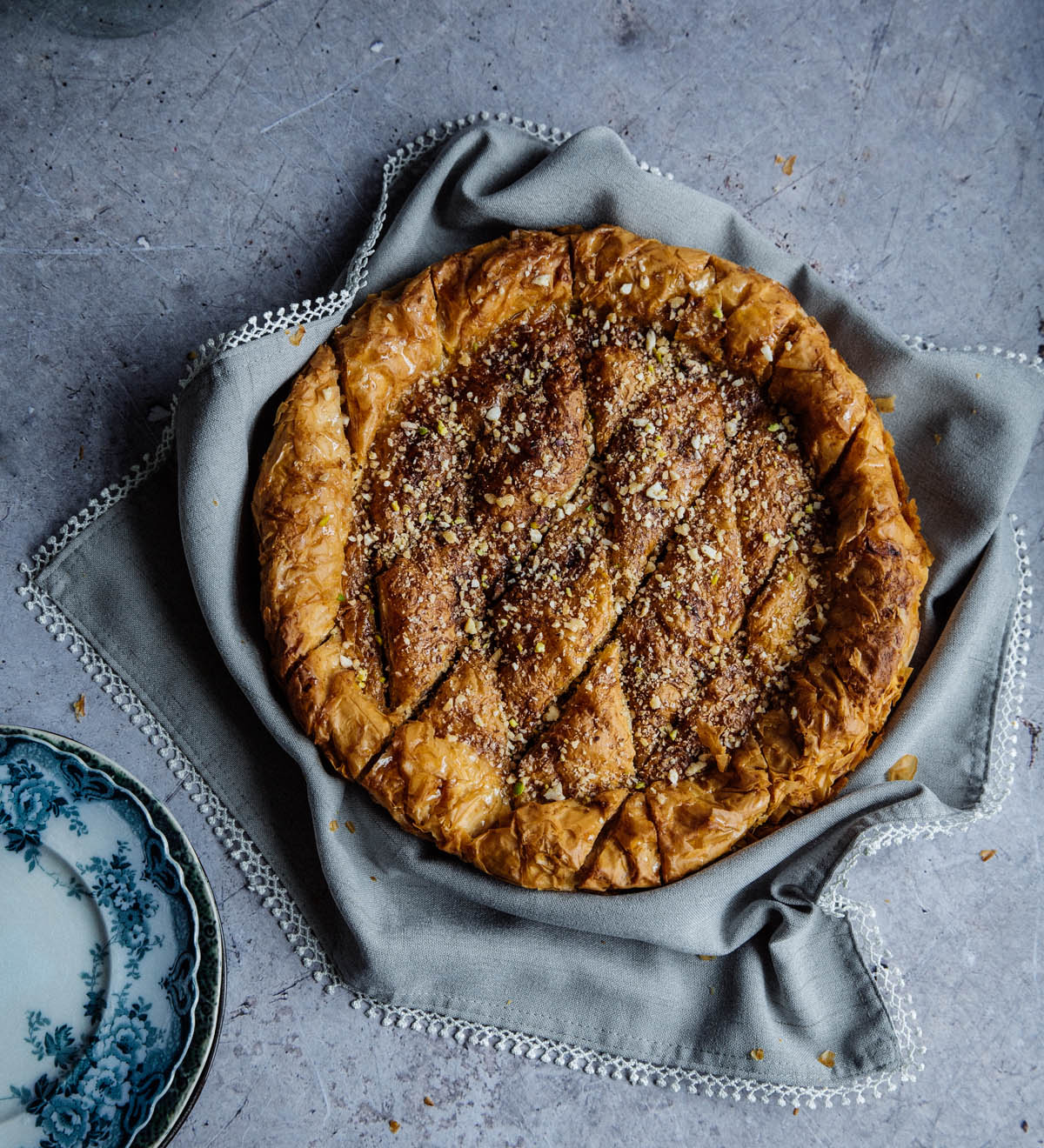 This version is the one closer to my heart- and tastebuds. Each piece is bursting with crunchy nuts and the syrup here is minimal- almost just enough to gently embrace all the crunchy goodness both inside and outside. You may want to double it if you prefer a more syrupy baklava, or leave as is for extra crunchiness and a somewhat lighter taste. I hope you enjoy both the process and the dessert itself- it is made to be shared and, like most things, tastes even better like so.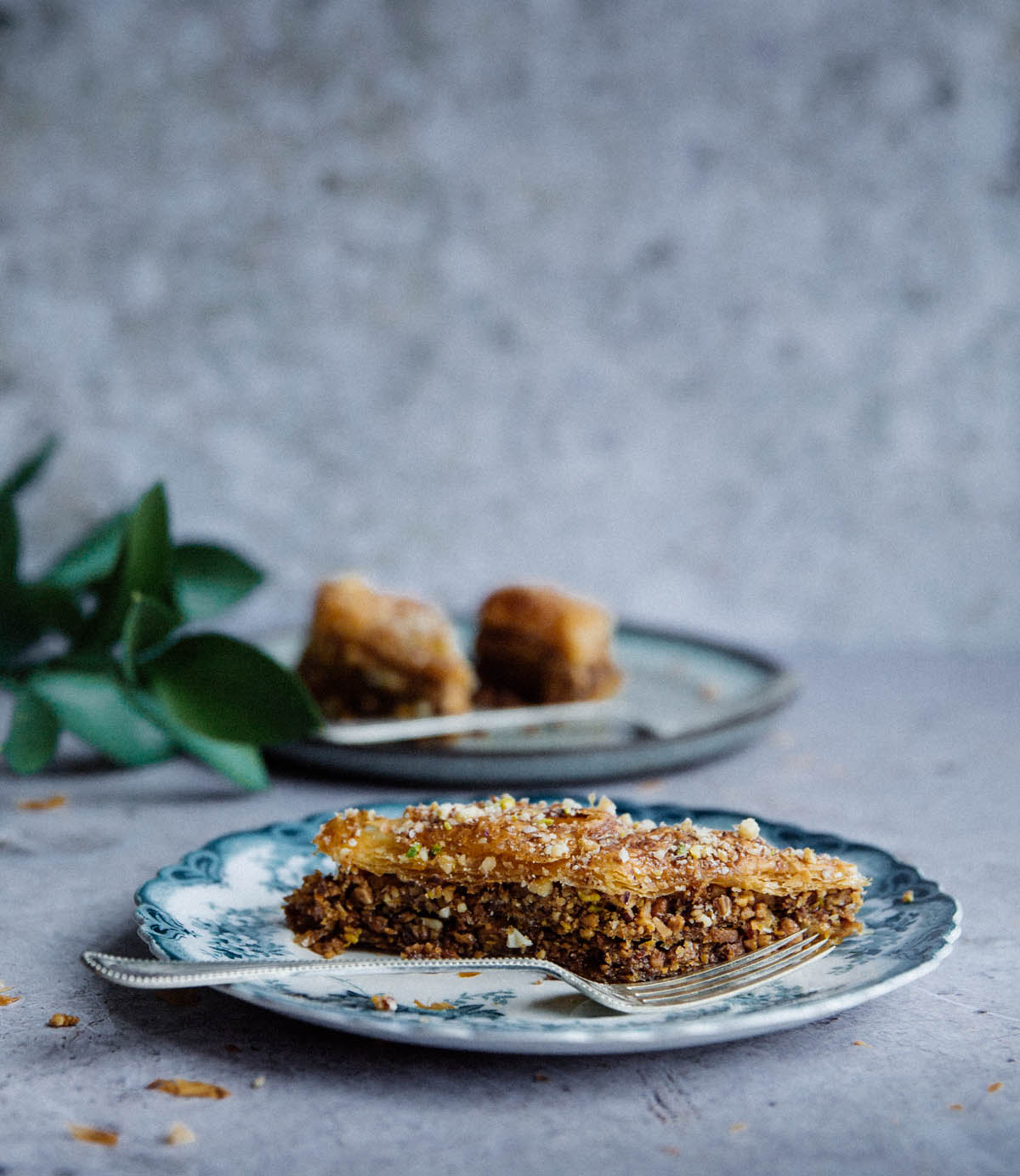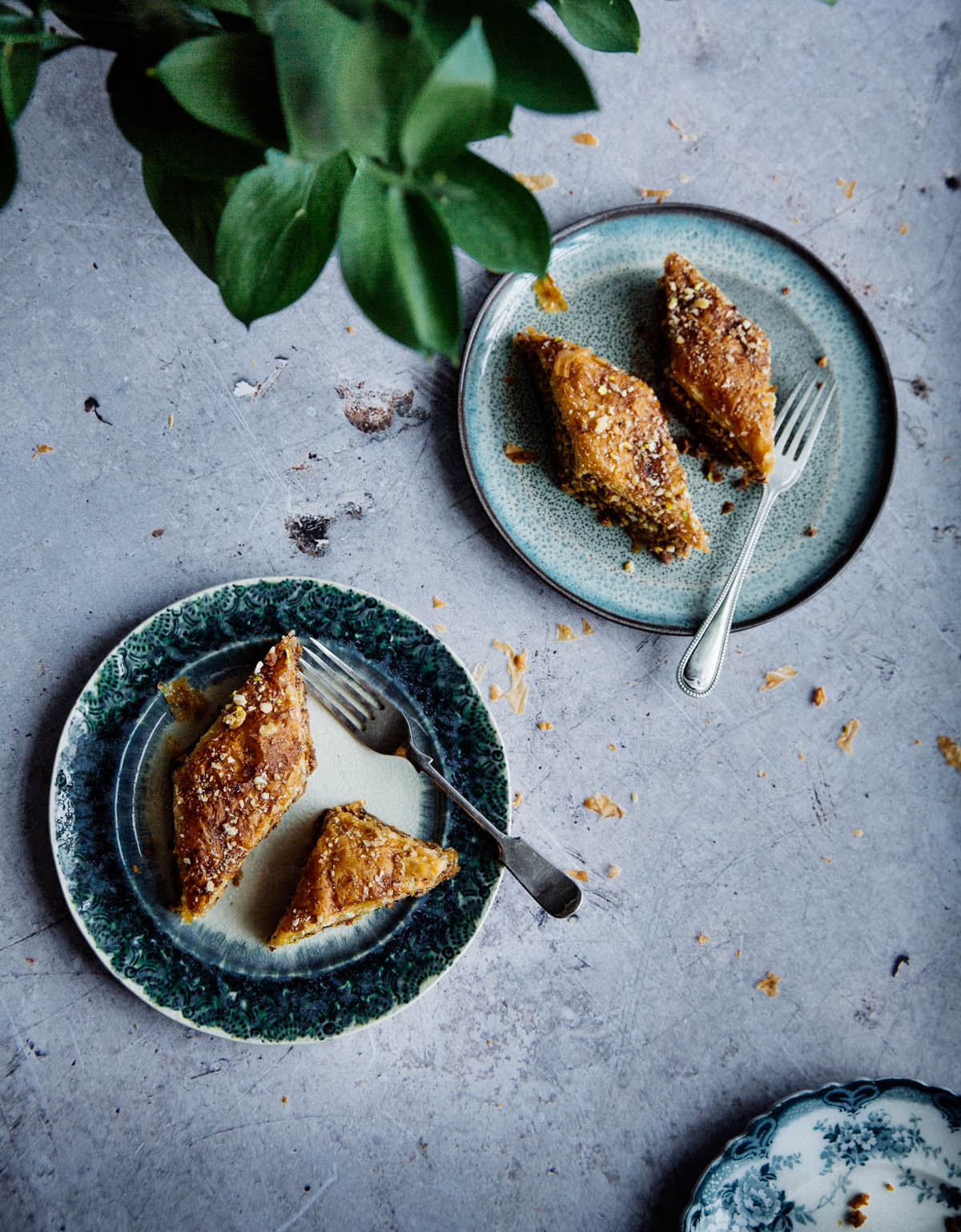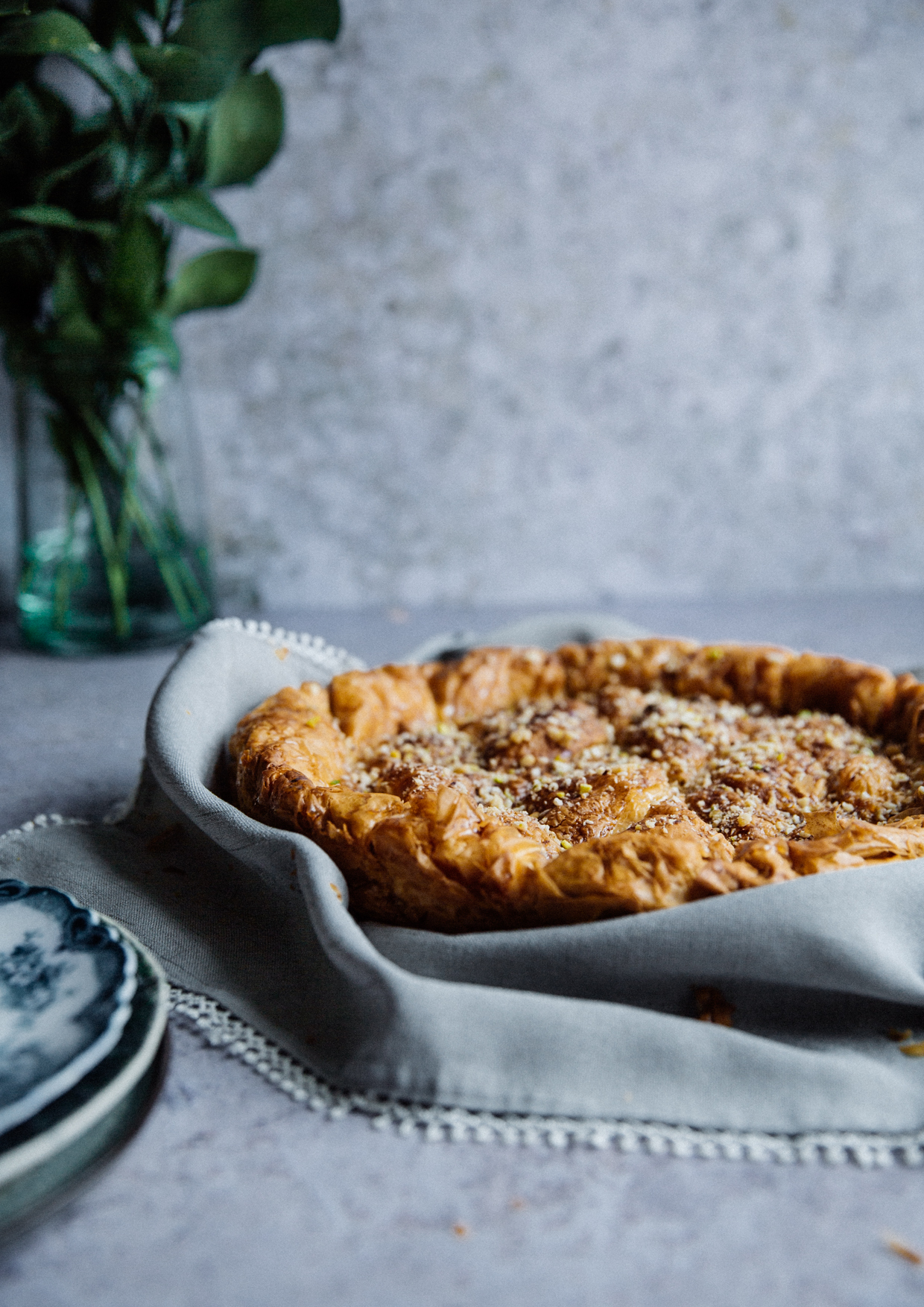 Nutty & crunchy baklava
WHAT
for the syrup:
200g caster sugar
150ml water
3 tablespoons honey
1 orange, quartered
for the baklava:
300g unsalted butter, melted
400g nuts (I used primarily pistachios and some almonds and pecans)
1 1/2 teaspoons ground cinnamon
1 teaspoon ground cloves
450g filo pastry, thawed
to serve: additional nuts, very finely chopped (optional)
HOW
Start by making the syrup, so it's cold by the time the baklava comes out of the oven: place the sugar, water, honey and orange wedges in a saucepan and bring to a boil. Simmer for a couple of minutes, until the sugar is dissolved, and remove from the heat. Set aside to cool completely.
Preheat the oven to 170ºC (150ºC FAN); place the nuts on a baking tray and in the oven for about 5′, allowing them to release their aroma. Set aside to cool slightly and chop finely (but not into a powder). Combine with the spices and set aside.
Have your melted butter ready on one side and your filo cover with a dump tea towel so you can easily and quickly assemble your baklava.
Using a brush, generously butter the bottom of a round pan. Layer your first piece of filo and drizzle it with some butter using the brush (don't brush directly on the filo, as it will weight it down). Continue with 5 more pieces of filo, rotating them so they hang evenly over the pan.
Add half of the nuts in a single layer and cover with 3 more pieces of filo, buttering each as you go.
Add the remaining nuts and top with the last 6 filo pieces, again buttering each as you go.
Place in the fridge for about 10′ so it is easier to cut. Just before putting the baklava in the oven, cut it diagonally- don't cut all the way, just firmly trace it, so it's easier to cut into pieces after it's baked.
Place in the oven for about 2 hours- or until the top is golden brown.
Remove from the oven and ladle the syrup on top.
Allow it to cool completely and serve sprinkled with additional nuts if desired.