This zucchini & smocked trout spaghetti is not only a delicious stunner put together in mere minutes, but also my new favourite summer pasta dish!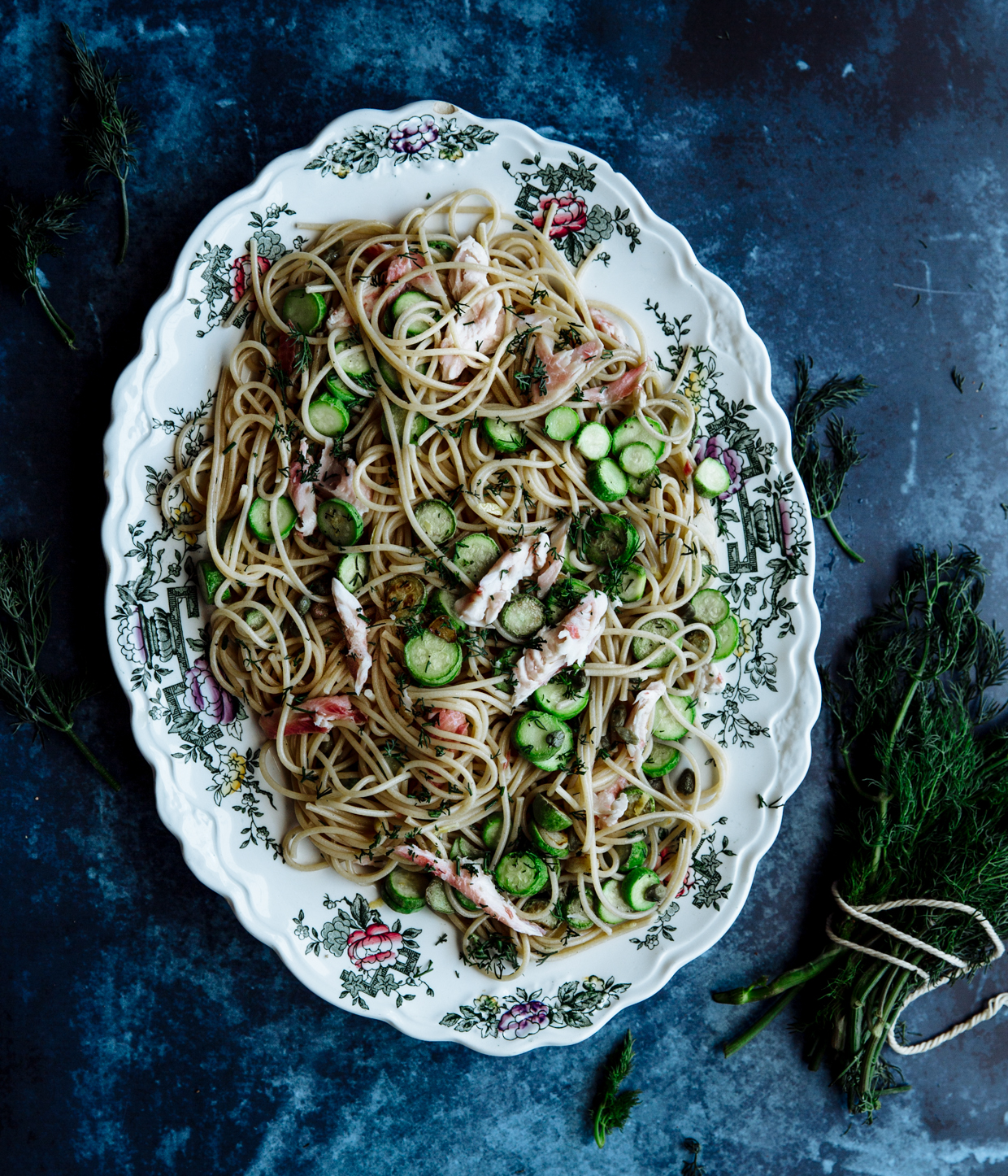 My answer to the question "what's your favourite food" is always: pasta. Pasta forever. Yet, I make it quite rarely. Part of it is because I want to enjoy it more, on special occasions- which can vary from a fancy dinner date to an utterly informal and quick one pot dish, eaten hungrily straight from the pan. Another is my inability to have a little bit of pasta; it's never a little bit, it's always a lot. A lot. And carbs- as much as I love them, they tend to weigh me down, so I rather favour quinoa, roast veggies and fish instead.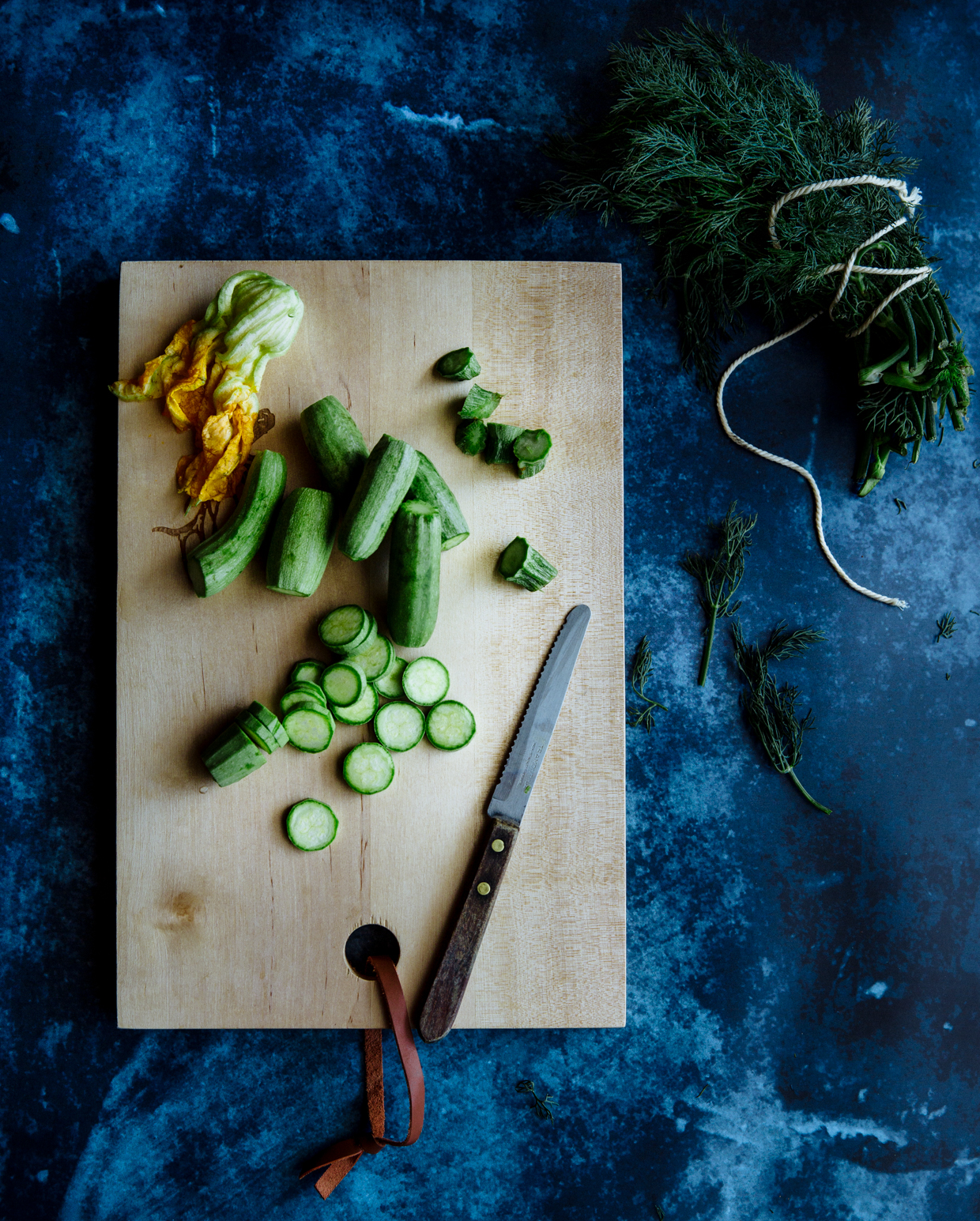 But still, pasta is the queen of heart, my biggest love, and this summer I've been enjoying it quite a lot; cooked with a lot of seasonal vegetables, fresh herbs and golden olive oil, it can be light, fulfilling and always so damn pretty. Among my top summer favourites are crunchy, crispy zucchinis (and their gorgeous flowers of course! I need to share a recipe here asap!). Almost sweet and with the softest green shades, they are a treat eaten raw or added to a variety of dishes.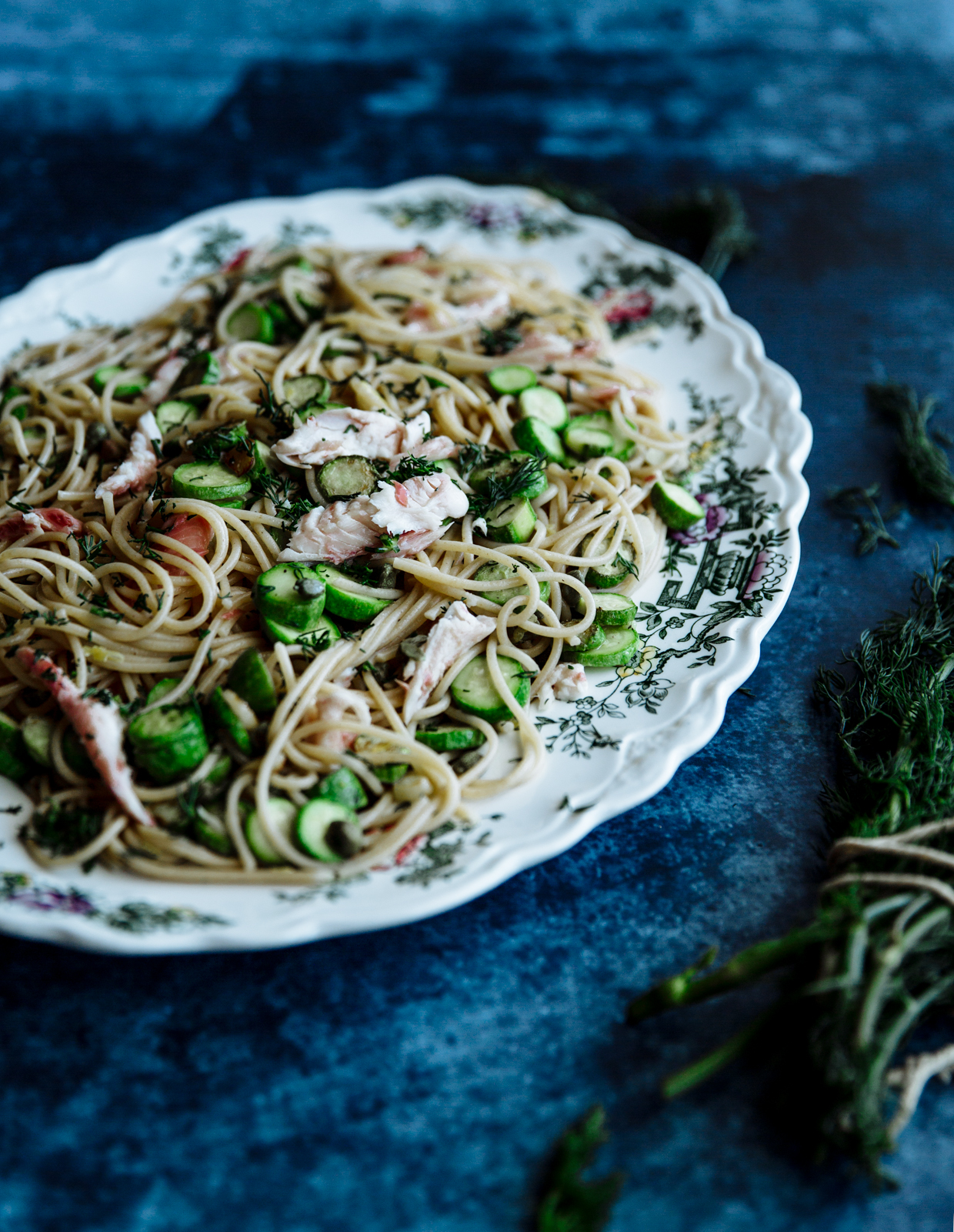 We usually just wash the baby ones, dip them in a smooth, spicy batter and fry them until golden brown; lately however, I've been slicing them thinly and tossing them with al dente pasta and all sorts of other good things. Like delicate smoked trout, fragrant dill and briny capers for a dish which is simple, delicious and very very satisfying. I hope you give it a go- I have a feeling it'll become an instant summer favourite.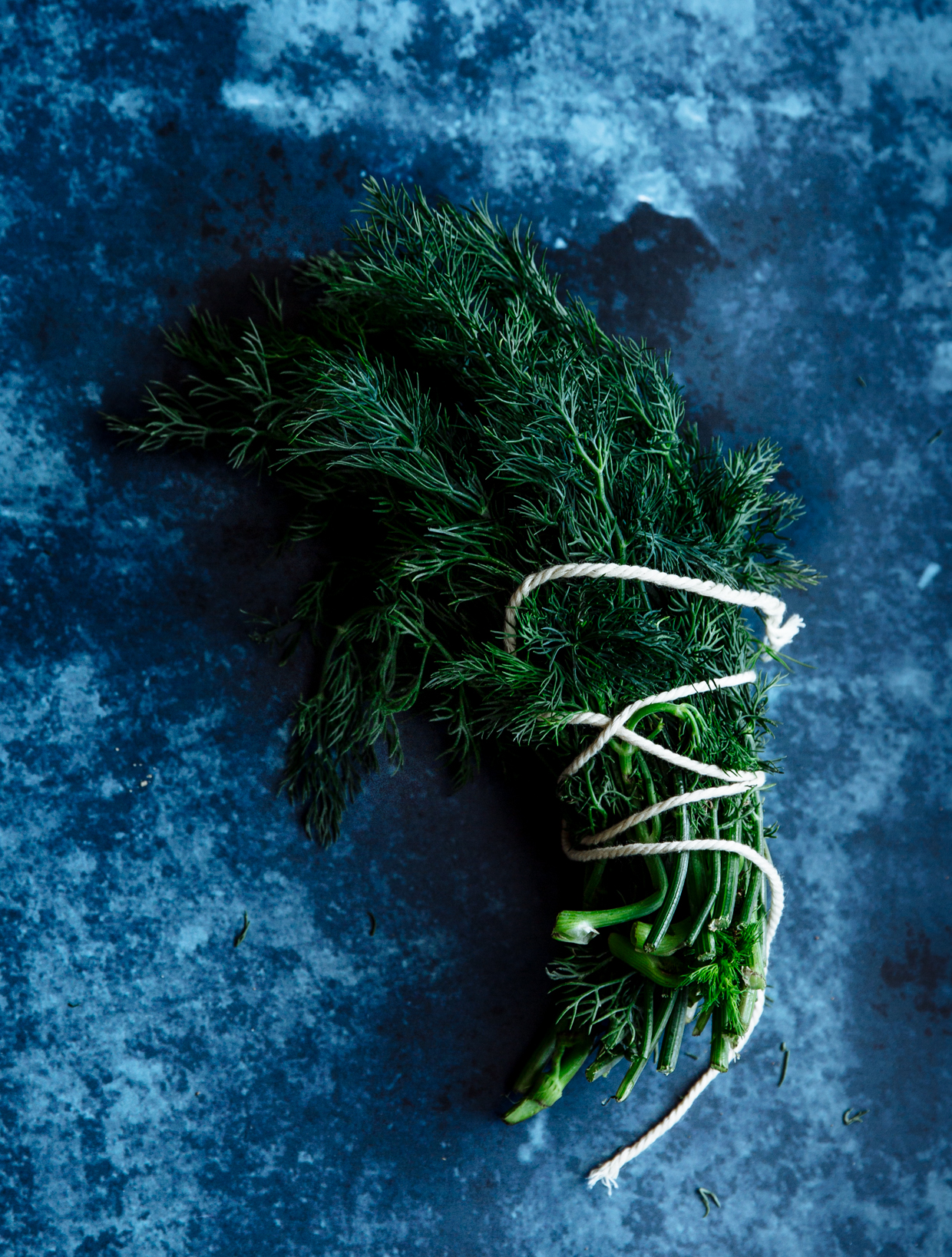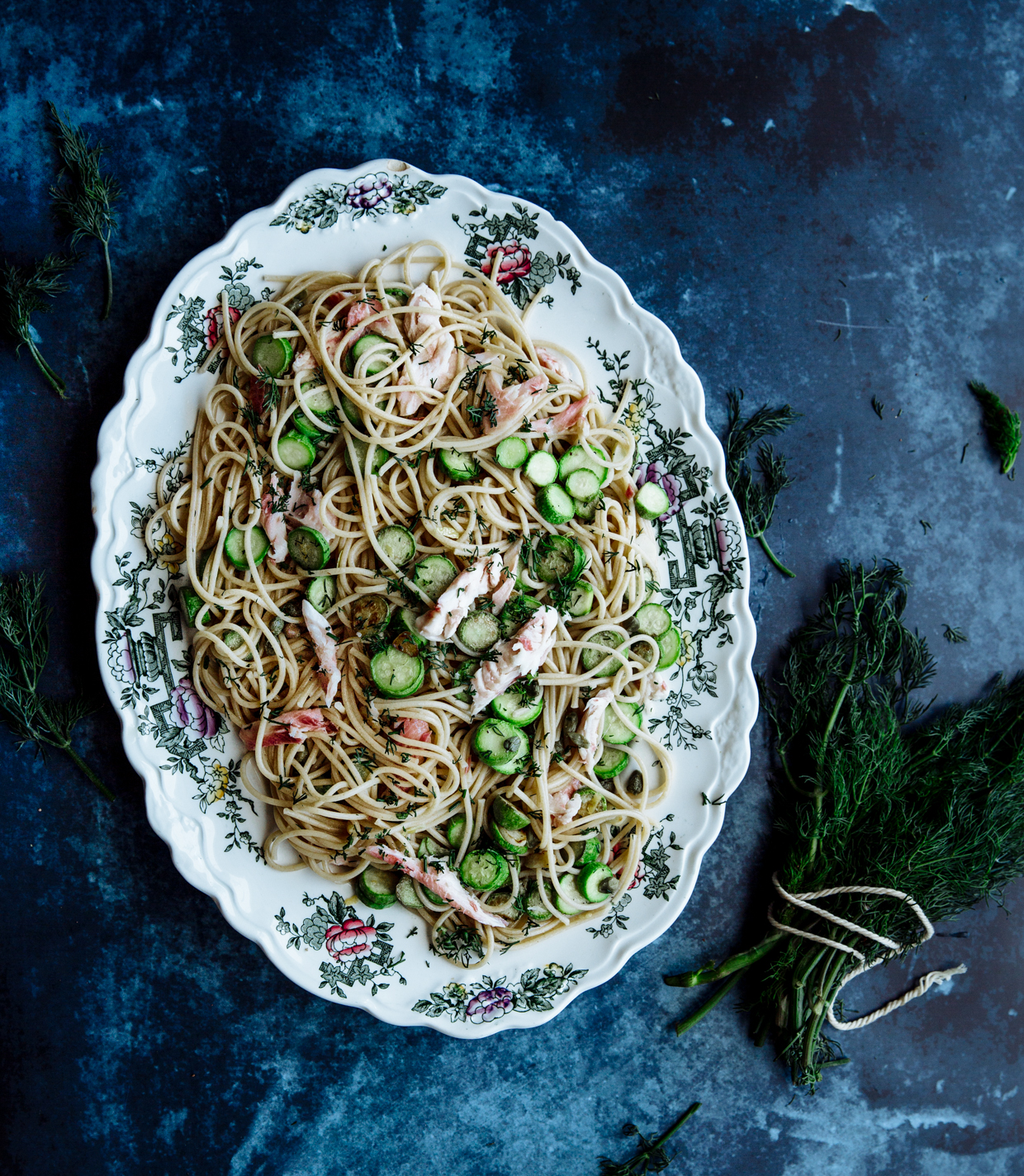 Zucchini & smocked trout spaghetti
HOW
2 tablespoons olive oil
200g zucchini, washed and thinly sliced
4 garlic cloves, thinly sliced
3 tablespoons capers
300g wholewheat pasta
160g smoked trout, flaked
freshly ground black pepper & sea salt flakes to taste (keep in mind that capers and trout are quite salty)
to serve: about 2 tablespoons fresh dill, a good drizzle of extra virgin olive oil
WHAT
Fill a big pot with water, add about a tablespoon of salt and bring to a boil.
Warm the olive oil in a large pan over medium heat; add the zucchinis and sauté for about 4′. Add the garlic and keep cooking for another 5′ or so, until golden and softer.
Add the capers and cook for 2′ more. Remove from the heat, add salt and pepper and set aside.
When the water is ready, add the pasta and cook until al dente, reserving about a cup of the water.
Drain the pasta and add to the pan with the vegetables; toss quickly, adding some of the pasta water. Add the flaked trout and toss again gently,
Divide into plates and top with the fresh dill and extra virgin olive oil before serving.