A refreshing strawberry, avocado & cucumber giant couscous salad perfect for summer days and nights, when the living is easy.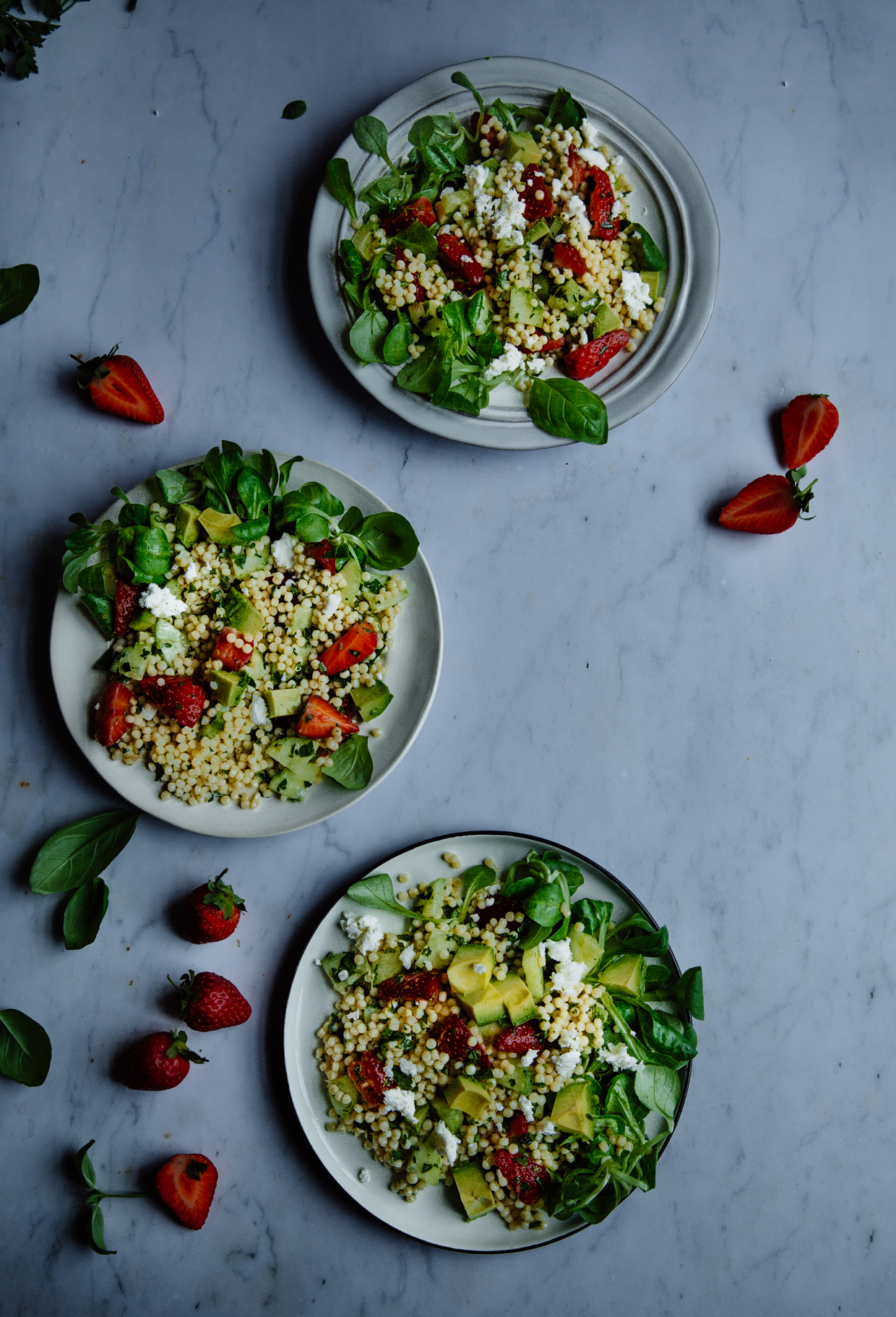 Even though it's not entirely so, in my mind summer arrived in London about three weeks ago; since then, I've been in a constant state of excitement over all the beautiful late spring and early summer beauties available: crisp and refreshing cucumbers, sweet juicy strawberries and delicate fresh greens, all begging to be left as they are, merely tossed with some fragrant herbs, a squeeze of lemon, a sprinkle of salt flakes, or a dollop of thick honey or drizzle of thick golden olive oil.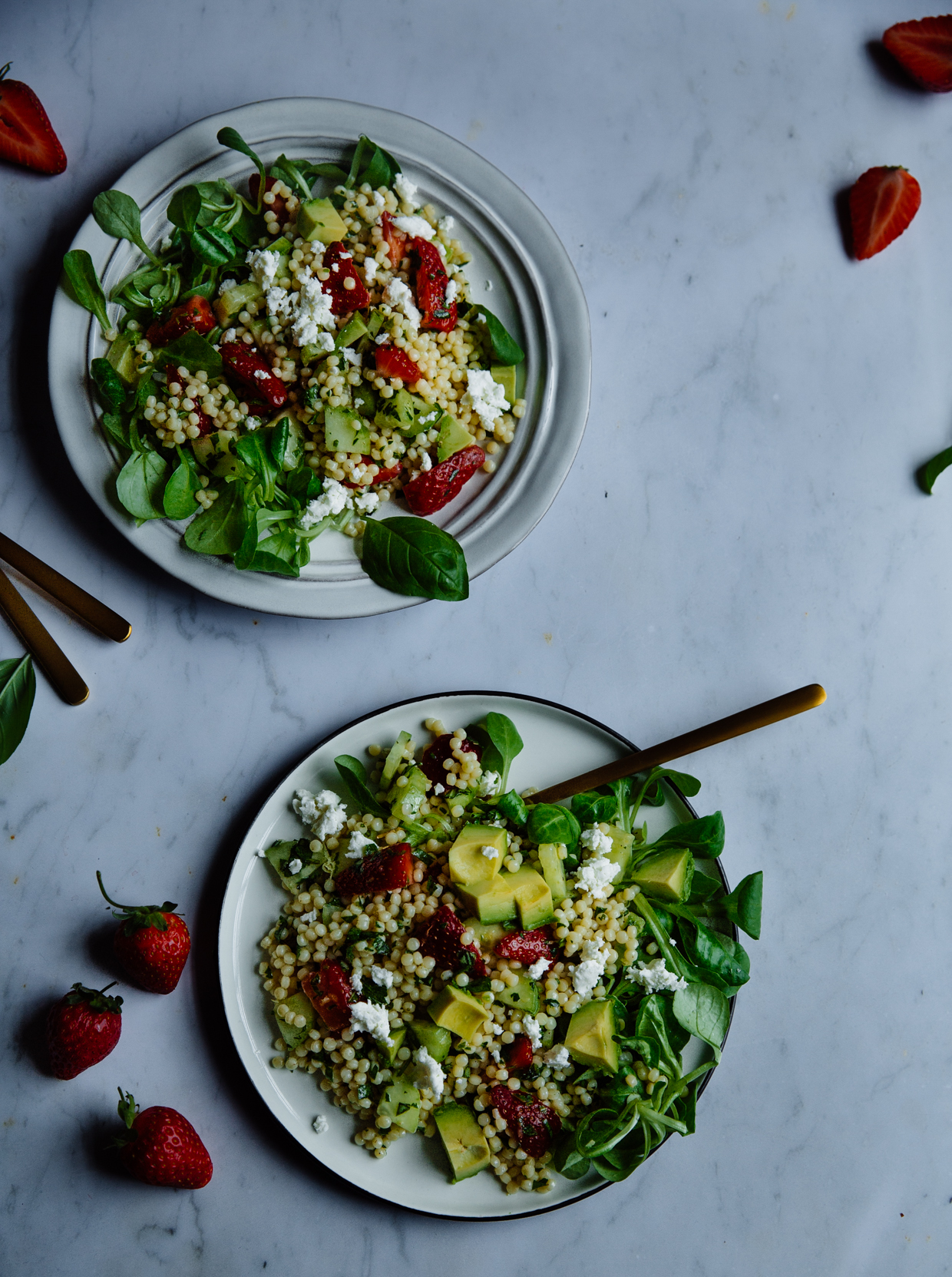 I can't bear to do much cooking when the days get longer and hotter. We still have people over and an impromptu picnic in the park or by the river is always possible, yet I prefer to spend little time in the kitchen when putting together dishes. So the abundance of fresh produce which unlike the autumnal and wintery ones require little prep and often no cooking at all, is heaven sent.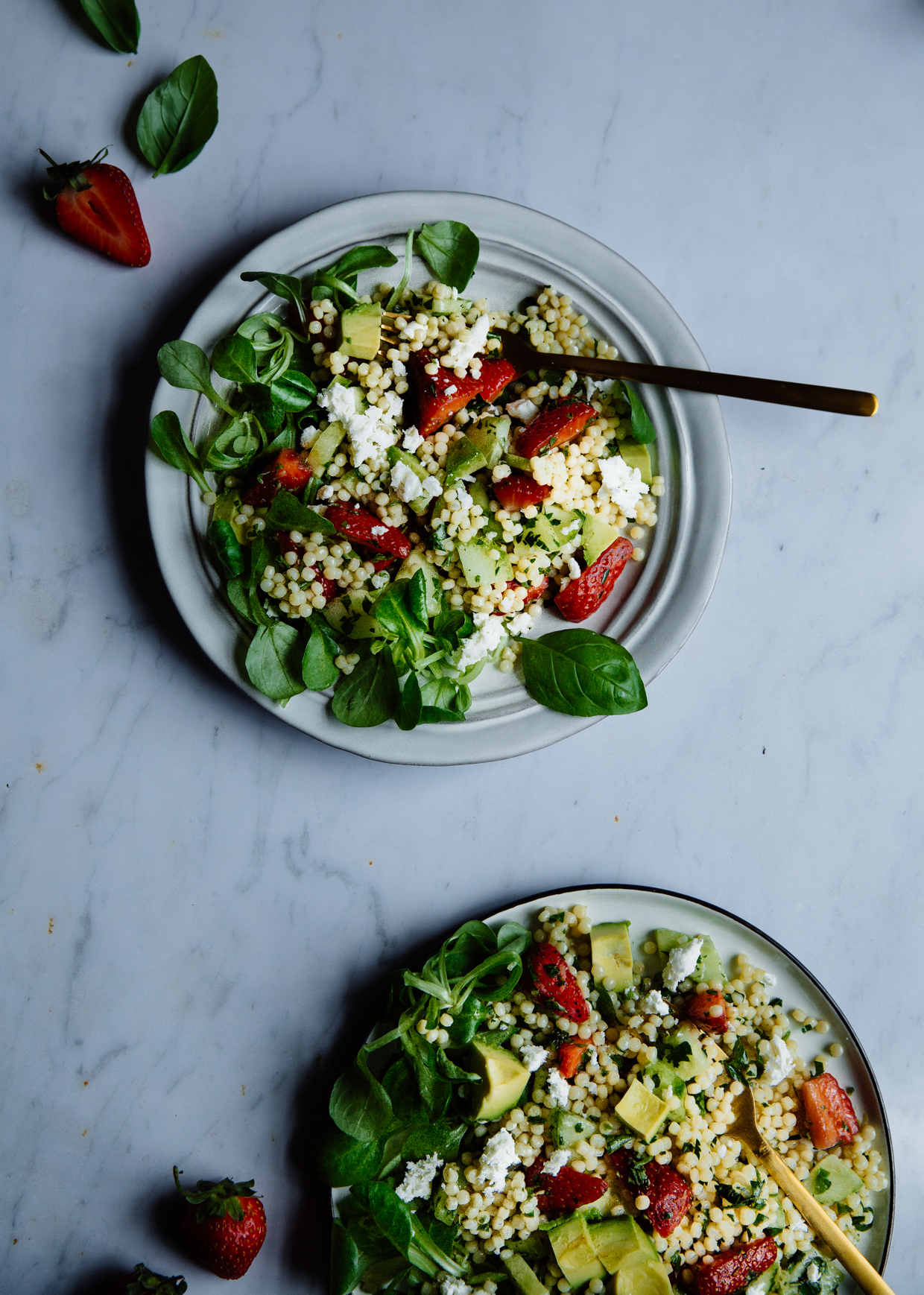 Hence this strawberry, avocado & cucumber giant couscous salad: you only need the freshest ingredients and a quick shake of a jar and you've got a colourful, delicious little feast. I paired all the freshness with giant couscous, because I love its wholesome texture and lovely bite it adds to dishes. Also, lots of fresh herbs, as they will indeed elevate the mild cucumber, sweet strawberries and buttery avocado with lots of flavour and aroma. And instead of finishing everything off with just extra virgin olive oil, I added a splash of white balsamic as well- I've been almost obsessed with it lately, adding it to nearly every salad I make, unable to get enough of its intense sweet sourness. I recommend you use it too, along with crumbs of good feta: it will absolutely be in great company with all the rest and you'll be absolutely happy with each bite.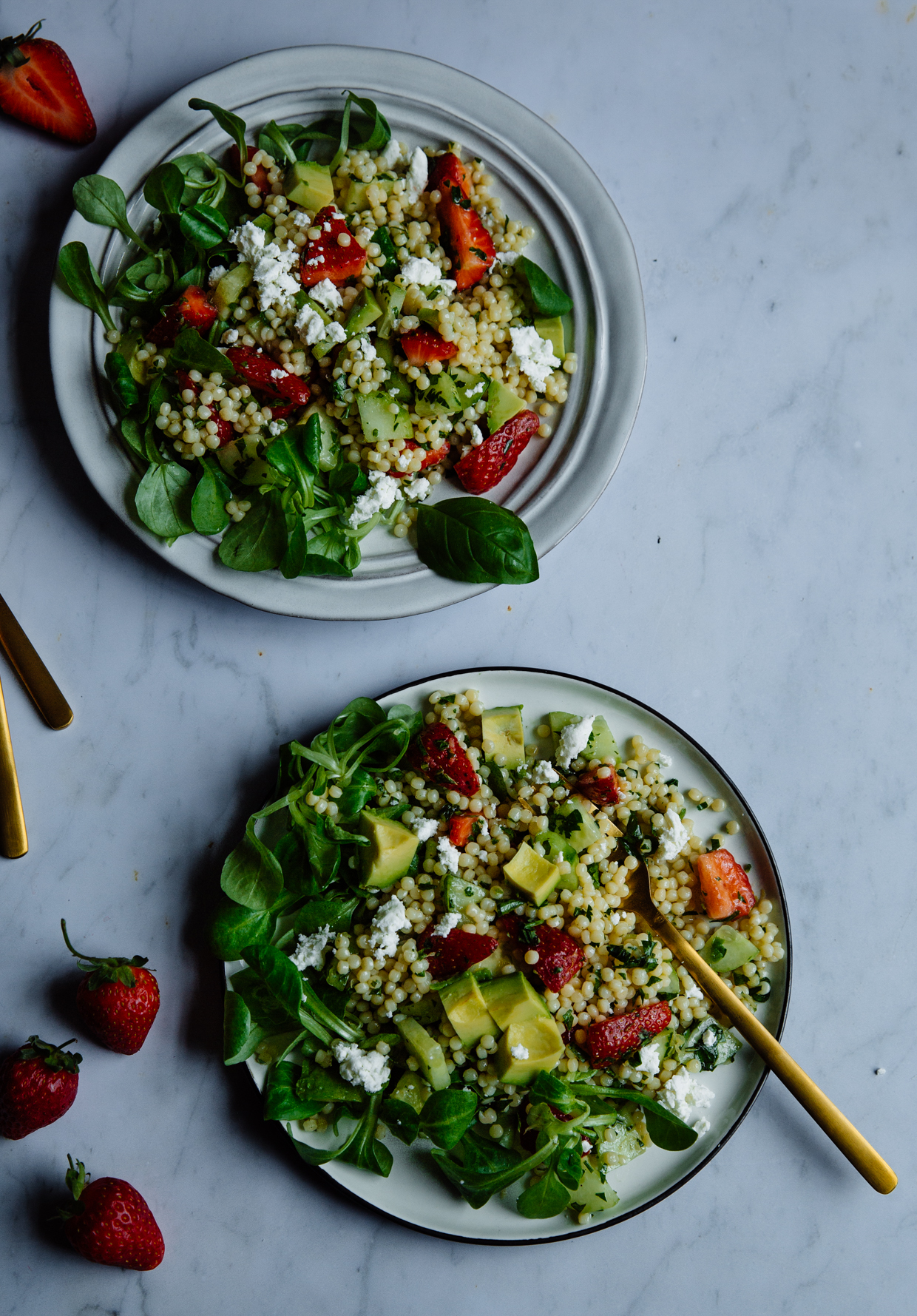 Strawberry, avocado & cucumber giant couscous salad
WHAT
250g giant couscous
200g fresh strawberries, washed, hulled and quartered
1/2 large cucumber, peeled and quartered
1 small bunch fresh parsley, finely chopped
1/2 small bunch fresh basil, finely chopped
1 ripe avocado, cubed
3 big handfuls lamb's lettuce
for the dressing:
50ml extra virgin olive oil
1 1/2 tablespoons white balsamic vinegar
sea salt flakes & freshly ground black pepper to taste
to serve:
70g feta, crumbled
HOW
Cook the couscous in plenty of water, drain and drizzle with a little olive oil. Fluff with a fork and set aside to cool completely.
Toss the strawberries and cucumber with the herbs and a little salt & pepper and, when the couscous is cool, toss gently to combine.
Divide then into four plates and add the avocado and lambs lettuce.
Place all the dressing ingredient in a small jar and shake to combine; taste and adjust the seasoning if necessary.
Dress the couscous salad and serve with the crumbled feta