A pea, pesto & egg salad with radishes & sourdough as colourful as spring and as beautiful and fresh as the seasons inspires.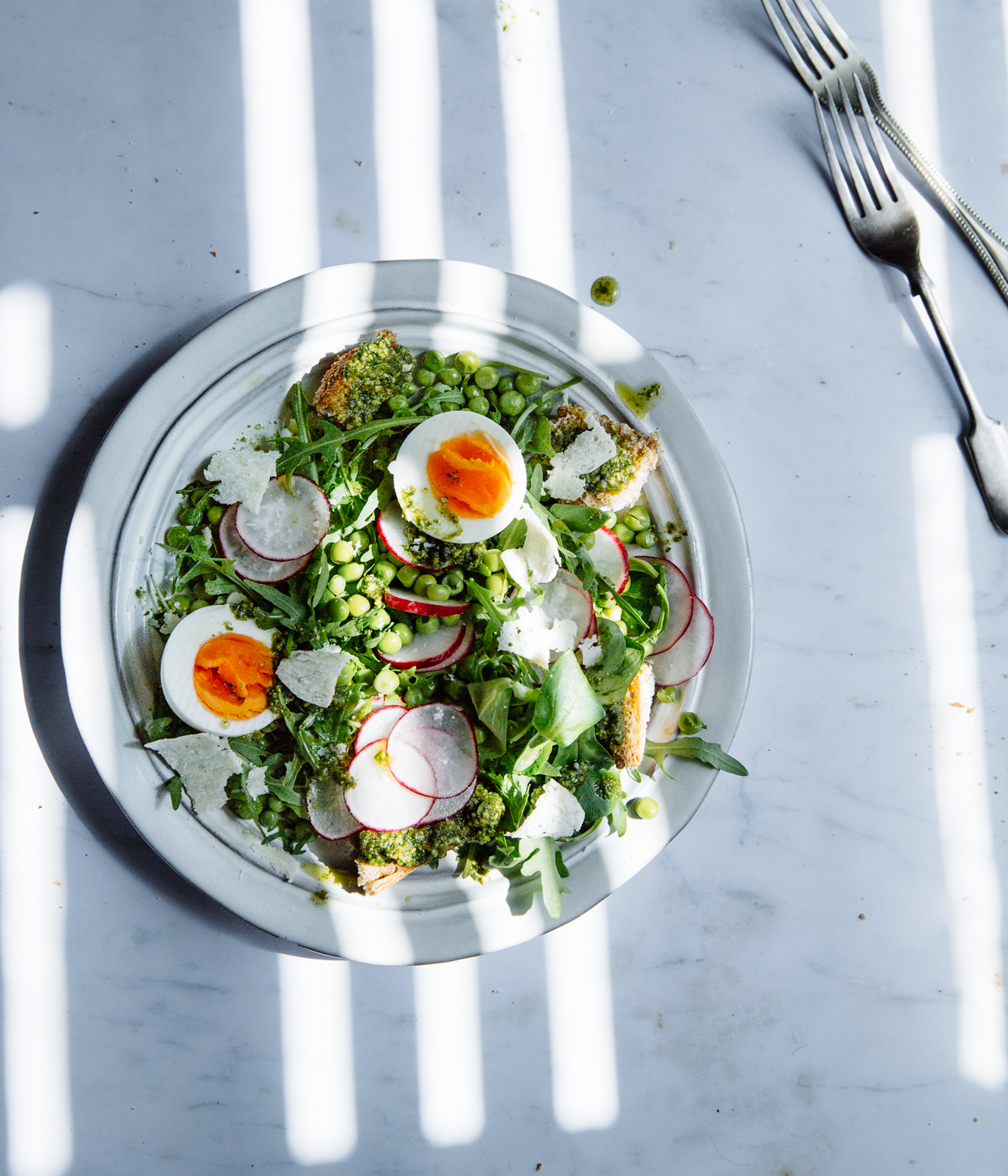 Somewhere between spring and summer (as it usually is the case in London- the weather jumps from winter to blasting heat and back again and again), I find myself overwhelmed, inspired, too hot to cook, too enamoured with all the beautiful fresh produce available (strawberries! asparagus! baby potatoes! peas!) to choose. In the last few days, I've been mostly gravitating towards tartines, eggs and salads; some are simple and hastily tossed together with extra virgin olive oil, a touch of balsamic and fresh torn basil. others are a tad more elaborate, still however following my basic rule for spring and summer cooking- and eating: spend as little time in the kitchen, and especially over a stove- as possible.
So fresh peas, barely cooked, hard boiled eggs, fresh greens for a bright green, salty pesto and for the salad too and peppery, firm pink radishes. You toss, you grill or toast a couple slices of good sourdough and shave some extra parmesan, you eat.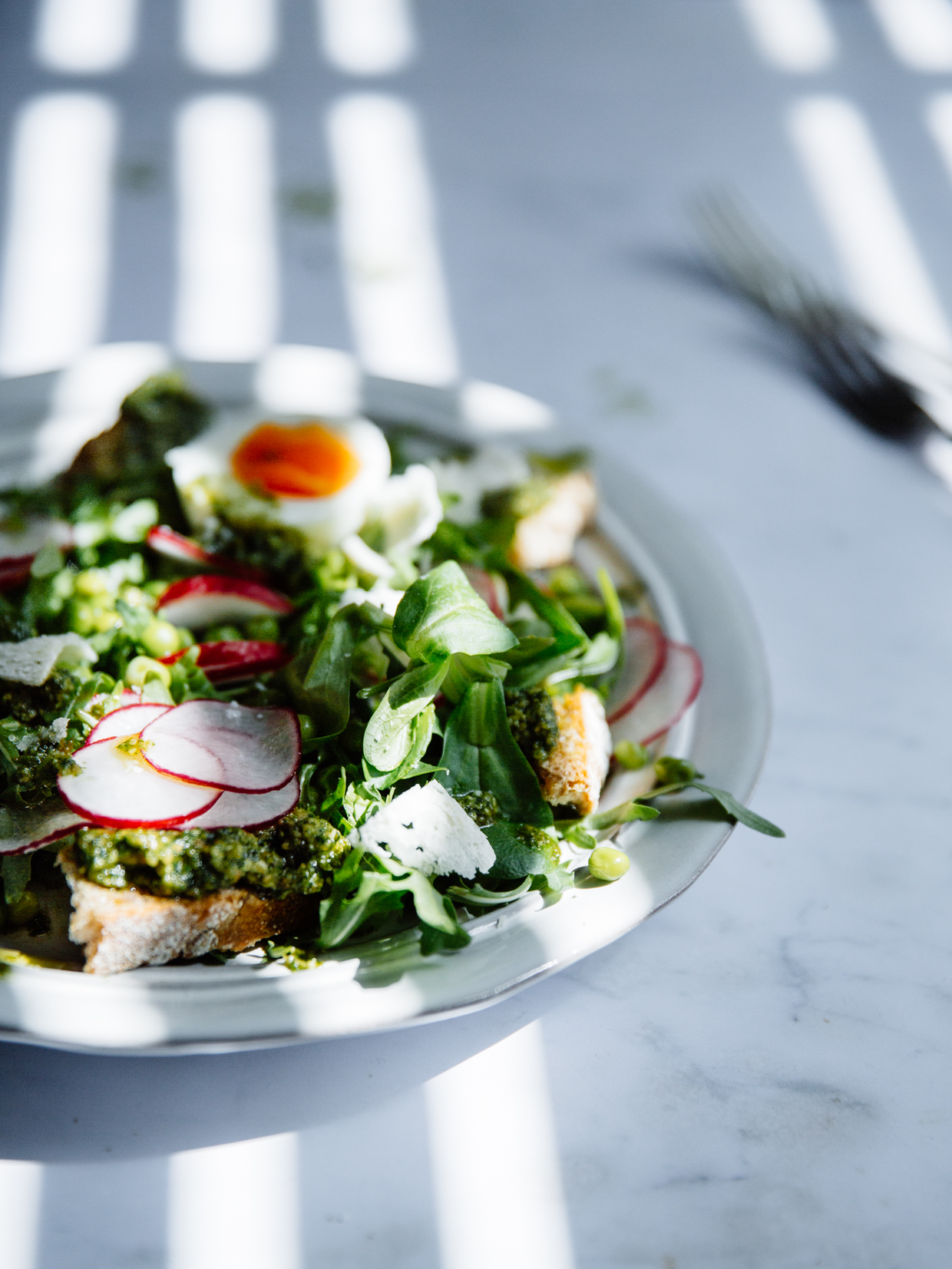 What I mostly love about this is that it can be done so that it keeps giving: boil more eggs and keep well covered in the fridge (eggs are impressively versatile) and the same goes for the peas too- drain and add to omelettes or mash them to top toast. You can also double the pesto recipe and keep either in the fridge or freeze- I always do and I'm always thankful afterwards; it doesn't take long to make, but I find myself especially happy knowing there is a jar of homemade pesto at hand.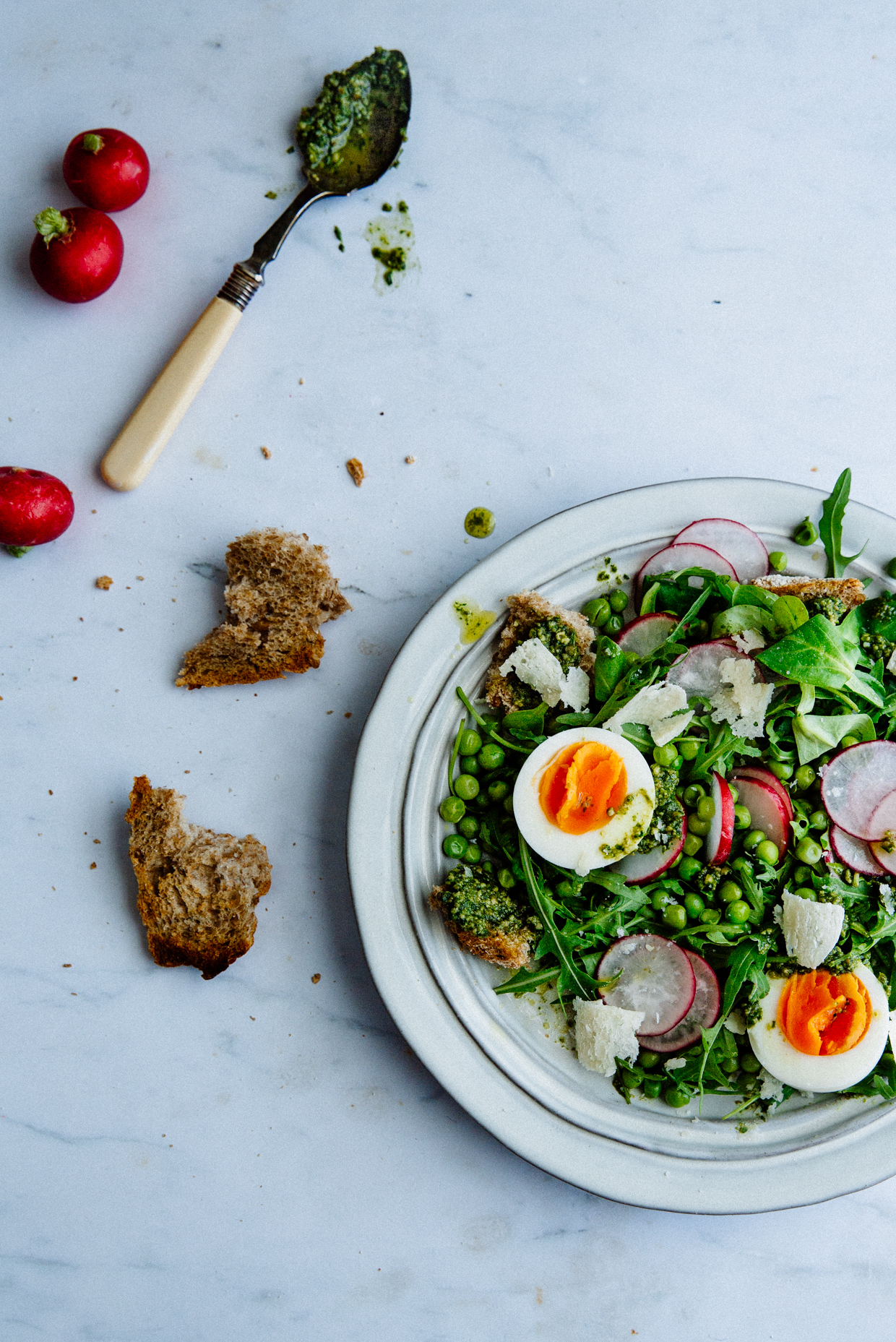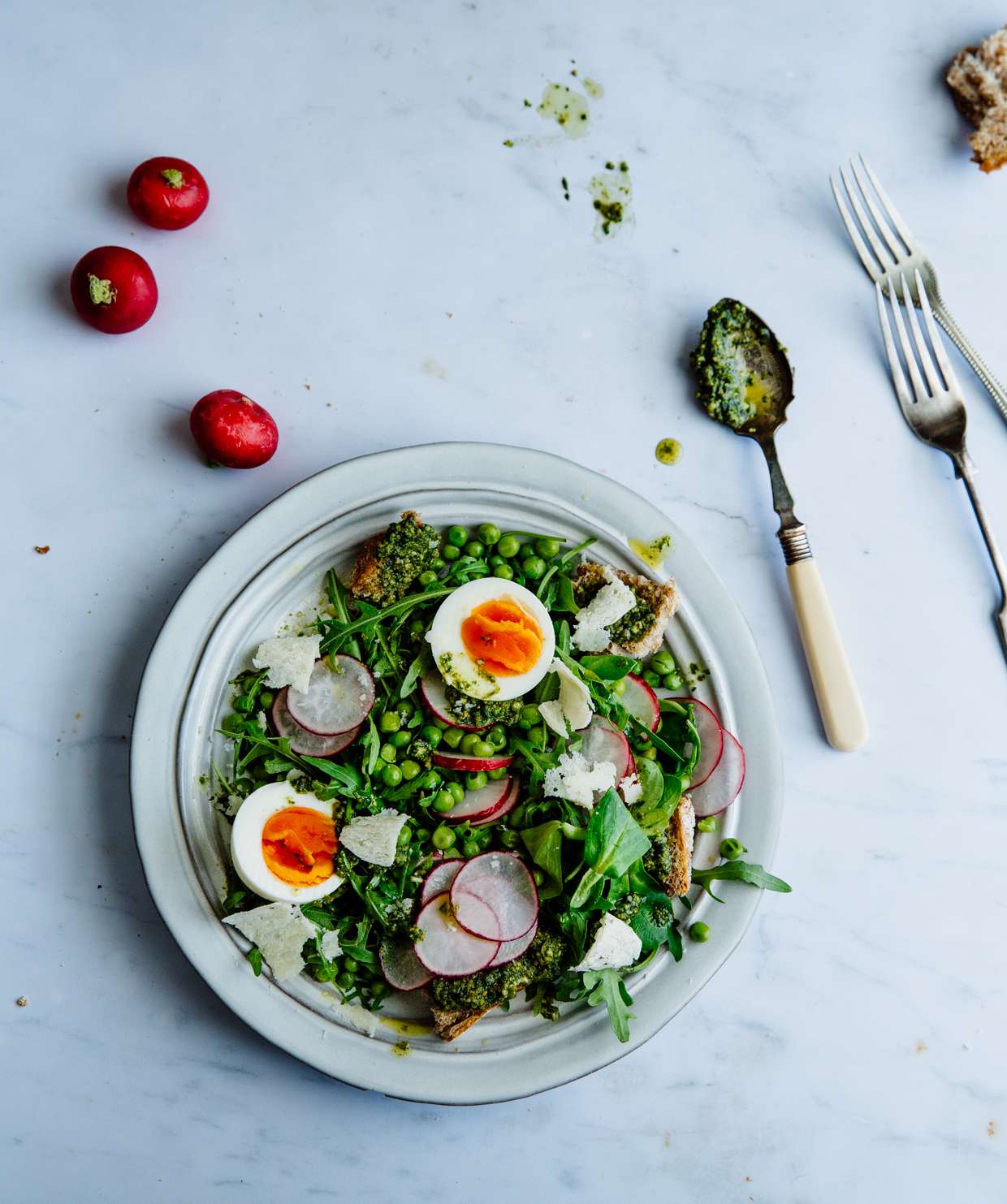 Pea, pesto & egg salad with radishes & sourdough
WHAT
for the pesto:
40g greens (I used mostly basil and then a handful of the greens used for the salad too- see above)
25g pine nuts
50g parmesan
1 garlic clove
100ml extra virgin olive oil 
for the salad:
about 120g fresh peas
2-3 medium eggs
6 radishes, washed and thinly sliced, ends discarded
1 packed cup fresh greens (rocket, watercress, pea shoots)
2 large slices of sourdough, grilled and torn to bite-size chunks
freshly ground black pepper
sea salt flakes to taste
2 tablespoons extra virgin olive oil
shaved parmesan
HOW
To prepare the pesto, place everything but the olive oil in a food processor and run until a rough paste forms; while the food processor is running, add the olive oil very gradually. Taste and adjust everything to your liking- you may need a pinch of salt, extra garlic or more oil – depending on the consistency you prefer.
Bring a small sauce pan filled with water to a boil, add the peas and cook for 3′. Remove with a slotted spoon, add some salt and set aside.
In the same water, add the eggs and cook for 8′; remove and immediately put in a bowl with ice cold water. Leave there until ready to use.
To assemble the salad, smear about a tablespoon of the pesto on the bottom of each plate and top with a handful of fresh greens on two plates; scatter the peas and sliced radishes; peel and half the eggs and add those too, along with the sourdough chunks.
Finish off with a couple dollops of the pesto, pepper and salt (if needed- remember the pesto will be salty enough), a good drizzle of extra virgin olive oil and parmesan shavings.