A light and fluffy blueberry, basil & lime yogurt cheesecake, made with cottage cheese, yogurt and the pretties blueberries.

I spent many of my teenage years dreaming of making the perfect cheesecake; the inspiration was Miranda, a friend of my parents. Everything she made, and still makes, was delicious, beautifully presented, utterly satisfying and warming, the way only a meal made with lots of love and attention can be. My favourites were her cheesecake and tiramisu. I marvelled at them for years, their perfect shape, layers of goodness and flavour- my god, so much flavour!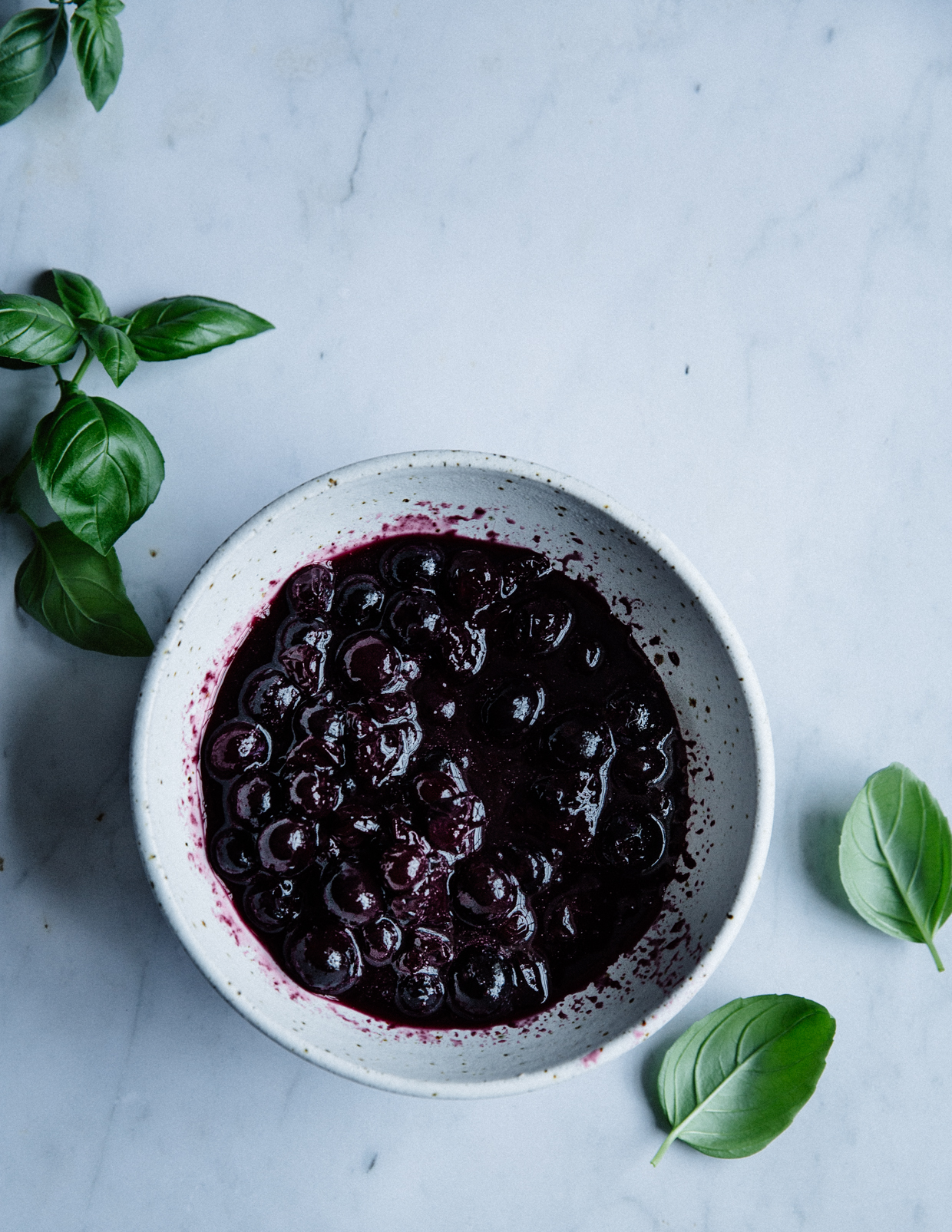 I was not really cooking at the time, yet fancied my self a cook, just because I'd occasionally enter the kitchen a little arrogantly (mostly terrified) and try to mimic my mother's improvising skills. Still, I was constantly reading cookbooks and gathering recipes, dreaming of beautifully laid tables filled with my favourite dishes. Miranda was always happy to share her recipes and tips and I, being the somewhat lazy and mood-swingy teenager that I was, gave the cheesecake a try once, failed miserably while improvising half of the steps and never tried again.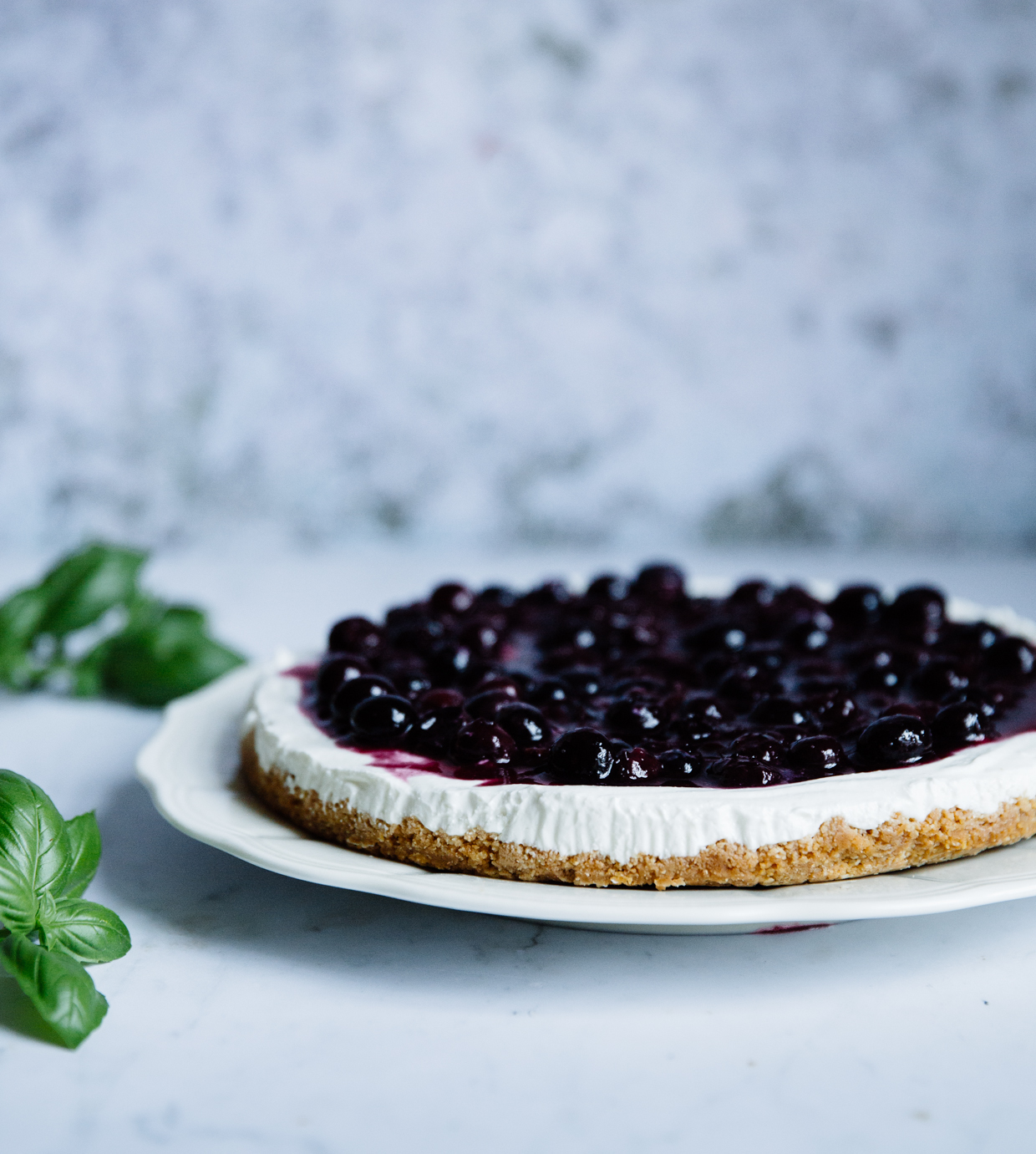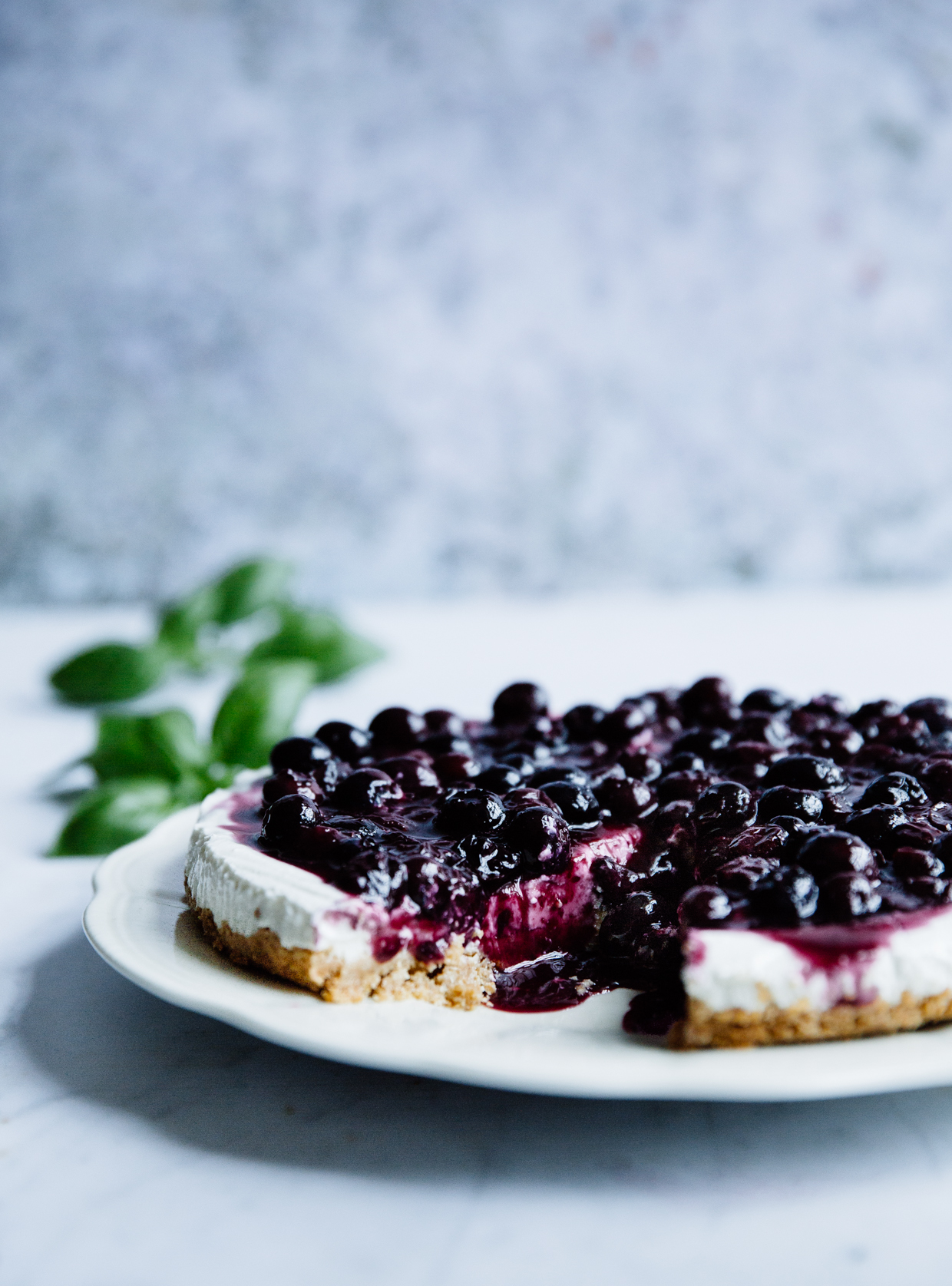 Still, my love for cheesecake never ceased, partly because that iconic one meant much more than flavour and presentation. I had kept Miranda's recipe, yet didn't make a cheesecake for years, in fear of not being able to replicate hers. It was however not really fear that stopped me, as I realised not long ago: that cheesecake was for me an innitial realisation of the kind of cook I wanted to be and the kind of meals I wanted to make. Somewhere between Miranda's desserts, my mother's cooking and my parents' dinners, between the meals I actually experienced and the ones I fantasised about, I came to slowly understand my love for food.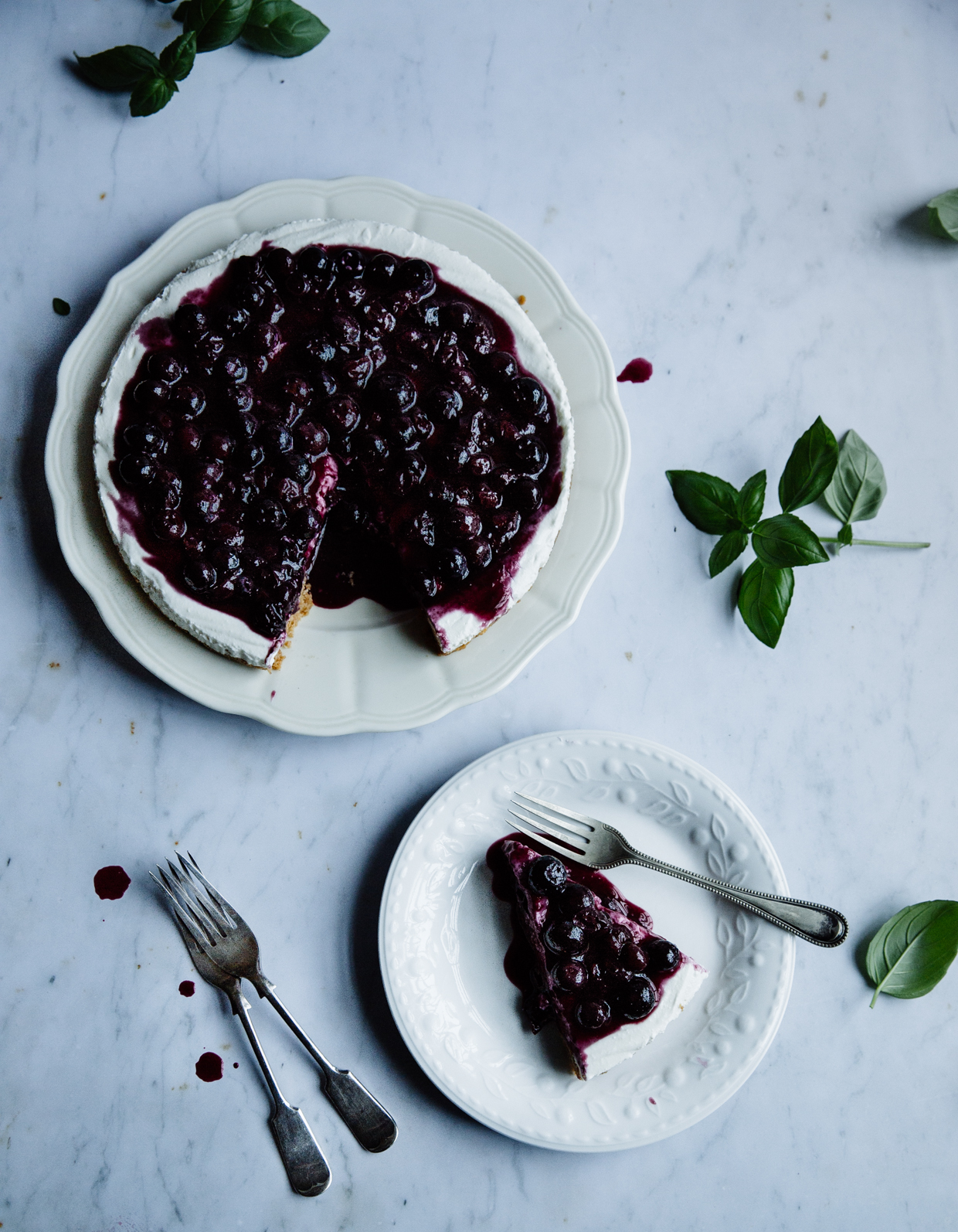 I never made Miranda's cheesecake before; on purpose, I've experimented with all sorts of recipes and different versions, and a couple years back, I shared my own here. I still love that one very much, yet this blueberry one, a slight variation, feels more fresh and light, but equally delicious and satisfying. Use the best ingredients you can find, you'll taste the difference in every bite. And share it, it's meant to be shared, like all homemade desserts, not least because of all the memories they will hopefully create.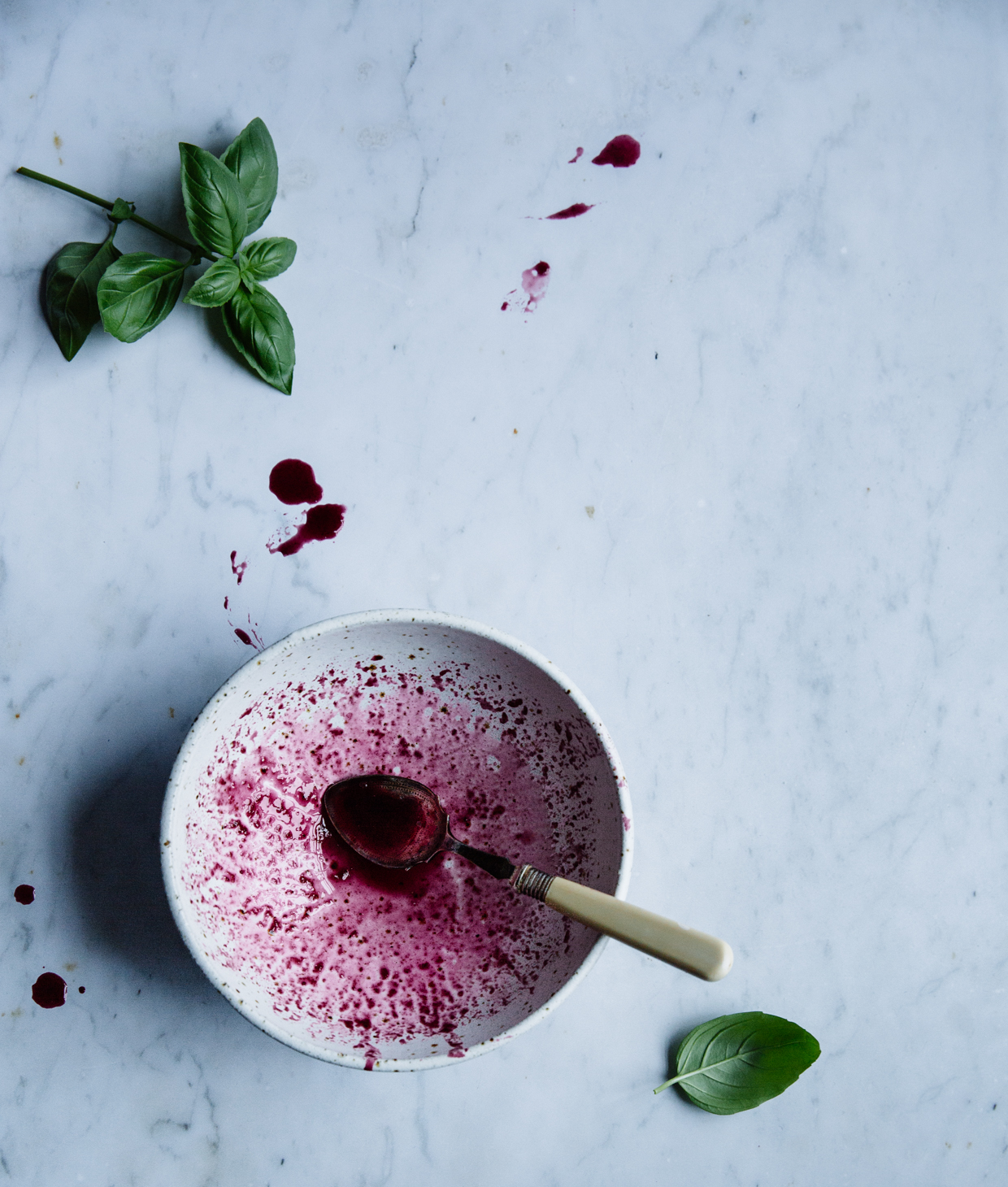 Blueberry, basil & lime yogurt cheesecake
WHAT
200g digestives
65g ground almonds
80g coconut oil, melted (and extra for the pan)
500g cottage cheese
200g  5% Greek yogurt
40g honey
300g blueberries, washed and divided
2 tablespoons petimezi (grape molases)
2 sprigs fresh basil
1 large strip lime zest
HOW
Preheat the oven to 150ºC (130ºC FAN); line the bottom and sides of 20cm round springform pan with parchment and grease with some coconut oil.
Place the digestives in a food processor and pulse to fine crumbs; place in a bowl, add the almonds and the melted coconut oil and combine.
 Press into the bottom of the tin and bake for about 15'. Set aside to cool completely.
Give the food processor a quick wipe and spoon in the cottage cheese, yogurt and honey and pulse for a few minutes, until smooth.
Spoon over the cooled base and refrigerate overnight, or for at least 3 hours.
To make the blueberry topping, place half of the blueberries in a small pan, along with the petimezi, basil and lime zest, and simmer over low heat for about
Remove from the heat and discard the basil and lime zest. Add the remaining blueberries, combine and set aside to cool completely.
When completely cool, spoon over the set cheesecake and refrigerate for another hour or so, before slicing and serving.