These simple and delicious baked chickpeas with capers, olives & orange only need friends to share with and lots of crusty bread.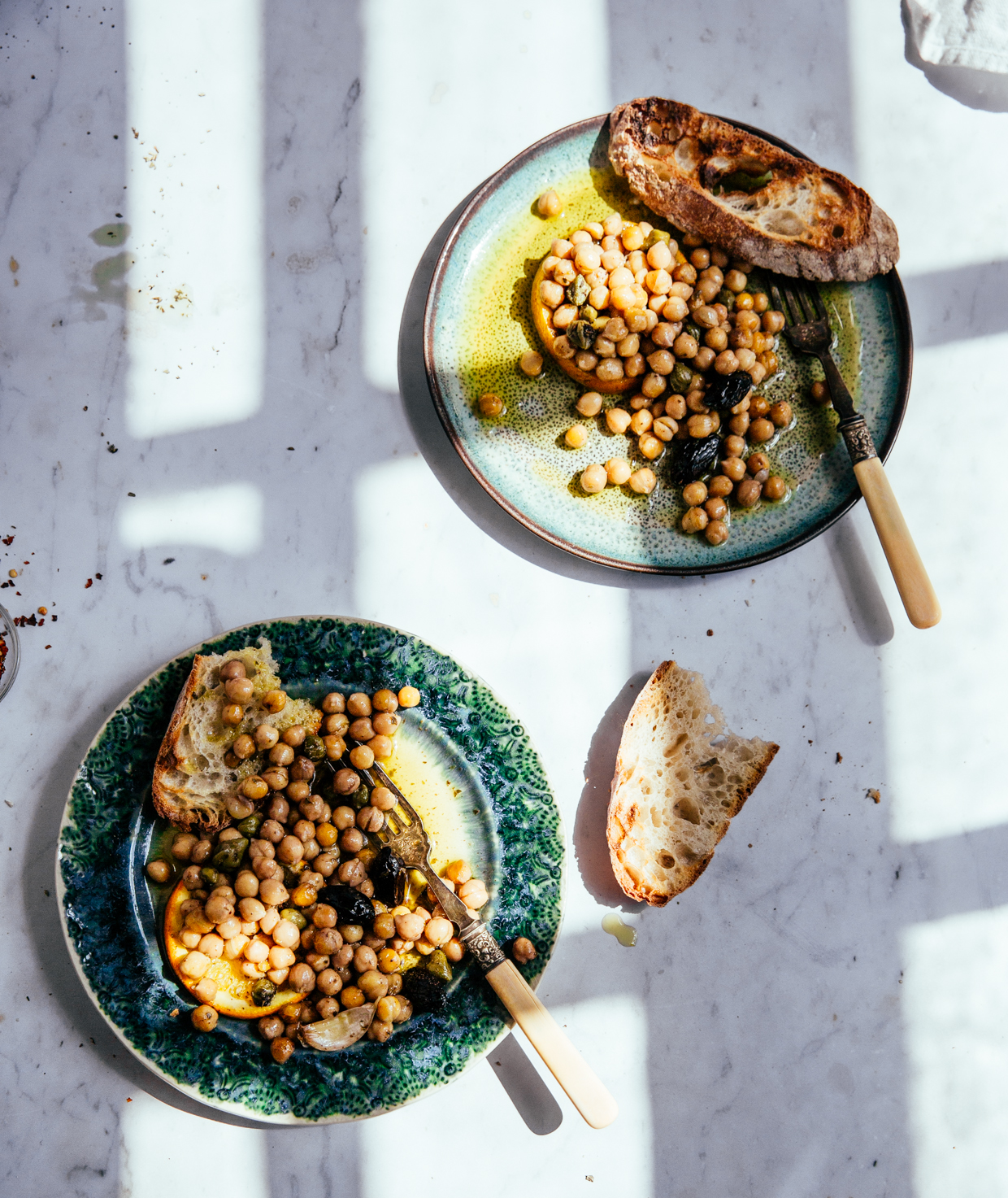 Of all pulses, chickpeas are easily my favourites. Their smooth taste makes them irresistibly versatile and a great addition to so many dishes from silky
hummus
and
veggie burgers
to chunky
soups
and fragrant
curries
. Possibly my favourite way to cook them has been tossing them with olive oil, lots of spices and herbs and cook until very
crispy
and utterly irresistible. Like so, they add texture and lots of flavour to fried eggs and veggie wraps- though to be honest, I mostly just eat them straight from the pan, while they are still almost too hot to touch.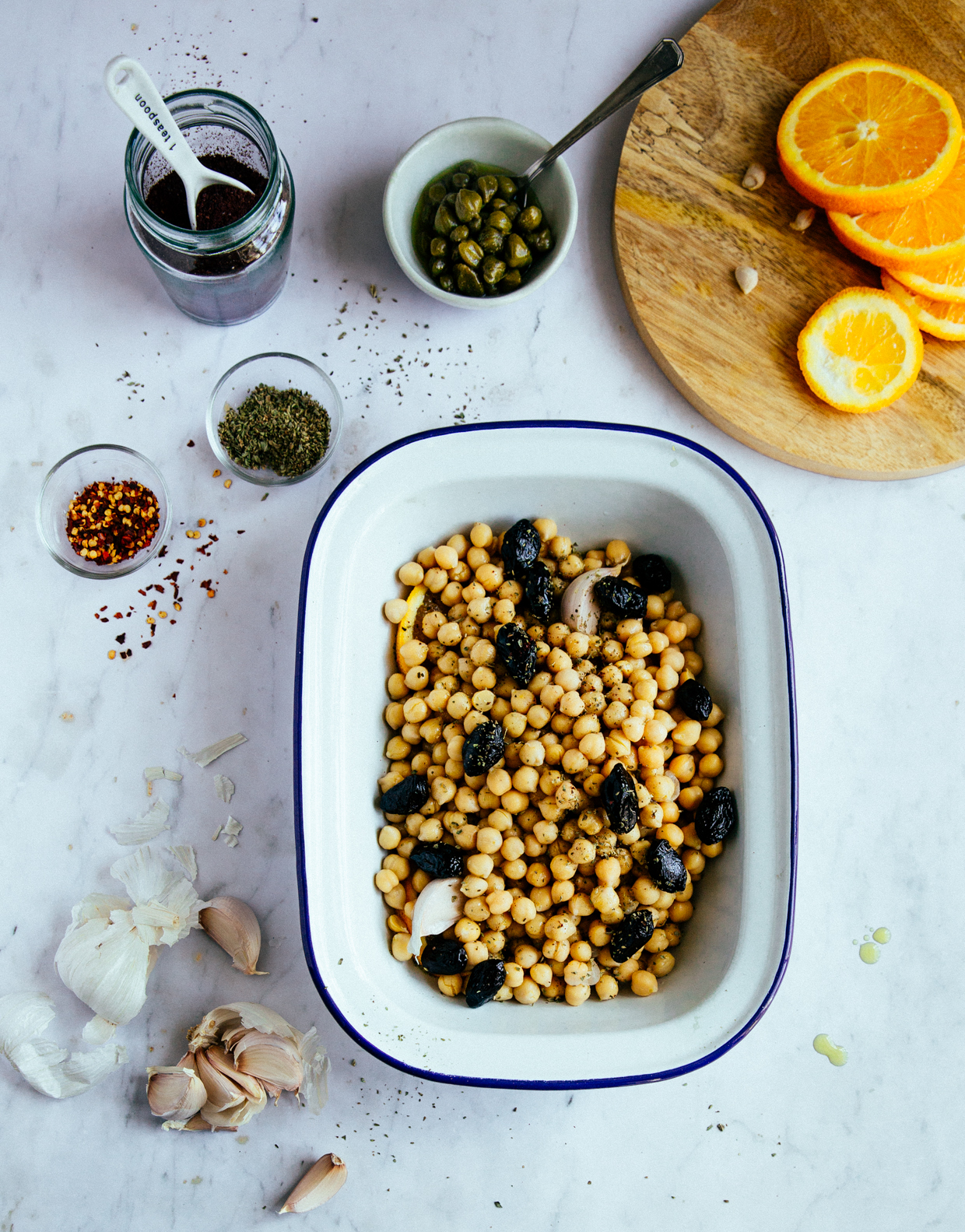 This version started from
here
: the combination of black olives and orange is a long time favourite and I've been wanting to add it to a hot dish for a while now; also, 
this dish
from Food52 helped a lot, as did the chickpea stew my mom often makes- I've had it way too many times as a teenagers, always nagged about it but still devoured it every time and asked for seconds too.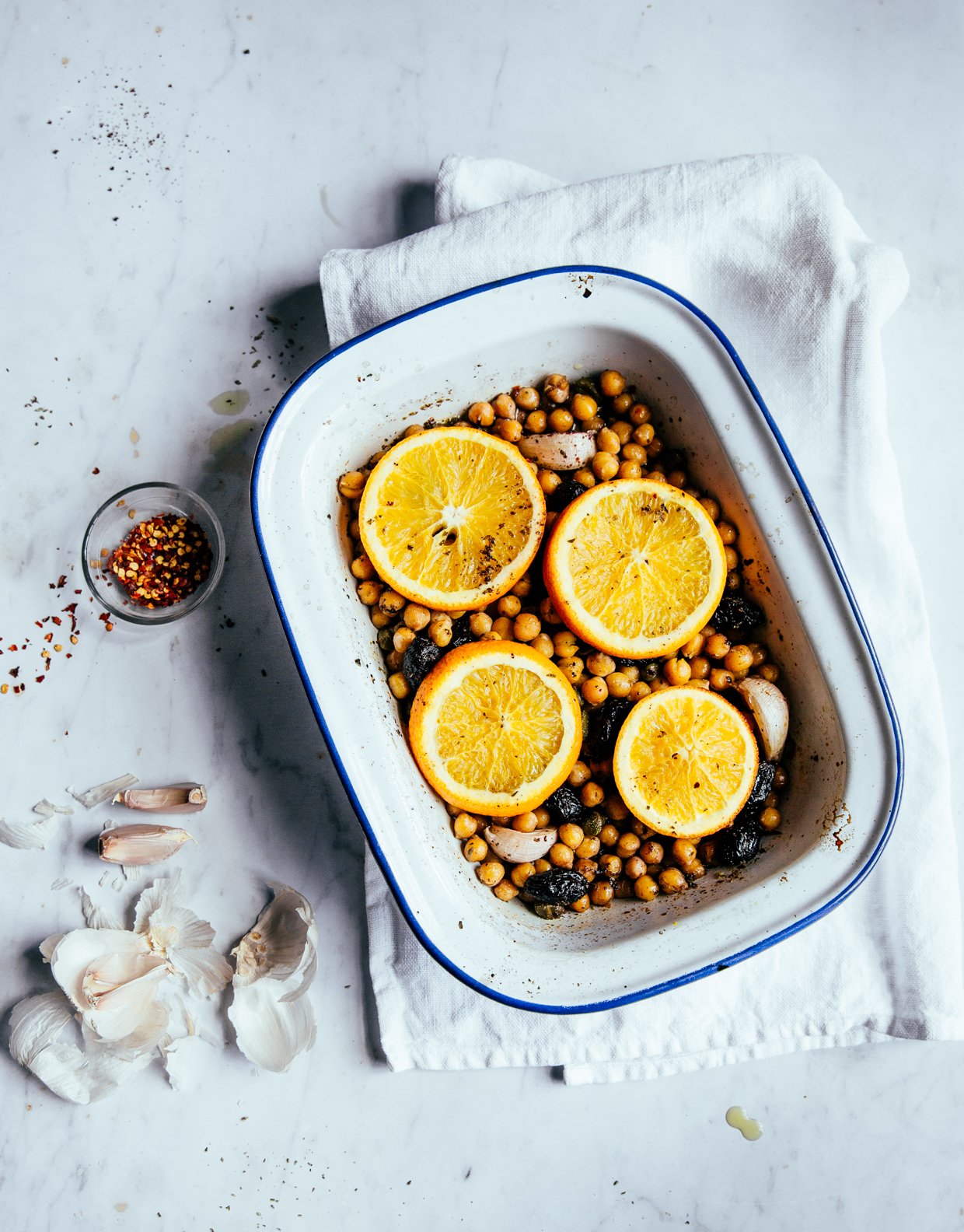 You can't wrong with these baked chickpeas and you can probably get away with not measuring pretty much anything to be honest. Use good quality olive oil and dried herbs and choose olives with the pit on (always!) and preferably capers from a good deli, so they are not small, too sour and kind of flavourless* – the whole dish depends on them, so use the best you can get. Other than that, it's such a rustic, easy and humble dish, which is what I so love about it. It's possibly my favourite way to cook, especially for others, as both the process and the end result are utterly satisfying, relaxed and unpretentious. And of course you can never go wrong with a dish that requires lots of crusty bread to scoop up juices with.
* I always buy olives and capes (among other things) from Oliveology, as they are truly delicious and sourced from independent farmers from all over Greece.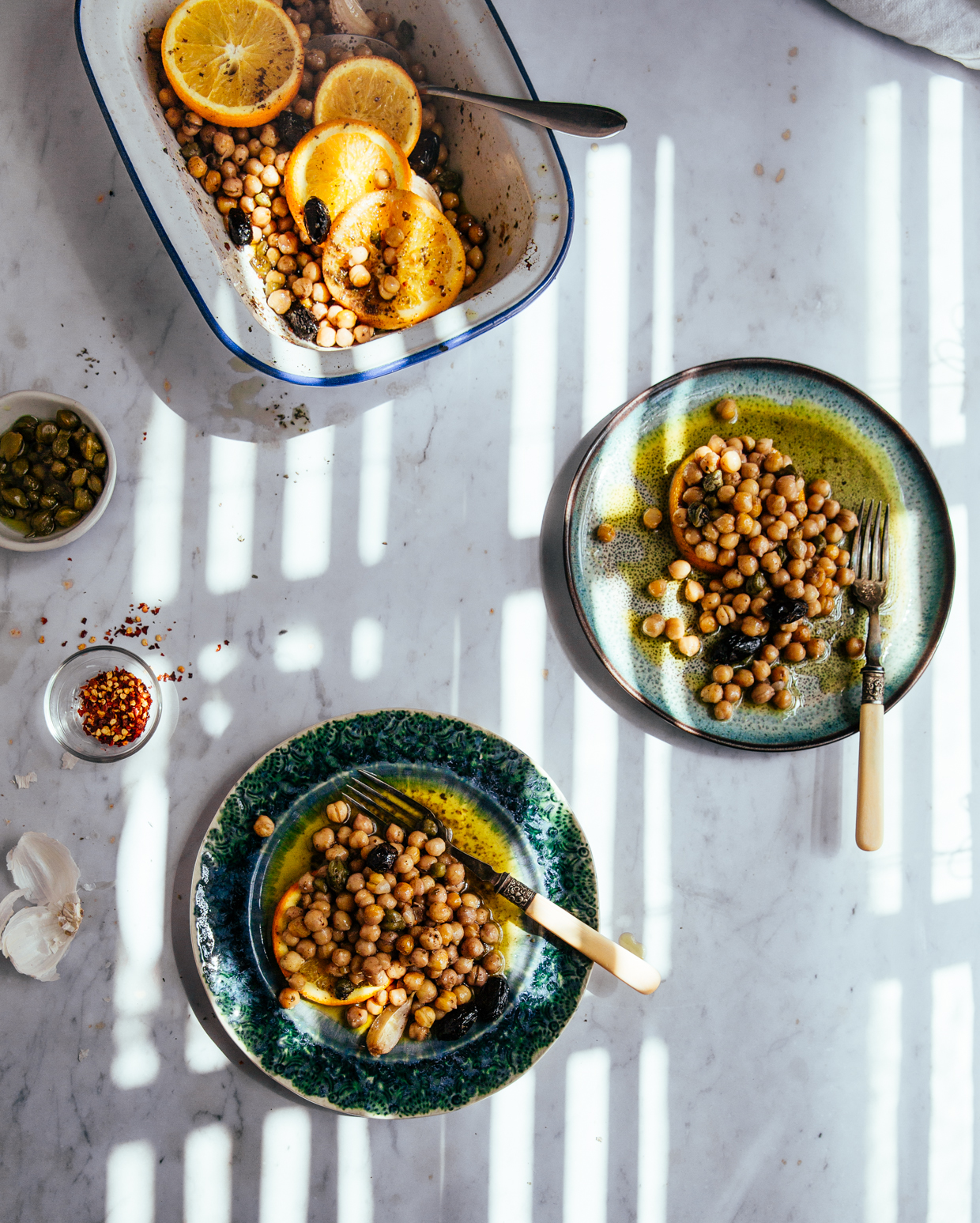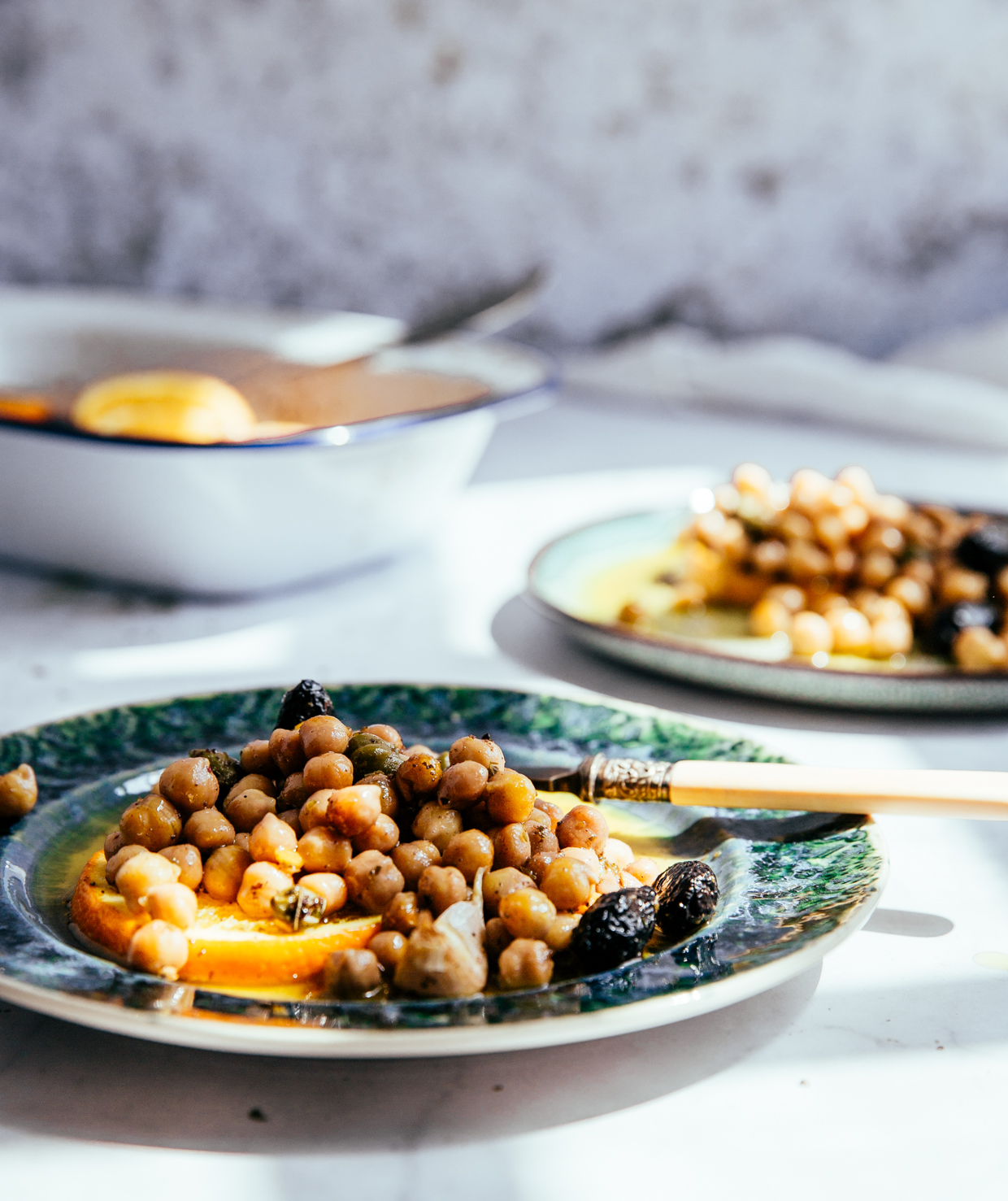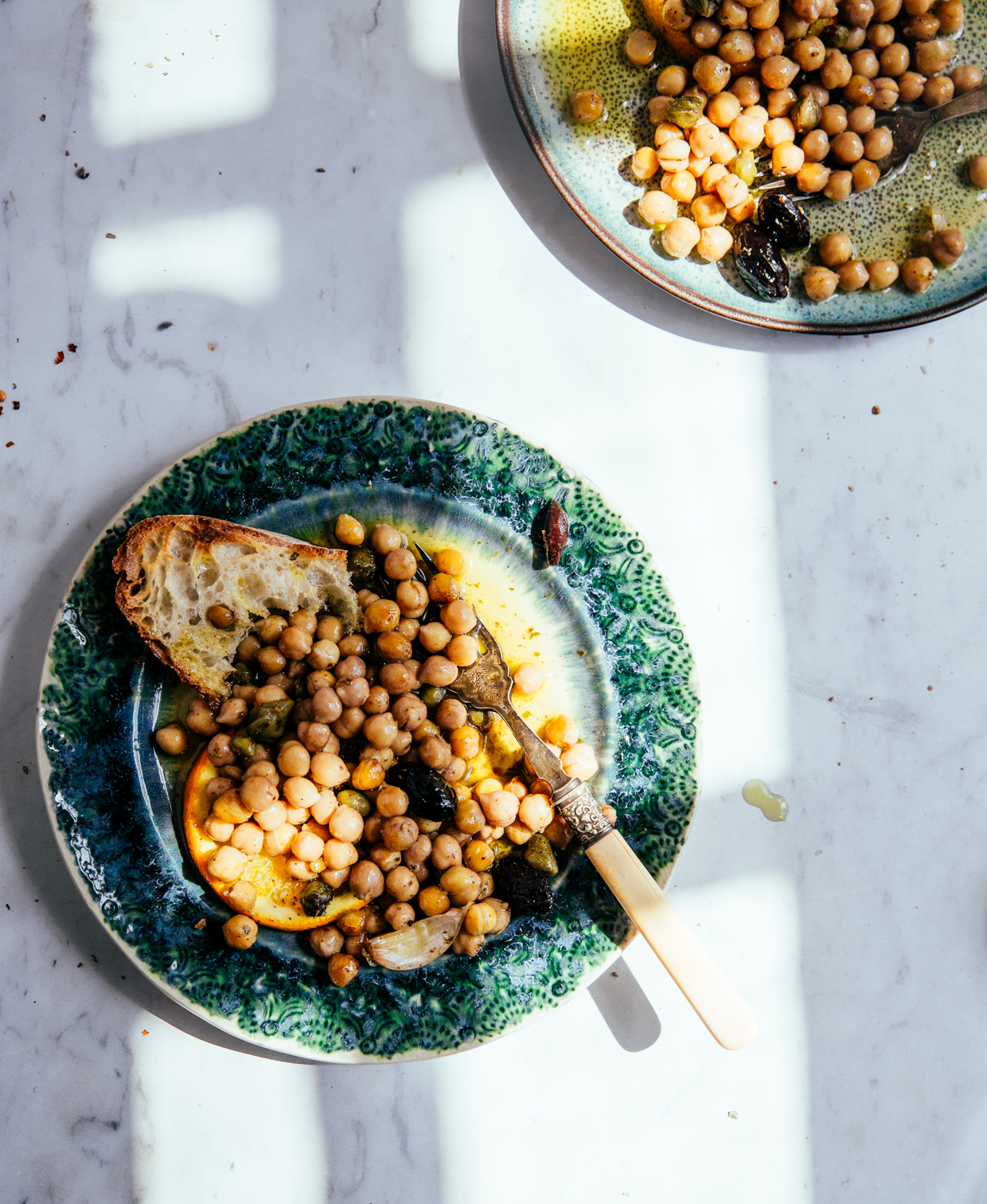 Baked chickpeas with capers, olives & orange
WHAT
1 large orange, washed and sliced
2 cans chickpeas, rinsed
15 small black olives
1 1/2 tablespoons capers (try one, you may need to rinse them)
4 medium garlic cloves, skin on
1 teaspoon dried oregano
1 teaspoon sumac
scant 1/2 teaspoon chilli flakes
1/2 tablespoon honey
175 ml olive oil
sea salt & freshly ground black pepper to taste
HOW
Preheat the oven to 190C (170C FAN).
Arrange half the orange sliced on the bottom of a baking dish.
Combine the chickpeas, olives, capers, garlic cloves, oregano, sumac and chilli flakes in a small bowl. Pour the honey and olive oil and toss well to combine. Add salt and pepper, toss well, taste and adjust if necessary.
Spoon over the orange slices and top with the remaining slices.
Cover loosely with foil and cook in the preheated oven for 30'. Remove the foil and cook for further 5'.
Remove from the oven and serve with lots of crusty bread.