Enjoying the season's prettiest fruit with a delicious strawberry, coconut & lemon cake, dusted with way too much icing sugar.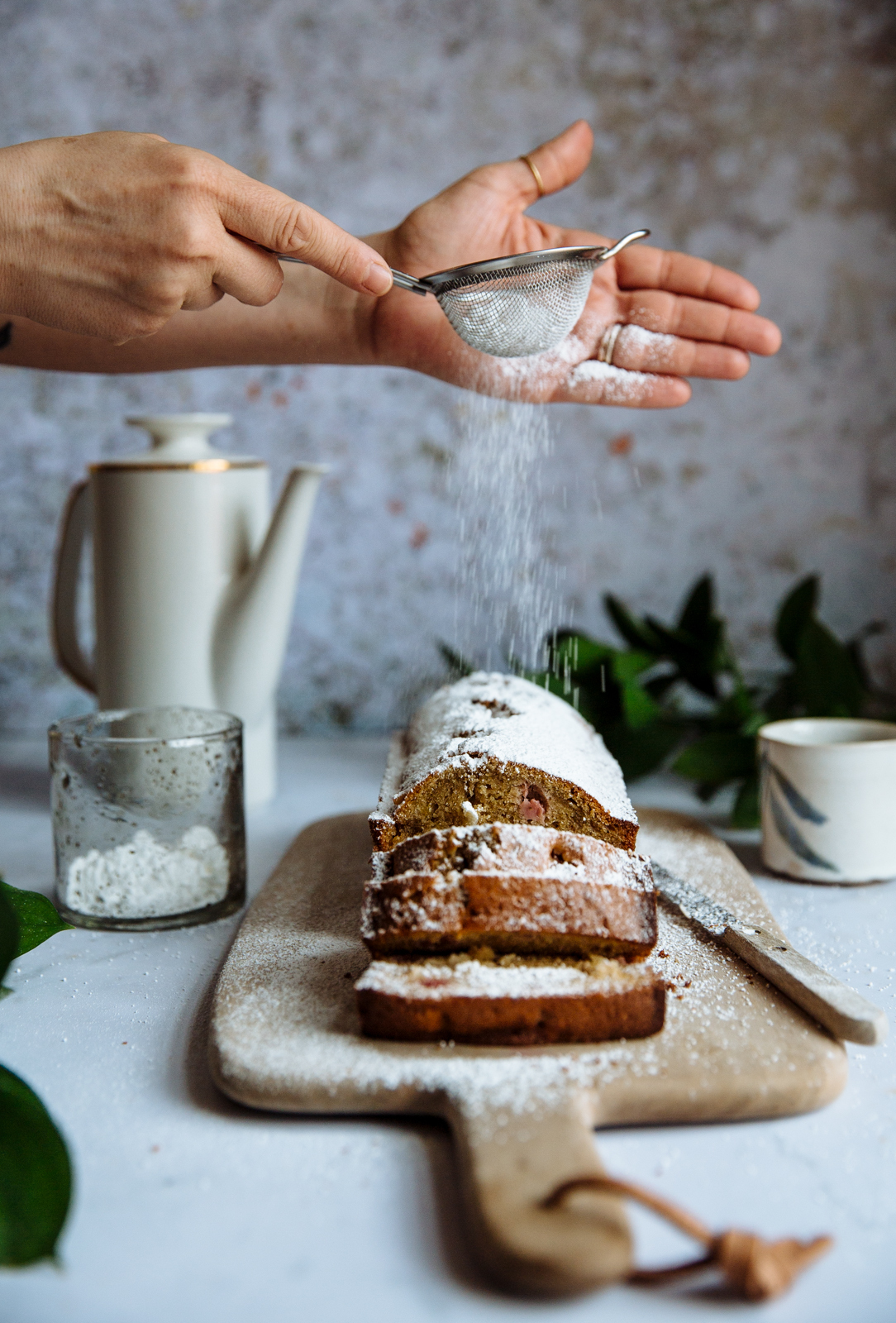 When I spot the first strawberries of the season, shinny, chubby and pinkish red, I can hardly contain my joy; as much as I love citrus and their juicy flesh and irresistible hues, strawberries for me signify the beginning of spring; they bring to mind sunshine and time spent outdoors, not to mention all sorts of delicious desserts. I cherish everything about them, from their beautiful colour to their taut sweet flesh, so I always first have them on their own, with a few drops of lemon juice. Then comes the baking.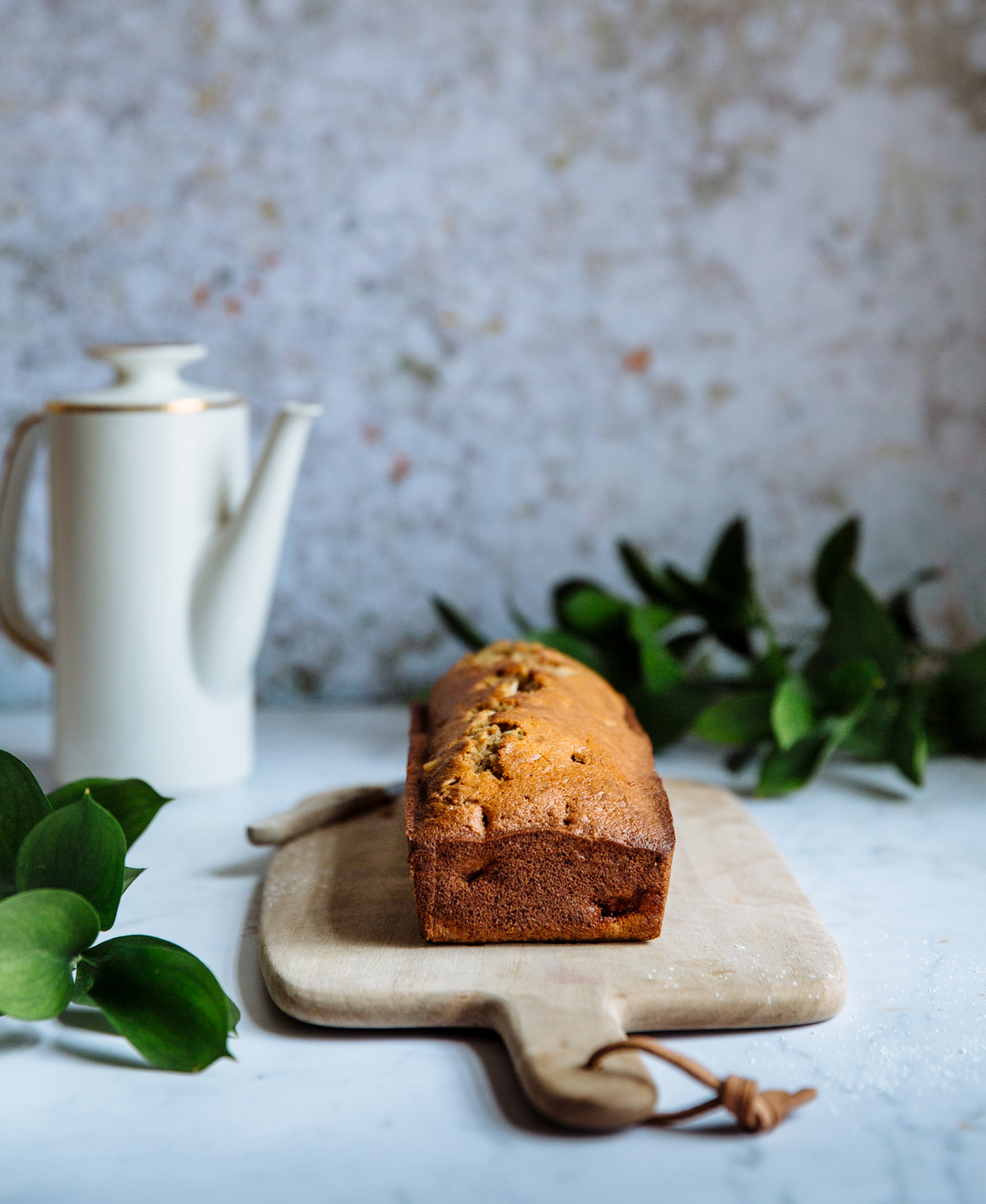 Versatile and not too strong in flavour, they love fresh herbs, lemons and limes and make a great addition to almost everything; here I layered them with crumbly, buttery shortbreads a a light mascarpone cream; they are also delicious tossed with juicy tomatoes and a drizzle of balsamic glaze, and they are always a good idea for an indulgent breakfast.
This cake is as easy as they come, yet may be one of my favourites: soft and moist, lightly sweet and very fragrant, it really is everything I like in a cake. The lemon zest, coconut oil and coconut flakes are great company for our strawberries, while the addition of yogurt adds to the smooth texture. You may want to serve this with vanilla ice cream or crème fraîche, but I think I prefer a simple dusting of icing sugar. There's something about a loaf cake with a white top which feels just right. Simple and right. A couple cups of good coffee or tea and a couple slices of strawberry cake and I'm happy. Hope you get the same pleasure out of it too.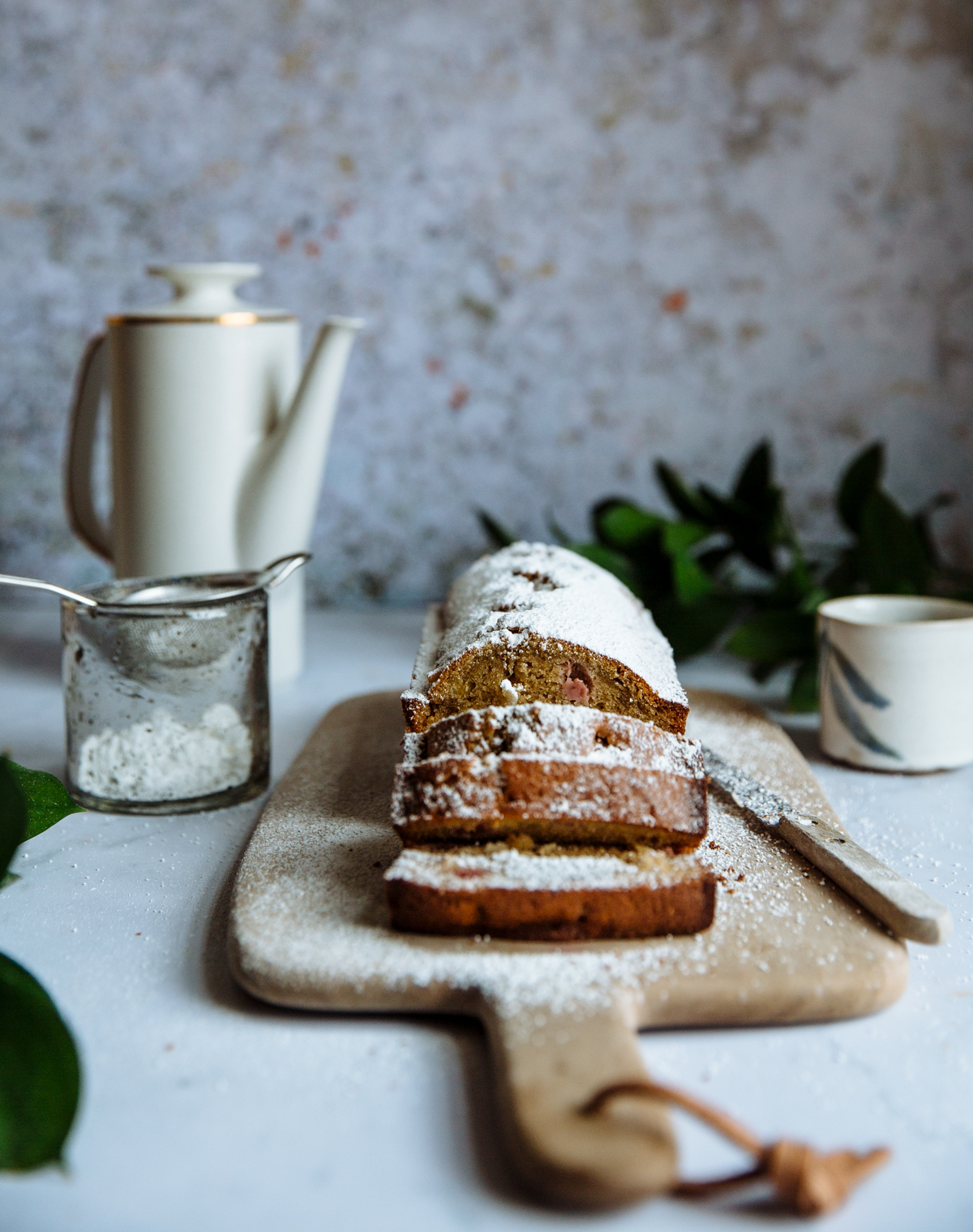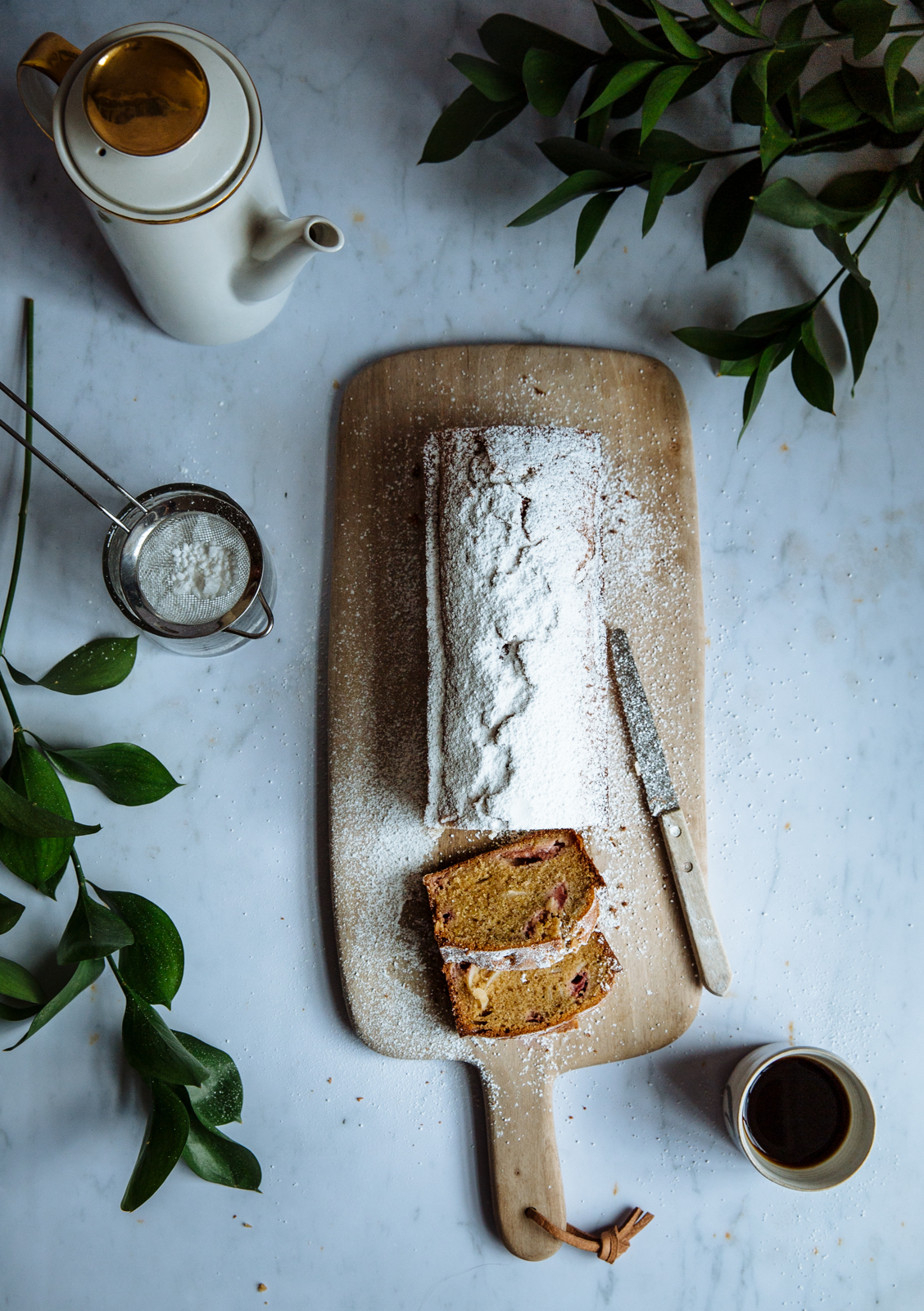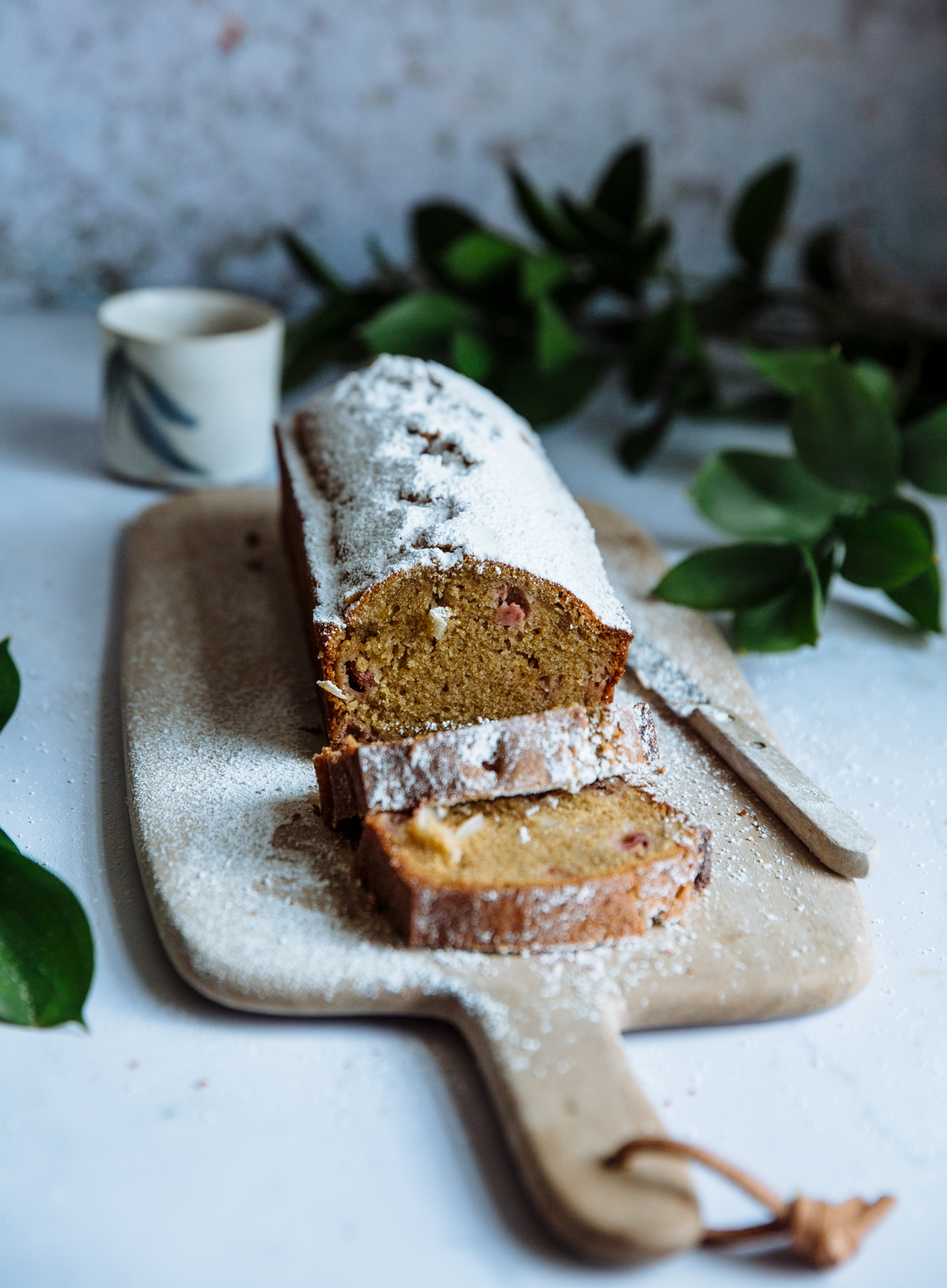 WHAT
175g soft brown sugar
4 medium eggs
170g coconut oil
zest from 1 lemon
3 heaping tablespoons low fat Greek yogurt
120g strawberries, hulled and roughly chopped
125g coconut flakes
240g all purpose flour
1 teaspoon baking powder
1/2 teaspoon salt
to serve: icing sugar
HOW
Preheat the oven to 170ºC (150ºC FAN) and line a large loaf pan with parchment paper (bottom & sides).
Beat the eggs with the sugar until light and fluffy; add the coconut oil and beat again to combine. Add the lemon zest, yogurt, strawberries and coconut flakes and fold to combine.
Combine the dry ingredients and add to the batter, beating just to incorporate.
Pour into the baking pan and bake in the preheated oven for about 45′, or until an inserted skewer comes our clean (if the cake begins to brown too quickly, cover loosely with foil and continue baking).
Remove from the oven and allow to cool for about 20′; remove from the pan by lifting the sides of the parchment paper and place on a serving plate.
Dust liberally with icing sugar and serve.