Generously flavoured with chipotle honey and herbs, these quinoa, red bean & mushroom veggie burger is delicious and a damn looker too!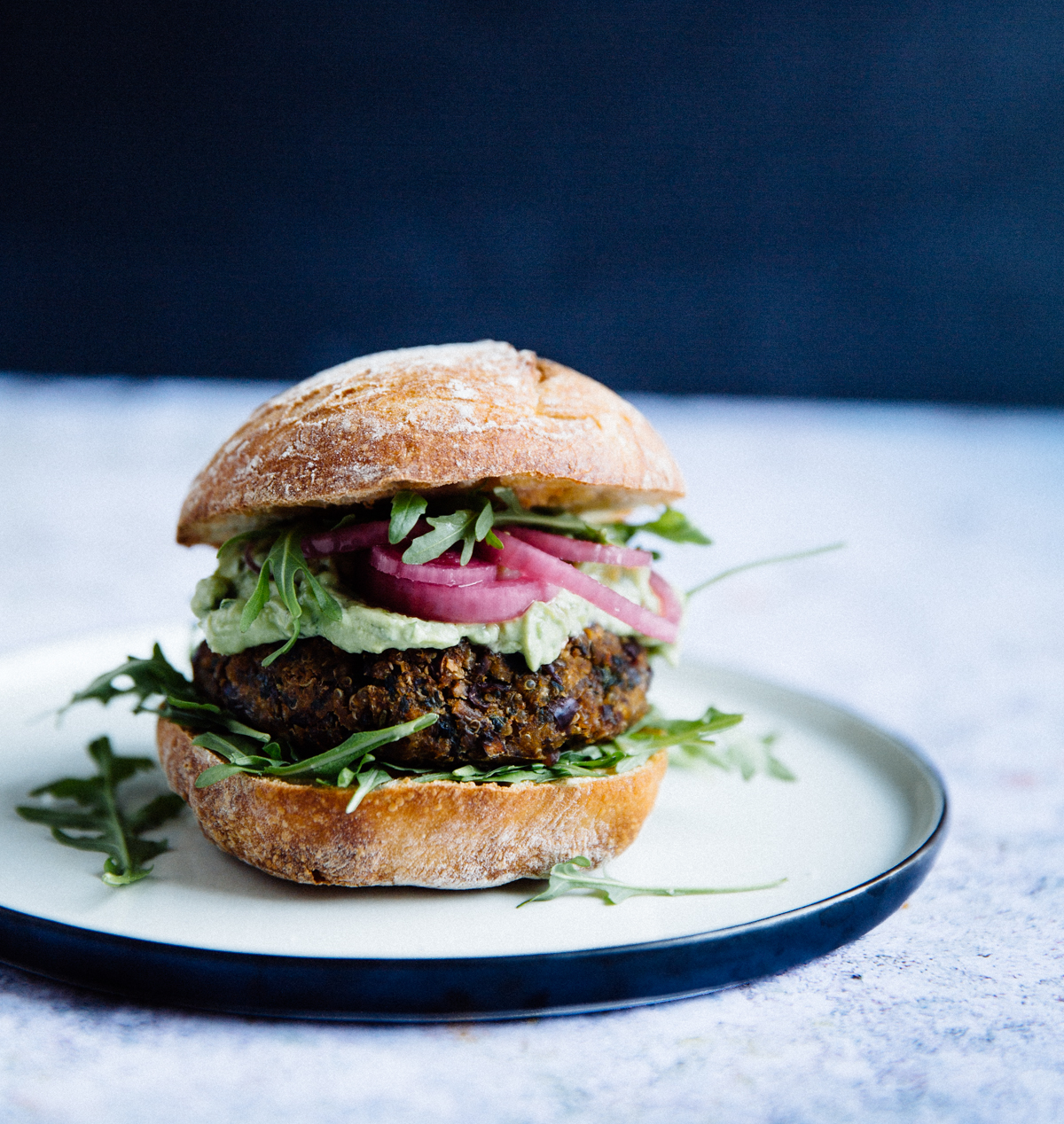 Inspired by the promises of delightfully warm, hot even, weather and bright sun at last, I'm sharing my favourite veggie budget recipe yet; as much as I love beef burgers, I so much prefer a veggie version: I find that there's infinite possibilities for improvising, adding a variety of ingredients, spices and herbs, depending on what I have at hand, cravings and flavour profile I'm after.
This time, the starting point was a deliciously fiery chipotle honey I have fallen hard for: more spicy than sweet, it pairs beautifully with red meat and works wonders in a chicken marinate too. It's also the perfect addition here, alongside quinoa and kale (which I've used in veggie burgers before), sautéed chestnut mushrooms, fresh parsley and chives and paprika.
The mixture comes together in a food processor in no time (though you can certainly also do it by hand) and once your shape it into patties, you can keep in the fridge for a couple days, but also freeze for up to two weeks.
Serve tucked in ciabatta rolls, with avocado mushed with a spoonful of Greek yogurt, pickled onions and fresh rocket and you've got yourselves a party worthy of this weather and all the goodness in this veggie beaut.


Quinoa, red bean & mushroom veggie burger
WHAT (makes 8 medium patties)
2 tablespoons extra virgin olive oil
250g chestnut mushrooms, sliced
2 medium red onions, roughly chopped
2 garlic cloves, minced
1 can red beans, rinsed and drained
250gr cooked quinoa
about 60g kale, hard stems removed, washed and patted dry
2 tablespoons chipotle honey
1 teaspoon paprika
1 heaping tablespoon fresh parsley
1 heaping tablespoon fresh chives
2 medium eggs
3/4 cup panko breadcrumbs
sea salt & freshly ground black pepper to taste
for the avocado:
1 1/2 large ripe avocados
1 tablespoon reduced fat Greek yogurt
juice and zest from 1/2 lime
1 tablespoon extra virgin olive oil
1/4 teaspoon chilli flakes
1 1/2 tablespoon fresh coriander, roughly chopped 
a squeeze of runny honey
a good pinch of salt
HOW
Heat the olive oil in a large frying pan over medium heat and cook the mushrooms until soft, about 5′. Add the onions and garlic and cook for another 5′ or so. Remove from the heat and allow to cool for a couple minutes.
Place in a food processor, along with the beans, quinoa, kale, chipotle honey, paprika and herbs and pulse to combine. Add the eggs and pulse again. Lastly add the breadcrumbs (you may need a little less or more, depending on the consistency of your mixture) and season generously with sea salt and black pepper.
Shape into patties, place on a tray lined with parchment paper and put in the fridge for about 20′.
Meanwhile, prepare the avocado, by combining all the ingredients and mashing with a fork.
Preheat the oven to 190ºC (170ºC FAN) and bake the patties for 20′, or until golden brown and cooked through.
Remove from the oven, allow to cool for a couple minutes and serve in ciabatta rolls, with fresh rocket, mashed avocado and pickled onions.