A delicious, warming and filling Earl Grey breakfast quinoa with tahini & jam for those sunny yet cold last days of winter.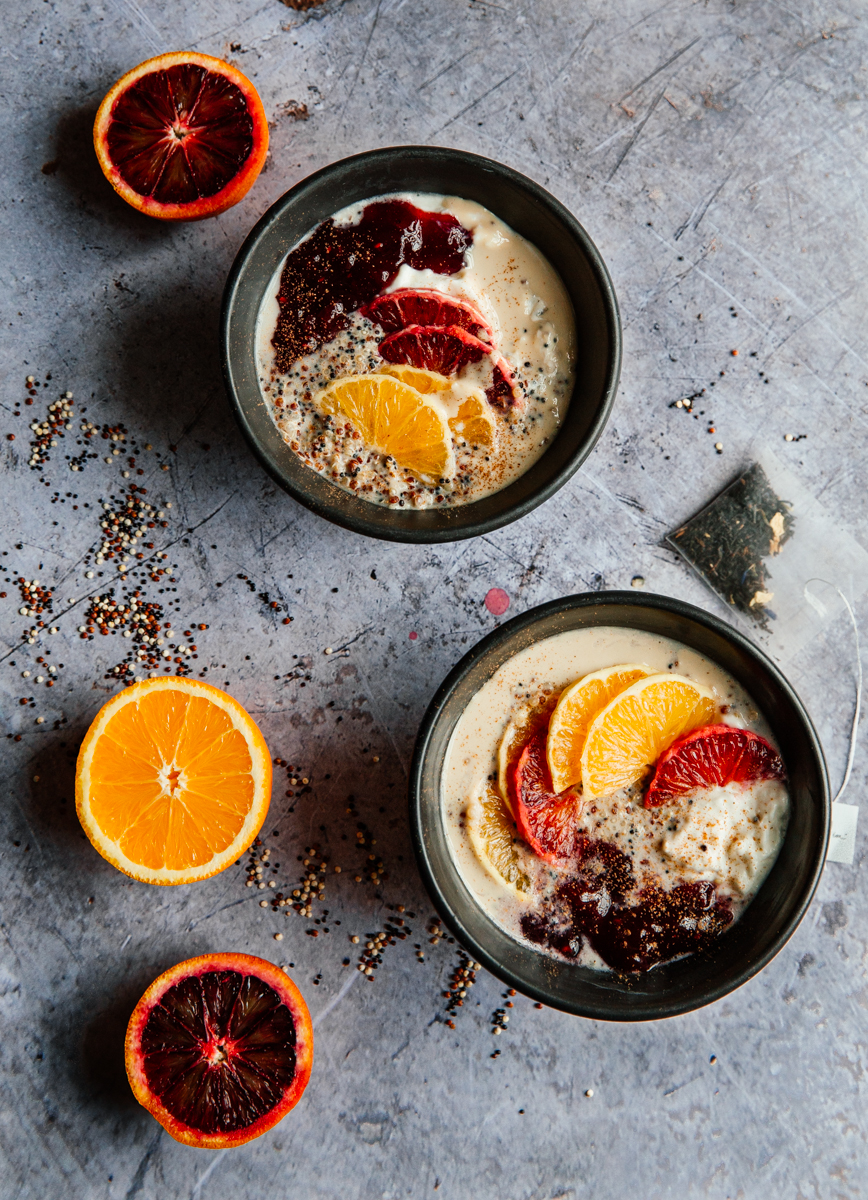 The last few days have been somewhat hard, somewhat dragging more than I would have liked. I love winter- and even when I don't, I've learned to at least (pretend to) keep my cool and tolerate it as best as I can. Yet these last weeks before the official arrival of spring almost always get me. Temperatures are still low and the days are still a little gloomy, a little dark, with the occasional deceiving blasts of sunlight, which only intensify the longing for spring. And early mornings, dark and quiet, that's when I may get blue the most. And yet, those are the best promise for the day about to start. And mine almost always starts with a great breakfast.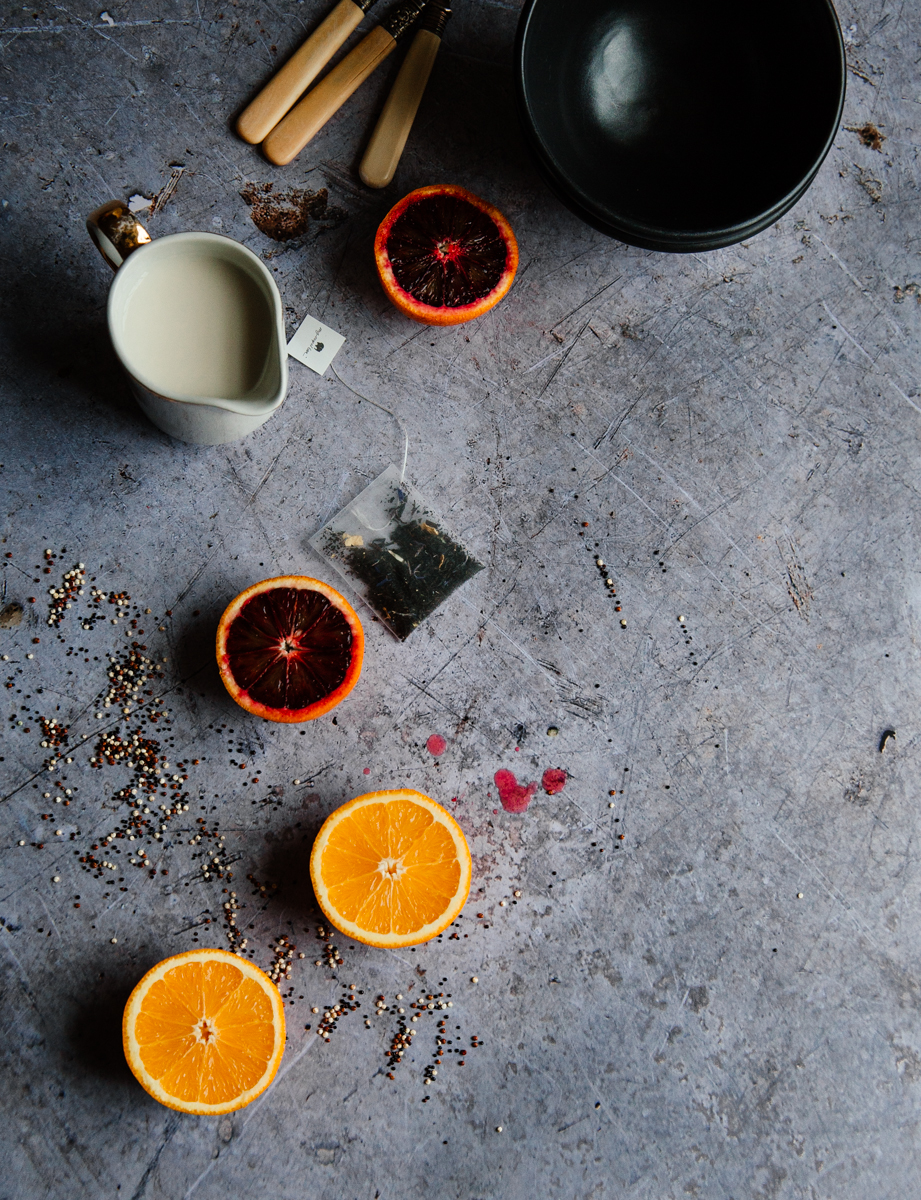 By great, I don't necessarily meet grand- savoury or sweet Dutch babies or saucy eggs grand. I mean simple and quick and often messy and always filling. That's what a great breakfast is, isn't it? One that fills the tummy, wakens the mind and fortifies the spirit. If I can have my way (and I usually do), such a great meal will consist of many colours and textures and finely balance between the savoury and the sweet. It will be interesting enough to set the tone for the new day, as creative as I can manage at 8am and also familiar and comforting. So it's no surprise that my usual weekly winter breakfast is a warming plate of goodness. It may be soft scrambled eggs and ricotta or avocado over very crunchy toast or oatmeal with all the spices, seeds and nuts, topped with seasonal ripe fruit.
Lately it's this very addictive quinoa bowl. It couldn't be easier to make (and play around with) and more comforting as that first meal of the day. Starting with almond milk, quinoa and a bag of my beloved Earl Grey tea, simmering away, while you choose the toppings du jur. You may well do without the tea, but I really think you should give it a try; it adds a fragrant almost bitterness and earthiness to the quinoa, which is perfectly balanced by the slightly savoury tahini, sweet jam and juicy fresh fruit. Add a spoonful of yougurt and a generous dusting of cinnamon and you're good to go. There, it's a new day and we have this.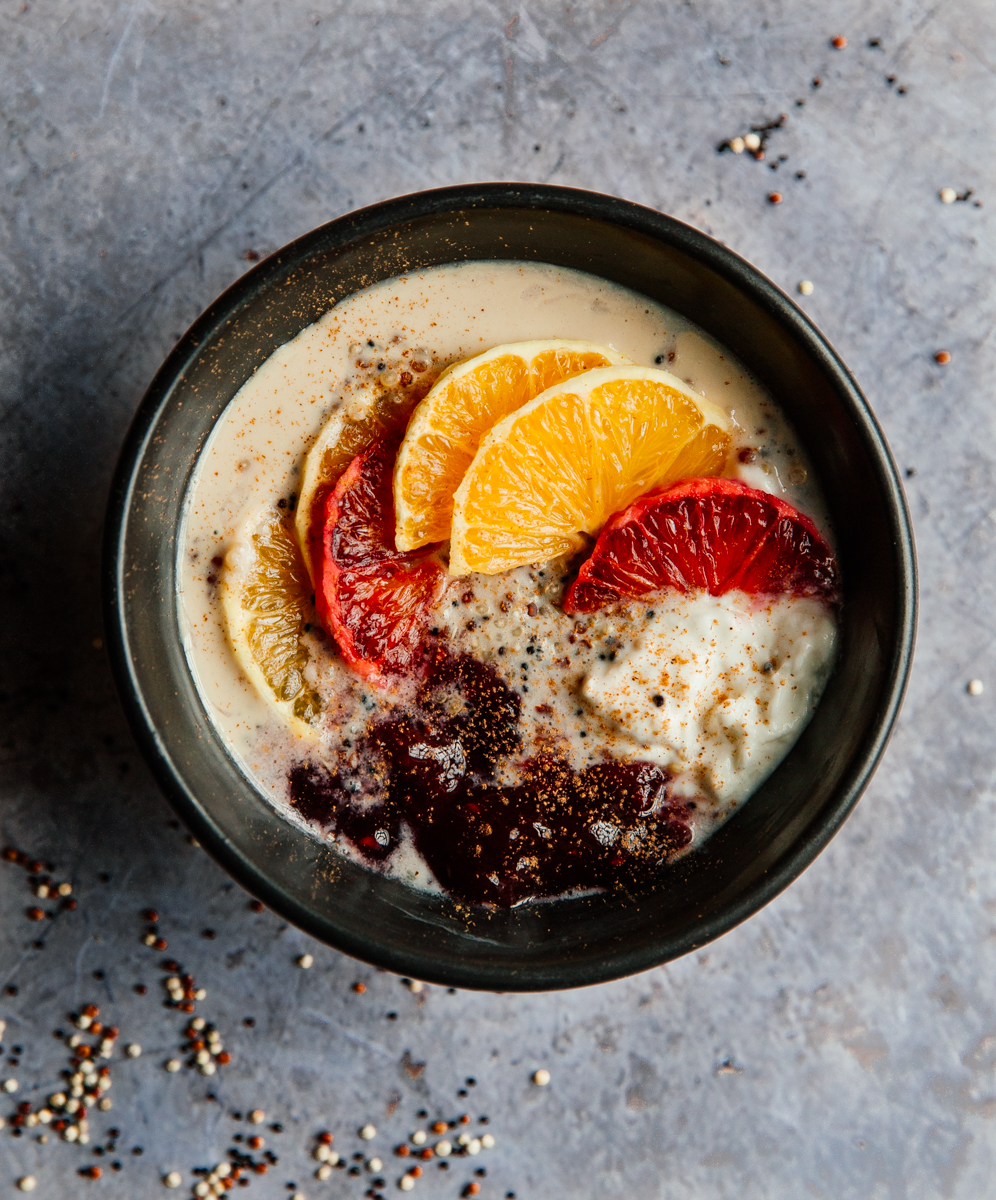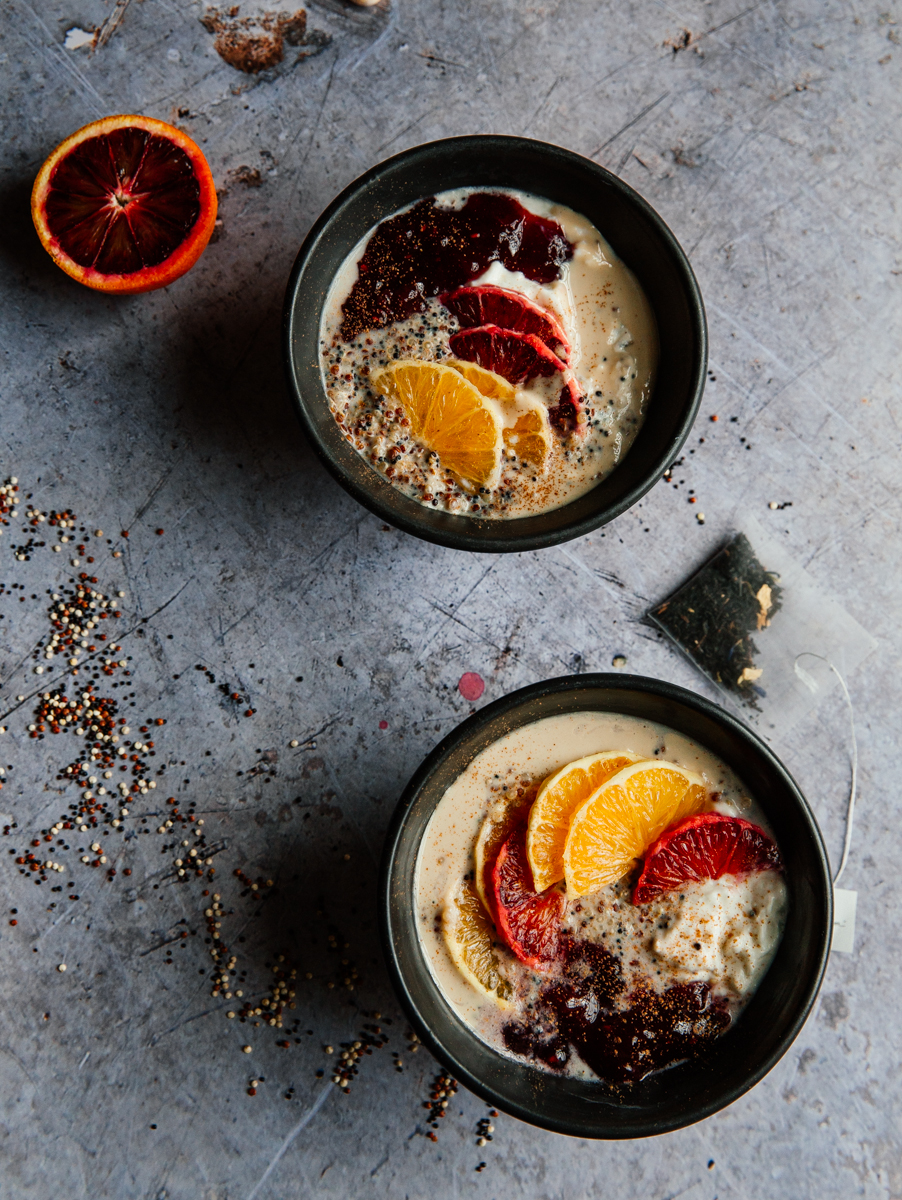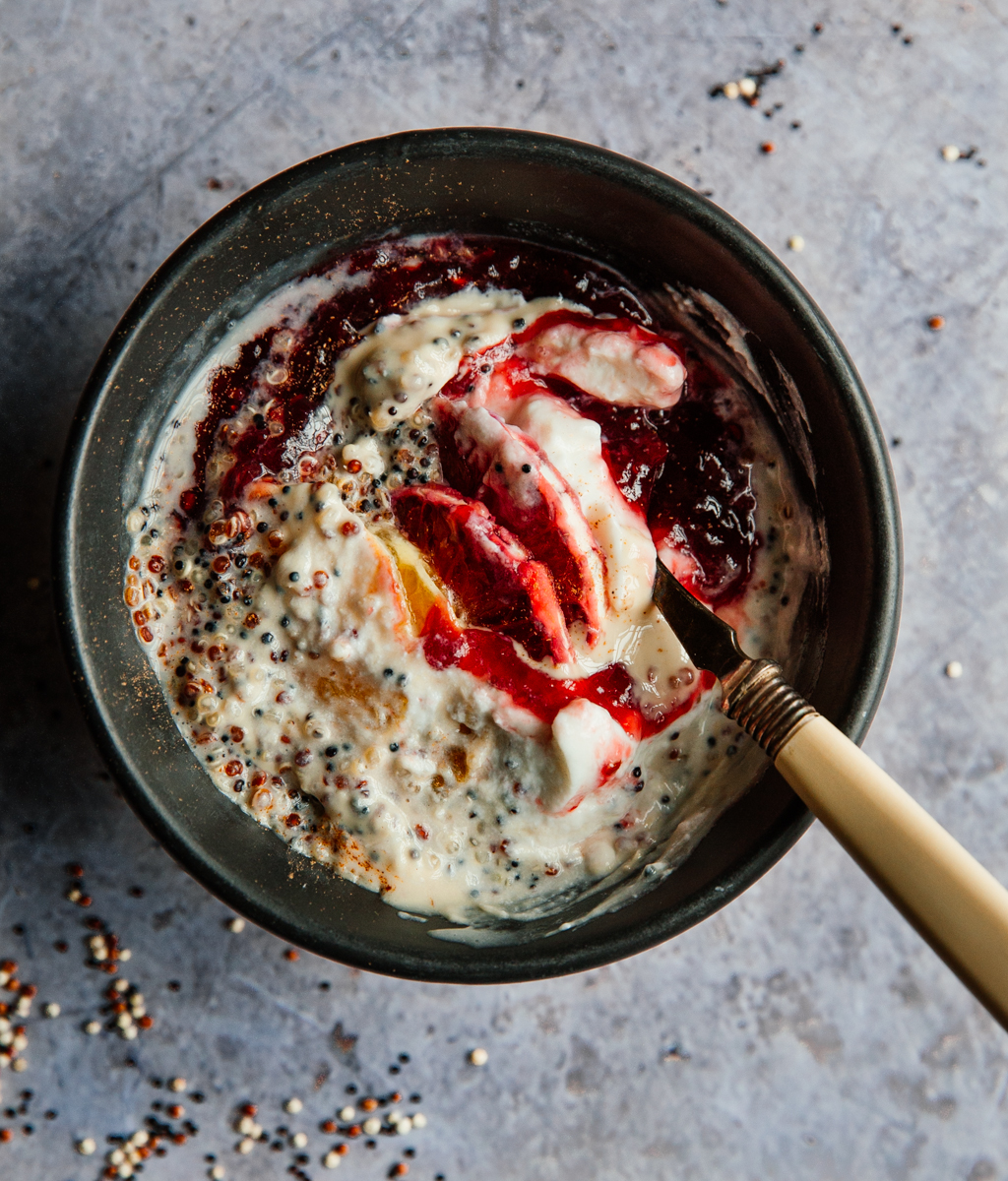 Earl Grey breakfast quinoa with tahini & jam
WHAT (serves 1)
60g quinoa, rinsed thoroughly
150 ml coconut milk
1 Earl Grey tea bag
1/2 teaspoon ground cinnamon 
to serve:
unsweetened yogurt, tahini, orange & blood orange slices, jam
HOW
Place the rinsed quinoa, almond milk and teabag in a small sauce pan over high heat; bring to a boil and then reduce to a very low simmer.
Cook for about 13′, or until the quinoa is cooked but still has a light bite. Remove the tea bag after the first 5' and discard.
Place the cooked quinoa in a serving bowl and top with a few tablespoons almond milk, some yogurt, tahini, jam and fresh fruit.
* Feel free to adjust/ add ingredients to your liking. The cooked quinoa is not sweet at all, so I would definitely recommend the addition of jam, honey or maple syrup.