Celebrating the most beautiful fruits of the season with this bright citrus & rosemary olive oil polenta cake, in partnership with Olive Tree London.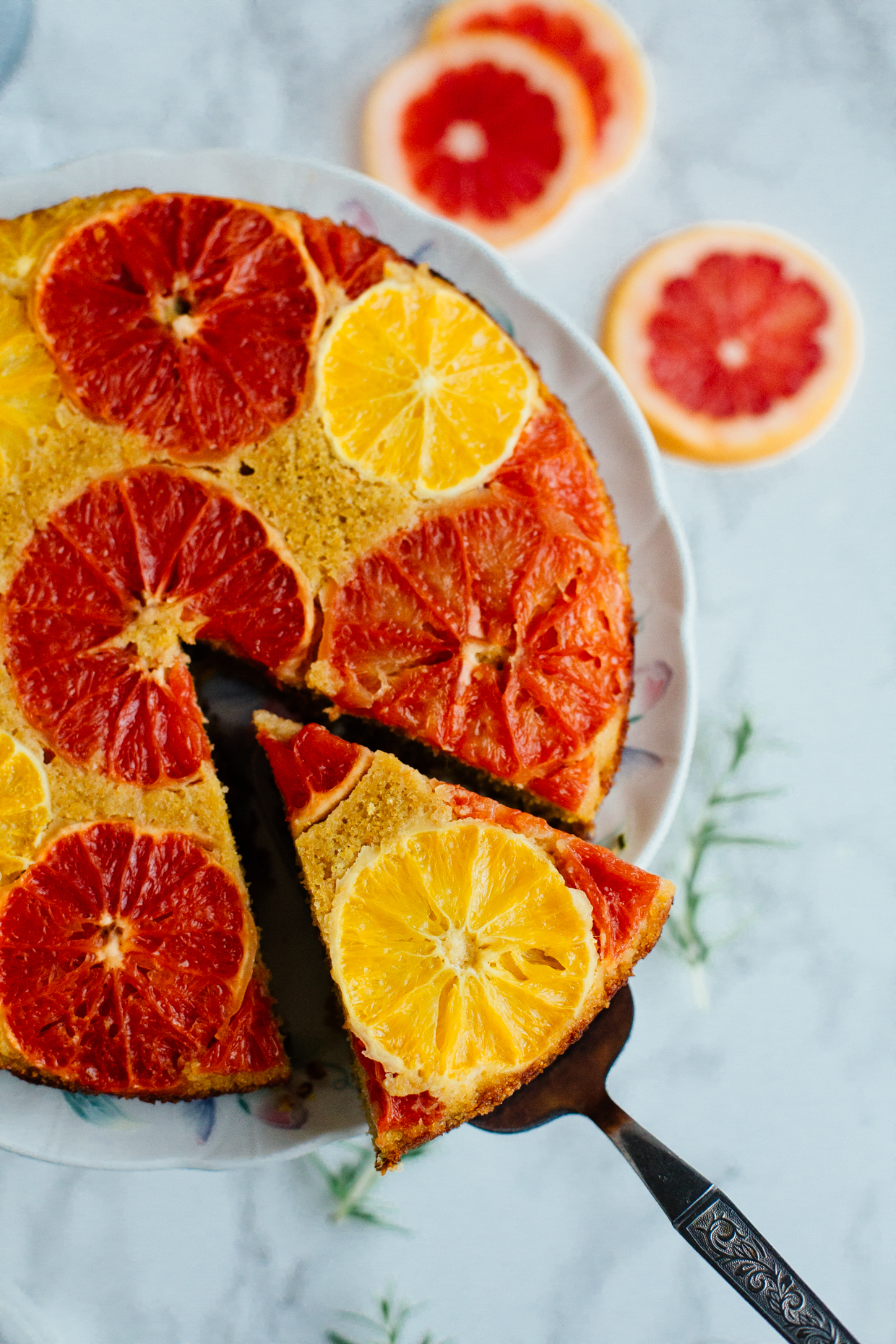 There aren't many things I love about winter; crisp, icy mornings with the promise of a timid sun, Christmas and the anticipation and family gatherings, comfort dishes with strong, familiar flavours, light fruity desserts, warm coats & fluffy scarves- that's more or less it. I very much dislike the cold and dark days which drag forever always bring me a little down. Still, the one thing I always like about winter is that it is followed by spring. The cold months seem to prepare us for the explosions in colours and smells which are never too far away and for that, I am forever grateful, forever patient. That and citrus fruits. See, in my mind, they always stand somewhere between winter and spring. Offered in abundance during the cold, gloomy months, yet their beautiful colours alluding to the brightness that's sure to follow.
Apart from sweet clementines, juicy lemons and chubby cumquats, every year I enthusiastically fall for oranges all over again and long for the comforting bitterness of grapefruits. In this wintery cake, they are showcased in all their bright, colourful glory, topping a lightly sweet batter made with their zest and juice, polenta, almond meal, golden extra virgin olive and fragrant rosemary. For all its impressive topping of beautiful citrus, this is a quiet dessert; everything comes across in little hints: sweetness and bitterness, aromas and light density in texture. It is the perfect start or finish to a dark day and the ideal companion to a hot cup of tea, slices of the beauty of winter and hint of a not so distant spring.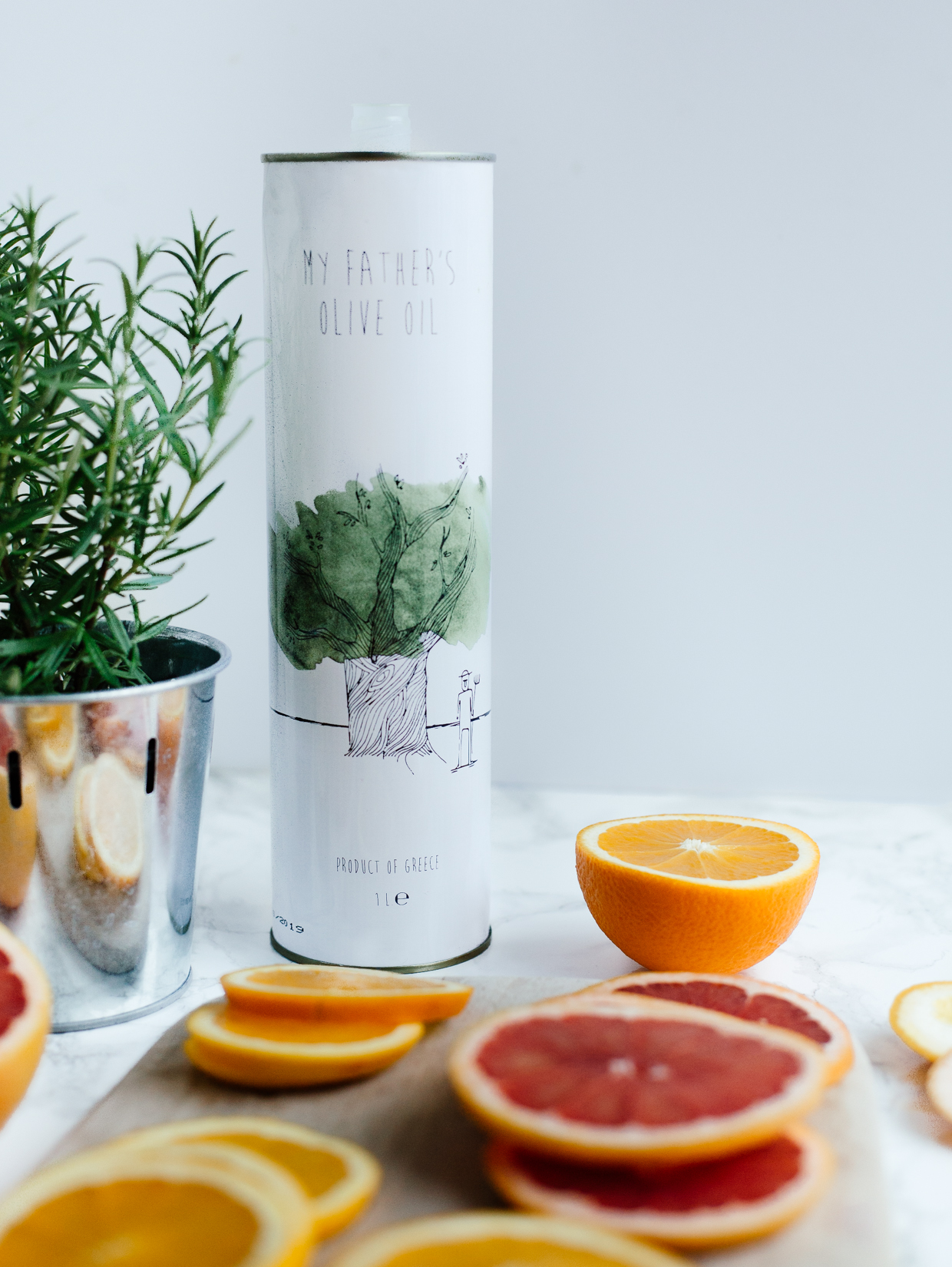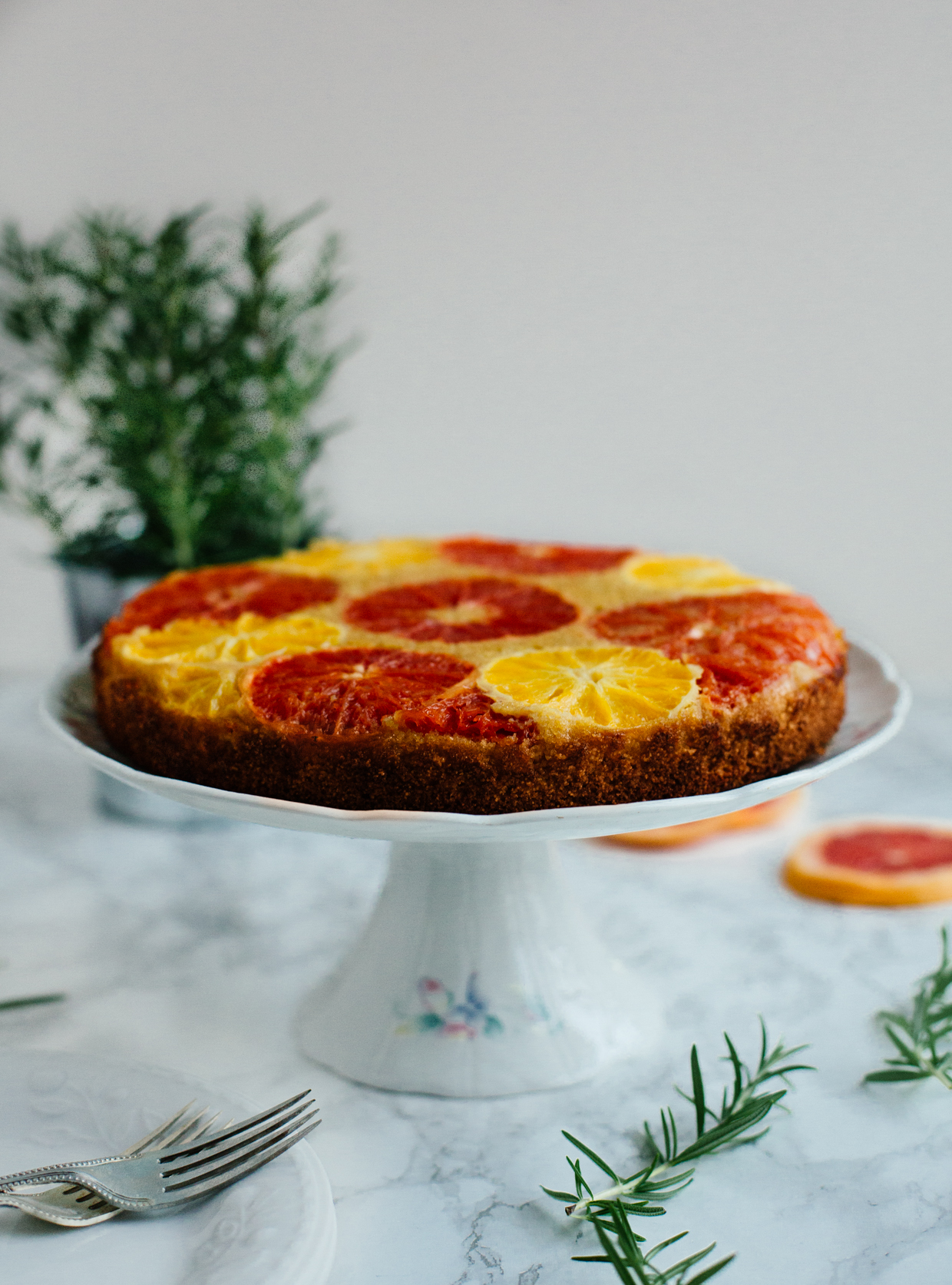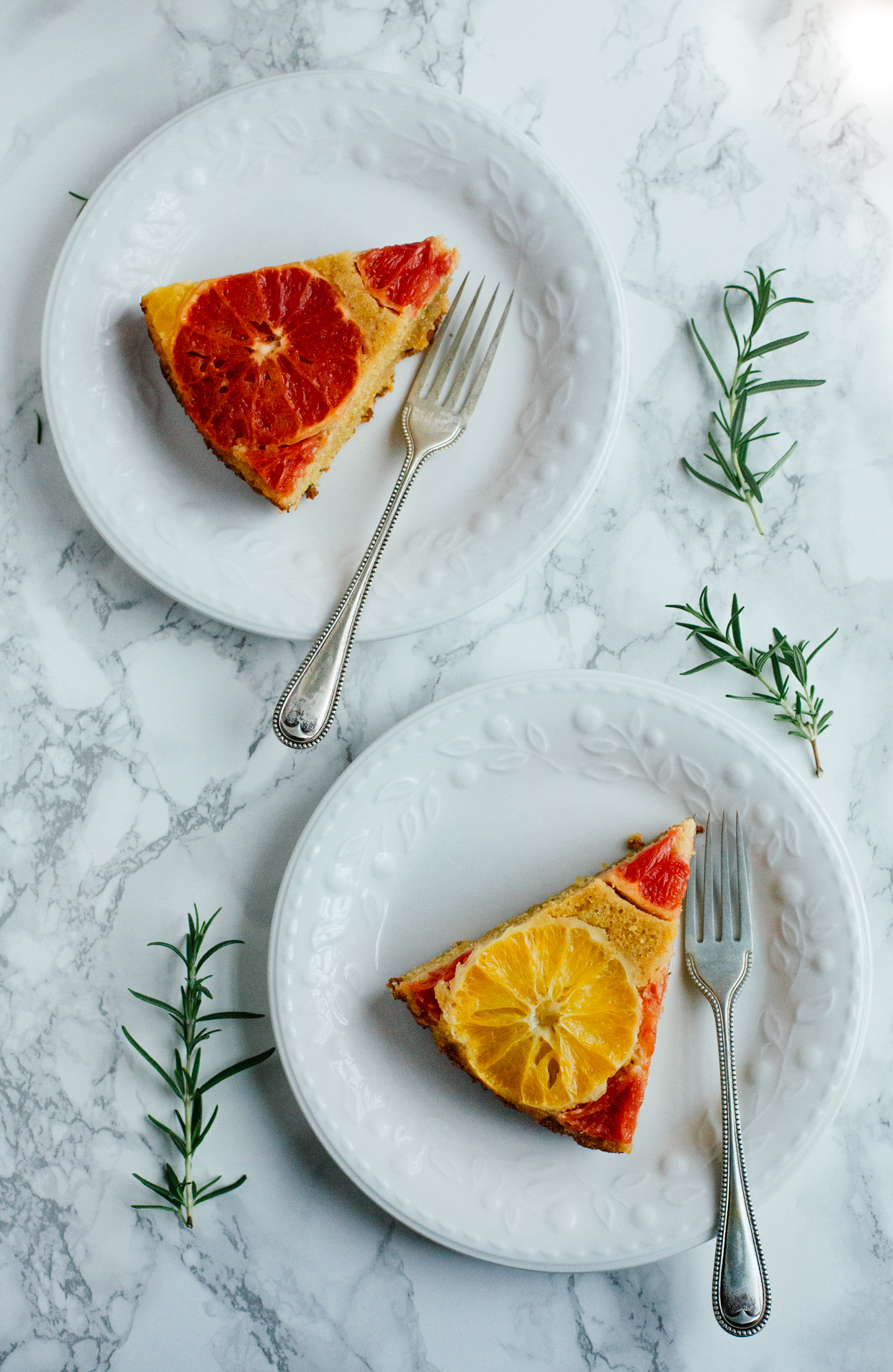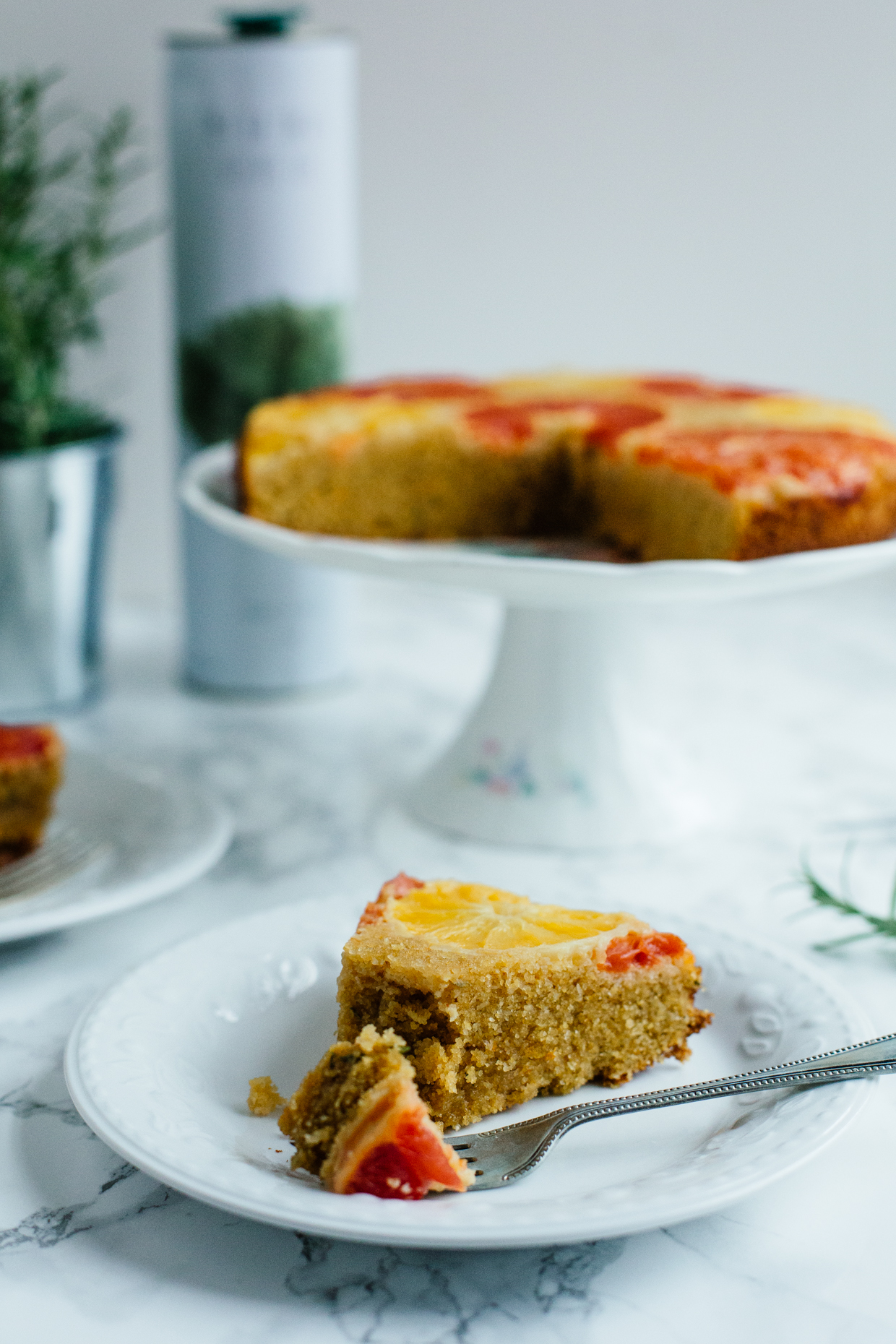 * This cake was created in partnership with Olive Tree London, using their delicious unfiltered, early harvest extra virgin olive. Thank you so for supporting brands that make all this possible.
Citrus & rosemary olive oil polenta cake
WHAT
130g light muscovado sugar
3 medium eggs
100 ml Olive Tree London extra virgin olive oil
zest & juice from 1 orange
1 tablespoon fresh rosemary, minced
170g polenta
200g almond meal
1 teaspoon baking powder
1/2 teaspoon salt
3 tablespoons water
3 tablespoons honey
1 whole grapefruit
1 whole orange
HOW
Preheat the oven to 180ºC (160ºC) and line a round cake pan with parchment paper.
Beat the sugar & eggs in a mixer until pale; add the extra virgin olive oil, orange zest & juice and rosemary and beat again.
Combine the polenta, almond meal, baking powder and salt and add to the rest of the ingredients. Fold to combine & set aside.
To make a syrup for the fruit, put the water and honey in a bowl, microwave for 1' and set aside.
Slice the orange & grapefruit and then lay each slice on a chopping board; using a very sharp paring knife, remove the rind & pith, trying to keep the slices as intact as possible.
Brush the baking paper at the bottom of the pan with the syrup and arrange the sliced citrus on top. Brush the slices with the remaining syrup and pour the batter over them.
Bake in the preheated oven for about 30', or until an inserted skewer comes out clean.
Remove from the oven and allow to cool for about an hour before inverting to a cake stand or plate.