This apple, blackberry & cinnamon jam is thick, as sweet as it should and has made me fall in love with apples all over again! 
Ever since I moved to London, every autumn, without fail, I find my self in awe of all the apple varieties available: there's small, sour ones, with light pink and green flesh; and bigger ones, very sweet and very pink; shinny green apples, crunchy and juicy, perfectly sour and refreshing; and then others, large and brownish, with a subtle sweetness which reminds me of pears. One is truly spoilt for choice and one is hopelessly enamoured every year, all over again.
I buy large quantities and I slice and sometimes peel and eat at least one a day; I freeze for smoothies and grate for spicy oatmeal; they're added in cakes and pies, often alongside juicy, blushing pears, or eaten hungrily, on the spot, with just a drizzle of tahini and another of honey. They're set aside to be used in warming stews, with sprigs of rosemary or tarragon and sweet potatoes, or even added to buttery mash for a touch of sweetness. Autumn is for apples, every year, and every year I am without fail hell-bent on celebrating apples as I should: often, repeatedly, enthusiastically, hungrily.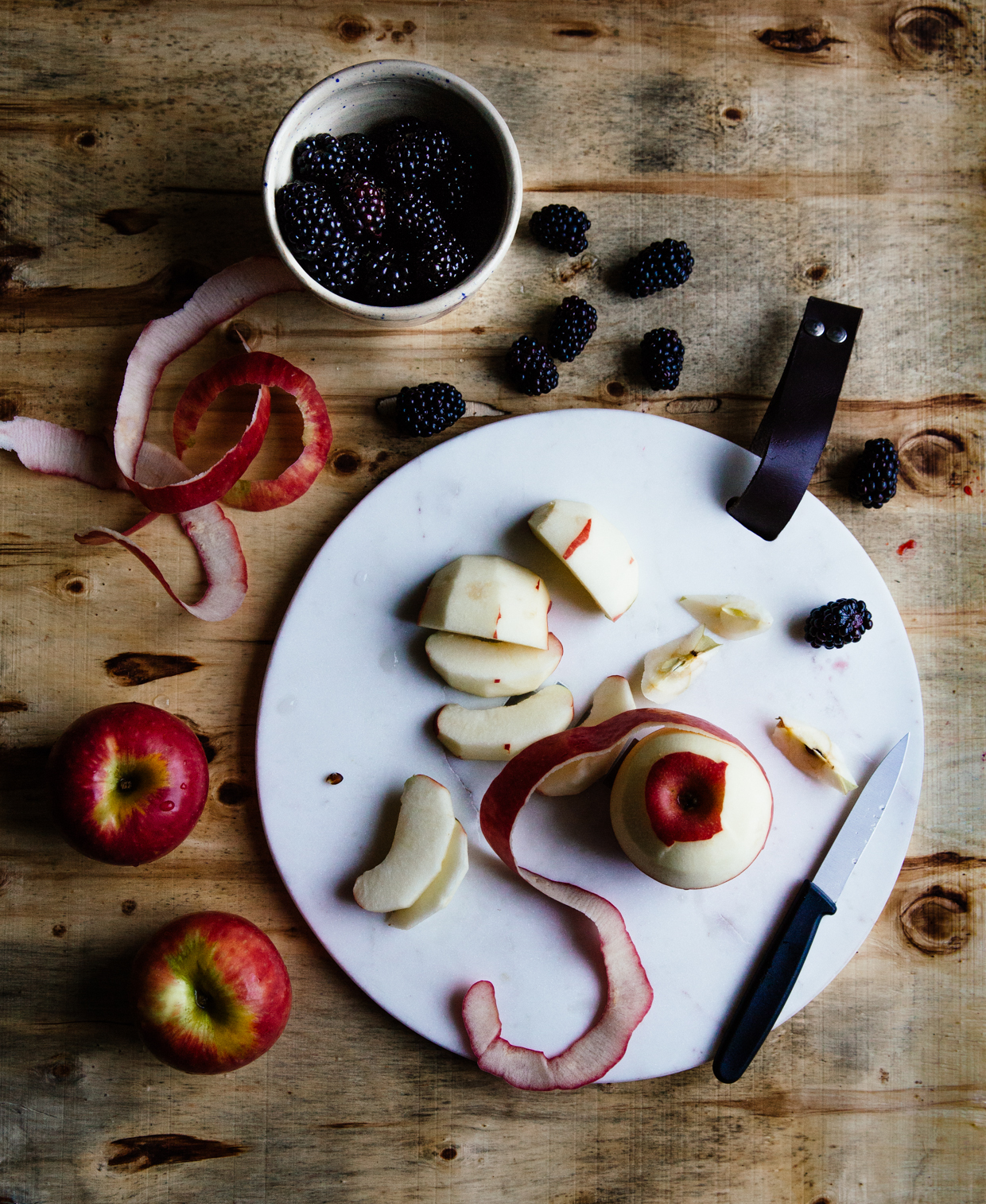 This year's festivities begin differently: there is no cake, nor crêpes with caramelised apples and toasted almonds. No, there is only one of my favourite things to make, one that I consider one of the purest forms of comfort cooking- and eating: jam. I usually only make jam in the summer; it's one of the family's favourite activities, as it usually involves everyone and everyone's favourite fruits: figs and plums from our trees, usually cooked with lots of lemon juice and herbs from our garden. There's picking and gathering, slicing, tossing with sugar and aromatics and then bowling in large pans, the whole house filled with the thick, lingering smell of fruity boiled sugar. And then there's my favourite part, pouring the luscious, lustrous, precious pulp into shinny clean jars, labelling and storing them for the coming months.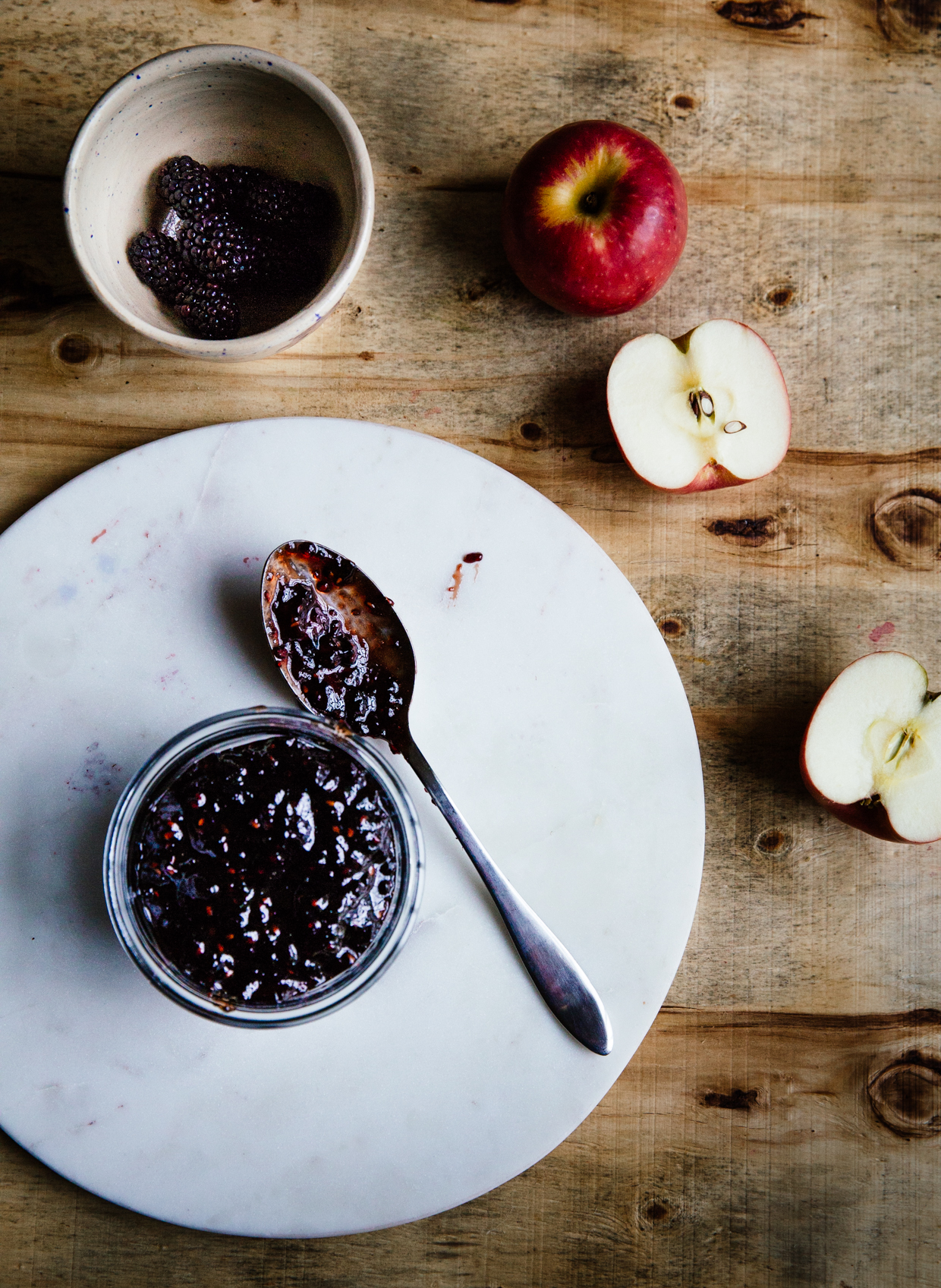 Writing this, I realise I may love the process and the memories that come with it even more than jams themselves; even so, testing this apple, blackberry & cinnamon jam these last few days, filled the house with all too familiar scents and images- and me with a warming all too strong certainty that after all, it's all about gatherings- small and big ones, new and familiar, quiet or exuberant. And all about apples of course.
Apple, blackberry & cinnamon jam
WHAT
250 gr apples, peeled, cored and cubed
250 blackberries, washed
500 gr caster sugar
juice from 2 small lemons (and the rind of one)
1 small cinnamon stick
HOW
Place the apples, blackberries and 1/2 cup water in a large pan and simmer in medium-low heat for about 15′, until the apples are tender and most of the liquid is reduced.
Add the sugar, lemon juice, rind and cinnamon, turn up the heat and bring to a boil. Boil for about 10′ and then remove from the heat.
To test is the jam is ready, place a small plate in the freezer; once the jam is ready, remove from the freezer and spoon a small amount onto the plate. Freeze again for a couple minutes and then touch it gently with your fingers. If it wrinkles, you're good to go. If not, your jam is not yet set. Return to the heat for another 5′ or so and test again.