This very addictive homemade chilli oil is my favourite recipe from Jeremy Pang's Hong Kong Diner. I LOVE IT with eggs & avocado!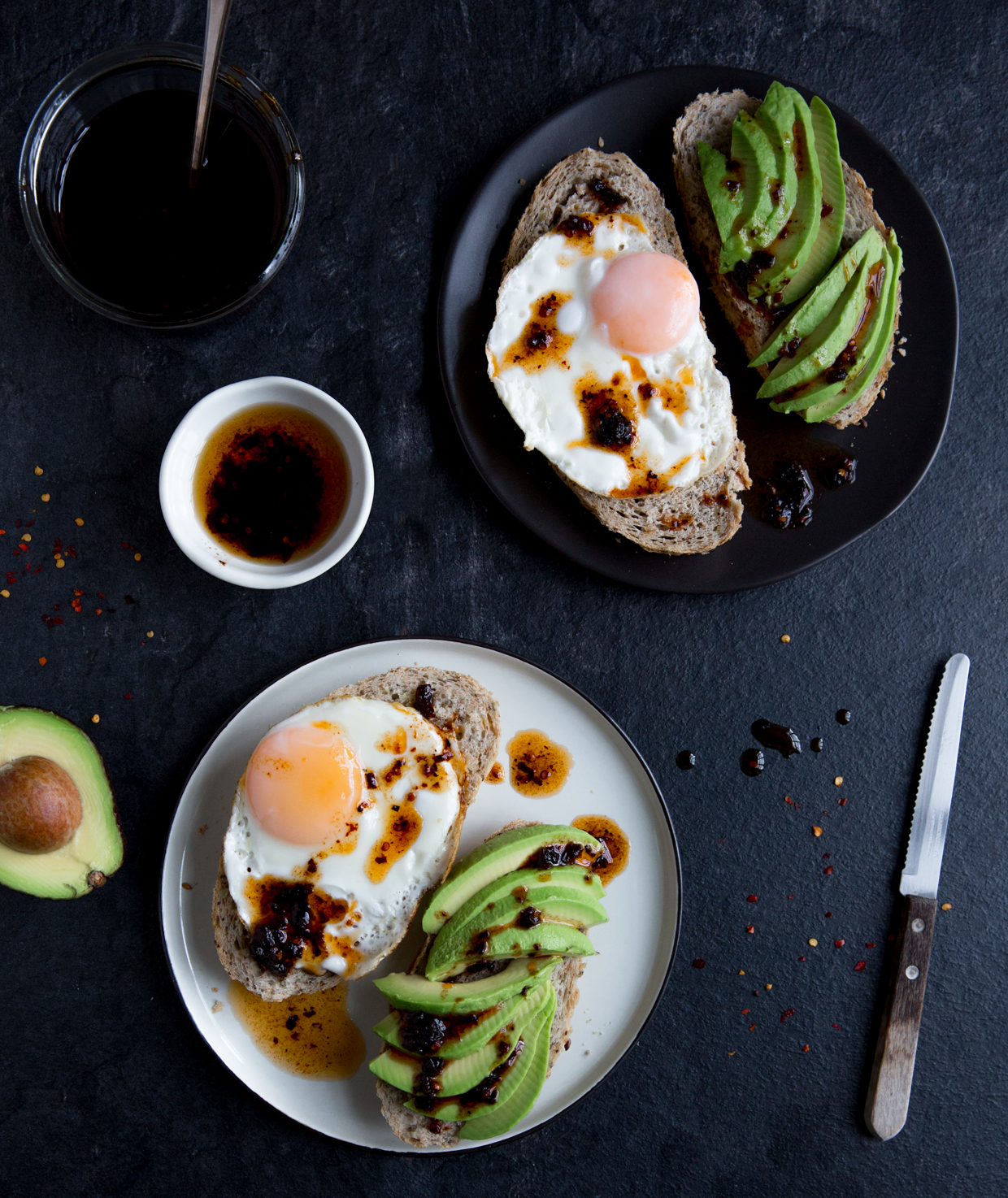 I've had a soft spot for this book even before it came out- see, the contributing author is Adrienne Katz Kennedy, one of my favourite ladies, mama & cook extraordinaire and vital part of School of Wok for some time now. And of course, I had also experienced first hand the cooking of super chef Jeremy Pang, as all as his generous involvement in the community – so it was a no brainer really. Still, when I got the book, it really blew me away: flicking through the pages, Hong Kong and its vibrant, multicoloured, intense food scene comes to life: there's street snacks you want to have a passionate love affair with (I tried the pork chop crusty rolls at the book's launch and I was instantly hooked), dumpling and baos galore (all beautifully photographed by Kris Kirkham), noodle & rice pots you'll want to burry your head in (I can't wait to try the steamed rice one with Chinese sausage & salted egg) and lots of sides and extras.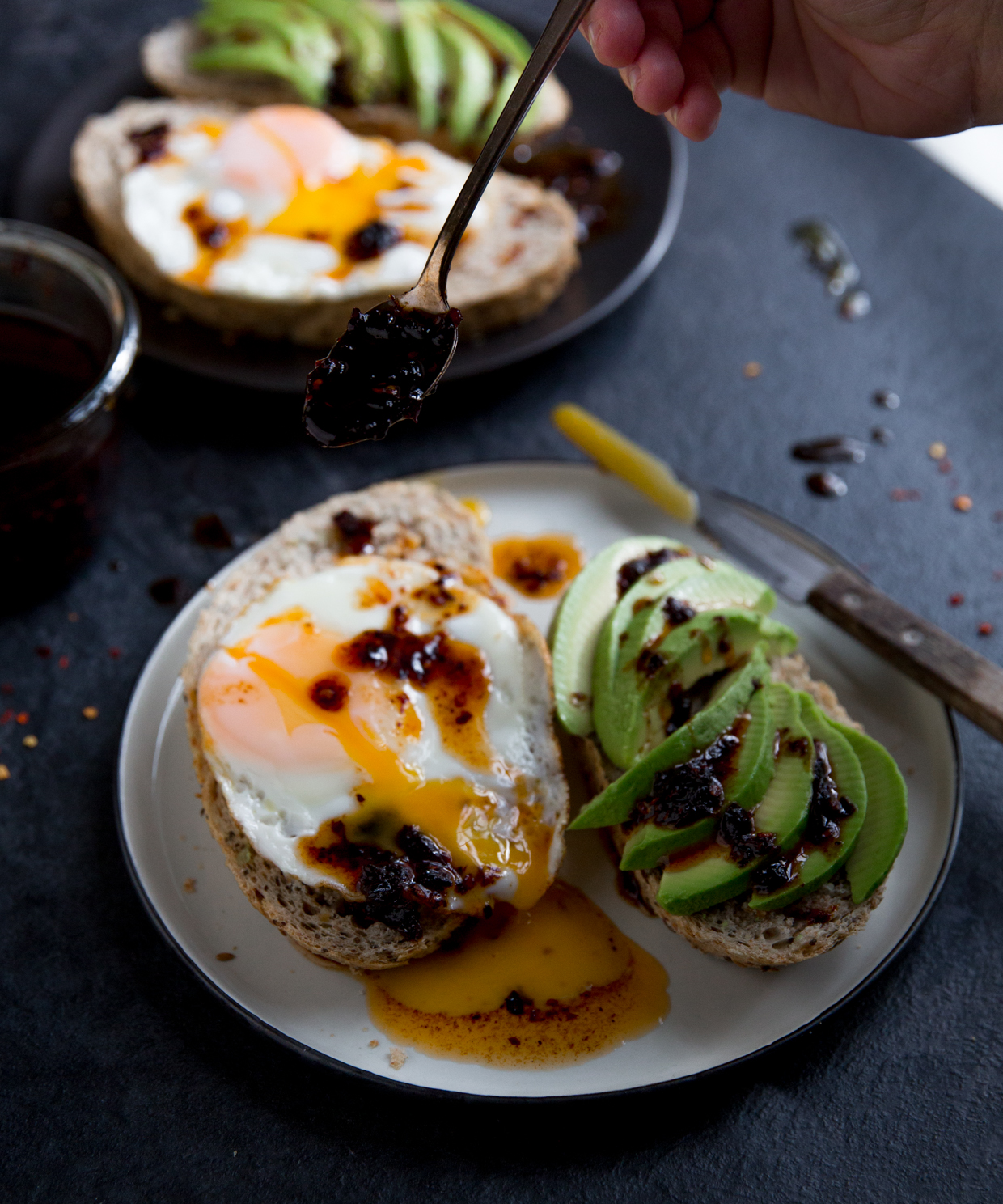 And that's where I found it: THE chilli oil. Gorgeous in colour (deep orange and red) and impossibly tasty. Sticky and oily and messy all around, filling the house with an irresistible smell reminiscing of the best neighbourhood Asian restaurant. It's decadent, yet humbly simple, made with few ingredients you are most likely to already have in the kitchen (and I did; I used up all the chilli flakes I had in hand, as it requires ten spoonfuls of them!). It's also very satisfying and quite addictive: Adrienne warned me about it being a great addition to almost everything, but strongly suggested to try it over eggs and avocado. She knows me too well; a few thick slices of seeded brown loaf, two fried eggs with soft yolks, lots of avocado slices and a couple tablespoons of the delicious oil. All you need, all you'll be needing for a while. [Add it to crunchy salads, roast vegetables, miso soups and almost anything else.]
***
 Because of this recipe alone, Hong Kong Diner is my first giveaway! To learn more and to enter, have a look here 
***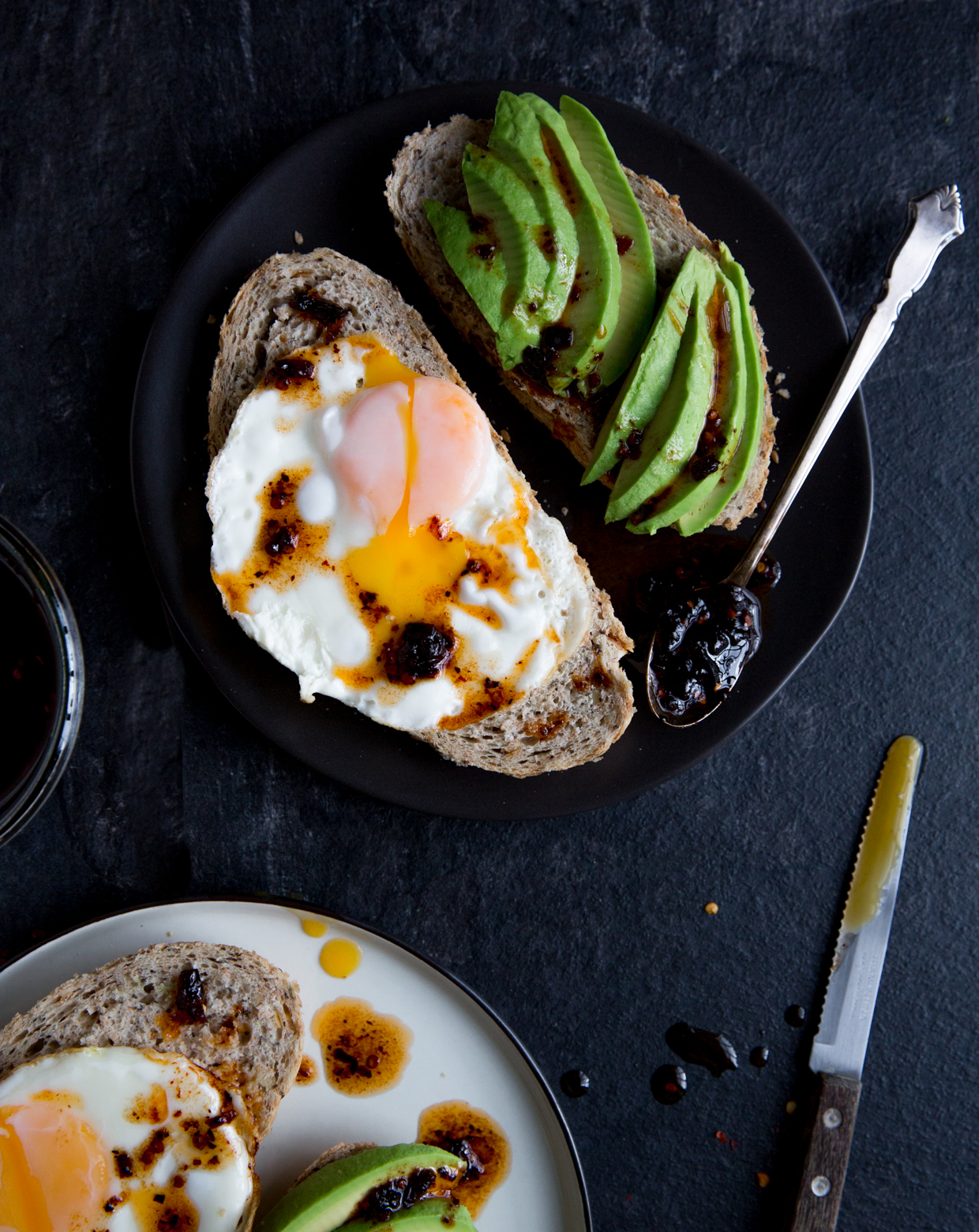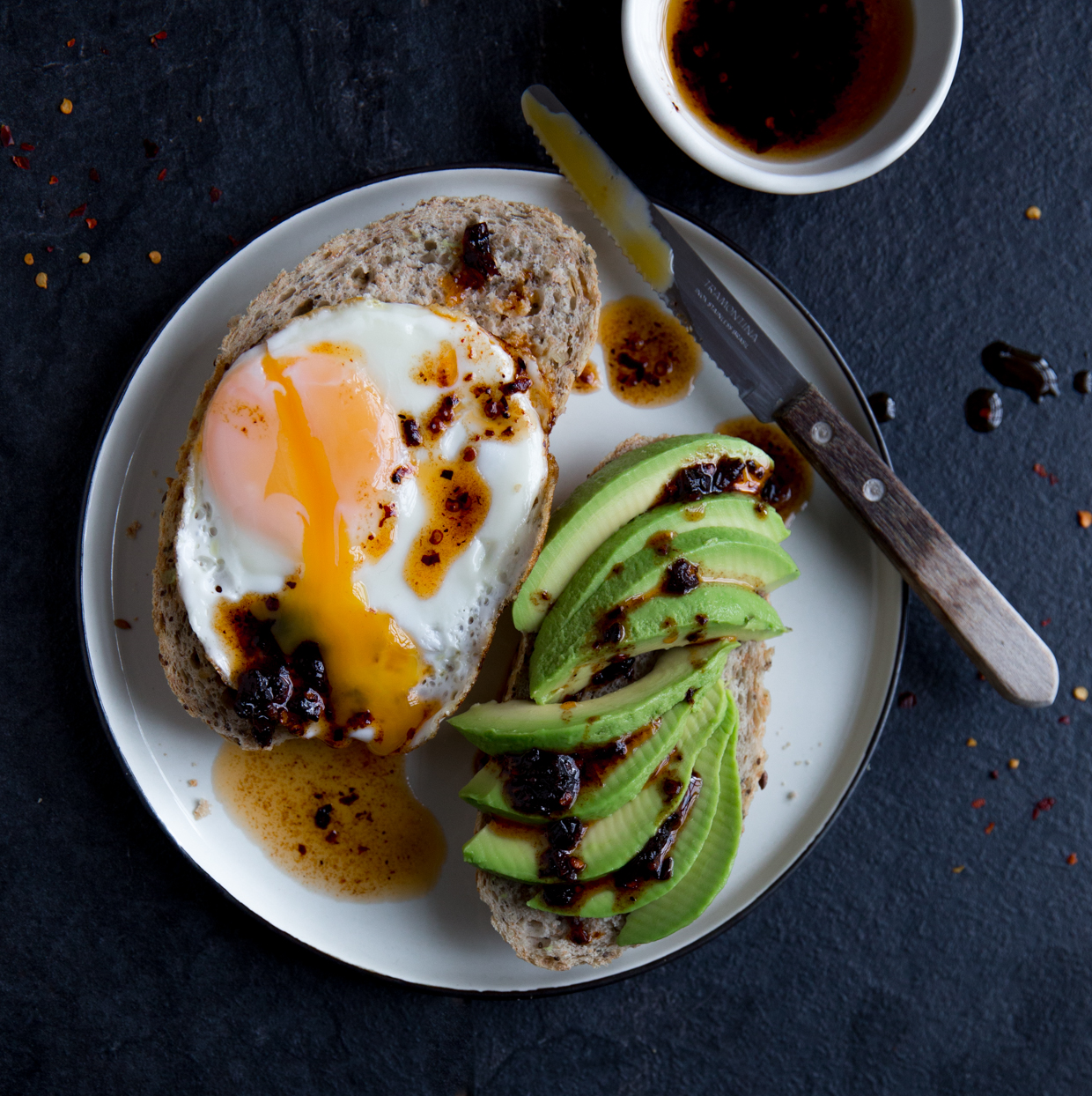 Very addictive homemade chilli oil (recipe from Hong Kong Diner- but you really should read the original, it's perfectly written!)
WHAT
4 cloves garlic
1 thumb-siz pice of ginger
1 large red onion
400ml (14fl oz/ 1 3/4 cups) vegetable oil
10 tablespoons chilli flakes (I used seven, as it was all I had)
THE SAUCE
1 tablespoon tomato purée (tomato paste)
3 tablespoons light soy sauce
1 tablespoon dark soy sauce
1 teaspoon sugar
3 tablespoons water
HOW
Finely chop the garlic, ginger & red onion and set aside; mix the sauce ingredients and set aside as well.
Heat 3 tablespoons of the vegetable oil in a sauce pan over medium heat; when the oil is hot, add the garlic, ginger and onion and turn to low-medium. Cook for about 10′, until the onions are softened and very brown, string occasionally.
Add the chilli flakes and cook for another 5′.
Turn the heat up to medium-high and add the combined sauce ingredients; it will bubble up and you should really smell the chilli (and it sure smells amazing!). Turn down to medium and cook, string, until the mixture thickens and resembles the texture of jam. When it does, turn the heat down to low and continue cooking until very dark in colour (careful though not to burn- keep your heat low)- it should take about 20′ to 25′. Low and slow.
Remove from the heat; that' the base of your chilli oil, which you can now place on a sterilised jar and top with the remaining vegetable oil. Put the log on, allow to cool completely and place in the fridge. It will be even better after one week and will keep for up to two months.