This smoked trout and potato hash with lots of fresh herbs and a lemony horseradish cream has become a favourite for a lazy Sunday brunch- so so good!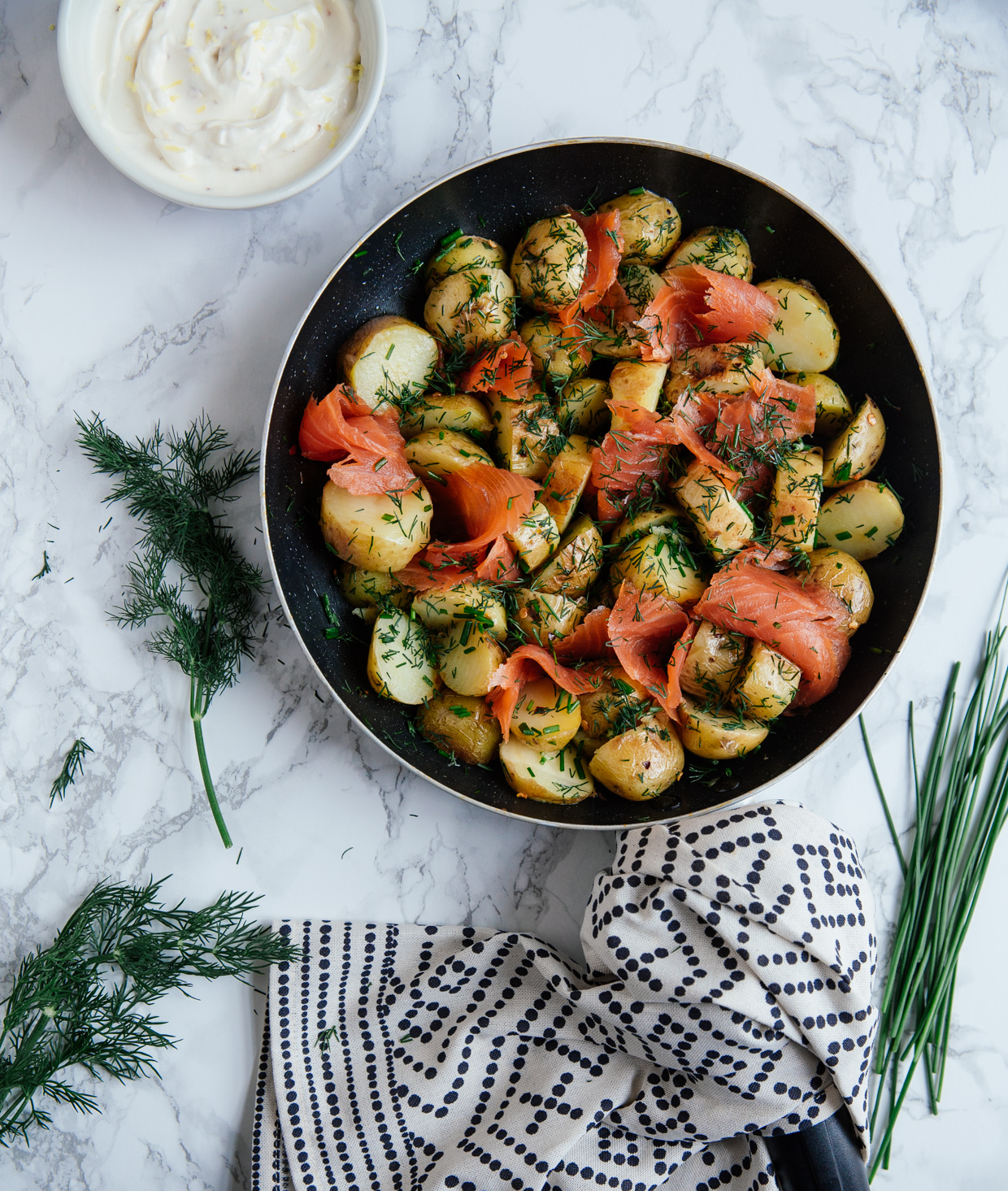 I first made this a while back, when I was full into my love affair with Blas Y Tir's small, chubby & delicious potatoes. And while I'm not quite sure how the dish came to mind, I know we've enjoyed it time and again in the last few weeks. It is so very simple to put together and yet so flavourful and satisfying as the perfect hearty breakfast or leisurely lunch.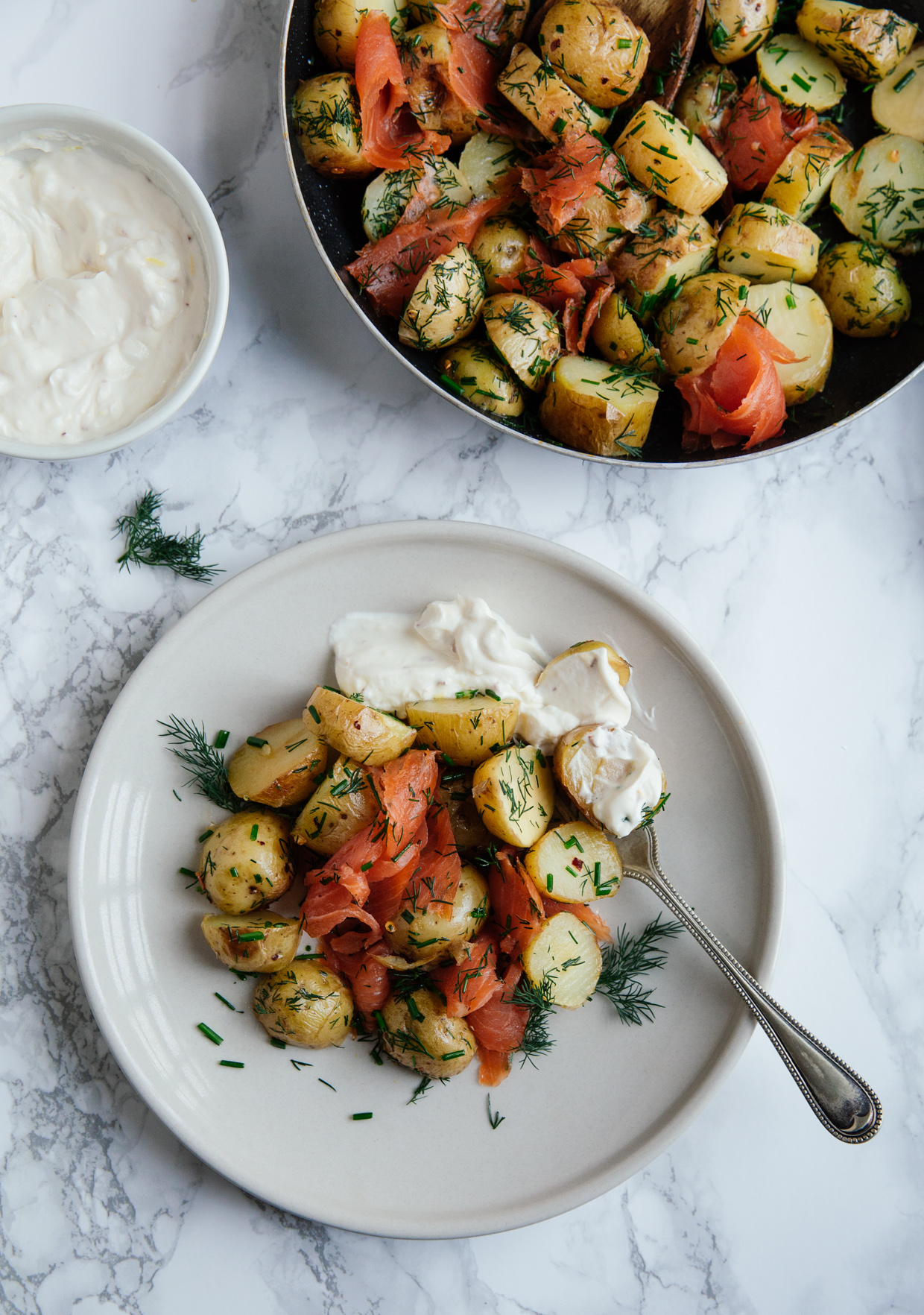 The potatoes are boiled in the usual way and then tossed with extra virgin olive oil, some sweet homey and a good pinch of sea salt flakes and sautéed until lightly crispy and golden brown. These alone, cooked like so, are just impossible to resist: a little crunchy on the outside and butter-soft on the inside, they strike the perfect balance between sweet and salty; they would compliment any good piece of fish or meat or a couple beautifully poached eggs.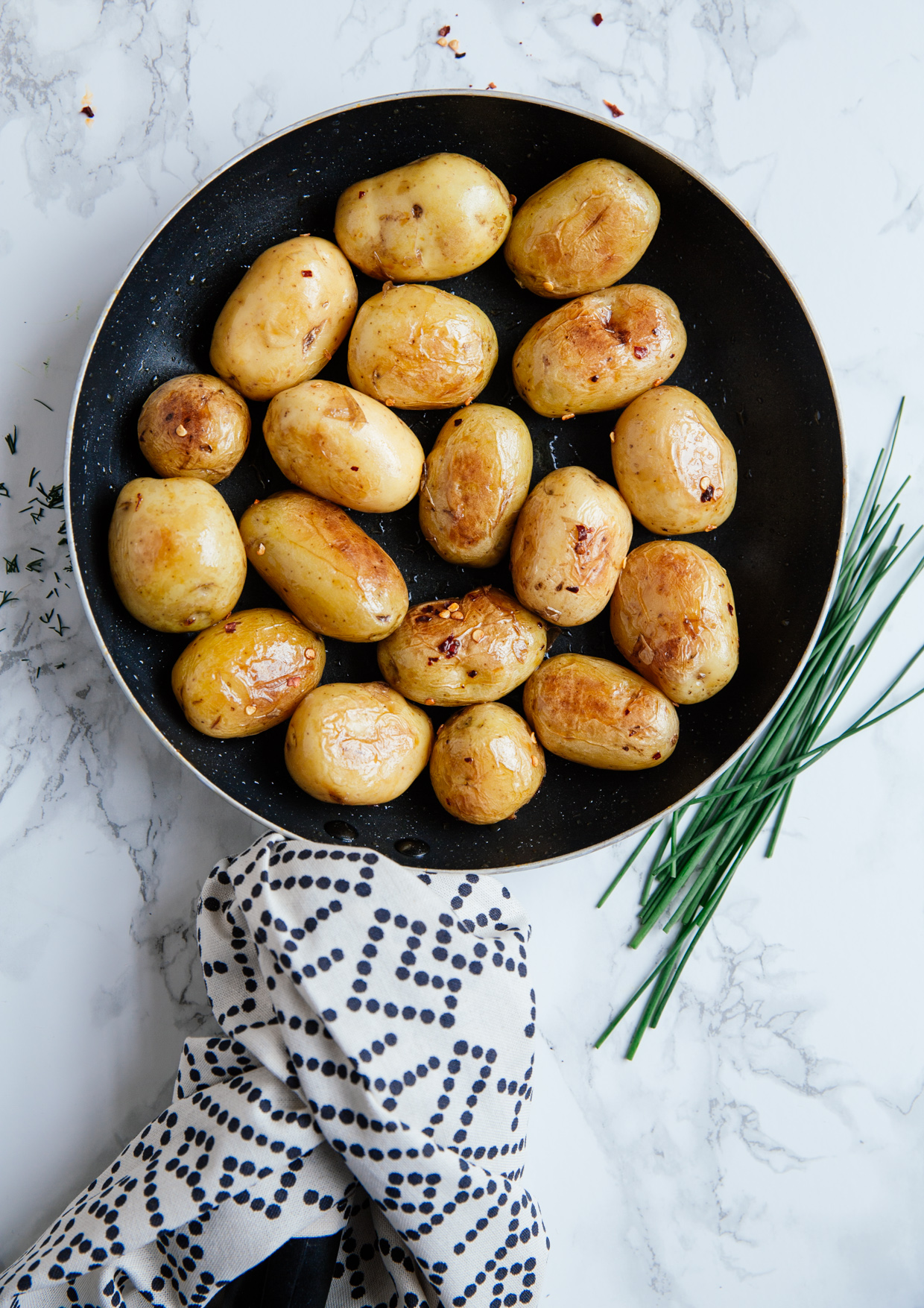 Still, my favourite way to pair them is with smoked trout and lots of fresh herbs; it is one of my favourite kinds of fish, with its irresistible shiny and pink flesh and delicious smokiness, which works wonders paired with the dill and chives. Flaked and arrange between thick and crispy potato chunks- it is just heavenly.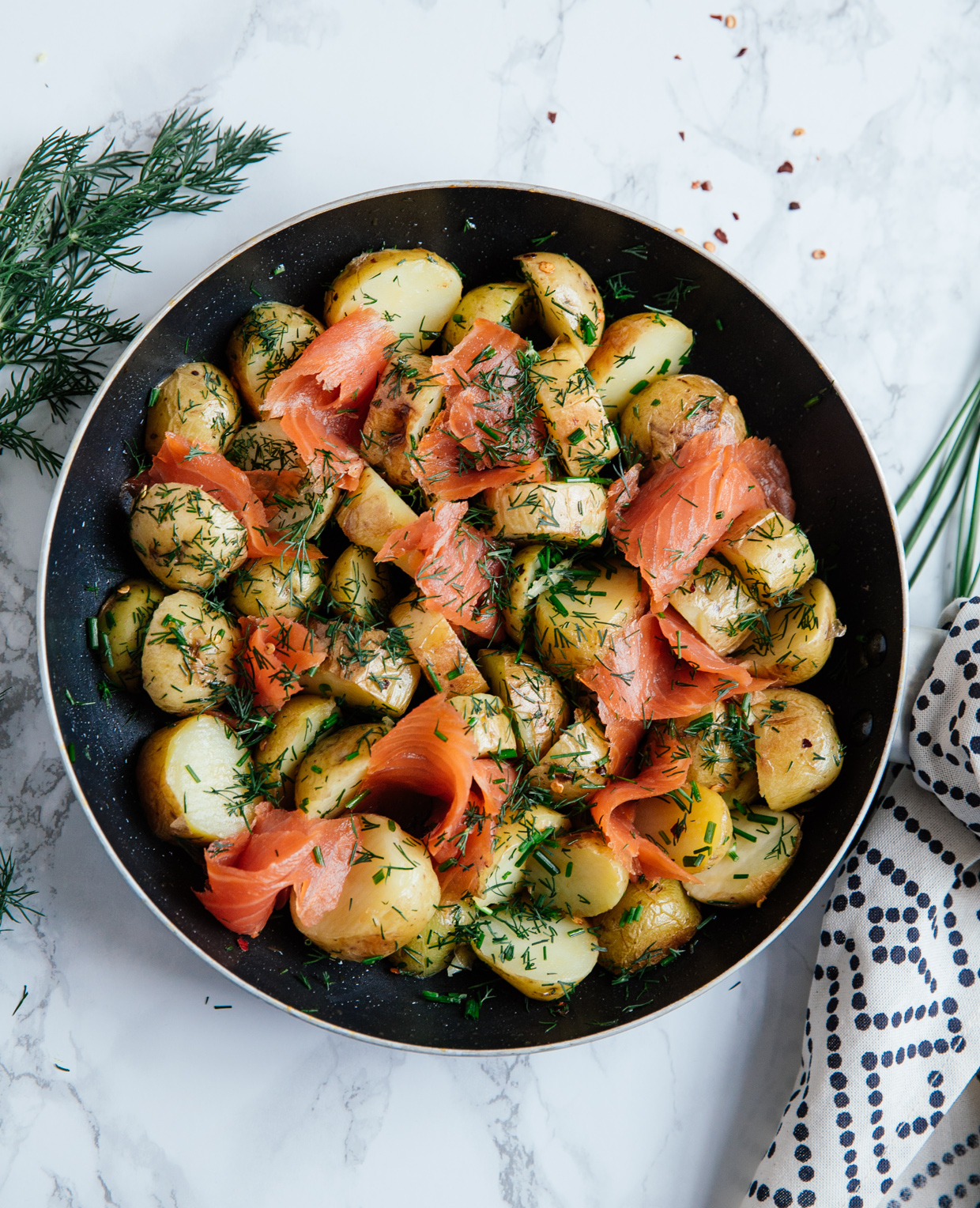 Served with a big, big dollop of thick yogurt and cream cheese with lemon zest, chilli flakes and tons of fragrant fresh herbs is just right: it turns these two tasty components into a proper dish, hearty as it is light, simple as it is filled with delicious layers. I honestly don't know how it came together, I really don't. But I am so glad it did. And I am so happy to make this over and over and over again.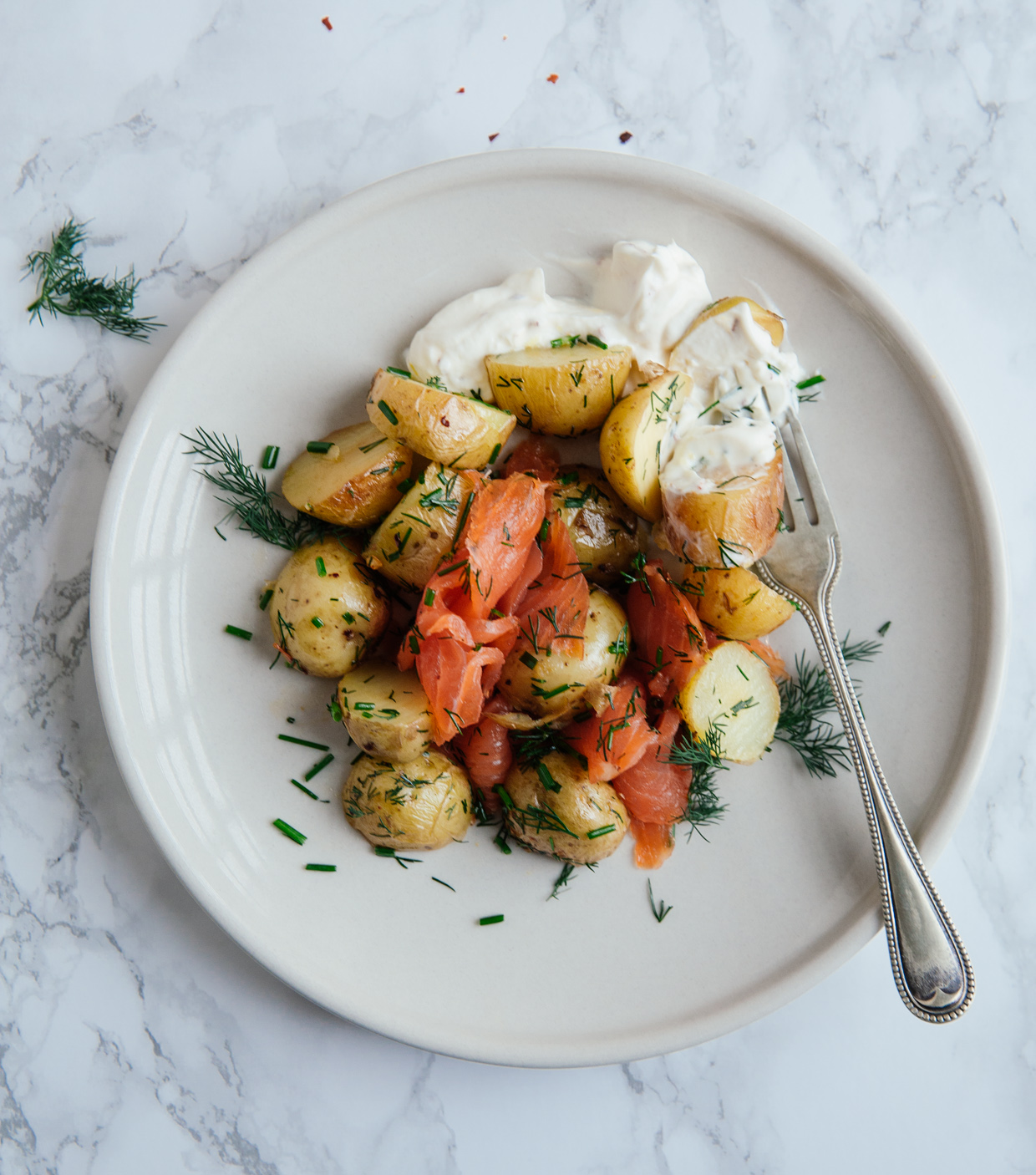 Smoked trout & potato hash
(serves 4 as a side dish, 2 as a main)
INGREDIENTS
about 15 Pembrokeshire Earlies
1 tablespoon extra virgin olive oil
1/2 tablespoon honey
a big pinch of sea salt flakes
1 1/2 tablespoons dill finely chopped
2 tablespoon chives, finely chopped
1/2 cup half fat cream cheese
3 tablespoons half fat greek yogurt
1 tablespoon olive oil
zest from 1/2 lemon
1/2 teaspoon chilli flakes
sea salt flakes to taste
150 gr smoked trout
METHOD
Bring a large pot of water to a boil and then reduce the heat to a medium-low; add the potatoes and cook for about 15', until tender but not falling apart.
Drain well and set aside. Warm the olive oil and honey in a medium-sized pan, oven medium-high heat; add the potatoes and cook for about 7, until lightly charred.
Remove from the heat, add a generous pinch of salt, toss and set aside.
Prepare the dip: combine the cream cheese, yogurt, olive oil, lemon zest, chilli flakes, and sea salt.
Add the chopped herbs and smoked trout to the pan and serve alongside the dip and a big green salad.
* This dish was created in partnership with Blas Y Tir; all the love and opinions are genuine & my own.