In celebration of baking, picnics and all things summer, a beer, bacon & fennel seed bread I've been in love with for quite some time now.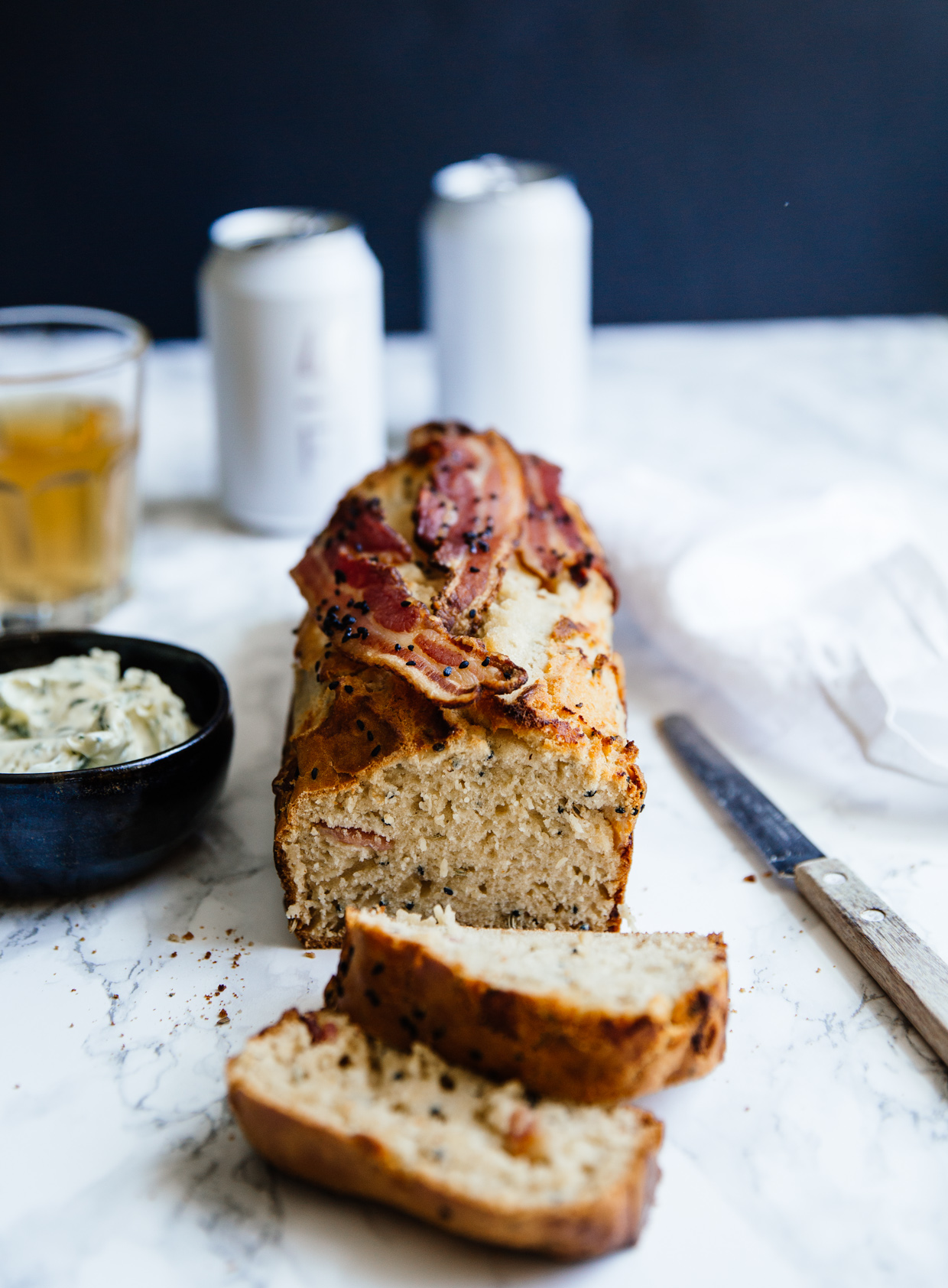 In my mind, I love baking; going through my fridge and cupboards, flipping through recipes or eyeing fresh produce of the season. Then slowly, sometimes reluctantly, others barely containing my self, forming a plan; it is often in the form of a challenge, but mostly I'm a slave to my own appetites and even more so to the people I have in mind when baking. I made these cookies for a friend leaving London for Portugal via Berlin and five different cakes for another friend's birthday. There needs to be a reason, even if it's just an overwhelming desire for pie or the juiciest tomatoes I could get my hands on.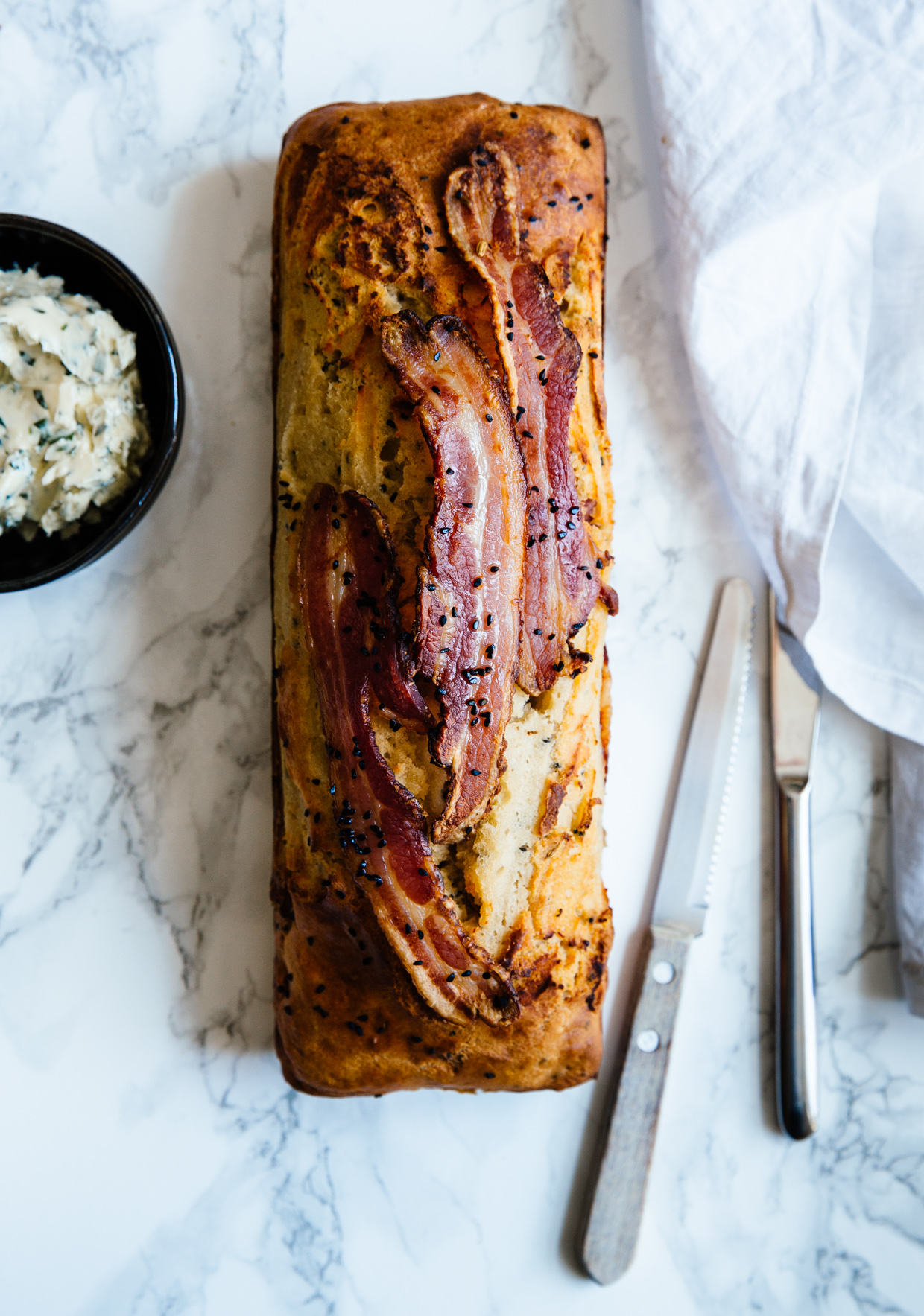 So in my mind, baking is essential; butter is king and spices treasured gems. In reality, I don't bake very often. It requires time, which I either don't have, or don't make and lots of butter, which I don't indulge in as much as I'd like. Cooking and eating, like most things, are a balancing act. When I do bake though, I mostly favour sweet things. Yet, in my mind again, savoury cake-like breads are a thing of beauty. Packed with the usual suspects, but also with other favourites, like cheese or fresh vegetables, herbs and maybe a few spices too. I picture them almost exclusively as part of a picnic spread, enjoyed al fresco, alongside crisp wine and loud company.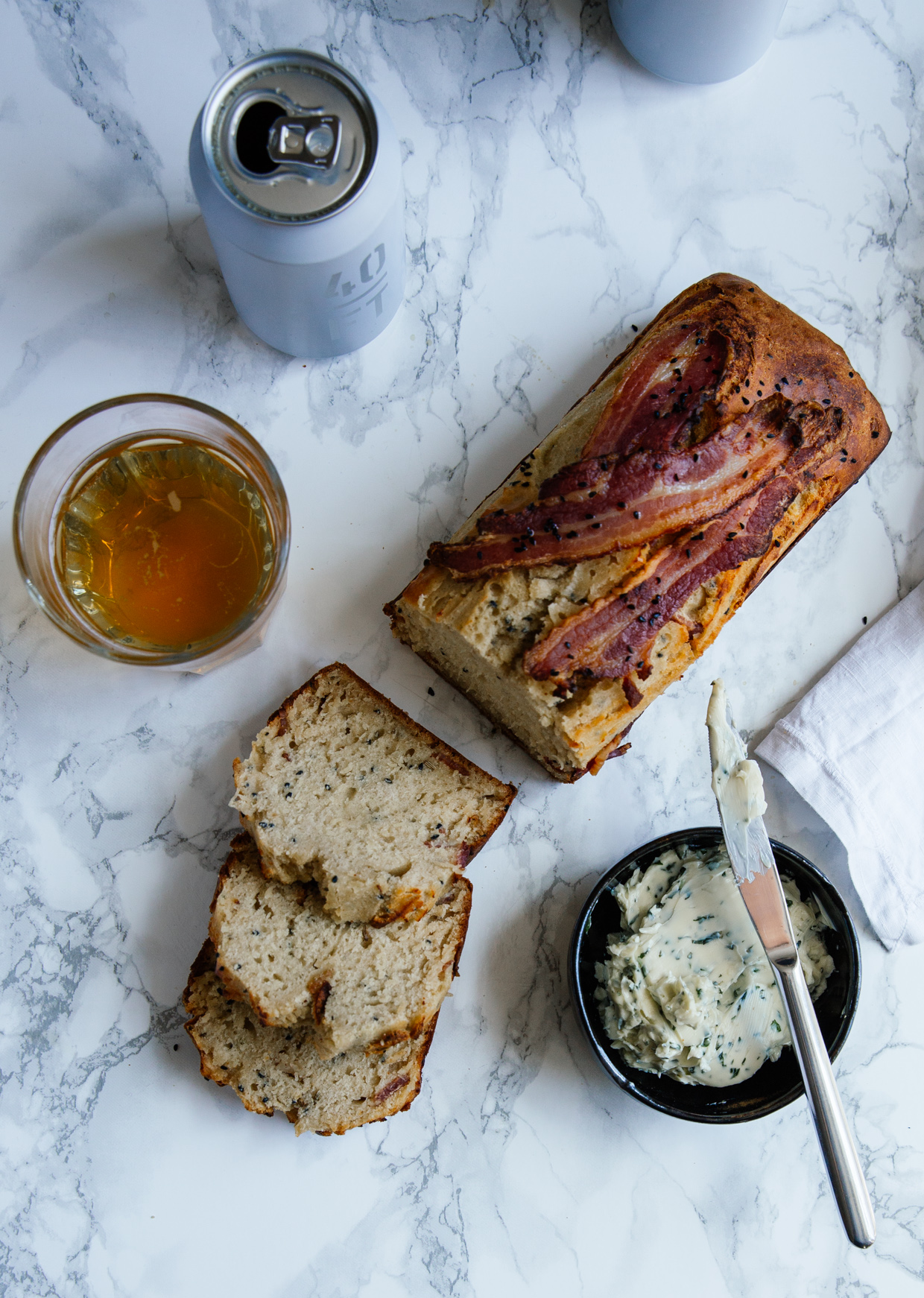 I haven't made one in a while; yet a few weeks back, it was all I could think about. It had to be flavourful and dense. Very savoury and with a touch of sweetness, aromatic and filled with texture. This beer and bacon bread came up as the result of all of the above and my love for 40FT. I fell in love with their beer about two years ago and I'm still quite smitten. It is the most flavourful one I've ever tasted and is pretty damn great to cook with too (remember this cheese sauce and the crispiest nachos?); their lager is a thing of beauty and pretty much the only beer I drink. And even thought I tend to not play around with a good thing, I really wanted to use it in this bread.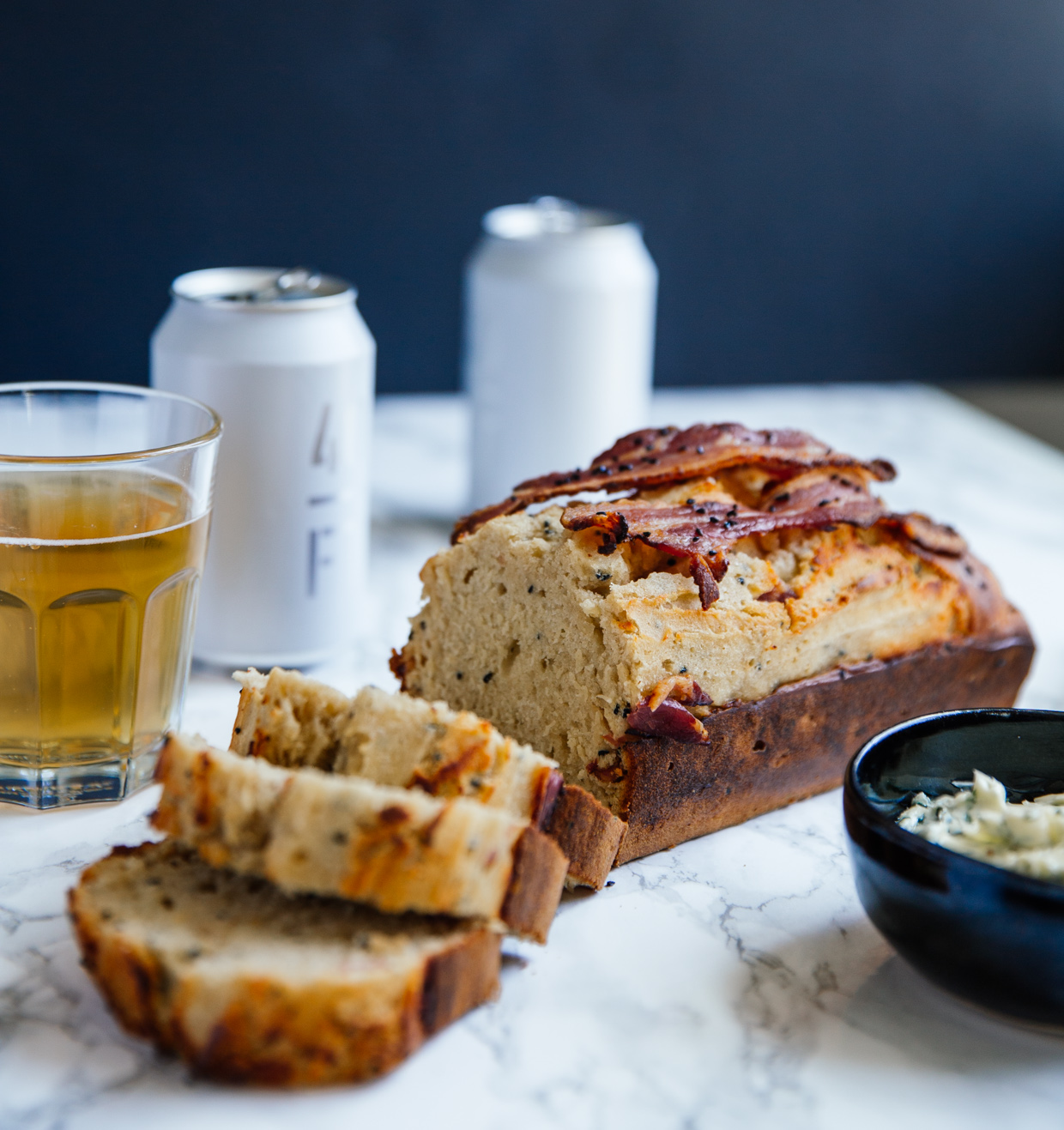 So there it is, pretty damn good beer bread, as soft and dense as it should be. Starring the tastiest lager, crispy bacon and aromatic fennel seeds, making it both subtle and flavourful. It's the perfect excuse for baking- and for a picnic too- and pairs just beautifully with fragrant basil butter (your new favourite side kick to pretty much everything, I'm sure).
Beer, bacon and fennel seed bread
WHAT
3 cups all purpose flour
1 1/2 teaspoons baking powder
1/2 teaspoon salt
4 tablespoons honey
250 ml lager beer
1 tablespoon olive oil
6 slices bacon, divided, 3 roughly chopped
2 medium-sized eggs
1/2 tablespoon nigella seeds
1 teaspoons fennel seeds
for the basil butter:
130 gr unsalted butter, soft
1 tablespoon fresh basil, very finely chopped
sea salt flakes to taste (I used about a teaspoon)
HOW
Preheat the oven to 200ºC (180ºC FAN), grease a loaf pan and line the bottom with parchment paper.
Combine the flour, baking powder and salt and set aside. Toast the nigella and fennel seeds in a small pan over medium heat until fragrant (about 2′); increase the heat to high and fry the bacon until very crispy and place on a plate lined with kitchen paper.
Combine the honey, olive oil, eggs and beer and beat until frothy.
Combine the dry and wet ingredients and add the fried bacon and toasted seeds. Fold to combine and pour into the greased loaf.
Top with the three remaining bacon slices and bake for 35-40′ until the cake is lightly browned, the bacon slices crispy and an inserted skewer comes out clean. (You may need to secure the bacon slices with tooth picks, halfway through baking time.)
Remove from the oven and let cool in the pan for 10′. Then remove from the pan and cool on a wire rack.
While the bread is cooling off, make the basil butter by combining all the ingredients. If it gets too soft, place briefly in the fridge. Serve the cooled cake with butter.
* The cake will keep outside the fridge for one day and in the fridge for 5. Keep the butter in the fridge for up to two weeks.