This almond & white chocolate salami is one of the easiest and quickest desserts you'll ever make- and it is just ideal for summer snacking.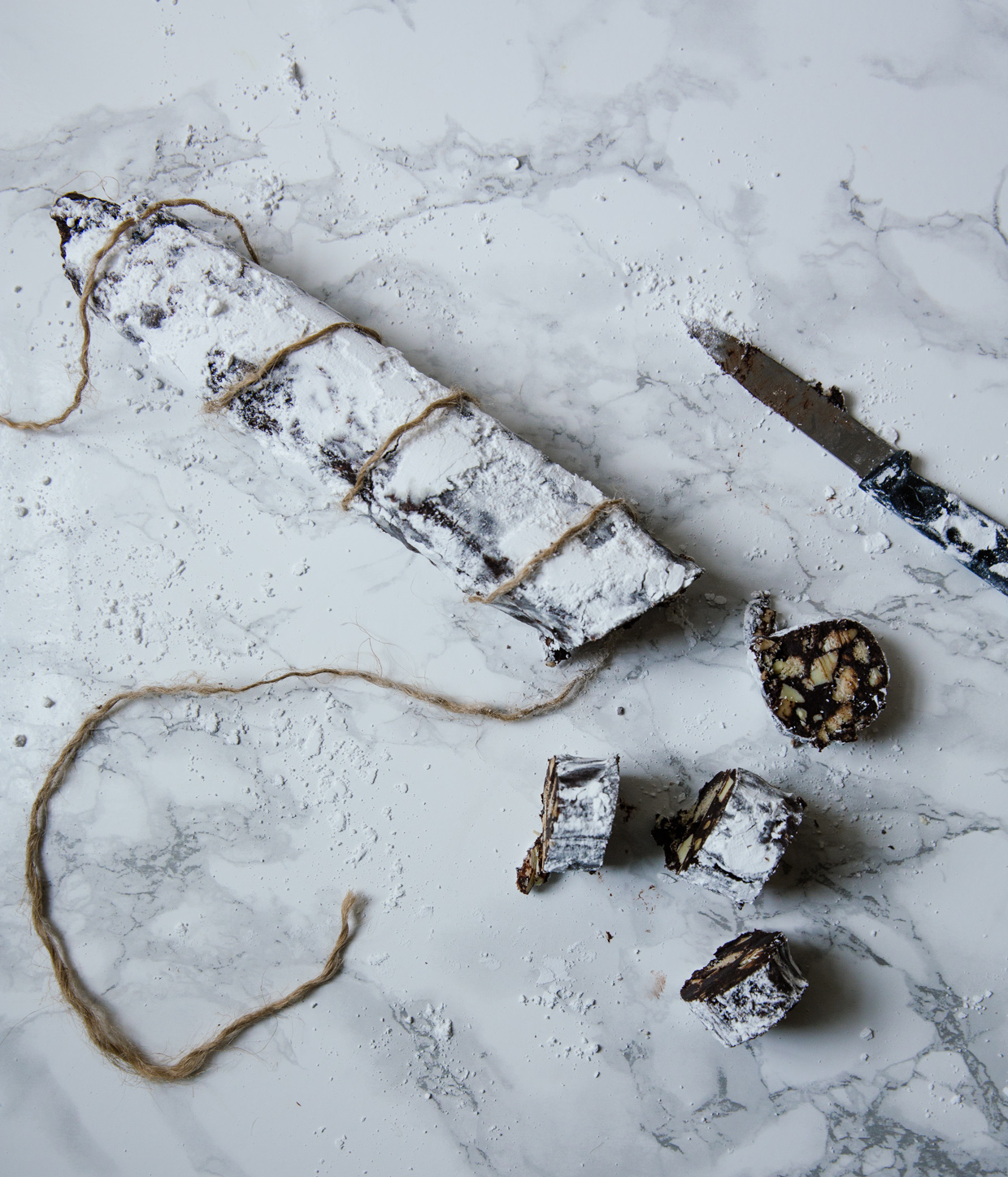 I am not exactly sure how this salami got stuck in my head; chocolate is, surprisingly, not something I really crave during the summer months. I long for simple pies and delicious ice creams, refreshing popsicles and fragrant sorbets. Yet here I was the other day, mixing melted butter with cocoa, chopping white chocolate, fragrant almond cookies and shaping it all into delicious thin logs.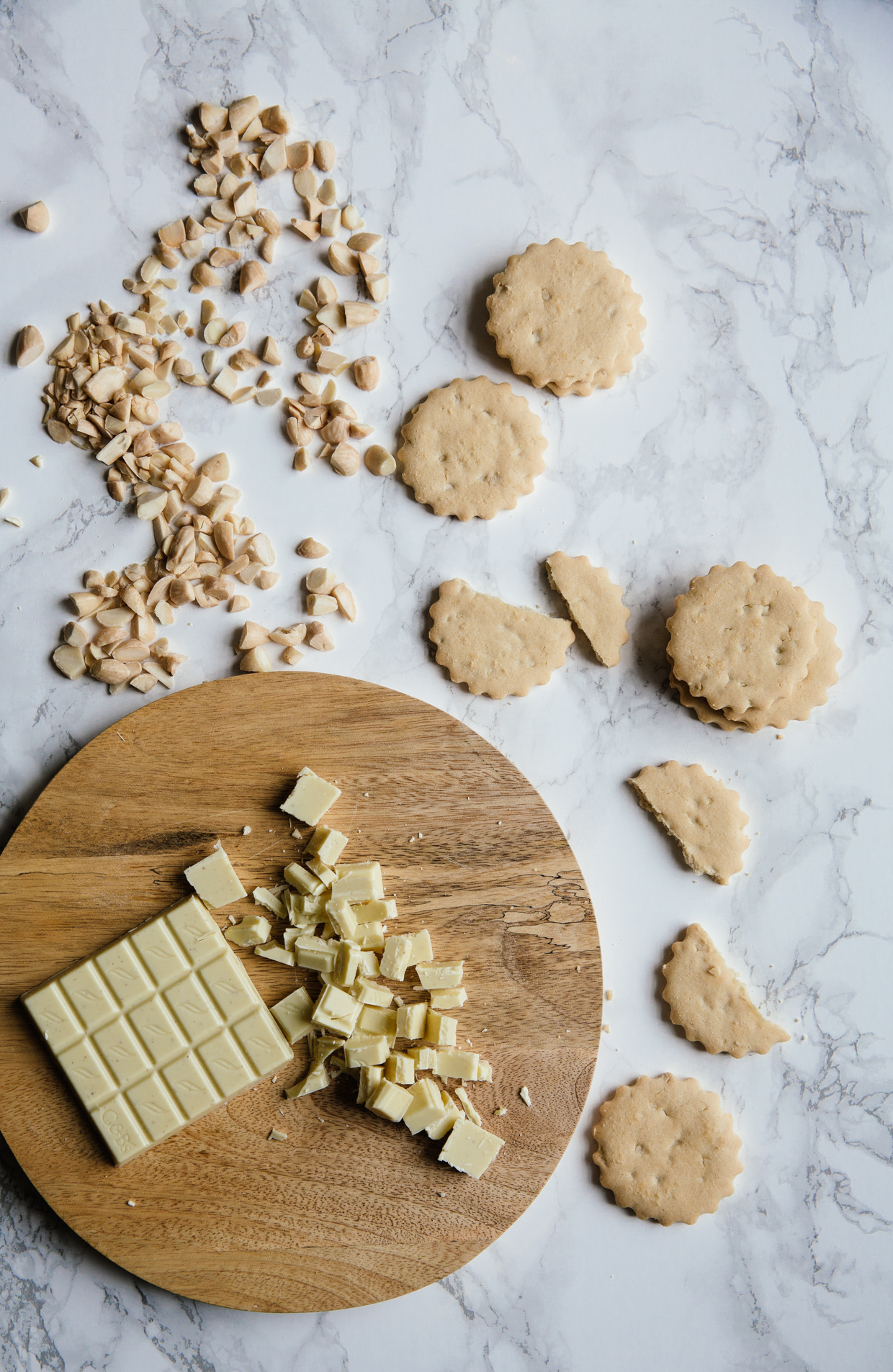 But really, it all makes sense actually. Salami, log or mosaic is one of my favourite childhood desserts; it's just perfect for summer, not least because it is basically 'cooked' in the fridge and kept there. It takes mere minutes to prepare, is endlessly open to tweaks and additions, with ingredients most likely already in hand: crumbly cookies, nuts and maybe seeds too (toasted for extra flavour and texture), dried fruit if you feel like it and hints of this and that if it's extra fanciness you're after.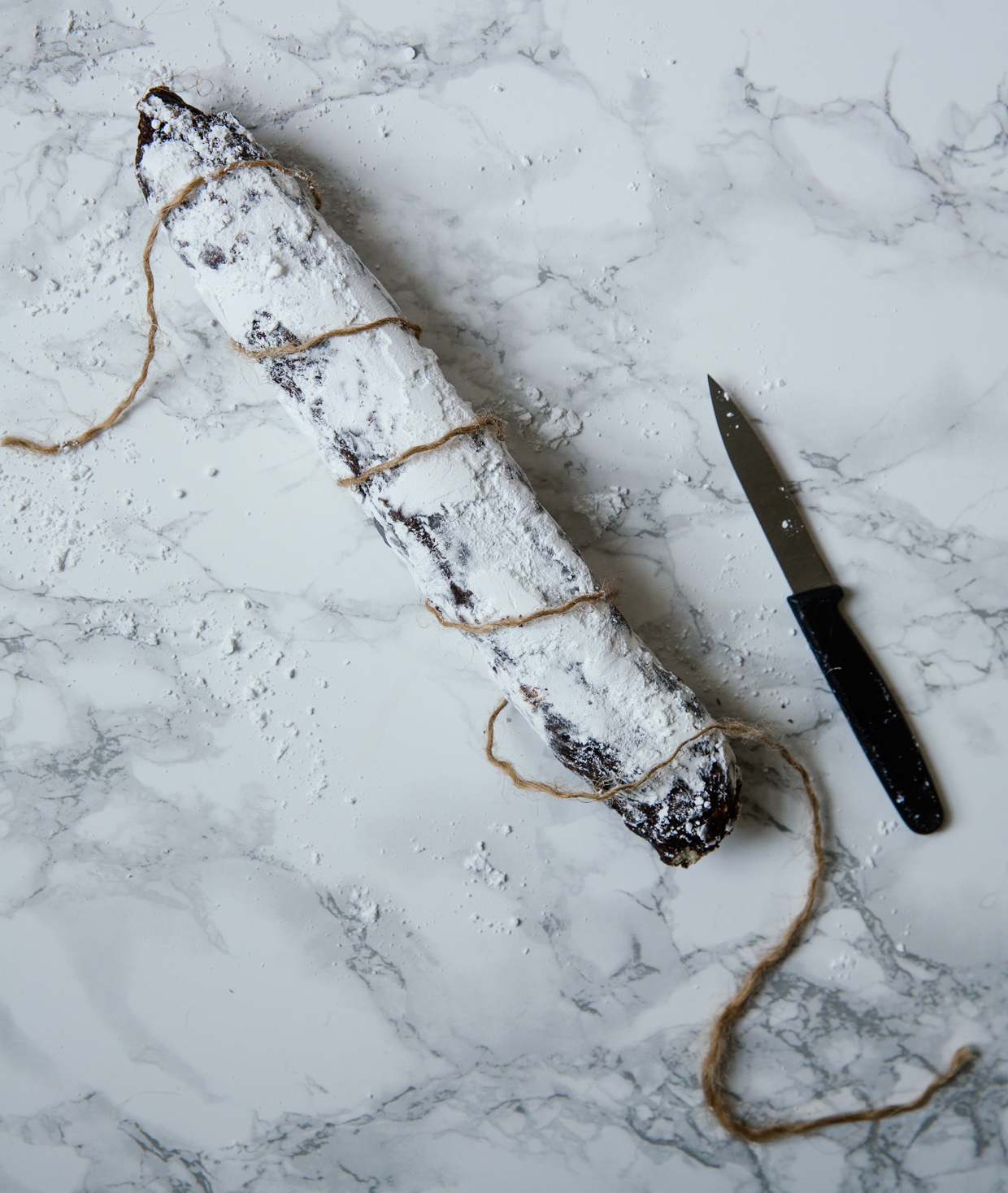 My favourite variation is the one my mom always makes; it fills up a whole large bowl and is usually kinda messily spooned into a loaf pan and placed in the freezer;  with extra booze added in there for good measure, lots of thick pieces of almond and my favourite cookies from back home. It's one hell of a dessert, comforting, deliciously strong flavoured, always sliced in embarrassingly thick slices and lasting for only about two days. Every summer, she makes it at least once a week and every time, it is as delicious, thick and rustic as I long it to be.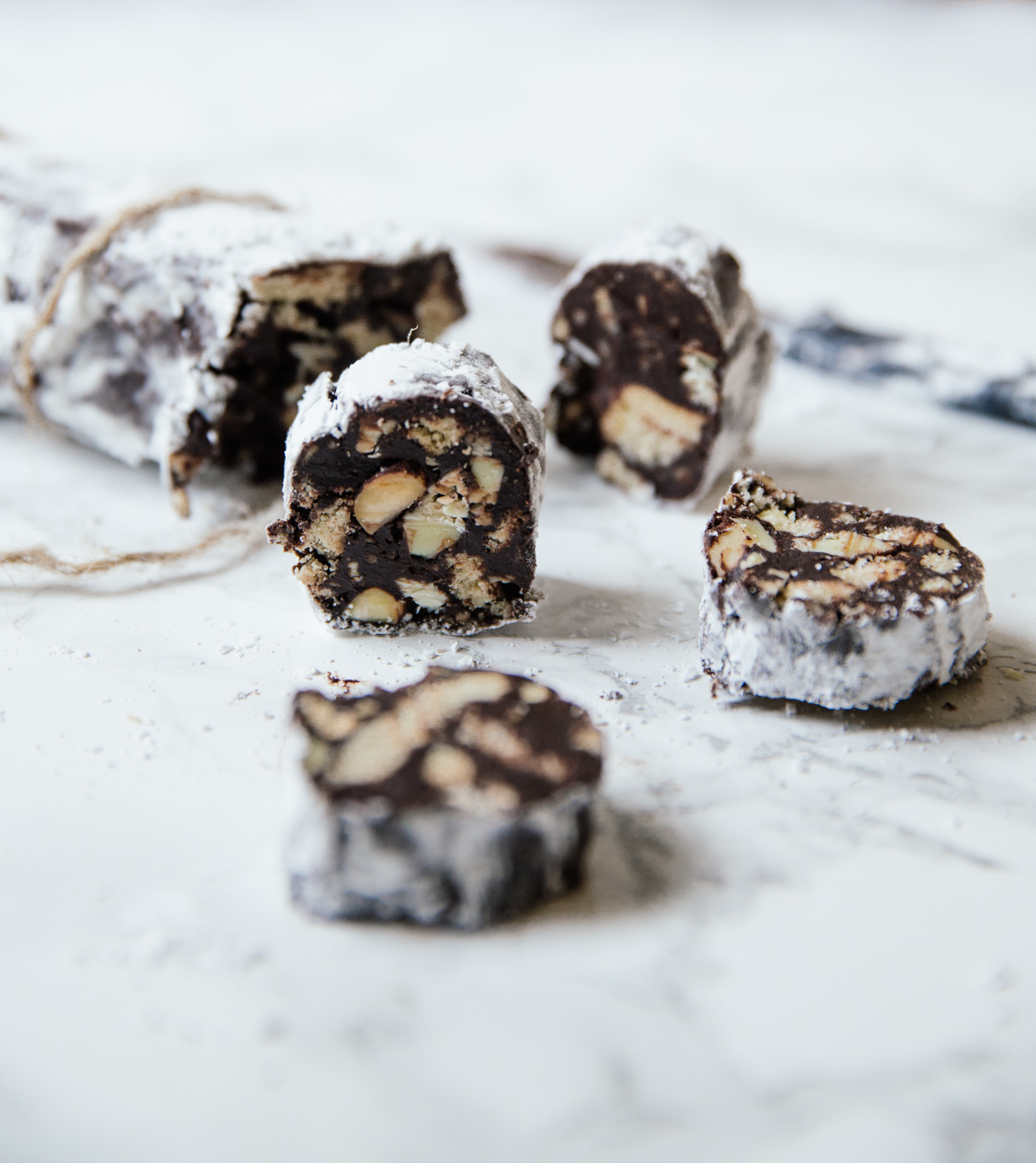 So even though chocolate is not among my summer loves, this definitely is. My version is slightly different, even though it is of course based on my mom's recipe: butter, cocoa and icing sugar to begin with. And then almonds in three different forms: toasted- which are just impossible to resist in any dish, savoury or sweet- for the most delicious crunchiness; buttery, crumbly cookies and finally, a touch of almond extract for subtle fragrance. To end things nicely, a handful of roughly chopped white chocolate, which pairs perfectly with the almonds and adds to the sweetness level we are going for: not aggressive, not overpowering, just enough to keep us coming back for yet another slice, yet another little summer treat.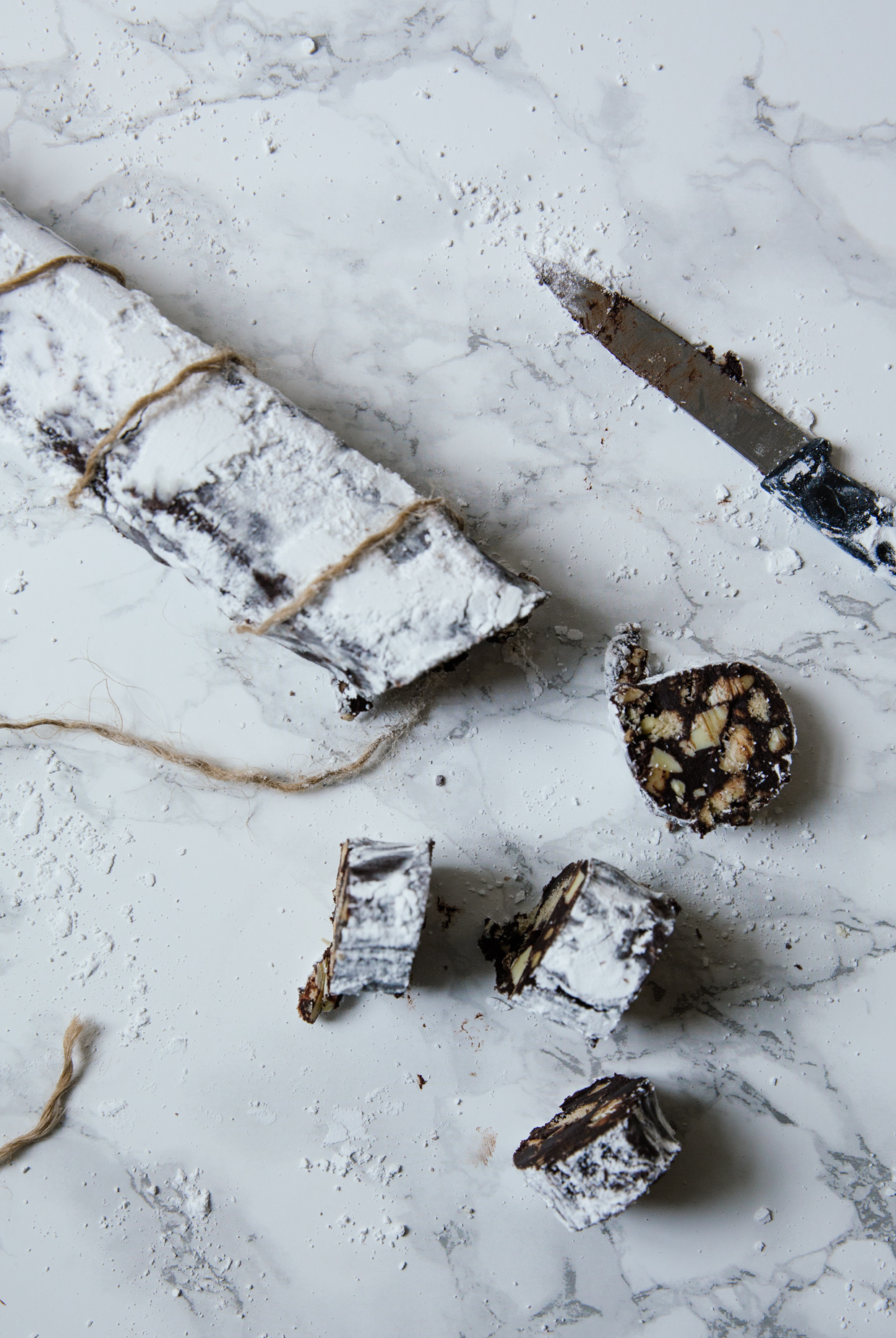 Almond & white chocolate salami
WHAT
250 gr unsalted butter
1 cup unsweetened cocoa powder
1 cup icing sugar
1 1/2 teaspoon almond extract
100 gr unsalted, blanched almonds
150 gr almond cookies (I always use the ones from M&S)
100 gr white chocolate (I love this one)
icing sugar to serve
HOW
Melt the butter in the microwave and set aside to cool.
Preheat the oven to 180ºC (160ºC FAN), place the almonds on a baking tray and toast for about 5′ until just lightly browned. Remove from the oven and allow to cool slightly before roughly chopping.
Add the cocoa, icing sugar and almond extract to the cooled butter and mix well to combine.
Break the cookies in small chunks and roughly chop the chocolate and and add to the chocolate mixture along with the almonds. Fold to combine, cover the bowl with foil and place in the fridge for about an hour.
Lay out a large piece of cling film and place half of the mixture lengthwise at the centre; using another piece of cling film, shape like a salami, as thick as you'd like it to be, and cover tightly.
Repeat with the second half of the mixture and place in the fridge for at least two hours or overnight.
When ready to serve, cover with icing sugar and slice.